Melbourne has long been lauded for its motorcycle-friendly council and its free footpath parking for motorcycles, but that now seems to be under threat from a new motor vehicle discussion paper.
Lord Mayor Sally Capp has released the paper which includes dot points about reducing the access of motor vehicles to the CBD for the safety of pedestrians and cyclists.
It briefly recommends: "Remove motorbikes and scooters from footpaths, instead giving them allocated parking."
That's a concern, although if there are fewer cars and trucks in the CBD, it may mean there is more on-street parking for motorcycles.
Concerns about paper
In October 2014, Melbourne unanimously adopted a Motorcycle Plan that nurtured and encouraged motorcycles to the city.
However, the Independent Riders' Group in Victoria has expressed concern ever since that Melbourne's much-vaunted motorcycle footpath parking was still under threat from a growing number of pedestrians, a strong cycling lobby claiming footpath space, comments by a former RACV boss, an MCG parking ban and alternative road-centre parking.
The rival Victorian Motorcycle Council described the claims as "scaremongering", saying there was only an issue about parking around Luna Park in the City of Port Phillip which they claimed to be involved in resolving.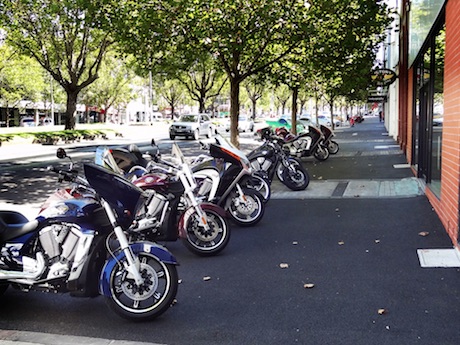 IRG spokesman Damien Codognotto says the new Lord Mayor "is right to take time to assess the traffic situation in Melbourne".
"It is complex and some methods of getting around our city get more attention than others."
He says Transport Committee chair Nicolas Frances Gilley is "openly pro bicycle which is a good thing".
However, he says attempts to work with Bicycle Network and Victoria Walks on matters of mutual concern and benefit have been fruitless so far.
"We knew these documents were coming and called for motorcycles and scooters, as a legitimate part of City traffic, to be considered and treated differently to cars.
"We called for motorbikes to be exempt from bans and costs aimed at keeping cars out of the CBD."
The IRG, which is a member of the Motorcycles In Melbourne Committee has also called for an improvement in off-street motorbike parking with facilities such lockers for protective clothing and a trial of forward stop lines for filtering motorcycles.