It's hard enough for women to defy community perceptions and taboos to ride a motorcycle, let alone a woman in a traditional Muslim country such as Pakistan.
But brave young Zenith Irfan did just that with her six-day journey from Lahore through the Kashmir belt on the Pakistani side in June on several different motorcycles including a Honda 125, Honda CD -70 and Suzuki GS-150.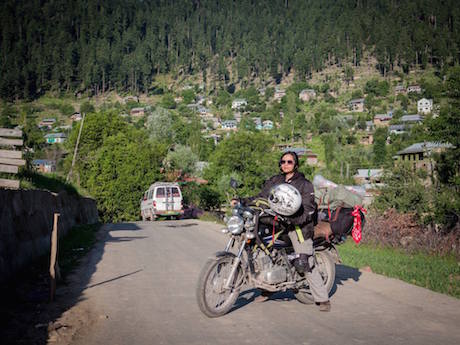 Zenith says riding a motorcycle is synonymous to challenging social norms and taboos.
"A social taboo is enforced on them (female motorcycle riders) by creating a sense of disgrace and shame," she says.
"With my motorcycle adventures, I aim to elevate and encourage them (women) to embrace their passions and goals, with open arms.
"I won. In the eyes of those who considered me of lesser strength, who said I could not ride 20km continously, I won. I proved to the world I was no different and that a woman like me can in fact, ride a motorcycle."
The 20-year-old has now posted a Facebook blog to reach out to other women riders.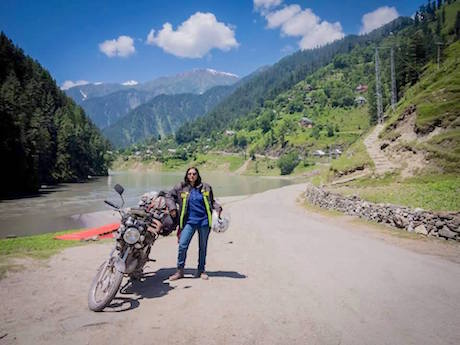 She says she was inspired by the dream of her deceased father who "wanted to travel the world on a bike".
"He wanted to travel the world on a bike. He wanted to experience every emotion and tantalize every sense he was capable of," she writes.
"I was 10 months old when I lost him and at a very tender age I understood that 'some things just don't last forever'. My mother accepted it quickly and we all knew this was all we had; 'each other'.
"With my brother still in her womb and with me cradled in her arms, she fought and raised us. I guess it's the whole emotional roller coaster that ignited the inner biker girl.
"I was 12 when I first rode one. All I could remember saying was 'How do you stop this? How do you stop this?'
"With the twist of the throttle, the shift of the gear, I went to places carrying my father's legacy. If I fall, I have to get up by myself. Dust the dirt caused by my own failure and face the raging road again.
"There is no helping hand. You are the designer of your own catastrophe. We all try to find our escape routes. We all try to seclude in something or someone. For me, it was motorcycles."
She is now travelling through the country, raising money for mosques for necessary renovations and providing aid to the flood victims in Chitral.