The first women's riding gear was a pair of jodhpur pants made by Harley-Davidson in the 1920s. There followed a long hiatus where motorcycle manufacturers and riding gear companies basically ignored women riders' needs. It's only been in recent years that riding gear companies have bothered to target women riders and pillions.
YOU MIGHT ALSO LIKE: WHY DON'T MORE WOMEN RIDE?
About 10 years ago I coerced my wife into riding pillion and took her to our local bike shop. They didn't have any women's gear, but tried to squeeze her into small men's jackets.
"Where's the mirror?" she asked. "What mirror?" the salesman replied.
"So I can look at myself in the jacket." The dealer promptly despatched the young salesman next door to get a mirror from the hardware store and promptly installed it on the inside of a disheveled and dirty toilet cubicle.  Not good enough.
Since then, motorcycle dealerships have smartened up and women's riding gear has improved. But it still has a long way to go. Women account for a little over 10% of all bike registrations in Australia, which is a lot less than the US where it's 25%. They might be small numbers, but if you also include pillions, women represent a large and growing market that manufacturers simply cannot ignore.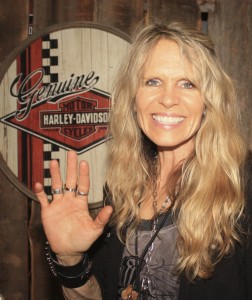 Harley-Davidson is one of the leading manufacturers of women's riding gear as well as bike culture clothing. Women's gear was kick-started in 1989 when company employed Karen Davidson, the great-granddaughter of company co-founder, William A. Davidson. Karen had worked in the fashion industry for many years and brought her acumen to the iconic brand. She is now creative director of general merchandise. And with Harley chasing growth in markets such as the Hispanic and African-American population, young riders and women, Karen's job is getting hectic.
"I'm a lot busier these days and traveling a lot more," she says. "Twice as much as last year." She says the company has split into regions and she travels to those regions to collate feedback from dealers and customers about what merchandise is needed to increase retail sales. Karen says her biggest challenge in designing women's riding and leisure wear is fit and she recognises that traditional bulky riding gear can make women look bigger than they are.
However, she says modern technical fabrics that are thinner are allowing Harley and other bike brands to make more flattering riding clothes for women. Of course, fashion is also very important to women and the company has a range of bike-culture clothing for men, women and children.
"We are working almost two years ahead, so it is difficult to anticipate fashion trends," she says. "We have a designer in Paris who monitors trends." As creative director, Karen collects samples of trending colours, styles, materials and graphics and feeds those to her designers. "I don't design every little t-shirt that we put out," she says.
Harley is now starting to move away from traditional t-shirts and jeans and into more elegant leisure wear for women, she says. "We sell a lot of levels of merchandise to support the brand. Some have lower, more subtle logos. We are always going to have plenty of products with the logo. After all, it is a lifestyle brand, so they want it. But they have a smaller logo." She says the iconic brand is also popular among non-riders, but she hopes it will introduce people to the brand and maybe even get them on to bikes.
Harley isn't the only motorcycle manufacturer with a range of rider clothing. BMW Motorrad has been making rider clothing since the early 1990s, claiming to be the first to create their own range of rider accessories such as helmets, protective suits, trousers, jackets, gloves and shoes. These have included numerous innovations in materials and technology. It may be protective and very clever, but the gear doesn't look particularly feminine. More military than anything.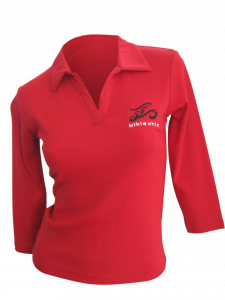 It isn't easy making protective gear that looks fashionable and feminine. It takes more than a bit of pink trimming.  BikieChic Clothing spokeswoman Selena Thurbon says they been around for nine years, mainly making casual and tops and accessories for 35+ women rather than protective riding gear. "That's a tough market," she admits.  Instead, they on-sell protective gear only if they think it's suitable, comfortable and fits well.
"When I started riding I was looking for motorcycle gear that stated that I was a bike rider, but not an in-your-face branded bike name or small-size men's motorcycle gear," she says. "It was about subtly saying I was a female motorcyclist. I wanted something that wasn't men's styling. I wanted to state the fact that I'm a female. I like my make-up and my fingernails painted. I didn't think I would be the only female out there looking for that."
So she teamed up with fashion designer Diane Scaysbrook to start Biker Chic Clothing.  "Our biggest challenge is getting good sizes," says Diane. "We dress mature women and they are not all skinny minis. They are real-sized women like Selena and I. People just don't cater for that, let alone in the motorcycle world. Even getting jackets are extremely hard. A few companies have asked our advice over the years." She says one of the mistakes bike clothing makers made was to put men's sleeves in women's jackets which is too long.
IN PART 2 TOMORROW, MEET ONE OF THE MEN STRUGGLING TO DESIGN WOMEN'S PROTECTIVE GEAR