Motorcycle Gloves Review Summary
Motorcycle Gloves Image Gallery
Completely waterproof in the webBikeWorld "Bucket Dunk" water trials. The liner and thick insulation makes the gloves feel stiff, numbing control feel and making for a longer reach to the levers.
No knuckle or wrist protectors.
The Orina 118 gloves are decent enough but not outstanding cold weather gloves.
The most discussed winter glove this season seems to be the Orina 118.
Why this particular brand and model has become popular is a mystery.
The gloves seem to have a very limited distribution outside of Europe, so the difficulty in finding a pair may actually be fueling the buzz, the same psychology that prompted the SCHUBERTH Concept helmet rage a decade ago.
The strange thing is that we're not even certain Orina still makes the 118, because I can't find them on their website.
So the 118's sold today could very well be leftover inventory from last year, still waiting for customers to pull them from the dealer and distributor pipeline.
Orina Sporthandschuhe GmbH is a German company, which has a certain cachet in some circles and probably adds to the "must have" buzz psychology.
Who knows — maybe it was all started by some North American tourist, returning from a motorcycle tour of Europe with news about Orina?
One thing that may have helped promote this glove in particular is their recommendation by RIDE Magazine (UK), which is usually a pretty good indicator of a best-in-class and functional product.
The Orina brand is known in Europe, but it certainly isn't a motorcycle household word in the U.S.A. The company is relatively new; they've been selling gloves and other outdoor clothing for only about 20 years.
Orina headquarters are located located in Eschweiler, Germany, between Kö ln and Aachen, west of the Rhine River, which is primo riding country for sure.
So why Orina? One of the differentiators is the signature materials used by the company and the Orina 118 incorporates their entire arsenal of technology.
Orina uses leather on the entire palm and grip side of the 118 gloves, while the back side is made from a textile called "TECCON", a Cordura competitor that's claimed to have good abrasion resistance.
The leather on the Orina 118 gloves also is treated with a process called "Techalin", which is supposed to help make the leather softer and easier to clean.
Other materials used in the Orina 118 include "Nibo", a membrane claimed to keep moisture out while letting perspiration escape and "Thermolite" insulation (from Invista; see our Leather With Lycra report).
This "delivers warmth without bulk" and is claimed to maintain its insulating properties even when wet.
Finally, the 118 gloves also have a touch of "Thermax" fleece in the lining, a hollow insulating fiber used in clothing that's also used for insulation in the building industry (more on Thermax below).
The Nibo waterproof membrane liner is one of the most-talked-about features of the Orina 188. Nibo is apparently a Gore-Tex membrane competitor, designed to act as a waterproof barrier while allowing perspiration to escape through zillions of tiny little holes, or pores, in the material.
How the membrane knows to let the perspiration water molecules out while keeping the rain water molecules from coming in is beyond me.
So one of the first things we did was to give the 118's the ol' webBikeWorld Bucket Dunk. I have no idea if this super-low-tech evaluation has any relation to reality, but we've used it before with the waterproof Roadgear "Boss" winter gloves (wBW Review).
By the way, since the Roadgear Boss gloves are still my favorite all-around winter motorcycle gloves, so I'm using them as a benchmark to compare with the Orina 118 gloves in this report.
Here's how it works: I fill a bucket with water and trick the Mad Dog into wearing the gloves while holding his hands in the water. That may sound funny, but the best part is that I went into the office to work on a review and a few minutes later he yells "Can I take 'em out now?"
I yelled back "Hang on, I'll be right there" and then the phone rang and I forgot all about him. About 40 minutes later I remembered, and there he was, still sitting there with his hands in the water!  "Uh, you can take them out now", I said.
"How do they feel inside?" I asked. "I don't know, my hands fell asleep."
I pulled the gloves off his mitts and they were totally waterlogged on the outside but the insides were as dry as a bone.  So if you're looking for waterproof gloves, you found 'em.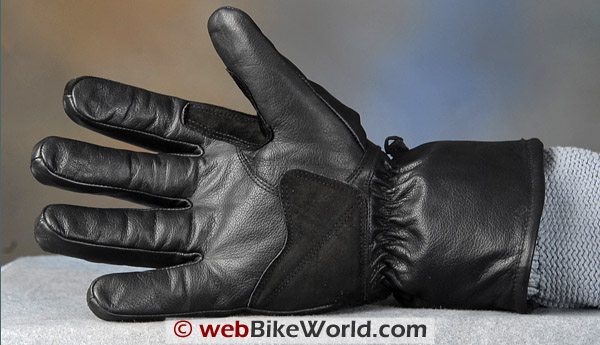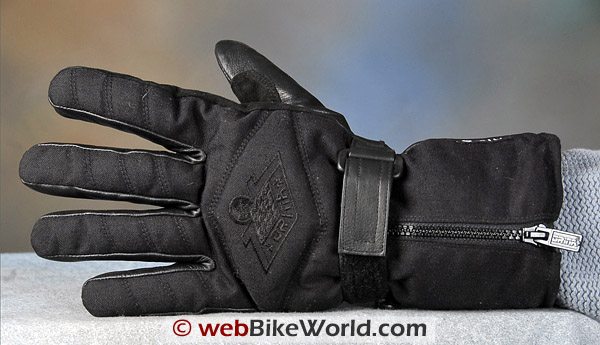 Riding With the Orina 118 Gloves
But I'm getting ahead of myself here; I wore the Orina 118 gloves on several rides in temperatures ranging from about 40 degrees F (4 C) to 60 F (15 C).
Comfort is a very relative concept, but they feel like they offer about the same level of comfort as just about any other decent pair of winter motorcycle gloves I've tried.
They do seem to allow more perspiration to escape than some other winter motorcycle gloves, like, for example, the Tourmaster Synergy gloves we reviewed recently, which seem to get very swampy inside whether they're on or off (and there isn't much of a difference, as we reported in the review).
But when the ambient temperatures start climbing above 55 F or so (13 C), the Orina 118 gloves do seem to get warmer than I'd like. But since they are winter motorcycle gloves after all, this isn't a knock, just a statement of interest.
Down below 40 F (4 C), my hands don't feel any warmer than they do with any other winter motorcycle glove I've worn. So I'm not sure what the conclusion is here; if owners are expecting a decent winter glove, they've got it.
If they're expecting something very out of the ordinary that offers comfort above and beyond the norm, my feeling is they'll be disappointed.
Orina uses the "box" style finger construction on the 118 gloves; this is a type of glove construction where the material on the fingers looks like it's sewn together with walls on each side and a ceiling and floor.
Take a look at the first two photos below of the palm and the back side of the gloves and you'll see what I mean.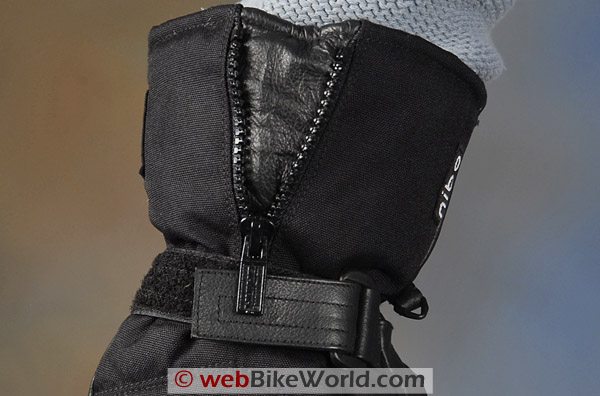 Box construction has some advantages and disadvantages, just like any other type of motorcycle glove construction. It usually allows more room for thicker fingers.
It also provides more finger separation with easier finger movement because of the vertical "walls" between each finger; and it separates the top and bottom layers of material, allowing for things like waterproof membranes and insulation to be more evenly installed.
The Orina 118 gloves are pretty comfortable to wear, and the construction looks very good.
You can also see in the photos below that the patterns used for the 118's are pretty basic; no high-tech computerized pattern sections are apparent, and the result is a basic style and shape with some bunching in the palms whilst riding.
The basic shape of the 118's may again be due to the constraints necessary to maintain the integrity of the membrane and insulation, but the Roadgear Boss gloves use a more adventurous design.
They also offer the same levels of protection from water and cold, and they're more comfortable, in my opinion.
That's the good news. The bad news revolves around two issues.
First, the Orina 118 gloves feel bulky and stiff. They feel more like a 10-year-old winter motorcycle glove design than a pair that uses the modern, high-tech, lightweight and flexible materials available to manufacturers in the 21st Century.
It's been our experience that some of these moisture barrier membranes do have a sort of plasticky feel and they can lend an overall stiffness to the garment in which they are used.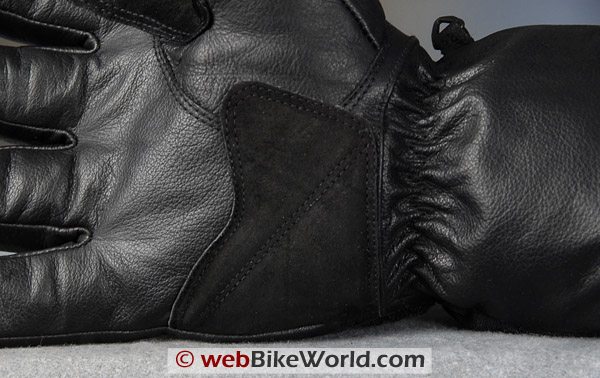 Compared With?
I think the Roadgear Boss waterproof winter gloves serve as a good comparison for the Orina 118 gloves, but the Roadgear gloves are much softer and more pliable.
I'm not sure if the Hipora membrane used in those gloves is softer, or if the insulation is less stiff or if the leather used in the Roadgear Boss gloves is more supple, but they feel much more like "normal" motorcycling gloves than the Orina 118 gloves.
The combination of the box section fingers, the stiff Nibo membrane and the Thermolite insulation makes the Orina 118 gloves feel bulkier than the Roadgear Boss gloves.
The extra bulk and the way the palms bunch up slightly means that my reach to the levers has been lengthened.
I usually ride with my first two fingers covering the front brake lever, and I blip the throttle with the other fingers while simultaneously braking with the first two.
I have no trouble doing this with either the Roadgear gloves or others I've tried, and I can do it with the Orina 118 gloves, but it's much more difficult.
This may not be an issue with some riders or for those who have adjustable levers, but I think it is certain that grip feel will be reduced and reach will be lengthened wearing these gloves.
Insulation
The added bulkiness may be due to the Thermax insulating lining. The Adventure Motorcycle Gear website has a glossary of terms used in the products they sell, and their description of Thermax reads "The special microfibers create a soft material with an almost infinite number of air pockets.
Thermax does not retain moisture but allows it to evaporate. The minute pores of this fabric provide a controlled exchange of body heat and outside air keeping out the cold but also preventing perspiration.
Thermax is much more voluminous compared with other similar fabrics of equal weight."
Note that last sentence: "Thermax is much more voluminous compared with other similar fabrics of equal weight."  This may be the reason for the bulkiness that I feel in the Orina 118 gloves.
The Orina 118 gloves do not have armor or any type of extra padding that I can distinguish. Knuckle armor or padding doesn't seem to be used as often in winter motorcycle gloves — I guess riders don't crash in the winter?
But I'm rather surprised that there is no extra padding or protection at all on these gloves.
There is an extra slice of sueded leather sewn on to the heel of the palm and between the thumb and forefinger; the former acts as an extra measure of abrasion protection and the latter as a wear point for gripping the handlebars.
The gauntlet on the 118's is out of the norm also. Some elastic is used on the underside, and the gloves do have a nice, wide hook-and-loop closure over the back of the wrist, which is a plus because it helps keep the gloves secure on the rider's hands.
What's odd is the zipper on the back of the gauntlet. It is designed, I think, to avoid the typical gauntlet flap used on most motorcycle gloves.
The gauntlet is slightly narrower than average, but I have no problem fitting it over the tightened cuffs of either the Tourmaster Advanced jacket (Review), the Joe Rocket Ballistic 7.0 (Review) or the Rev'it Cayenne 3/4-length (Review) jackets.
It can be slightly tricky to get the zipper secured if the gauntlet is pulled tight over a sleeve, and it would be nice if the zipper had a larger pull, but the system is acceptable.
A leather backing behind the zipper prevents it from being opened too far and keeps the waterproof integrity of the gloves intact.
Conclusion
The Orina 118 gloves are waterproof; that I will give them. So if that's your primary concern, these gloves may be for you.
Otherwise, they're a decent pair of winter motorcycle gloves but not a breakthrough.
I'll still take my Roadgear Boss gloves, and for temperatures below 40 F, it's time to break out the electrically heated gloves anyway.
w

BW

 Review: Orina 118 Motorcycle Gloves
List Price (2007): $59.95
Made In: Romania
Colors: Black
Sizes: XXS to XXL
Review Date: December 2007
Note:
 For informational use only. All material and photographs are Copyright © webWorld International, LLC since 2000. All rights reserved. See the webBikeWorld® 
Site Info page
. Product specifications, features and details may change or differ from our descriptions. Always check before purchasing. Read the
Terms and Conditions
!
Owner Comments and Feedback
---
From "R.C.":  "I have been a skier since 1960, and a motorcyclist since 1970, with 28 bikes in my background, and 15 years of full-time teaching and coaching skiers, so I have had a LOT of experience with all sorts of water resistant and waterproof outerwear, and gloves in particular.
I now live in Vancouver, British Columbia, (formerly in Banff, Alberta) and I ride all year around, unless the roads are icy.
These Orina gloves look a lot like most of the current ski gloves, with combos of synthetic materials, hollow-fill insulation, leather palms and zippered gauntlets.
In my experience, everything you describe about the Orina 118's is also true of ski gloves and I have tried a dozen brands and styles of motorcycle gloves over the last couple of winters here, and I usually end up back in my favorite Reusch ski gloves (I have 5 pairs), made in Austria.
They have biased cut profiles, great insulation on the backs, but with leather, thinner palms for gripping and control, and of course, Gore-tex membranes.
I have never found any motorcycle specific gloves that can outperform my Reusch favorites ( I have 5 pairs as I need to cover temps from +10C, down to -30C).
I have never found a pair of cold weather gloves (below -20C) that can be worn above -5C without overheating. You just have to buy multiple pairs if the temperatures are changing.
when I go to Whistler, I usually bring 2 pair, just so I am warm enough, or cool enough.
As ski racers need back of the hand protection from impacting slalom gates, a lot of ski gloves have the kind of armor that's showing up on more and more motorcycle gloves.
So, I think your readership, especially in Snow country, would be well-served to check out their local ski shops and I have found that in general, ski gloves sell for less than motorcycle versions. And I have seen the exact same glove in both shops here in Canada. Happy HOHOHO!"