The surprise chain lube in this group (at least to us) is the Original Bike Spirits brand chain lube.
Something about the name of the company and their advertising led us to believe that the their products were going to be some type of average quality, re-labeled formulas designed for the cruiser market.
But the simply-named "Chain Lube" is about as close as you're likely to get to the benchmark DuPont Teflon Multi-Use chain lube that is favored by many webBikeWorld readers.
It even contains PTFE, the generic chemical name for the DuPont Teflon trademark.
Original Bike Spirits Chain Lube looks, feels and works so much like the DuPont Multi-Use product that we at first thought it might be made by DuPont for the company, but the can states that the product is "Manufactured by Amrep Automotive Products Group, Inc.".
The price is right at $0.69 per ounce, which is very close to the price of the mass-marketed DuPont product. It comes in a big (relatively) 13 oz. net weight can. The sprayer is very efficient, making it easy to direct just the right amount of spray on to the chain. The carrier quickly moves the lube down into the chain and the chain links and then evaporates, leaving a nearly-dry residue that attracts no dirt.
The company actually uses a no-nonsense approach to marketing the simply-named "Chain Lube", with a minimum of fuss and none of the puffed-up claims of other chain lube companies. This is a refreshing approach. The product simply works without a lot of fuss, and that's what counts. The only caveat is the same for any chain lube: Does it really protect the chain better than any other product?
The answer to that is probably simple also: any motorcycle owner who does basic maintenance on their chain, keeps it relatively clean and sprays some lube on it once in a while will probably have a chain that will last as long as anyone else, all things considered. So why pay more and get less?  This stuff is the clear (pun) winner in our 2010 round.
Conclusion
It's simple. It's cheap. It's efficient and the sprayer works well. It seems to work about as well as anything else. What's not to like?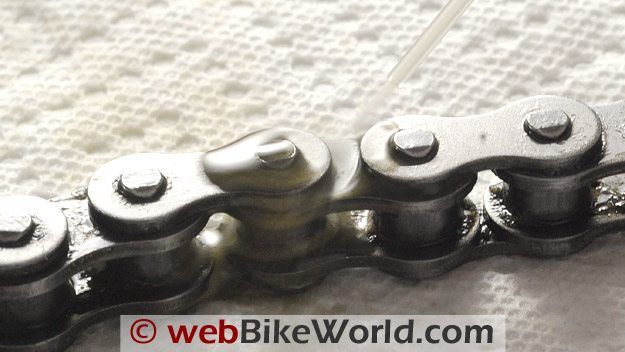 Publication Date: May 2010
Note:
 For informational use only. All material and photographs are Copyright © webWorld International, LLC since 2000. All rights reserved. See the webBikeWorld® 
Site Info page
. Product specifications, features and details may change or differ from our descriptions. Always check before purchasing. Read the
Terms and Conditions
!
Owner Comments and Feedback
---
More comments also on our 2010 Chain Lube Comparison home page.
From "K" (March 2015): "First, I must say that I love your site. I refer to it often. Based on your prior recommendations, I have been using Bean Clean and Klutz KLR for chain maintenance. I have been very pleased.
However, I thought I would try Original Bike Spirits Chain Lube for the sake of comparison. I notice that Original Bike Spirits makes two chain lubes. The one you reviewed and one called Chain Lube with White Graphite. Do you have any experience with this product? Have you considered reviewing it?
I have written to Original Bike Spirits to inquire about the difference between the two products and the pros and cons of each. If I learn something, I will pass it on."
UPDATE: "Yesterday, I sent you an inquiry about the two types of chain lube that the Original Bike Spirits company offers. I sent them a similar inquiry. They responded as such: "For street bikes either lube will work well. The Red version was designed for off-road bikes and machines because the lube dries completely to the touch. The White Graphite was developed for street bikes, specifically for Honda racing and while it leaves a slight tackiness it has the same "no-sling off" properties as the Red version."