Tex Motorcycle Gloves Review Summary
Tex Motorcycle Gloves Image Gallery
Extremely comfortable, flexible, warm, lightweight and strong. Supple, with the feel of quality leather, soft cushioning insulation for warmth and waterproof even under prolonged wet conditions. Recommended for use over the 4C/39F to 25C/77F range (Spring, Fall and Winter, depending on riding location).
These gloves, when used with hand-guards and/or electrical hand-warmers should also be satisfactory down to at least 0C/32F. It is strange how weather can be a great motivator, especially up here in the (somewhat) northern climes.
While the Olympia Gore-Tex All-Season gloves were added to the seemingly ever expanding pile of gloves late last winter, procrastination has continued to win out, until today. Today was a bit different. It actually felt like our long spring into summer into fall sequence could be coming to its final steps. Maybe it was the high-flying flocks of geese overhead which like most aviation indicators, usually indicates a long haul flight, in this case south.
Although this could be depressing to many, to the "Three-Amigos", it was just another opportunity to get away from all the other chores and head towards the hills for a day of spirited riding.
Given that it was just 6C (43F) at departure, the riding kit consisted of an Olympia Phantom Neon Yellow suit, complete with its jump-suit liner, a fairly new pair of Sidi Sympatex On-Road boots, aNolan 102e helmet and the Olympia Gore-Tex gloves.
First Things First
Olympia Sports has been manufacturing gloves for motorcyclists, skiers and snowmobile owners for over 60 years. They also manufacture many other types of gloves as well. Their stated objective is to offer consumers a quality product at a value oriented price.
The Gore-Tex All-Season Glove is part of the Olympia Glove premium All-Season glove line, and as I've found with so many Olympia products, they more than live up to their billing.
Production Features
The All-Season gloves are made from drum dyed cowhide for greater durability and flexibility and abound with features.
As noted, the shell is supple drum-dyed cowhide, insulation is provided by a Gore-Tex insert that is waterproof, windproof and breathable. Lightweight all-season Thermolite insulation is also used to provide warmth and heat retention.
The Gore-Tex insert allows the hand maximum breathability while keeping the H20 and wind out. The Thermolite insulation layer provides a warm snug feeling over a wide range of temperatures.
The Olympia 2x Auto Cuff, where the thumb side toggle loosens and the pinky (small finger) toggle tightens, is quite unique and very functional, with some practice. Two small round tags, one red and one yellow, are included with the information material which clearly describes use of the toggles.
The "Flex knuckles" provide protection while allowing dexterity. Integrated reflective piping provides increased rider visibility and last but not least, a Thumb goggle wiper strip is provided.
In The Real World…
As with choosing a pair of summer gloves (see the wBW 2007 Summer Glove Comparison), choosing a pair of gloves that will fill essential comfort, warmth and protection needs can be a time consuming activity and somewhat expensive, as many all season gloves can be two to three times more expensive than the average pair of gloves.
My current all-season favourites are a pair of original Joe Rocket DryTech gloves and a equally aged pair of Alpinstars DryStar gloves, along with a set of the Joe Rocket Ballistic 5.0 gloves, although they are a much lighter glove and do not provide the same range of temperature protection.
All three sets are warm and comfortable in their own right, but none of them, despite their claims, have been found to be completely "waterproof". Accordingly, late last winter it was time to go searching for something better.
Showing perfect timing, our local Olympia retailer had just gotten in a shipment of Olympia gloves, including the Gore-Tex All-Season items, which were were just going out on display when we walked in one cold winter evening.
Considering the Olympia Gore-Tex All-Season glove was an easy decision for me,  as I have found previous Olympia gloves to be well made and extremely well suited to the tasks for which they were selected.
Add to that the touted features and the square-one feel of quality and the choice was pretty simple.
The gloves fit like, well, a fine pair of soft-kid leather or deerskin gloves – they are that soft, even when new and are comfortable from the first use.
In fact, this soft feel, due to the high quality leather and the cushioning insulation layer, puts off many potential owners – the gloves just do not look like they are capable of doing everything advertised.
A soft, pliable glove is desirable for many reasons, first and foremost being good fit = comfort and a good grip, with feedback.
Form is very important, especially when trying to come up with a glove that will fit the majority of hands and do it without compromise. My hand size is typically a large or XL, depending on the brand and cut of gloves.
However, I have found with Olympia Gloves, the XL sizing is a consistent fit for me, something I cannot say for some other brands.
This glove is a snug fit in the fingers, the thumb piece is a bit longer than my thumb (bonus) and it fits taut on the palm (you don't want much or any excess in this area).
And it has a bit of flex along the back, minimizing pressure and allowing the hand and wrist to be easily moved or exercised.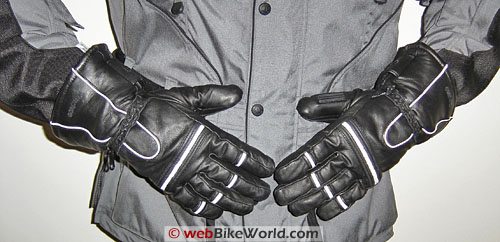 One of the best features is the reinforcement insert on the pressure portion of the palm which extends up along the inside of the thumb piece – the external stitching is totally unobtrusive and the extra layer works wonders for equalizing pressure between the grip and the palm.
Speaking of stitching, all seams and reinforced areas are tightly stitched with single or double rows and to date there has been no pulling, broken stitches or stretching along the seams at all.
It is virtually impossible to feel any seam or stitching from the inside, thanks to the workmanship and the comfortable Thermolite and Gore-Tex layers between the hand and the leather shell of the glove itself.
Raised ribs running across the back of the glove provide basic knuckle protection and there is an additional expansion panel or "Flex knuckle" sewn in as the middle rib.
This allows additional flexibility and reducing the pressure of the rib section on the back of the hand. This expansion rib feature is found on the finger pieces as well.
The wrist elastic is well pronounced, but not obtrusive and does a good job of providing another seal against the elements. Wet or dry, the glove is easy to put on or take off, despite the medium length gauntlet.
Short or limited function gauntlets seem to be de rigueur these days. For some conditions a medium to long gauntlet is not critical: for most all-weather applications it is.
To some degree the Olympia Gore-Tex glove suffers the same design approach, but its implementation still provides a medium gauntlet length — adequate to cover riding jackets/suit sleeves
The bottom part of the gauntlet features a wide (hook-n-loop) adjuster flap, allowing the middle of the gauntlet to be tightened up completely with or without using the Olympia 2x Auto Cuff.
The gauntlet opens to about 14cm (5.5 inches) in diameter, which should be sufficient to accommodate most outer garments.
These two features provide two ways to seal the glove and outer layer and protect the inner layers and thus the rider. The gauntlet can be tightened up completely, minimizing the bulk of the gauntlet.
This is useful for those who wear their gloves inside of the outer layer and, for securing the glove to the lower wrist/hand, a safety feature that is often not appreciated, nor used by the wearer.
The integrated reflective piping is very subdued, but the piping does light up when energized, although the overall effect is pretty muted and not as evident (effective) as piping or panels used on other brands of gloves.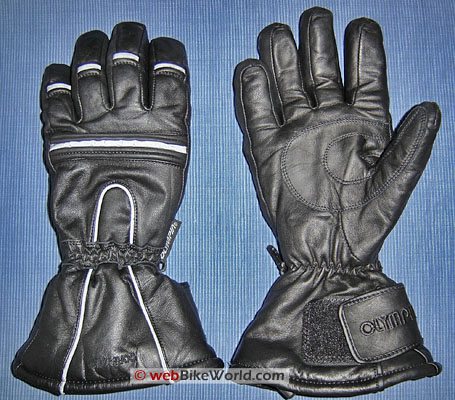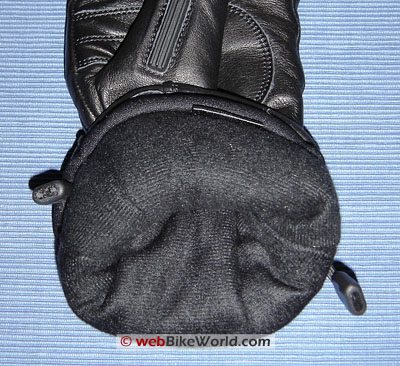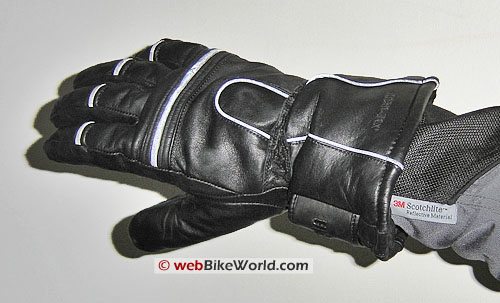 Ad-Hoc vs. The Real World
As the gloves have been subjected to heavy use in consistently cold and wet conditions, all, without letting the owner down, I did not undertake any other type of detailed evaluation.
While the gloves are extremely lightweight when dry, they are much heavier, probably twice as much, after being exposed to a few hours of constant (heavy) rain.
While all that moisture is in the (leather) glove, where it is not is in the inner shell. As a result hands stay dry and warm at all times.
At the lowest temperature observed (0C/32F), the fingers, depending on circulation, can get chilled after an hour or so, in wet or dry conditions.
The use of hand-guards and/or electric hand warmers serves to extend the comfort range of the gloves down to these temperatures. A silk liner glove, room permitting, would also provide some additional protection from the cold.
Feedback from two other riders who own the same glove has tended to support the assessment that the gloves are indeed (very) good for cold and wet weather use, but not totally suited for extreme cold conditions, at least not without guards or hand warmers of some sort.
Reluctantly I have not had a chance to try the Roadgear "Boss" Gloves for comparison – the Editor won't give up his pair, c'est la vie.
Conclusion
The Gore-Tex All-Season Gloves are stylish in appearance, extremely comfortable, warm, windproof, waterproof and apparently, pretty rugged.
Outside of some sheen lost from the leather, they are showing no wear or tear despite constant use last spring and now this fall, all on three different motorcycles (two without hand guards) which equates to lots of use.
These gloves have been just about perfect, more than living up to their billing and doing it all in style.
If the gauntlet was a bit longer and wider, the gloves would be close to a perfect 10 in the category they represent.
w

BW

 Review: Olympia 4150 Gore-Tex All-Season Gloves
List Price (2007): $99.95 CAD; $79.95 USD
Made In: China
Colors: Black
Sizes: S to XXL
Review Date: October 2007
Note:
 For informational use only. All material and photographs are Copyright © webWorld International, LLC since 2000. All rights reserved. See the webBikeWorld® 
Site Info page
. Product specifications, features and details may change or differ from our descriptions. Always check before purchasing. Read the
Terms and Conditions
!
Owner Comments and Feedback