OGK FF-5 Helmet Review Summary
The FF-5 is the latest helmet from OGK and it follows in the foot steps of its worthy ancestors.
OGK has a knack for getting air to flow through a helmet for rider comfort.
They also know how to reduce weight and how to exploit aerodynamics in a way that other helmet manufacturers don't, won't or can't. 
Winner: The OGK FF-5 was named the webBikeWorld 2008 Motorcycle Helmet of the Year! 
When the OGK FF-3 (review) arrived one hot summer day about 7 years ago, it was a revelation.
The size large weighed only 1623 grams — a featherweight at the time — and it offered a nice round-head fit that made it one of my all-time favorite helmets.
The FF-3 has some of the best venting of any helmet I've tried, and to this day I still wear it when the temperatures soar but I still want the protection of a full-face helmet.
The OGK FF-4 (review) arrived a couple of years later, and it weighed even less — only 1409 grams for the European (non-Snell) version.
But the FF-4 had more of a long oval internal shape, and I didn't wear it as often.
Now the OGK FF-5 is here. It continues OGK's emphasis on air flow and aerodynamics, and the internal shape is round again — perfect for me!
OGK is a small, family-owned business with a passion for what they do and it shows.
Their helmets are born and bred in racing; it took three years to design, develop and test the FF-5 on the track before it was ready for production.
We mentioned back in 2001 in the FF-3 review that the OGK brand probably isn't as well known as it should be, and that still holds true today unfortunately.
But relative obscurity may actually be to their advantage, because they can keep it small, stay focused and continue to bring outstanding products to those of us in the know…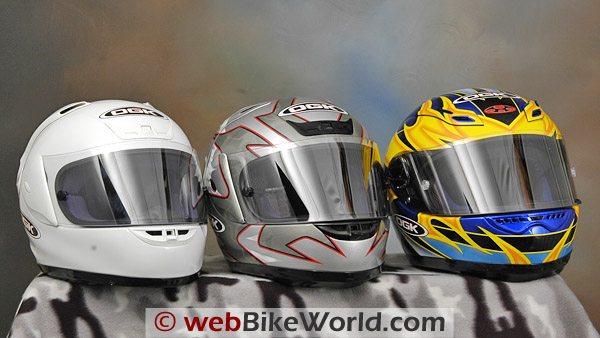 Paint, Graphics and Overall Quality
The OGK FF-5 shown here carries the Kousuke Akiyoshi yellow and blue colors.
This is an OGK FF-5 Special Edition; there are — or were — two other FF-5 Special Edition helmets, including the FF-5 Akiyoshi GP in a red, gray and black pattern and the FF-5 Tsujimura, in a blue and white graphic pattern.
Unfortunately, there were only a couple of hundred Special Edition FF-5's made and they were shipped the first week of July 2008. They were quickly snapped up by OGK fans worldwide and now they're all gone.
But the "regular" FF-5 is now in production, and it's available in an array of colors and patterns, starting at what I think is a great price of $399.00 including free shipping direct from Japan and a free extra tinted visor (see below for details).
This Akiyoshi Special Edition is a real stunner. The graphics and paint are perfectly applied, and the colors are deep, vibrant and textured.
The paint looks like it was airbrushed by a custom paint shop — especially the dark candy blue with silver undercoat and the yellow and orange flames.
As always, the photos don't do it justice, but even the white has a pearlescent glow. This is definitely one of my all-time favorites for sure!
The overall quality is outstanding; there are no faults that I can report. The Special Edition FF-5 helmets came with an extra dark smoke visor included. All of the switches and fittings all work perfectly.
So overall, I think the quality of this FF-5 is equal to the best helmets we've tried.
Score: I'll give the OGK FF-5 an "Outstanding" rating for the overall finish, paint and graphics, along with the quality of the lining and the operation of the vents and fittings. See the ratings scale in the summary table at the bottom of this page for more information.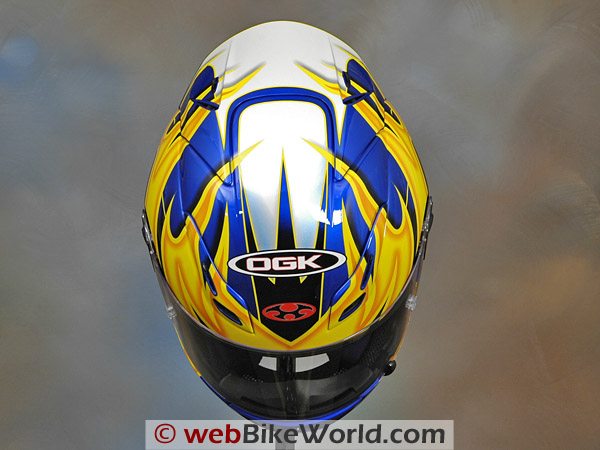 Helmet Shape, Fit and Sizing
The FF-5 returns to the FF-3's round internal shape. I couldn't be happier; the FF-5 gave me one of those rare helmet moments when I first pulled it on and it felt absolutely perfect for my round noggin.
Just by chance, a reader asked recently about the visor removal system on the HJC CL-14 we reviewed some time ago.
I got the helmet out of storage and as I was messing around with the visor, I put the helmet on and discovered that the fit (it's a size XL also) was identical to the FF-5, so you can use that as a benchmark.
The FF-5 also feels very much like the Arai Quantum II (review), which is Arai's round shape, and the Arai RX-7. OGK says that the fit is patterned after the popular RX-7, although I haven't directly compared it to that helmet.
I can say also that the fit of the FF-5 is somewhat comparable to the Shoei RF-1000 (review) in size XL, which I think is a round shape that tends just slightly towards neutral. The FF-5 also has an internal shape and fit that is similar to the new Vemar VTXE we just reviewed a couple of weeks ago.
The sizing of this FF-5 is right on the money.
The XL shown here is a perfect XL size of 61-62 cm. I'm on the borderline between a typical size L and XL helmet size at 60.5 cm, and the FF-5 probably just a shade large for me, but I'd rather have it that way than too tight.
I think I could have fit into an FF-5 in size large, which would probably have a fit identical to my old FF-3, which is a size large.
UPDATE:  I purchased another FF-5 in size large to compare the fit. My feeling is that it is a true size large, and fits a 59-60 cm head with a neutral shape.
As often happens, I'm between sizes at 60.5 cm, so the large is just a touch too small and although the XL is very slightly too big, I'll stick with it. I still think the XL will fit a 61-62 cm head best.
So the internal shape and fit to expected sizing is all good news for motorcycle riders around the world, as it appears that the fit, shape and sizing standards were designed for a diverse audience.
That is unlike some other Japanese or European only helmets that occasionally have a fit tailored to a more local customer base.
Be sure to read our Motorcycle Helmet FAQ for more information on choosing and fitting a motorcycle helmet and for a discussion of head shapes. Remember also that proper fit is crucial for both comfort and safety.
The FF-5 is currently available in sizes ranging from XS to XXL.
UPDATE: The helmet comes in three shell sizes: the XS, S and M are the same shell; size L is an independent shell and XL and XXL use the largest shell size. The shell is made from a carbon/Kevlar/fiberglass composite.
The ear pockets are somewhat smaller than, say, the Vemar VTXE, and they are padded towards the outside where they meet the EPS liner. I am able to wear my regular length eyeglasses with the FF-5.
Score: I'll give the FF-5 an "Outstanding" rating for the internal shape and fit and the plush and comfortable liner.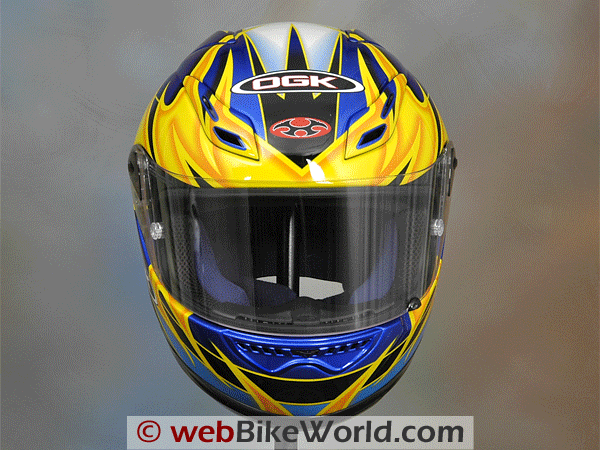 Ventilation
If I may generalize, I'd say that OGK helmets have consistently better air flow and aerodynamics than probably any other helmet brand. The FF-3 compares well to any helmet available, even though the design is now 8-9 years old.
I still wear it when the weather gets hot — as it has been recently — and I need full-face protection.
The FF-5 continues that tradition with excellent air flow through the wide horizontal chin bar and the two top vents. I think the secret to OGK's success in this area is the yin and yang relationship between air flow and aerodynamics.
OGK pays a lot of attention to the way the air flows off the back of the helmet, both to reduce turbulence for racing but also to maximize the helmet's ability to pull the air through the helmet and out the back.
The rear spoiler system is a patented design, and OGK spent a lot of time and money on perfecting the aerodynamics, again with racing in mind.
They said that the design was developed by senior aerodynamic design professors from the Department of Aerospace Engineering at Tokyo University and Nihon University to develop the system, and they're very proud of what they've accomplished.
OGK Kabuto have even produced an impressive 15-page color book that explains the development and design of the FF-5, most of which is dedicated to explanations and photos of the aerodynamic development.
The chin vent is a large scoop with a horizontal switch that opens or closes the vents.
Filtered air is directed through passages in the chin bar, where it flows on to the rider's face. Some of the air is directed on to the back of the visor and is also split by the small breath deflector to the rider's face.
The FF-5 has a lot of chin room, and the breath deflector does not rub against my nose like it does in the FF-3 (although the FF-3 is a size large).
The top vents open and close independently; OGK says this is to allow custom-tailoring of the air flow. Each vent has a small push lever in back of the opening that allows them to be closed, open half-way and fully open.
The dual rear exhaust vents also operate independently with three positions (closed, half and full).
I think these are the key to the FF-5's excellent air flow; they really seem to work to pull the air through the helmet.
Of course, the best vents in the world are useless if the air can't flow down through the liner and on to the rider's head, and it's amazing how many helmet manufacturers don't seem to understand this simple fact.
The FF-5's liner has large channels cut in to the fabric and the EPS foam in the shell, and large vent passages direct the air through the top vents, across the rider's head and through the equally large exhaust vent passages out the back.
The channel system cut into the EPS and the fabric liner is obviously designed to allow maximum air flow, and it works. And all of this comes with relatively low noise levels, especially for a "race" helmet.
The FF-5 comes with a fabric chin curtain that can be installed by the owner.
This helps to keep the air from coming up underneath the chin bar, which is unfortunately the main source of venting for many helmets. It also acts to keep the pressures equalized inside the helmet to allow the aerodynamics and venting to do the work.
The venting system on the FF-5 can really be felt once ground speed reaches about 30 MPH or so. At slower speeds it isn't as noticeable, but it comes into its own as soon as the bike starts to move.
This is probably a sign that the rear spoiler aerodynamics and exhaust venting system is working, pulling the air out through the helmet as air starts to flow over the helmet.
Score: I'll give the FF-5 an "Outstanding" rating for ventilation and air flow, which is about as good as it gets in a full-face helmet without undue noise levels.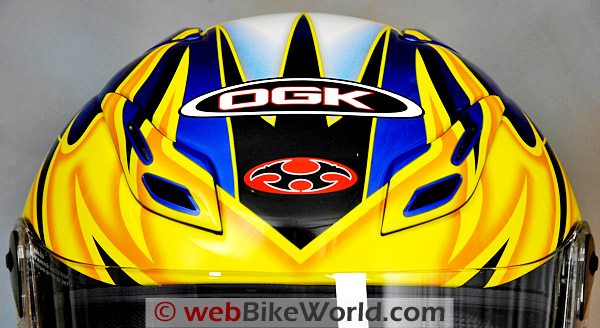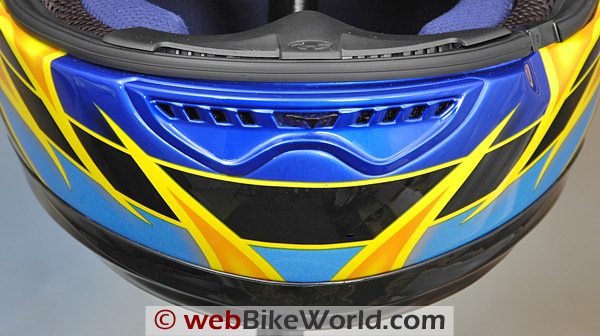 Helmet Liner
The FF-5 has a very comfortable removable liner. While the fabric might not be as velvety-soft as, say, the Shark RSX (review), it feels similar to the Arai Quantum II. The liner material is Coolmax, which seems to work well in our recent 90-degree-plus weather.
Moto Works in Japan, who distributes the helmet worldwide, has extra liners, cheek pads and parts for the FF-5.
Score: I'll give the FF-5 an "Excellent" rating for comfort, padding and moisture wicking.
Noise Levels
Most of the time, excellent air flow means a lot of noise, but the FF-5 is surprisingly quiet.
While it isn't the quietest helmet I've tried, it compares very favorably with, say, the Arai Quantum II, the Shoei RF-1000 and the Shark RSX, although the FF-5 flows more air than any of those helmets.
There is some wind rushing noise around the top vents, but no whistling.
The low-frequency rumbling noise that can sometimes occur around the bottom of a helmet when riding behind a fairing or windscreen is well controlled, although this can depend greatly upon the rider's head shape and the fit of the helmet; the rider's clothing; the motorcycle and more.
But overall, I'd say the FF-5 is average to better than average for overall noise levels.
That's compared to most street helmets and well above average when compared to other "race" helmets I've worn, which claim good air flow but usually have very high (and sometimes unacceptable) noise levels.
Be sure to visit to the wBW Motorcycle Helmet Noise page for more information. Also, note that we always wear high-quality, correctly fitted ear plugs when riding. Please see the wBW Earplugs and Hearing Protection page for more information on choosing and wearing earplugs.
If you don't wear ear plugs, all bets are off — every motorcycle helmet is dangerously noisy, in our opinion, and your hearing is as precious as your eyesight, so don't mess with it. Wear ear plugs.
Also, note that small changes in clothing, jacket collars, motorcycle types and, of course, windscreens and fairings can make huge differences in the amount of perceived noise.
Score: The OGK FF-5 gets an "Excellent" rating for noise control combined with good air flow.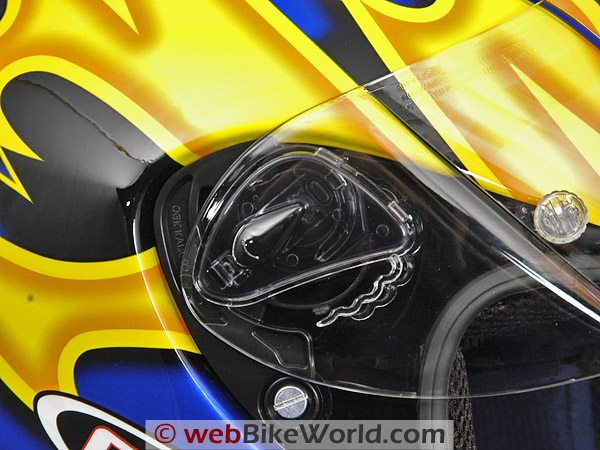 Face Shield
The FF-5's face shield provides excellent top-to-bottom visibility, even at Sportbike riding positions. The side-to-side visibility is also very good, although like most helmets, I can see just a bit of liner in my peripheral vision.
But this isn't a problem and it's probably better than most, and I have no problem also with over-the-shoulder head checks in traffic.
The face shield has three detents and it opens smoothly and progressively with a quality feel. I measure the face shield thickness at 2.1 mm. It has very little flex when it's pulled open with the left-side face shield tab.
The tab is a small black plastic knob that also can be pushed closed to snap the face shield firmly against the shell. This acts as a friction lock to ensure that the face shield stays closed at high speeds or during head checks.
If I had a wish, I'd ask for the face shield to have one more detent to allow a small opening for demisting, but so far the FF-5's air flow is good enough that this hasn't been a problem.
The face shield removal mechanism is fairly straightforward. Lift the face shield all the way up, press the small button in the center of the side of the face shield and lift the face shield upwards.
There is a sort of U-shaped channel molded in to the face shield; to replace it, slide the face shield back over the mechanism on the helmet.
It may take a try or two to figure out, but it works well once you learn it and it's much, much simpler and less complex than the antiquated face shield removal system and flimsy side pods on the Arai.
Be sure to watch our video (below), which fully illustrates this system.
The face shield fits extremely tight and perfect to the eye port gasket, with a tighter tolerance than I think any other helmet that has come through the webBikeWorld "Labs". The face shield clarity and optical qualities are outstanding compared to other helmets.
Score: I'll give the FF-5 an "Outstanding" for eye port visibility, the smooth face shield ratcheting system and the easy-to-use face shield removal system
Helmet Weight
OGK has always been focused on reducing helmet weight while meeting all applicable safety standards for racing, and the FF-5 is no exception.
The size XL shown here weighs in at 1614 grams (3 lbs., 8-7/8 oz.), which compares favorably with the Shoei RF-1000 at 1610 grams; the Shark S 650 at 1614 grams; the Bell Apex at 1620 grams and the Arai Quantum II at 1624 grams.
The FF-5 in size XL is even lighter than the old OGK FF-3 in size large at 1623 grams.
This is probably due to the carbon fiber, Kevlar and fiberglass composite shell used on the FF-5.
UPDATE:  The FF-5 in size large weighs 1610 grams on the Polder scale, just a touch lighter than the XL but not enough to be meaningful.
Between the relatively light weight and the excellent aerodynamics, the FF-5 feels very comfortable when riding and when turning the head side-to-side, where little or no turbulence or buffeting is noticed.
The weight is well balanced and the helmet does not feel top heavy.
See the wBW Motorcycle Helmet Weights page for charts listing the helmet weights of the 95 helmets we've reviewed to date.
Score: The FF-5 gets an "Excellent" rating for its light weight and good balance.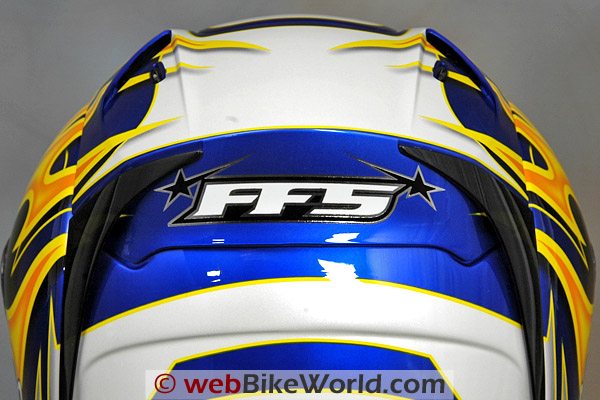 Miscellaneous
The FF-5 is not yet distributed in other countries, so it carries the Japan JIS T 8133  safety standard emblem.
OGK says that the helmet also meets the MFJ standard (Motorcycle Federation of Japan), a racing standard that is carried by "only the highest quality riding gear", such as RS Taichi and Kushitani leathers.
The FF-5 also meets the FIM standard, which means that the helmet is approved for World Superbike and MotoGP racing as well as all FIM approved racing events.
The OGK FF-5 has the classic, simple and light weight double D-ring attachment system and it has a snap for securing the extra length of chin strap.
The padding under the chin strap uses the same lining material as the rest of the liner, which makes it feel comfortable.
w

BW

 Video: OGK FF-5 Helmet

Winner: webBikeWorld 2008 Motorcycle Helmet of the Year!
Conclusion
The OGK FF-5 is already one of my all-time favorites, with a combination of fit, comfort, air flow and looks that can't be beat.
The fact that this Kousuke Akiyoshi Special Edition is as rare as hen's teeth — and that OGK helmets are pretty rare to begin with — just adds to the mystique.
The venting system is exceptional it doesn't add much to the overall noise levels, the eye port and face shield allow excellent visibility and the paint and graphics are outstanding.
w

BW

 Review: OGK FF-5 Helmet
Manufacturer: OGK Kabuto. We got ours from MotoWorks Japan.
List Price (2008): $399.00 to $490.00 including worldwide shipping.
Colors: Silver, Black, White and Graphics.
Made In: Japan
Sizes: XS-2XL. Shell Sizes: Unknown
Review Date: July 2008

Rating Scale is subjective: Unacceptable, Poor, Neutral, Very Good, Excellent, Outstanding.
Note:
 For informational use only. All material and photographs are Copyright © webWorld International, LLC since 2000. All rights reserved. See the webBikeWorld® 
Site Info page
. Product specifications, features and details may change or differ from our descriptions. Always check before purchasing. Read the
Terms and Conditions
!
Owner Comments and Feedback
---
From "S" (November 2015): "In response to NC with the Pinlock issues, I have the Japanese version of this helmet, and just installed a Pinlock. I actually have 3 shields for this helmet, and the darker tint has adjustable screws at the pins for the Pinlock.
My mirror shield just has the plastic pins. However, they are all adjustable. If you take a close look, you can tighten the Pinlock shield by turning the pins.
I initially had the same issue as he did, until I tightened it up. Hope that helps him out."
---
From "D.P." (September 2011):  "Just thought I'd send some pics of my crashed OGK FF5. I high-sided at Eastern Creek Raceway (Sydney, Australia) and hit my head at approximately 120km/h. I was instantly knocked unconscious and was woken up by the paramedics on the side of the track.
I received quite a few injuries (broken left leg, broken left elbow, broken left wrist, dislocated left shoulder and broken right hip) and my helmet sustained damage on all sides. Apparently I was thrown around like a rag doll.
The good news is, a CT scan performed at the hospital showed no damage to my brain at all. It's been 3 weeks now since my accident and I haven't even had so much as a headache. My memory is fine too. I will definitely be buying another one."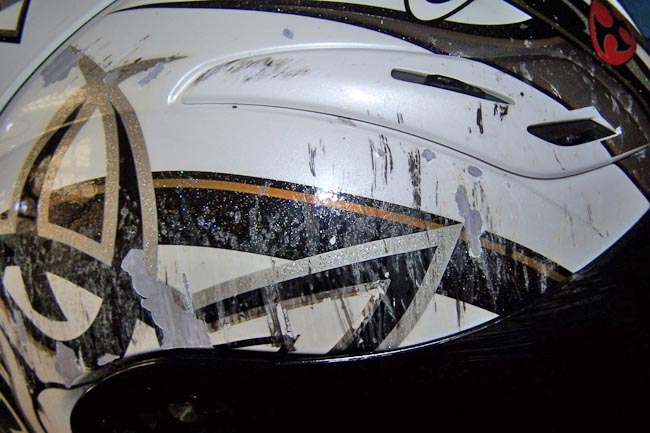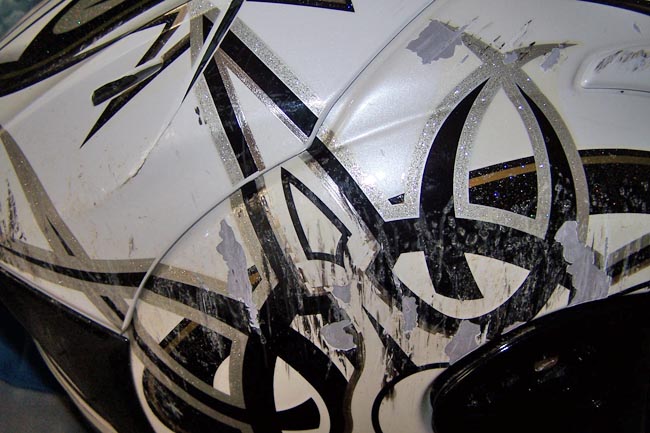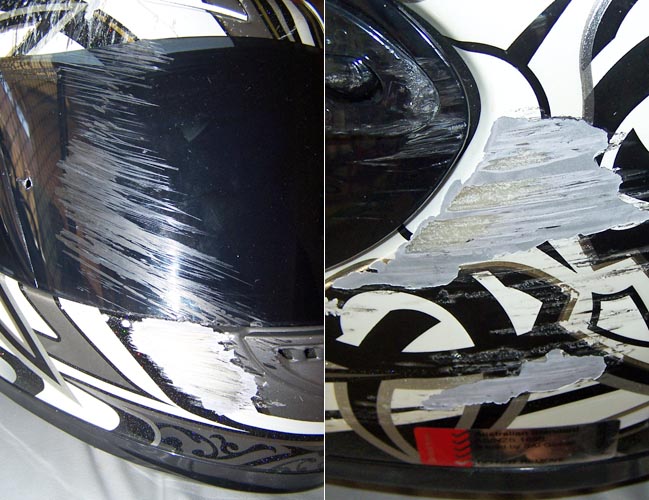 ---
From "M.B." (06/2011):  "I picked up a Special edition OGK FF-5 (Kousuke Akiyoshi Yellow/Blue) based on the glowing review it got on wBW. I must say I am very glad I did.
I have been riding with this helmet for 2 seasons now. It feel like an extension of my head it's so light and has such a great peripheral field of vision.
The FF-5 absolute gorgeous, and really stands out in a crowd.
I frequently get comments on the helmet and it's usually by the riders who have a lot of time in the saddle and know their stuff.
They know the OGK brand and when I see another OGK owner we always seem to have this funny bond of a great relatively not well known helmet.
The air flow in this helmet definitely lives up to the hype. Ironically, the biggest complaint I have is it's such a great looking helmet I tend not to use it too much as I don't want to take it places it might get scratched.
If I could improve on this helmet I would give it the option of a face shield that didn't come preinstalled with the tear off posts. At least at the time I purchased it that was not an option.
My first face shield developed a crack where the lift was screwed in. It was replaced by MotoWorks at no charge to me. Excellent customer service!"
---
From "S.B." (5/10):  "I enjoyed reading your reviews of both these helmets and must say I agree with everything you say. I own an FF-4 and love it – it does fit small which for me is fine.
I wear an XS Arai and a S in the OGK – I agree one additional notch on the face shield for demisting is the only slight complaint I have which for me isn't that big of a deal because I live in a very dry climate.
I am not happy with the shape change on the 5 as the round does not work for me – I really like the oval shape and its fine my head well.
Consequently the new model is out for me. I have owned the Arai Quantum and while it's an ok fit the oval is better hence the 4 – but that's life. I still love my AGV helmets and seem to find one that works for me. Thanks for your reviews."
---
From "J.H." (8/09):  "I live and work in Japan and bought the limited edition FF-5 Akiyama lid online for about $360.00 USD. T he lid arrived in 3 days in a box with surprisingly limited protection from bumps and knocks (only one Styrofoam insert inside).
The helmet however, was in perfect condition. I've now been using the helmet every day for approx 3 months.
In terms of rideability, lightness, and aerodynamics it's been a revelation. I can freely turn my head at speed and arrive home with none of the aches and pains in my neck that I used to get from my trusty old Shoei.
I've had my Ninja up to some pretty obscene speeds and the helmet just cuts through the air like a knife; truly astonishing performance, especially for the price.
The paint is also wonderfully sumptuous and seems to be one of the deepest lacquers I've ever seen used on a motorcycle helmet. The Akiyama paint scheme simply looks amazing.
However, I now have to turn to some unhappier experiences, some of which have already been covered by a previous poster:
The chin vent is already beginning to peel off. There's actually about 1mm between the helmet shell and the vent in places. Not good.
The vinyl lining around the bottom of the helmet is poorly cut and has a serrated and rough edge; almost as if it wasn't cut cleanly.
I own the original clear face shield, as well as the dark smoke visor, which I've been using during the summer. Whilst clarity is excellent during the day, I noticed at dusk that the clear visor suffers from a slight rainbow bloom effect on car headlights and other bright lights.
The dark smoke visor also suffers the same problem at night. Said visor is also excellent if your back is to the sun, but is curiously ineffective if the sun is above or to the front.
The screen seems to mist up in the glare, ironically almost like smoke, and makes riding through forest/mountain roads arduous and potentially dangerous as vision flits between perfect clarity and then misty indistinctness. Very, very disappointing next to my old Shoei 'blue smoke mirror' visor, which was even usable at night!
Both visors fail to seal properly on the right hand side, which leads me to my next point:
Regardless of how forcefully I seal the visor and how much I play around with different vent combinations, I get an irritating and constant stream of air directly into my right eye. After a five hour ride last Sunday I was shocked to see how red my eyes were when I got home. Completely bloodshot. And this was with the chin guard, all vents closed, and the visor locked into place. I can only point the finger at bad visor sealing. It didn't matter where I put my head on the bike, a constant stream of air was circulating around my eyes for the whole ride. I'm not looking forward to winter much…
The top vents and rear spoiler have become noticeably 'looser' since I first purchased the helmet. The previous poster mentioned that they are beginning to peel away. This seems almost inevitable on my helmet now too.
The combination of the shape of the helmet and the helmet bag means that I take a few minutes trying to squeeze the damn thing in after every ride.
Not that they're particularly expensive, but don't waste your money on the 'silver mirror' tear-offs. I binned them within 5 minutes of trying them on. Firstly, the front doesn't have a mirror effect at all and, worst of all, they are completely unusable as an optical product. I could barely see 5 metres in front of me; it was like squinting through a dense silver fog. I'd go as far to say that they are seriously dangerous and should NOT be used for riding. I tried all 3 of them in sunny conditions before throwing them away and they were all the same. I either got a bad batch or something is seriously wrong with OGK quality control. Out of all the lids and visors I have ever used, those tear-offs performed the worst.
Akiyama helmet: love/hate relationship, potentially for a short lifespan. Dark smoke visor: not recommended. Silver mirror tear-offs: not recommended
One final surprising thing: I'm part of a large group of Japanese riders and enjoy a spot of mountain scratching every weekend.
However, not ONE of the Japanese members had even heard of OGK until I turned up in my new lid…!  They all wear either Arai or Shoei. The power of brands, eh…"
---
From "D.P." (7/09):  "Just a few things about my OGK FF5 that I think your readers should know about. My OGK is just over 18 months old now (build date DEC 07) and is starting to show some signs of wear that I'm not really happy about.
I wear it about twice a week for my commute to work, plus the occasional weekend ride or track day. So, here's the problems:
1. The chin vent is starting to peel off. The double sided tape that holds it on has lost it's stickiness.
2. The same goes for the top vents. They are peeling off too.
3. The vinyl around the base of the helmet padding is starting to crack and tear.
4. The visor doesn't seal properly around the bottom (left and right side). I've tried adjusting it, but no success.
I would expect these problems on a cheap helmet, but not on a helmet that retails for $549.95 AUD. It's a pity really, because I love this helmet. Maybe it's just an isolated case?
I can't take it to back to the dealer either, because I can't find my receipt. I've never had to keep a helmet receipt in the past anyway, as I've never had problems with any previous helmets (I've owned a long line of HJC's)."
---
From "C.H." (4/09):  "I would just like to add to the comments in saying that this is the most amazing helmet I've ever touched. I have been riding motorcycles and racing cars for almost 10 years now, so I have worn almost everything under the sun.
While I had felt that the Arai RX7 and subsequently the Corsair were my most favorite helmets ever due to comfort, weight, airflow, and design, I decided to give some other helmets a chance.
I had an AGV RS-2 Rossi before my OGK, and I felt that it was a slightly heavier, slightly less "finished" version of an Arai Corsair. I wore a large in a Corsair and I wore a large in the AGV.
I had heard so much about the OGK FF-4, that I really wanted to pick them up. However when I started looking, I noticed that nobody was stocking them anymore. Doing a little research, I found out about the FF-5 right when it hit the market.
I had a friend teaching English in Japan so I called her up and had her order me one, which subsequently took 2 months to get to her on back order, then another month to ship to the States. Best decision I have ever made, and worth all the waiting when it finally arrived.
Although I have worn a slightly lighter helmet a few times (Suomy Extreme and AGV Ti-tech), this helmet fit JUST like a Corsair to me, which equaled perfect.
The airflow is so ridiculous at times I have to close vents to prevent my head from getting cold in the 50-60* rides, which I never had to do ever on my other helmets, I love it!
The aerodynamic shape is like nothing I've ever had before either.
Turning my head to the side at 80mph creates almost no resistance, where as other helmets you feel like a linebacker is pushing on the side of your head as soon as you turn even 15 degrees from straight on.
The visor feels super tight with no leaks ever, and the adjustments are crisp and solid. I thought I would always still long to wear a Corsair again, but I have divorced from my old love and found a new one to stay.
If I could make an ultimate OGK… I might make the liner a tad more velvet-ey, which I feel the Arai's do best, but hey… can't win em' all. The performance and comfort more than make up for anything else.
I hear a few places in the U.S. can get these helmets for you now, unfortunately at a price almost double what I paid, but I feel like if you are considering any other top level lid (Corsair, Extreme, RSR2, X-11, GP-Tech, etc…) and you had a round head, this one will top them all.
The only things the others have over this helmet, is awesome graphics and famous rider names, and if it means that much to you, take the $200-300 you save over a graphic version of another helmet, and go get a custom helmet paint job. Enjoy."
---
From "I.N." (12/08):  "I own this amazing helmet and so far, everything you mentioned are spot on!  Very well balanced, tolerable noise and fit…felt great even at illegal 100+ speed. This is well on par with the Shoei X-11(or XSpirit) in terms of fit, vent, and aerodynamic.
The only minor gripe I have is the squeak!  My goodness the torturous squeaks!
I leather up my RSTaichi jacket with its typical zip-up Nehru collar, this collar's leather collaborates with the FF5 helmet bottom-base surface to drive me insane.
The FF5 is made of pleather or vinyl!?  But whatever it is, when rubs against any leather jacket's collar, audibly can drive a person crazy.
Mind you, I am no giraffe!  I only have a normal sized neck and when riding at varied speed, the squeak is constant!  I'm trying to find a solution for this but the only way so far is to wear a textile jacket. Too cold for this time around.
Hopefully, there is an aesthetic solution to this beside me having to tape something soft, velvet like on it so the love rubbing can stop. Please other OGK FF5 owners, please chime in with a solution to this. Thanks and ride safely!"
---
From "J.B." (11/08):  "I can see way you like this helmet so much. I ordered a FF-5 Scream and after about two weeks it arrived at my door and this last week got to go and ride with it.
Well all I can say is after 20 years riding with Arai's top shelf stuff that is now where they sit, on my shelf.
I would say that the build quality is right on par with Arai and the fit is a good compromise between the RX-7 Corsair and the Quantum R. Low wind noise and a nice visor (although I wish it would let you open it just a crack) make this my new favorite lid.
Thanks for your reviews and a great site."
---
From "T":  "Hello, thank goodness you put a review on this, just wanted to see what others have to say. I'm glad that its not such a popular helmet, because I want that uniqueness.
I've had the Kabuto Scream (white) for 4 months now, and I love it!  It's definitely an upgrade to my FF-4.
I have collected a few helmets, so I do have some comparisons I could share. First off, the noise (when I get the helmets new I ride without earplugs for comparison).
I would say the RF-1000 is still above average quieter helmet I've worn; FF-5 is comparable with the RX7 (with the RX7 shield adjusted to fully sealed), and the RSR2.
The liner is better in my RSR2 and even the FF-4 in comparison, but I would say the FF-5's feeling of the fabric is similar to the X-11 on my skin; still comfortable.
Vision, is similar to the RX7, with a broad up and down vision, but may have some limitation to the side to side (peripheral vision); which the RF-1000 seems to win in this coverage.
Otherwise everything you reported is spot on. I do love this helmet its my favorite now. I learned from you that my size medium is the smallest shell, their website never stated that.
But that brings me to my cons about this helmet.
I do feel like I see Darth Vader when I wear this, with the shell size seem big compared to the rest of my helmet, I noticed this in both FF-4 and FF-5; without the side pods for the FF-5 I guess this improved it, but looking at my forehead its not attractive.
But who's complaining, as long as it has the protection that it will provide me, I'm a happy camper. May I add that customer service is awesome, and the free tinted visor has expired. Do I recommend this helmet??
Um, to be honest, I would like to keep a hush-hush about OGK; I want to keep the uniqueness."