Many riders wear bamboo socks and underwear for their all-season comfort and long-lasting odour-free freshness.
We endorse Bamboo Textiles products and sell them through our online shop. The most popular bamboo items are the long and short motorcycle socks. Click here to check out the full range.
However, their even-longer equestrian socks may be just as suitable for riding steel horses, says Bamboo Textiles spokesman Bernie Kath.
"We had a fellow call the other day asking where he could get our equestrian socks because he loves them for when he rides his motorbike because they go the length of his boots," he says.
So we have added them to our online shop.
They cost $16.50 plus Australia Post shipping.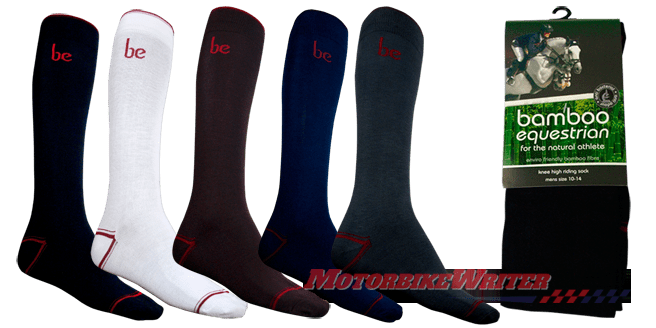 Bamboo tech talk
Here is some tech talk from Bamboo Textiles extolling the advantages of bamboo products:
Bamboo charcoal wadding and yarn are made with nano-particles of bamboo-charcoal. Bamboo-carbon nano-particles come from 4-5 year old bamboo.

Bamboo thrives naturally without using any pesticide and bamboo-carbon nano particles still retain a natural antibacterial and antifungal function, bacteriostasis and deodorisation.

As bamboo charcoal has a natural antibiosis function, it should not cause any allergic reaction to the skin, unlike other fibres sterilised with an antimicrobial agent.

Bamboo carbon yarn has a cross-section filled with various micro-gaps and micro-holes. Compared with other conventional fabric it has better moisture absorption and ventilation.

We stock Bamboo Textiles socks t-shirts and underwear for men and women in most sizes

Bamboo charcoal products can absorb and disperse sweat fast, making them feel dry and comfortable. They also do not stick to skin during hot summer days.

Bamboo charcoal products not only feel cool during hot days, they also have great insulating effect of maintaining temperature in the cold.

Bamboo carbon nano particles can also absorb far infrared radiation which help in cell activation and promote blood circulation.

As bamboo-carbon has porous structure it can absorb and decompose benzene, phenol, methyl alcohol, and other harmful substances.

As bamboo-carbon nano particles are conductive, their presence in the fibre helps prevent charge buildup. As a result, the wearer will not experience unnecessary static-electrical shock even in dry conditions.

Using Bamboo Charcoal products will, in general, not cause any allergic reactions as harmful chemicals are not used during production. As the bamboo-carbon nano particles are distributed inside the fibres, rather than on their surface, both bamboo charcoal yarn and wadding are washable.