There are many hurdles to the inevitable introduction of electric motorcycles, but they are gradually being whittled away as battery technology develops and the price comes down.
What's your biggest hurdle for electric bikes?
Take our quick poll at the end of this story
But some of the recent electric motorcycles developed seem to show that the short-term future may not be on the road, but off road, on farms, beaches and forests.
It makes sense because these bikes are quieter and less likely to scare the livestock or wildlife.
We love the Ubco 2×2 developed by a Kiwi company. It has two-wheel-drive which makes it very capable on slippery and muddy hills.
Check out this video of the motorcycle with an electric motor in each wheel.
It looks like an enormous amount of fun, but it's not available yet and they have not mentioned a price.
The website says they are taking pre-orders and we tried to get in touch but they didn't reply!
Meanwhile, a Miami Florida company has produced an electric moped with an optional 10-inch-wide front tire that makes it very capable on the beach where it won't annoy sunbathers with its quiet motor.
The Xterrain500 will also be quite capable on snow and mud with its wide tyre and RockShox forks.
The company expects to be able to produce the Xterrain500 at the affordable price of $1600 plus $99 shipping by FedEx in the US.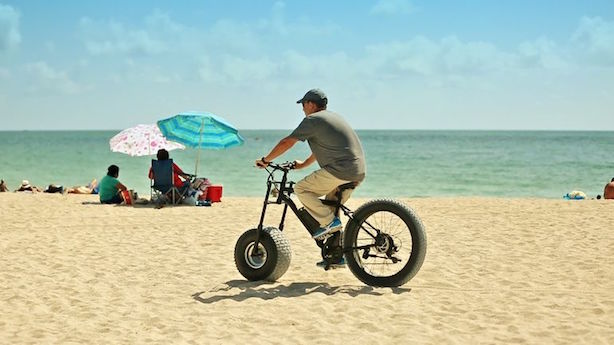 So while electric motorcycles for the road are still quite expensive with limited range and slow recharging times, the off-road electric market – where range and recharge times are not as important – seems to be forging ahead with practical, inexpensive bikes.