Riders are turning pink around the world in October for the annual Pink Ribbon Rides to raise money for breast cancer research.
In Australia, the biggest ride is expected to be the Sydney ride next Sunday (October 12), sponsored by Harley-Davidson.
The event is run by Sydney-based motorcycle enthusiasts Girls Ride Out Inc, with all money raised going directly to the Westmead Breast Cancer Institute. (UPDATE: 1000 riders participated and raised $50,000.)
This year the riders will gather at Club Punchbowl, Punchbowl, with registration from 9am. The ride will depart at 10am, after the Best Dressed Bike and Scooter competition is judged, with riders being joined by celebrity Harley-Davidson enthusiasts. A Fair Day – with fun for all the family – will get underway as the riders set off, including a Harley-Davidson photo booth, motorcycle displays, stunts, rider training, first-aid demonstrations and the exclusive PINK Harley Jumpstart.
The ride runs through Sydney's inner west to a half-way checkpoint at Warragamba Dam Visitor Centre for refreshments and a series of trivia questions, before returning to Club Punchbowl for lunch and the remaining Fair Day festivities.
"We're looking forward to supporting Pink Ribbon Ride for the fifth year running, and encourage as many people as possible to step up and show their support for such a worthy cause – either by taking part in this ride or coming along to the Fair Day, which welcomes anyone who wants to support the initiative," says Adam Wright, Director of Marketing for Harley-Davidson Australia. "The event is always a great community day with something for everyone – riders, non-riders and kids alike." 
The Pink Ribbon Motorcycle Ride raises money through a small entry fee and donations by riders and pillions, who are also encouraged to get their friends and family to sponsor their participation in the ride. 
Selena Thurbon, Founder of Girls Ride Out Inc, said: "2013 was another amazing turnout for the event, with more than 1500 riders helping to raise a total of $81,000 for the Westmead Breast Cancer Institute. Each year I am inspired more and more by the men and women who represent the worthy cause with such passion, by taking part in fundraising during the build-up as well as activities on the day."
Both female and male riders are encouraged to register for the 2014 Pink Ribbon Motorcycle Ride at www.pinkribbonride.com.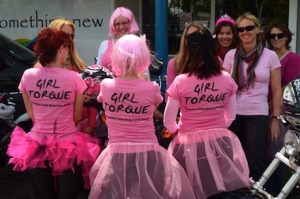 In Queensland, riders are asked to wear pink lingerie in the 13th annual Bras and Bikes ride on the Sunshine Coast. Click here for more details.
The Victorian Pink Ribbon Ride is scheduled for October 26 starting from Docklands Subaru from 9am for a 10.15am start and riding to Werribee.
To check out all the Victorian rides, click here. 
There are many rides in capital cities and provincial centres around the country and the world and we can't hope to cover them all. Check for events with your local motorcycle dealer and get out there in your pinks for a worthy cause.