BACKGROUND OF NORTON ROTARY MOTORCYCLES
Norton's air-cooled, twin-rotor Wankel motorcycles made up a unique and interesting chapter in the history of this legendary classic British marque. After the last Commando rolled off the assembly line in 1975, things grew quiet at Norton until the early 1980s. Norton and merged with BSA in 1973 just as BSA was collapsing, thereby surrendering all of BSA's assets to Norton. Among them was an engineering project along with running prototypes for a twin-rotor Wankel-powered motorcycle. Norton took the engine and continued to develop it until they built their first rotary-powered motorcycles in 1983-88 for police use only. They built just 350 of the 588cc Interpol 2 (P41) as pre-production prototypes to be tested under the rigorous conditions of daily police work with several police forces in England. Poor idling, constant overheating problems, and blown rotor seals were common. Norton had inherited the rotary project from BSA, who merged with Norton, then collapsed. Norton wasn't doing much better, struggling to survive, until the company changed ownership in 1987. The new owners quickly launched their next rotary machine, the P43 Classic in 1987 and 1988. It was an ambitious plan, and one that failed to find traction, as only 100 were built, and dealers had trouble selling them. The big failing of all the bikes was overheating, which the air-cooling was woefully inadequate to counter. So, the next bike, the 1988-1994 RCW588 racing bike, had water-cooling, which not only killed the heating problems once and for all, but freed up loads of horsepower. A street version followed, the water-cooled 1989-1991 F1, which came in just one color combo: black with gold details and gray stripes. This was the livery of John Player Special, the British cigarette company who sponsored Norton in their GP racing efforts, with the "JPS" logo emblazoned on the tank.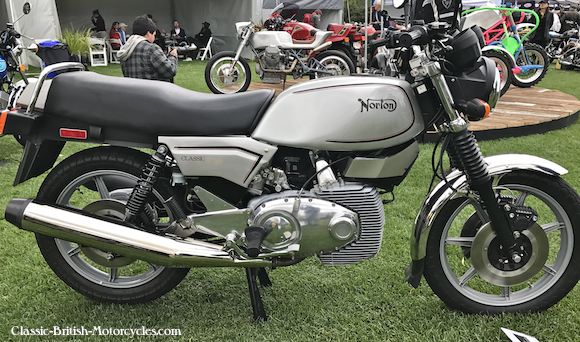 A HISTORY OF NORTON ROTARY MOTORCYCLES
All in all, Norton produced fewer than 1,000 rotary-powered motorcycles total, between all models, over the decade or so of their lifespan. Other than Hercules and later Suzuki, no one else ever made a practical production Wankel-powered bike, and Norton was certainly one of the leaders in the field. They learned through a steady process of trial-and-error in tough environments like police service and the racetrack, and improved them constantly. Had Norton been been better capitalized, much better capitalized, it might have been able to further develop their 588cc twin-rotor powerplant still further, to the next level of performance: emissions. Because emissions turned out to be the bane of many great designs, 2-strokes and Wankels among them. Of course, in modern times, with the will, brain power and capital resources required, Mazda has pretty much overcome all of the Wankel's inherent problems, the most difficult being cleaning up the tailpipe. Norton couldn't get it done with the resources it had, and certainly couldn't justify the massive expense considering how few rotary bikes they produced. But in the end, it wasn't the emissions that killed the project, it never got that far. Norton never found a real market for the bikes. They didn't sell well, many buyers weren't even aware of their existence at the time, and they didn't have the money to advertise them adequately. So in the end, the market decided, and just like with evolution, the Norton Rotary Motorcycle became extinct. They did go on to develop a line of drone airplane engines out of it that did quite well commercially, and held the distinction of weighing only 22 pounds yet producing 38 horsepower.
POLITICAL INTRIGUE BEHIND THE 1989 NORTON F1 ROTARY
After the slow-motion trainwreck that was the demise of the British motorcycle industry in the 1970s, only the beleaguered Meriden Co-Op (reduced to practically cottage industry-levels of Bonneville production), and Norton-Villiers Triumph (NVT). NVT Engineering Ltd. closed in 1976. The last classic Norton Commando rolled off the line in 1975 with a few unsold units being retitled as '76s. In 1978 Dennis Poore acquired the remaining assets to form Norton Motors Ltd. By 1982, Norton was back in the motorcycle business, building small numbers of rotary-powered Interpol 2 motorcycles to British police forces. Poore died in 1987, and Phillipe LeRoux acquired Norton to form the new publicly-traded company Norton Group PLC. At this point, the compay went full-boat into the rotary-power business, with a whole line of Wankel-powered high-end motorcycles and ultralight/drone aircraft engines (their NR73 drone engine weighed just 22 pounds and made 38 horsepower). None of the Norton rotary motorcycles were ever built in large enough volumes to be profitable and by 1992 Norton was £7 million in debt (about $12.3 Million USD) and went bankrupt. LaRoux was investigated for financial improprieties, acquitted, and his business plan for Norton became the subject for a Harvard Business Review case study titled "To Be or Not to Be in the Motorcycle Business".
---
Norton Rotary Motorcycles
MODEL-BY-MODEL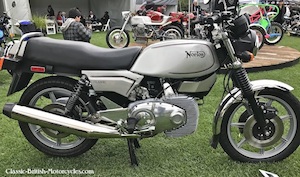 CLASSIC ROTARY (P43), 1987-1988
Norton's twin-rotor air-cooled Wankel was fast & smooth, but ran hot.

---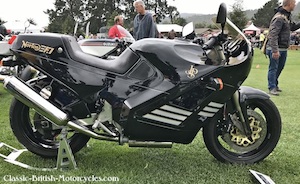 F1 ROTARY (P55), 1989-1991
Norton finally licks the overheating problems with liquid-cooling. The F1 is the street version of the RCW588 race bike.
---