NORTON MODEL 7 BACKGROUND
Following Triumph's lead, Norton, along with nearly every other British motorcycle manufacturer, entered the parallel twin race with its own new 500 twin in 1949. Known as the Model 7 and also the Model 7 Dominator, it was Norton's first twin, and the first in the storied Dominator line. It was Norton's hottest bike when introduced, but was quickly eclipsed by hotter versions of the Dominator family. Very quickly, the Model 7 became Norton's entry-level twin and was relegated to sidecar duty. It was phased out entirely after the 1955 model year, as both displacement and performance began their uphill climb.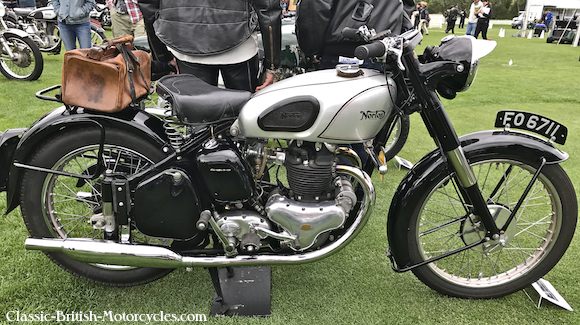 NORTON MODEL 7 ENGINE
The Norton Model 7 engine followed the established norm of the time with a 2-main bearing crankshaft (no center main bearing) with its rod journals set at 360-degrees (so that the pistons rose and fell together). The single camshaft set forward of the cylinders and were chain-driven off the right side of the crank, with the pushrods running up through a tunnel cast into the cylinder block. The left side drove a primary chain, multi-plate wet clutch and 4-speed gearbox. All Model 7s have a cast iron cylinder block and head with rocker boxes cast integrally into the head. In a mild state of tune, Norton perfected its twin-cylinder design, and soon began adding horsepower and displacement, as this same basic engine would serve as the basis for every Norton twin built thereafter. Growing from 500cc with the Model 7, growing from 500 to 600 to 650cc in the Dominator series, growing to 750 in the Atlas and Commando, where it grew to its final displacement as an 850. That's some engine!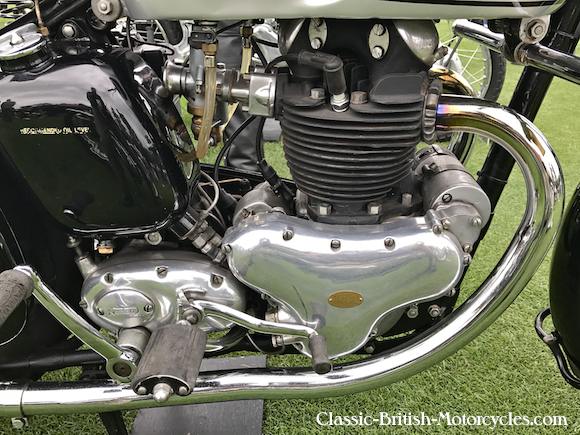 MODEL 7 RUNNING GEAR
When Norton introduced the Model 7 shortly after World War 2, rigid frames were the norm. Swing arm rear suspension setups hadn't yet been widely adopted, or even perfected. A stop-gap measure that gave some rear suspension travel without taking too bold a step into the unknown was the "plunger-type" suspension. It allowed the use of a modified rigid frame, which saved a ton of money for Norton. It didn't work very well, but it did work. And it carried the Model 7 over bumpy roads until the 1953 model year, when it was replaced by a true swing arm rear suspension arrangement.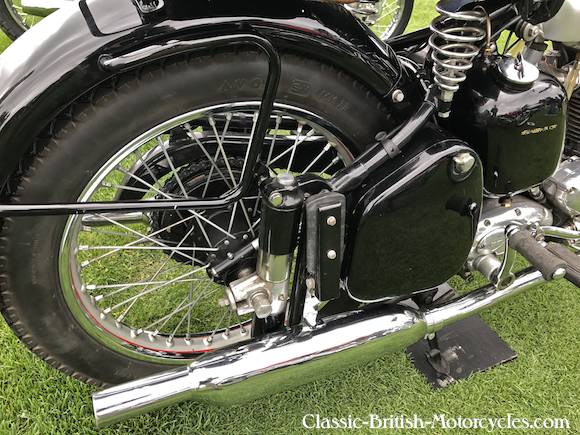 ---
Norton Model 7 Dominator YEAR-BY-YEAR
---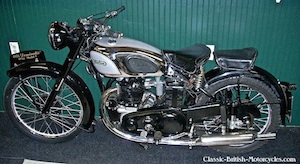 1951 Model 7
497cc OHV parallel twin
---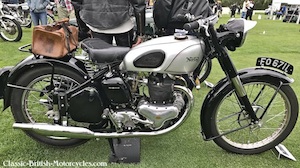 1952 Model 7
497cc OHV parallel twin
Last year for the plunger rear suspension.
---
Check out these NORTON BOOKS
---
---

Norton Motorcycles: From 1950 to 1986 (British Motor cycles since 1950)
---

Norton Commando: The Complete Story (Crowood Motoclassic Series)
---
---
---

The Norton Commando Bible: All models 1968 to 1978
---

The Illustrated History of Norton Motorcycles (English and Spanish Edition)
---

Norton (Osprey Collector's Library)
---

Norton Dominator Performance Portfolio 1949-1970
---
---

Norton: The Complete History (Crowood MotoClassics)
---
For more like this, please visit our
---