THE NORTON COMMANDO SS WAS A STREET SCRAMBLER
Today, the differences between types of bikes within a given brand can differ completely. Today, standard roadsters, touring bikes, sport bikes and adventure bikes are laid out totally different from one another, with different frames, suspension, wheels, brakes, everything. They're optimized for their primary mission and highly specialized. In the 1960s and 70s, most motorcycles from a given brand were fairly similar with different trim and accessories. For instance, every Norton Commando had the same frame, suspension and wheels, but through the use of different tanks, bars, seats, fenders and pipes, they created an entire fleet of distinctive motorcycles. The Norton Commando SS was one such bike. In the 1960s, so-called street scramblers were quite popular, tucking the pipes up high to give greater ground clearance for off-roading. Mind you, Street Scramblers weren't all-out dirt-bikes, they were the precursors to 'enduros', and what we call today 'adventure bikes', meant to live most of their lives on pavement, with occasional bouts off-road. Honda made a fortune with their early CL-series street scramblers in the 60s. Norton's entry into this niche was well-conceived and -executed. While it's hard to imagine a handsomer bike than a Commando with those long, upswept megaphones, Norton's execution of the high pipes running along the left side of the SS is just plain gorgeous.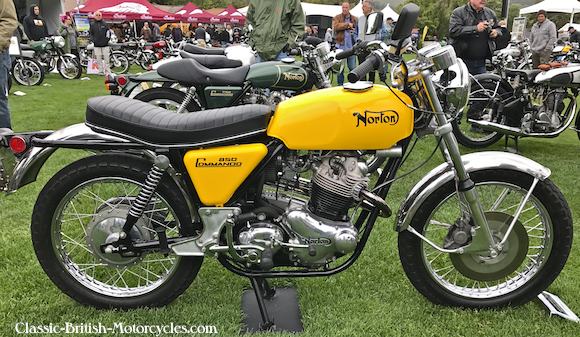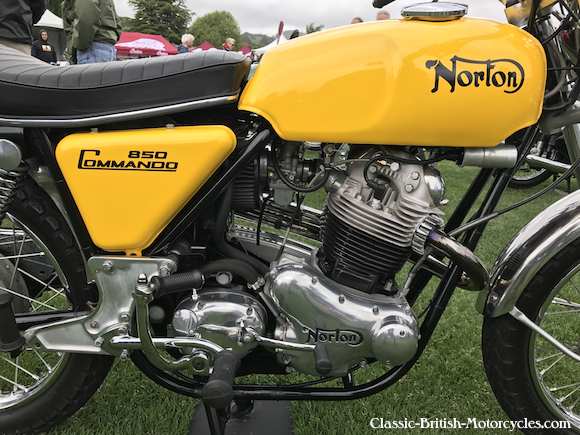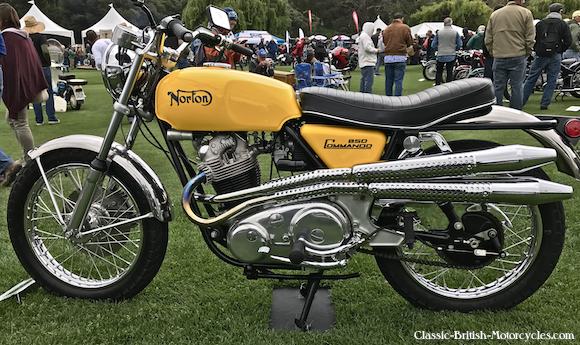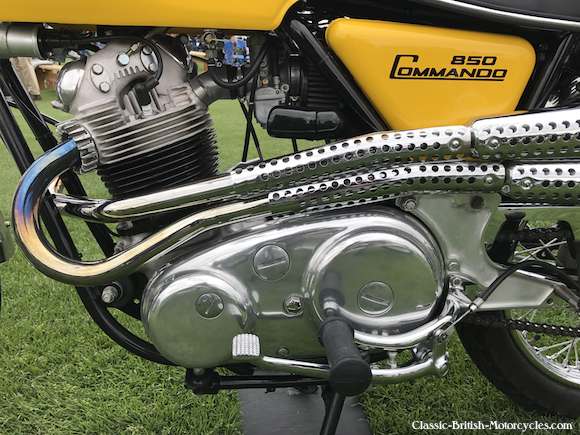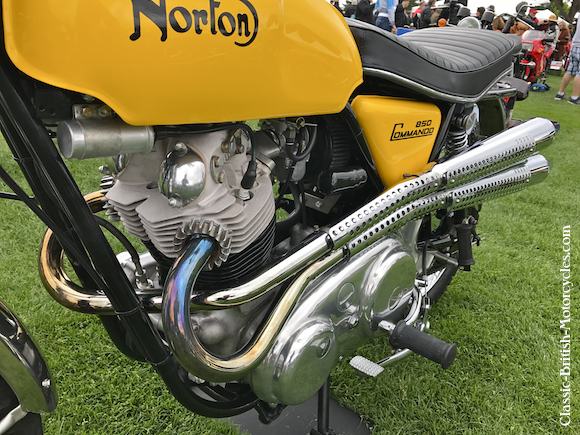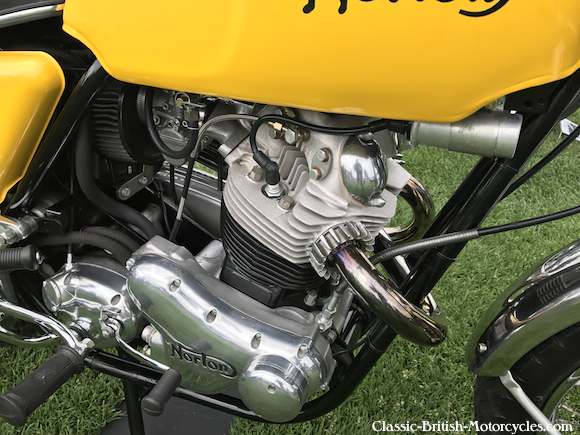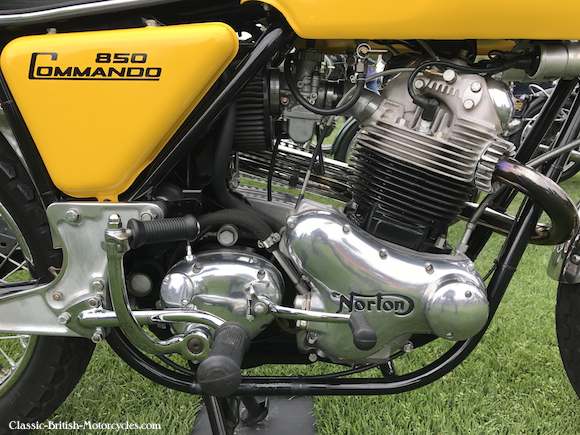 ---
Norton Commando SS SPECIFICATIONS
Years in production

Engine type

Displacement, pre-1973

1973 & later

Bore & Stroke

Compression

Carburetors

Ignition

Engine output

Oil system

Oil capacity

Primary drive

Clutch

Gearbox

Ratios, overall:

1st, bottom

2nd

3rd

4th, top

Final drive

Frame type

Suspension, front

Suspension, rear

Brake, front, pre-1973

Brake, front, 1973 on

Brake, rear

Wheelbase

Seat height

Weight

1969-1974

Air-cooled OHV parallel twin

746cc / 45 ci

828cc /50.5 ci

73mm X 89mm / 2.875″ X 3.503″

9.0:1

1- or 2- Amal Concentrics, 30mm

Battery & coil, Lucas

58 bhp @ 6500 rpm

Dry sump

6 pts

Triplex chain

Multi-plate diaphragm, wet

4-speed constant-mesh

12.40:1

8.25:1

5.90:1

4.84:1

Chain

Welded double cradle, Isolastic Suspension

Telescopic fork, hydraulic damping

Swing Arm, 2 dampers, Isolastic mounts

8″ TLS drum, full width

10″ disc, 2-piston caliper

7″ SLS drum, full width

57.1″

31.3″

431 lbs
Photos taken by Andy Tallone at the 2017 Quail Motorcycle Gathering in Carmel Valley CA.
---
Check out these NORTON BOOKS
---

Norton Motorcycles: From 1950 to 1986 (British Motor cycles since 1950)
---

Norton Commando: The Complete Story (Crowood Motoclassic Series)
---
---
---

The Norton Commando Bible: All models 1968 to 1978
---

The Illustrated History of Norton Motorcycles (English and Spanish Edition)
---

Norton (Osprey Collector's Library)
---

Norton Dominator Performance Portfolio 1949-1970
---
---

Norton: The Complete History (Crowood MotoClassics)
---
For more like this, please visit our
---