Nexx X40 Helmet Review Summary
Nexx X40 Helmet Image Gallery
November 22, 2011 – This has been the "Year of the Motorcycle Helmet", with manufacturers pumping out new designs seemingly by the hour.
We hadn't heard much from Nexx since our review of the Nexx XR1R Carbon (review) back in August of 2010.
I did see a revised Nexx X30 (review) at the 2011 Dealer Expo back in February of this year; that helmet now has a revised rotating visor and face shield system that allows each piece to be raised separately.
The face shield and eye port was also redesigned for better visibility. There are a couple of photos of the revisions in my 2012 Nexx Helmets report from the 2011 EICMA show.
We never did get a revised X30 for a review, so I can't comment on the changes. But there's plenty more news from Nexx for 2012!
For example, how about the new Nexx X40? It's what we call a true "modular" helmet, because it can be converted from one form to another.
Sometimes called a "MaxiJet" in Europe, this is a popular design with general street riders, touring bike owners, commuters and scooterists.
Nexx had a prototype X40 at the EICMA show and it's a very interesting-looking helmet, with a modern, angular design.
It has several innovations, including very large rocker-type intake and exhaust vents and an extremely large face shield that should provide outstanding visibility; potentially perfect for everything from touring the Rockies to slashing the streets of Bensonhurst.
I took a few photos and a video but quality suffered a bit due to the black helmet on a white table. Lesson learned — the Nikon P7000 is handy for toting around a motorcycle show but pretty bad at dealing with high-contrast scenes.
Anyway, I did my best in post-processing and I'm sure you'll get the idea.
Here's an edited version of the Nexx X40 press release and we hope to have one of these cool-looking helmets for a review as soon as they're released (scheduled for Q1 of 2012) to production.
More: 2012 Nexx Helmets Overview
The Nexx X40
The X40: Multi-combinations, from city to adventure, the new X40 MaxiJet from Nexx Helmets is an urban concept about what to expect from motorcycle helmets of the future.
The X40 has the potential to set the trend for an all-new type of design, engineering comfort. It was designed with assistance from the Link-innova Engineering design firm, with their experience in automobile and aeronautics technology and with the creativity of Rufo Design.
The X40 features a lightweight carbon-fiber shell, along with an aero-tuned design for quiet comfort and improved stability.
Engineering includes the new minimal design "One-Touch" ergonomic mechanism for the integrated sun visor and One-Touch ventilation system with "glove-friendly" rubber sliders.
The X40 liner is made from CoolMax advanced performance fabrics to keep the interior cool and dry. It is fully removable and washable and antibacterial and antiallergenic.
The X40 was conceived for function, not form. The helmet quickly converts from full-face to open-face configurations by removing or replacing the chin bar sections.
The design was conceived with the help of tips and comments from experienced motorcyclists.
Nexx X40 Technical Characteristics
Carbon fiber shell, multi-transformational from full-face to Jet.
Removable chin bar protection
Ultimate outward visibility
Removable breath guard
Night Vision reflectors on the front, sides and rear.
Visor: GE Lexan shield with Xpress-Change Face Shield System features the Easy Locking System and Integrated Visor Ventilation System.
Integrated Sun Visor with ergonomic button mechanism.
Shell ventilation includes two inlets and four outlets (Air Dynamic System).
CoolMax lining is anti-sweat and anti-allergic. Fully removable and washable.
Micro-Metric chin strap buckle.
Available sizes: XS to XXL (54 cm – 64 cm).
w

BW

 Video: Nexx X40 Helmet Prototype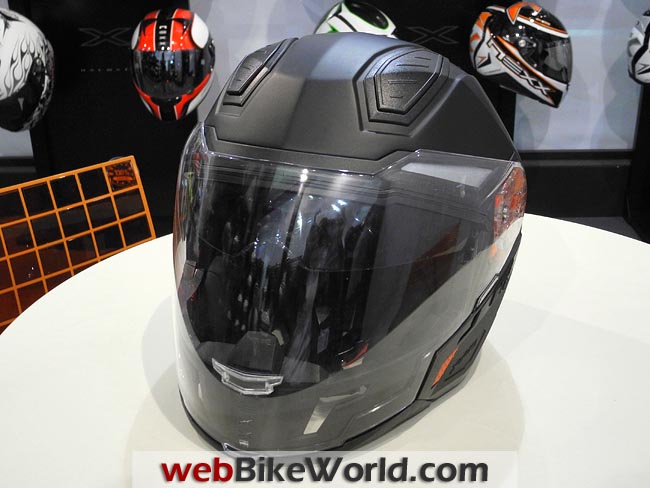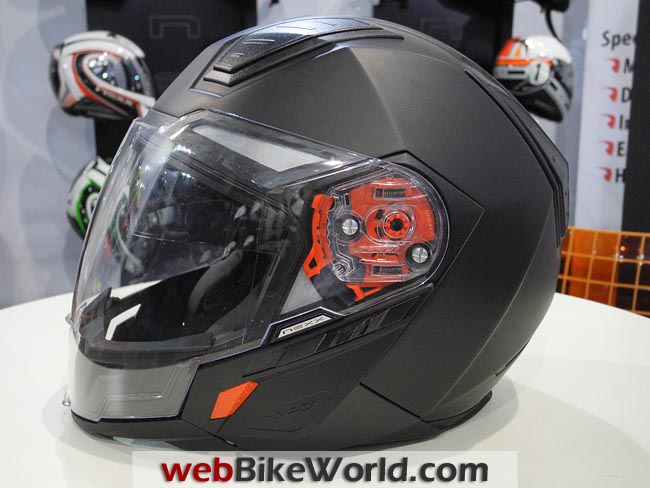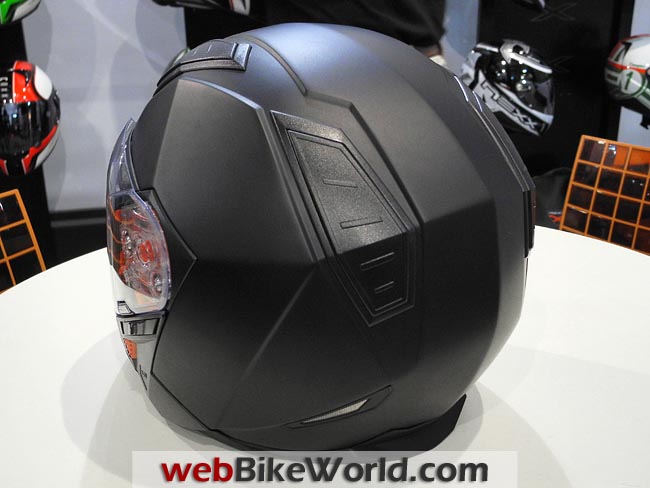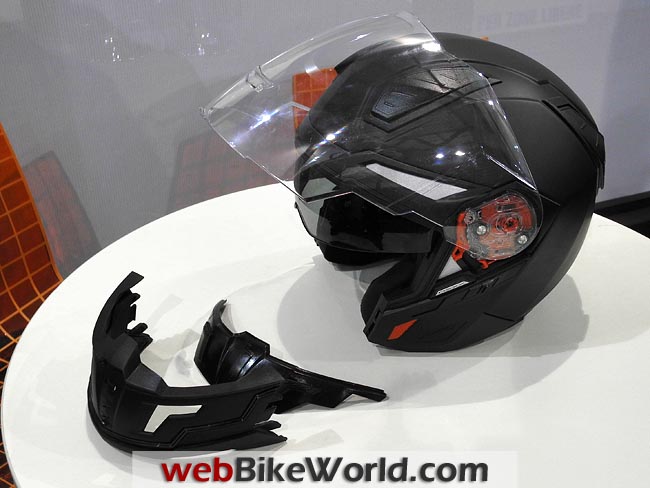 Publication Date: November 22, 2011
More: 2012 Nexx Helmets Overview
Note:
 For informational use only. All material and photographs are Copyright © webWorld International, LLC since 2000. All rights reserved. See the webBikeWorld® 
Site Info page
. Product specifications, features and details may change or differ from our descriptions. Always check before purchasing. Read the
Terms and Conditions
!
Owner

 Comments and Feedback
---
From "B.Z." (January 2014): "I was looking at this helmet there this weekend, and I mean REALLY looking at it.
This helmet has sooooo much flex in it, I am shocked. It had a DOT and a ECE 2205 certification on the back of it, but man was this thing sketchy at best.
Comparing it to my Nolan N43E Trilogy (review), I just don't think I'd feel comfortable with this as a "safe" helmet. Unique though in how light it is and some of the features like the flip open chin vent on the face shield.
Certainly looks like more ventilation that my Nolan overall too. I just couldn't get over how flexy it was, especially when you push on the chin bar when installed.
The whole shell bowed out, and the guy in the booth was saying that was a deliberate portion of the design."
Rick's Reply: Flex isn't necessarily bad per se actually; some flexibility is necessary to absorb impact and if correctly designed, it's better than stiffness generally speaking, e.g. the famous (infamous?) Motorcyclist mag article that rated the cheesy Z1R as better than Schuberth et al…
---
From "M.J." (June 2013): "When I first found out about this helmet I thought it was just what I was looking for but as it's not a main dealer stocked helmet in the UK, trying it might have been a problem.
Fortunately, there is a home based distributor not far from me.
When I saw it in the "carbon" I was impressed but looks mean nothing. Arai, SCHUBERTH and Shoei (helmets) are rubbish to me because they're not comfortable. Trying on is always the acid test for a helmet.
The Nexx fit me, probably as well as the Nolans I've had but it's lighter. The field of view seemed enormous and the dropdown sun visor seemed better than the Nolan.
The more I examined it the more I was impressed with the engineering, the little vent in the visor, the easy to open top vents, everything seemed to be well thought out.
In day-glo yellow it was also the best colour for road safety, better than a hi viz vest. However, as with any helmet you only find out how good it is by riding in it.
Now 2 months including a 1000 mile tour in southern England, later I've found there's good and bad. The field of view is superb both at the sides and up and down. The top vents are easy to open and actually work.
Wearing it all day was no problem. Removing the chin piece is easy but I'm not sure it makes much difference.
Similarly the visor vent doesn't make much difference but I've never found the chin piece vents in other helmets were much good.
The little slot in the base surround of the helmet for a Bluetooth receiver, seemed to be a good idea but the air flow across it makes so much noise that I've had to tape over it.
This brings me to the bad. In the past I've worn ear plugs for long runs but for short commutes haven't needed them. With the Nexx X40 they are essential, it is the worst helmet for wind noise I've ever had.
I assume it's the little "aerodynamic tabs" towards the back of the base trim but whatever, it spoils what could be an excellent helmet. Why helmet manufactures don't supply pelmets that slot onto the base of their helmets I will never know. It's not rocket science but would solve the noise problem.
As with any helmet once you've got it, you're stuck with it for at least a few years because of the cost Although I've never been that keen on putting things in my ears I'll just have to find the best earplugs."