Nexx X Garage Helmets Review Summary
Nexx X Garage Helmets Image Gallery
The Nexx X Garage Collection helmets are here!
Don't have a time machine? No problem!
These are about as retro as it gets, but they still meet DOT, ECE and NBR (Brazil) helmet safety standards.
The X Garage Collection currently includes an open-face, 3/4-style helmet and a very retro full-face helmet.
The helmet shell is all 21st century however; it's the Nexx "X-Matrix" design with "multi-axial fiberglass, 3D organic fibers, special aramid fibers and carbon reinforcement".
This helps to keep the weight down and it works — the helmets are very light.
Of course, with any out-of-the-box thinking like this, the opinions will be polar opposite.
But if you're into the retro scene, you'll love the look.
The X Garage Collection helmets are guaranteed to draw a crowd and we've had more positive comments about these than any helmet ever.
There's a bit of a downside, of course, as you might expect with something so faithful to old-school design.
There are no vents in the upper part of either helmet shell, although the full-face has a narrow mesh-covered slit that brings in some air through the chin bar.
Suffering was part and parcel of motorcycling back in the '60's (we know; we were both there).
But the modern liners with comfortable fabric in these helmets is decidedly a half-century better than anything we had back in the day.
Scrambler, Bonnie jockeys, custom bikers and even cruisers: your helmet has arrived.
Editor's Note
This review uses a modified format from the standard webBikeWorld motorcycle helmet review, because we're looking at the Nexx X Garage Collection helmet series, not just one helmet.
Thus, the detailed rating charts and scoring have been eliminated for this review.

The Nexx X Garage Collection
Nexx is on a roll lately with some forward-thinking designs like the very cool Nexx SWITX SX.10 (review) that was also the webBikeWorld Motorcycle Helmet of the Year in 2014.
And by the way, Nexx now has a bunch more of the replaceable helmet shell inserts for the SX.10, including wood and snakeskin looks!
They say the smaller companies can take risky chances and that's the crucible of ideas and innovation.
The new Nexx X Garage Collection reaches back to move forward and if that sounds paradoxical, so be it.
These helmets are as retro as you can get without finding a vintage helmet that — believe me — you wouldn't want to wear anyway.
The construction is definitely 21st Century but the designs are 1960's.
You may love 'em or you may not, but I can tell you this: these helmets get positive comments like no other helmets we've reviewed, ever.
The Nexx X G10 and X G100
The X Garage Collection currently consists of two helmets, an open-face design called the X G10 and the full-face X G100. There are 7 different X G10 graphic designs and as many X G100 full-face helmet designs.
The solid color helmets also come in a couple of different shades.
These are basic helmets that have shapes right out of the '60's, but the high-tech "X-Matrix" composite shell structure is decidedly 21st Century.
The build quality is excellent and the graphic designs and colors, paint and finish is superb.
The helmet liners are modern and removable and Nexx sells replacements, so you can switch sizes or mix-and-match liner colors if you wish.
The padding and liner fabric is comfortable and the helmets meet the DOT, ECE and NBR (Brazil) safety standards. So you're getting modern lightweight construction with old-school, hand-crafted styling with these helmets.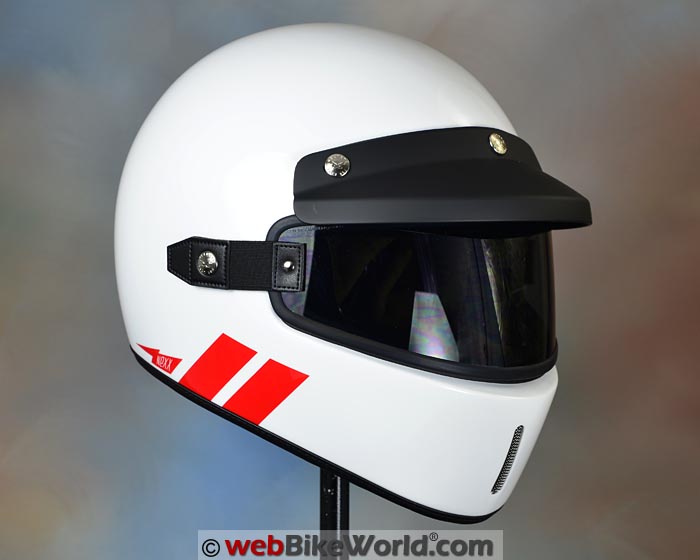 Maria Riding Company
The X Garage Collection helmet series is a collaboration between Nexx and the Maria Riding Company in Lisbon, who specializes in custom retro-themed motorcycles and also makes surfboards and skateboards — three of our most favorite toys.
Definitely check out their website, because they've done some fantastically cool bikes and their surfboards are one-of-a-kind. (For those of you who don't know, Portugal has some fantastic surf spots).
If you don't like the graphics-heavy X Garage Collection designs (we do), there are some tamer selections.
The X G100 full-face "Bolt" graphics in white with the small double-red stripes is one of our favorites but the open-face X G10 "Bad Loser" is perfect for you vintage enduro riders.
Score: The Nexx X Garage Collection helmets rate an "Outstanding" for the paint, overall finish, quality and liner. See the ratings scale in the summary table at the bottom of this page for a description of the rating system.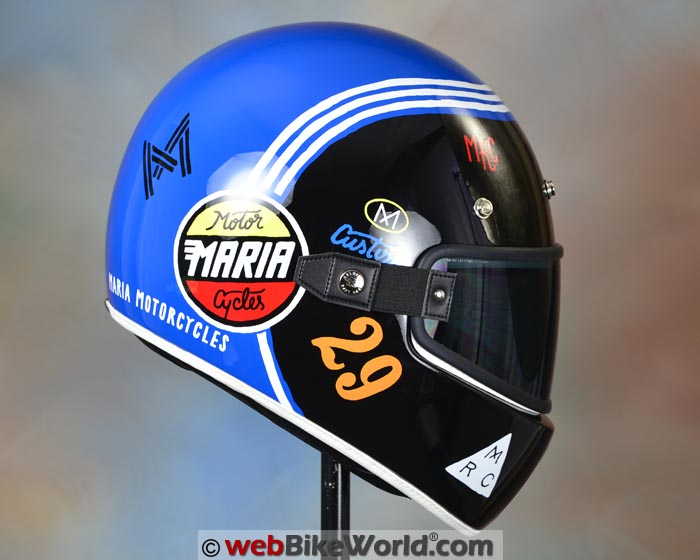 Helmet Fit, Internal Shape and Liner
Our X Garage Collection helmets are size L and XL. The internal shape of the full-face X G100 helmets is what we call "Slightly Narrow" while the shape of the open-face X G10 feels more "Round" to "Neutral".
This is true for both the L and XL sizes.
The size large X G10 open-face helmet feels correct, so it should fit a 60-16 cm "Neutral" to "Round" head no problems. The ear cavities are nice and deep and they surround the ears — at least "normal" sized ears.
The full-face X G100 helmets, however, definitely fit about 1/2 to 1 size small. The size large X G100 in the "Muddy Hog" graphics fits closer to a size M, while the size XL X G100 "Bolt" fits more like a size L.
So keep both the internal shapes and the smaller than normal fit of the X G100 in mind when you go to place an order.
Otherwise, the helmet liners and padding feel comfortable. The padding is slightly thin but doesn't have any hard spots poking through.
The fabric used in the liners differs slightly between helmets but it's smooth and comfortable.
Note that the full-face X G100 helmets don't have a standard ear cavity pocket, so speakers will have to be placed behind the padding, making it difficult to correctly fit an intercom.
But a vintage-look helmet like this wouldn't seem right with an intercom anyway, no?
More information on helmet fit can be found in the webBikeWorld Motorcycle Helmet FAQ page, along with the chart that lists the helmet weights of webBikeWorld reviewed helmets and also by shape on the webBikeWorld Motorcycle Helmet Shapes page.
And don't forget that choosing the correct helmet shape is crucial for both comfort and safety!
Score: The Nexx X Garage Collection gets a "Very Good" for comfort and fit, subject to the points above.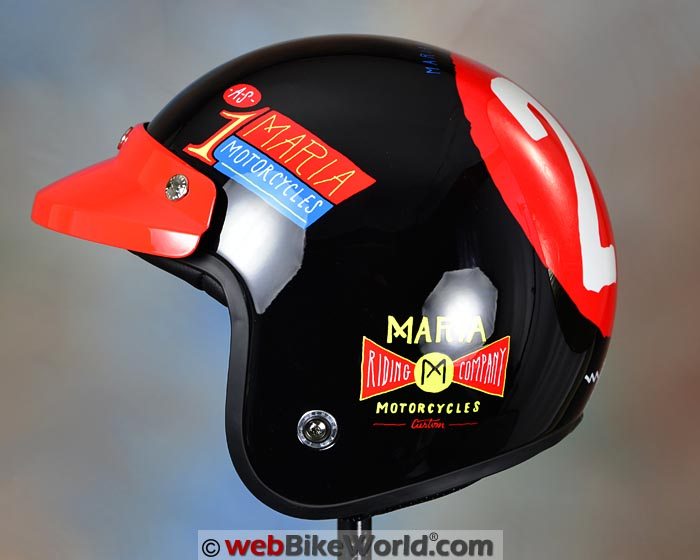 Face Shield, Eye Port and Visibility
This is retro through and through, so you're going to have to go with the styling and live with the '60's functionality.
However, the eye port on the X G100 full-face helmet is about average compared to modern helmets, so no real complaints there. The face shield or visor, however, is definitely unique.
It's a semi-hard (or semi-soft) type, with excellent optical quality and available in several different tints and colors. It clicks on to the metal snaps on the side with elastic straps attached to the visor.
We thought this would be a big problem but it turns out that it's not really too difficult.
The elastic straps pull the visor pretty tight against the vinyl eye port gasket, and this seals out most of the water and air.
It's actually pretty easy to lift the visor slightly for defogging by pushing up with the left thumb. Lift the visor about 5 mm or so and you'll get a lot of air flowing in — but right on the face.
It takes two hands to lift the visor all the way up and over the three metal snaps along the top. Be careful about those or they can scratch the inside of the polycarbonate on the visor.
Nexx doesn't yet have a snap-on "bubble" visor, but you can find bubble face shields for sale in a variety of tints. We haven't tried one and we assume the row of three snaps is standard for all snap-on visors.
(Good quality face shields of this type will have a slide adjustment for the snaps included.)
Bottom line: the very retro face shield on the Nexx X G100 full-face helmet is different than you're used to and it will take some practice to become accustomed to it, but it actually works better than you might think.
And by the way, those bubble face shields will also fit the 3/4-length Nexx X G10 helmets, which come with a snap-on brim or peak.
The open-face design, of course, has unlimited visibility in nearly all directions.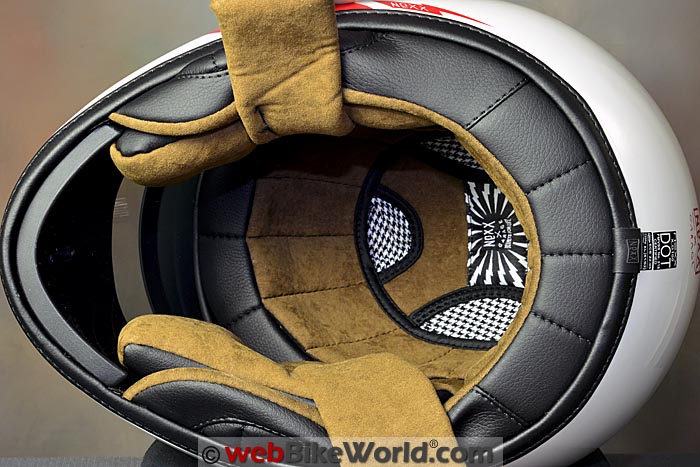 Ventilation and Air Flow
The full-on retro design means, well, retro style ventilation. There are no upper vents on the X G100 or X G10 helmet shells, so you have to depend on the "anti-sweat and anti-allergic fabric" of the liner.
Since many motorcycle helmets have pitiful ventilation anyway, this probably isn't as much of an issue as you might think.
Temperatures here have been mild (it's early Spring), but a day of riding at 72 F (22 C) revealed some heat buildup after about an hour or so. That was with the white X G100, so the darker colors may get warmer in hotter weather.
There is a chin vent in the X G100 full-face. It's a narrow slit, covered with screen mesh. It actually does flow air directly through a matching slot in the chin bar, so that helps.
Most of the time — especially when riding behind a windscreen — we had to lift the X G100 visor slightly to improve the ventilation and this works well.
In fact, the visor can be modulated or located better (or more precisely and in more locations) than many full-face helmets with "click" stop face shield indents.
The open-face X G10 design is typical open-face. You get a lot of ventilation, whether you want it or not. The absence of upper vents in the X G10 doesn't really make much difference.
But, you'll probably want to add some type of clear or tinted visor to the front of the X G10, unless you're going slow in the back woods. This will affect ventilation accordingly.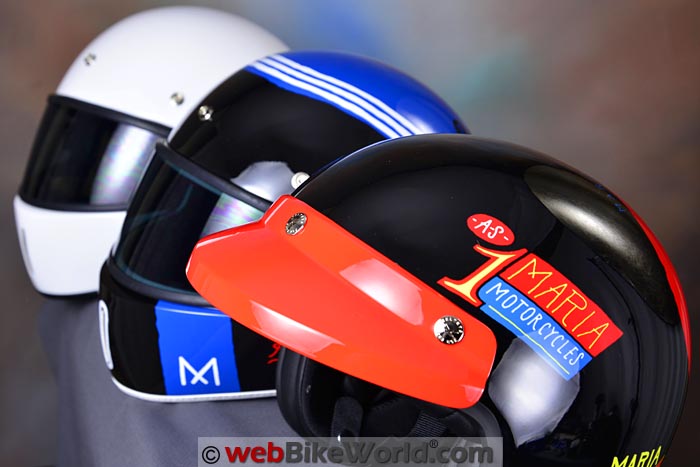 That smooth retro shell design has one advantage — it's relatively quiet. With no scoops, ducts or spoilers to catch the air and make whistling noises or turbulence, the X Garage Collection helmets are fairly good at controlling noise.
When the visor on the X G100 full-face helmet is lifted, there will be some wind noise coming through, which is the price you pay for the increased air flow.
The open-face X G10 is actually quieter than we expected, taking into account the open front, which is fine when riding behind a big windscreen or fairing but, of course, there's a lot of noise if your face is out in the air stream.
That's typical of any open-face helmet without a visor though.
wBW Video: Nexx X Garage Collection
Helmet Weights
The "X-Matrix" composite shells and absence of added vent hardware helps reduce the weight of the X Garage Collection helmets.
The X G100 in size large weighs 1344 grams (2 lbs., 15-3/8 oz.), which is outstanding for a full-face helmet and puts it at number 4 out of 255 full-face, flip-up and enduro helmets we have reviewed to date on webBikeWorld.
That's very light.
The X G10 open-face helmet weighs a scant 1077 grams (2 lbs., 6.0 oz.), making it also one of the lightest open-face helmets we have reviewed.
This is one of the biggest advantages of the X Garage Collection helmets and makes wearing them a real pleasure.
Note also that all of the helmets reviewed on webBikeWorld have been weighed and the weights are available on the wBW Motorcycle Helmet Weights page, along with a chart that lists the helmets by weight and shape on the wBW Motorcycle Helmet Shapes page.
Miscellaneous
The helmets have double D-ring chin strap attachments. The chin strap padding is wide and generous, which adds to the comfort factor.
webBikeWorld Opinionator: Nexx X Garage Collection
Picks…
…and Pans

Styling.
Build quality.
Light weight.
Comfortable interior.
Relatively quiet.
Fun factor.

Styling not for everyone.
No top venting system.
Sizing of X G100 seems a bit off.
Quirky visor on X G100.
Conclusion
The Nexx X Garage Collection helmets are a careful and faithful recreation of 1960's designs.
That fact has its pros and cons, so you have to realize that these are more or less recreations that attempt to duplicate helmets of yore using modern technologies and safety considerations.
We think the helmets are fantastic and although some of the graphics may seem a little gimmicky, the overall design and style has proven to be a huge hit with anyone who has seen the helmets.
The fact that the "plain" solid color versions are a standout without even needing the graphic treatment indicates that the X Garage Collection helmets are something special.
The build quality and "hand made" finish add to the enjoyment.
Nexx took a chance with these and it's an indication of the Portuguese company's movement over the last few years to very innovative designs that capture the essence of motorcycling in many different ways.
We think the X Garage Collection helmets will be a bit hit with all sorts of motorcycle owners, retro fans and even cruiser types and we can definitely recommend that you take a look.
wBW Review: Nexx X Garage Collection Helmets
Manufacturer: Nexx Helmets (Europe)
U.S. Importer: Nexx North America Corp.
List Price: $249.95-$399.95
Colors: Varies
Made In: Portugal
Sizes: XS-XL Shell Sizes: Unknown
Review Date: April 2016

Rating Scale is subjective: Unacceptable, Poor, Neutral, Very Good, Excellent, Outstanding.
Note:
 For informational use only. All material and photographs are Copyright © webWorld International, LLC since 2000. All rights reserved. See the webBikeWorld® 
Site Info page
. Product specifications, features and details may change or differ from our descriptions. Always check before purchasing. Read the
Terms and Conditions
!
Owner Comments and Feedback
---
From "S.H." (April 2017): "My  XG 100 Garage purist is still new , but is seems to be well built and very quiet, i.e. compared to my other helmets.
The vision is good , weight is great, very light and is the first thing people comment on other than the retro good looks.
Helmet is a little snug compared to my other two helmets, but again its new so should break in a little."
---
From "K.S." (March 2017): "This (X G 100 Bolt) is a great, quality helmet. Very light. I'm hoping that it breaks in a little but the shape does seem to be pretty neutral."