Now that Jeremy Clarkson has been dumped from Top Gear, maybe it's time for a similar motorcycle TV show – and you could even be one of the stars.
London-based production company Wild Blue Media is looking for six fast riders for a new action-packed motorcycle-based TV show to air in the northern spring of 2016.
The candidates must be aged in their 20s and 30s and be keen to travel the globe for a year trying a variety of extreme sports including yak racing with all expenses paid.
This follows a recent Harley-Davidson promotion in which they will pay a rider $35,000 and give them a Street Glide to keep just for riding around Europe writing blogs and appearing in videos.
Meanwhile, this "job" for six effervescent riders looks like even more fun and certainly better viewing than listening to Jeremy Clarkson berate motorcycles although I did sadistically enjoy it when he fell off a scooter in Vietnam!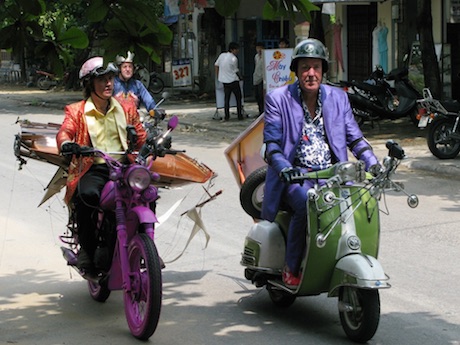 Billed as "the adventure of a lifetime," Wild Blue Media says participants will "travel the world taking on locals in an amazing and diverse array of speed events".
"The love of speed is witnessed in every culture in the world, often in the most bizarre ways. So expect to take on anything from yak racing in remote Mongolia to moped drag racing in West Africa."
Wild Blue Media is looking for "colourful characters – but real people with real lives".
"We're looking for both men and women, aged 20 to 30 something, who are skilled in a speed event."
The type of speed skill is immaterial. Riders could be road racers, motocrossers, or even skiers, although they say they seek amateurs, not full-time professionals.
And instead of someone who has already travelled extensively and tried out a range of adventurous pursuits, they're looking for people willing to try activities and destinations for the first time.
"You must have a passion for speed, the desire to win and a willingness to immerse yourself in local cultures and adapt to local conditions," says Wild Blue Media who plan to air the series in the northern Spring of 2016.
"Over 12 months you'll need to commit to a minimum of 13 trips to various remote and amazing destinations with all expenses paid."
Filming starts in July and will continue over the course of a year or more. With trips lasting over a week at a time, cast members will need to be flexible.
For more information, click here to send them an email and tell them MotorbikeWriter endorses you!