EV Style!
Is it a motorcycle? Is it a bicycle? Moped, maybe? Well, there's no way to tell from just looking at it (probably due to its clever styling and banger job of hiding most of the internals under the big piece in the middle of the main body), FTN Motion – out of New Zealand – are in the final stretch of preparing their first EV model for market.
This EV bike falls under the "moped category" due to the 50 kph speed limit that has been set by the factory; so for those confused as to what to call this sleek machine, maybe try "EV Bi-Ped"…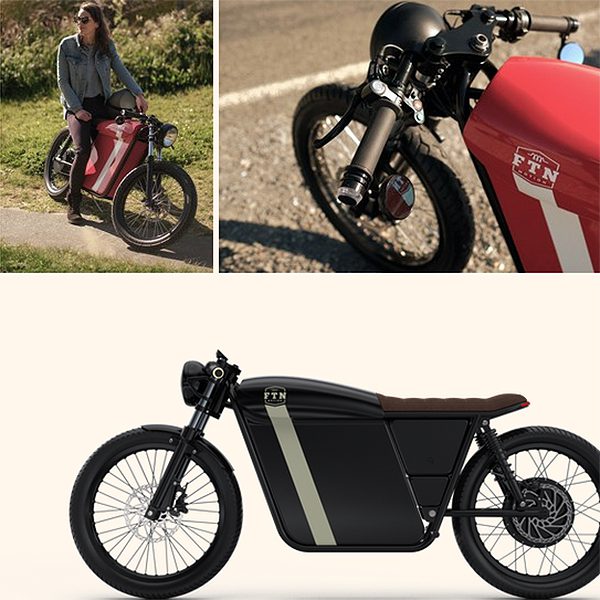 By giving this machine a quick glance, it immediately comes apparent that style and aesthetics took the front seat of the design process for this bike. The cafe-inspired retro look is mainly thanks to the clip-on style handlebars, long seat, minimalist-approach to a battery cover/fairing, and single headlamp.
To be completely honest, It almost looks like FTN Motion has created a one-off special build thanks to how custom is in its appearance; but little will on-lookers know, anyone can buy one!
The top of the "tank" features a fold-up storage (30L) compartment that has been cleverly integrated into the cover, and the 2KW battery is fully removable. The bike will give you a 100km riding distance and it only weighs 62 kg; it truly is perfect for small commutes.
FTN Motion is currently taking NZ$100 deposits, and the bike will run you NZ$7,995 on release day. If you're living in New Zealand and want a fancy new ride to transport you to-and-from work/the beach, this could be a great option.
Images taken from FTN Motion