Neutrino Black Box Image Gallery
Version 2 of the Neutrino Black Box Intelligent Device Controller is the newest and most advanced system from Arboreal Systems.
It's small in size but delivers a large payload.
This newest variant has tremendous flexibility as either a set-and-forget or interactive system allowing automated, semi-automated or manual control of all circuits and connected devices.
Like the original Neutrino, everything — hardware, firmware and software — all come together as a superb user-friendly product.
Its features and options for configuring and customizing circuit outputs allows almost any permutation a motorcycle owner might want to try.
Once configured, it will provide the programmed services seamlessly; you can leave your smartphone at home.
Although if the smart device is kept at hand or mounted for viewing, it acts as the controller for the Black Box.
This provides the user with access to a host of information from Neutrino and smart device sensors, available via the Neutrino Cockpit Controller app.
As a power distribution and management system, its encapsulated solid-state architecture, simple installation, easy access connection strip and mature management app for iOS and Android Bluetooth smartphones or tablets puts it at the top of my list.
Background information and details also available in the Neutrino Black Box V1 Review.
One of the first accessories I install on any new motorcycle is one of the new generation of power distribution and management systems.
This allows me to connect multiple electrical accessories and have them powered and managed safely, with or without any interaction from me.
In having used many of these systems almost since they first became available I have developed a pretty good set of requirements over the years.
Many of the original and current offerings satisfy these requirements.
But as an early adopter of almost anything — especially electronic accessories — the Arboreal Systems products are my favourites.
They satisfy most or all of my requirements while also keeping me intrigued about how they might evolve.
Since the original Dispatch 1 (review) power distribution system, there hasn't been much of anything else that provided head-to-head competition.
As such, until the original Neutrino came along, I had installed Dispatch 1 systems on my home fleet of motorcycles, which provided unfailing use.
When one motorcycle left, its Dispatch 1 unit would come off and I'd install it almost immediately on the new host.
Zooming forward and with all but one Dispatch 1 system replaced by Neutrino systems, all was good, although I was wondering when a challenger would come along. The wait wasn't long.
The Motobrain Power Distribution Unit (review) was released and Motobrain really upped the ante regarding technology, input and outputs, capacity and functionality and evolutionary potential.
One of the coolest features built into the Motobrain is its ability to be updated "Over-The-Air" (OTA) as part of its wireless connection capabilities.
Although downloadable USB-based updates do work, I wish more products would incorporate a wireless maintenance capability.
But in some regards, the complexity of the Motobrain system can also work against it. It does a lot of work, but users need to be aware of the "how" and "why" to best exploit its capabilities to the fullest.
The point here is that power distribution and management systems for motorcycles continue to evolve, along with so many of the electronic we use.
The way forward seems to be the integration with and the convergence of on-board and third party systems providing an app and/or headset-based control environment for the rider.
Stay tuned and we will continue to bring you the latest as the products are released.
But back to the present and the subject of this evaluation: the next generation power distribution and management unit from Arboreal Systems, the Neutrino Black Box V2.
The newest Neutrino Black Box is just more of the same, with even more features and functionality, better screen layouts and so far, very reliable.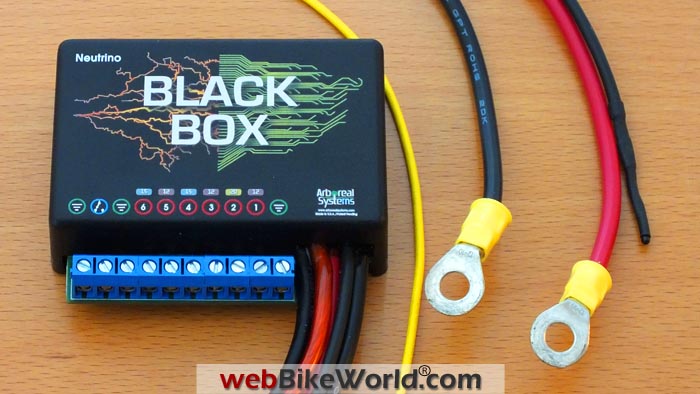 Neutrino Black Box Intelligent Device Controller Overview
This newest version of the Neutrino with updated iOS and Android Cockpit Controller apps provides a comprehensive and easy to use power distribution and management system.
As a refresher of sorts, the Neutrino Black Box provides distribution and management of accessory power via its six circuits and (new) relay input connections. And we won't forget the USB Y-adapter harness either. More on this later.
(NOTE: Here is a .pdf version of the Neutrino Black Box V2 owner's manual with configuration and setup information.
The website also has a detailed series of screen shots and walk-through videos posted.)
Like the Dispatch 1 and the original Neutrino, this new version replaces other fused or power distribution components and other control or switch devices on your motorcycle that might be used for heated gear, auxiliary lighting, etc.
With an iOS or Android compatible smartphone, interaction via the Cockpit Controller app allows circuit configuration and control on a set-and-forget basis providing automated, semi-automated or dynamic interactive control options; the choice is truly yours.
Versatility abounds. For example, circuit activation can be based on ignition, memory control, ambient temperature, sunset or even an external switch using the new relay circuit.
Neutrino system information and sensor data from paired smart devices allows the Cockpit Controller app to provide an encompassing "at a glance" display, including real-time voltage, heading, altitude, temperature, speed, time and amps.
The individual, composite or global overview screens allow ongoing monitoring and real-time management as desired; all are easy to read and easy to use.
Circuit configuration and management screens provide large icons, wheel or slider controls.
Many of the Neutrino Black Box Intelligent Device Controller changes are firmware based and supported by app enhancements, although two new features, one an option, serve to differentiate the newest model from the original (V1) Neutrino.
First up is the new optional USB Y-Adapter that can be used with any of the Neutrino systems.
This 2-into-1 extension harness is 95 cm (37.5 inches long) and it plugs into the Neutrino's short USB lead.
The black USB lead is a 2.1A rated power outlet available for use any time the system is switched on (bonus).
And when the extension lead is used, the white USB lead becomes the new home for the Bluetooth radio dongle receiver, so nothing is lost in using the extension harness.
The second major update is the addition of a Relay Input Circuit, taking the place of the original Battery Connection.
This input circuit sits between the two left side ground circuits and accepts input from an external switch for triggering a single or combination of Black Box circuits.
It is important to note that this feature is only available on the newest Neutrino Black Box model and is only supported using the most recent iOS and Android app. Current versions for iOS are v1.08 and v1.06 for Android v1.06 (see special note on Google Play app page).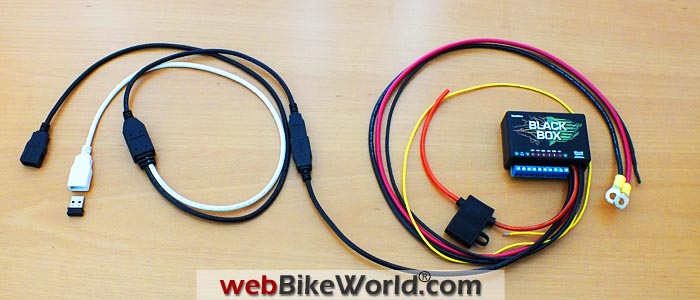 Physical Description
The Neutrino Black Box module is epoxy encapsulated and waterproof. At 76.2 mm long by 50.8 mm wide and 22.8 mm in height (3 x 2 x 0.9 inches), it sits nicely in the palm, but it feels like a small brick.
It weighs 368.5 grams (13 ounces) and it's solidly constructed and reassuring for the long haul.
Integrated and sealed main leads exit from the right front of the module. The two battery connections leads ending in ring terminals, along with the trigger and temperature sensor leads are 76 cm (30 inches) in length.
The USB connector lead with its Type A port is 40.5 cm (16 inches) long (the wireless BT radio dongle plugs into this port), while the new relay input lead with an in-line fuse holder, measures 31 cm (12.25 inches) in length.
As with the original Neutrino, a solid blue-coloured ten (screw type) connector strip is mounted and sealed into the lower front edge of the module.
This strip provides six (output) circuits, three common grounds and the new relay input. Up to 14AWG wire can be used for the connections.
A small but highly visible LED on the connection strip signals system status and each circuit has a visual display as well.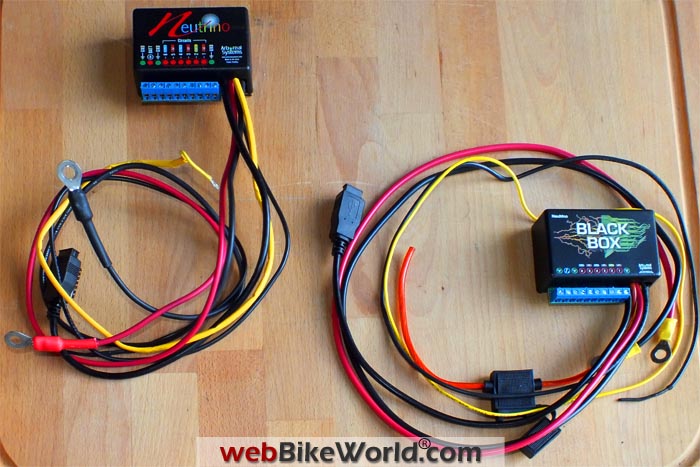 Installing the Black Box on the BMW S1000XR
Like most other power distribution and management systems designed for motorcycles, the Neutrino can be located almost anywhere, although access, wiring and of course safety are all factors of prime importance.
Timing, as they say, is everything and the plan really did come together in having the latest Black Box version arriving just as my 2016 BMW S1000XR (Blog) was brought home — Neutrino Black Box V2, meet the S1000XR.
Surprisingly, the XR has a fair amount of useable real estate under the faux two-piece elongated saddle, which is easily removed by inserting the ignition key into a lock at the back of the tail section.
There are two main sections under the seat with each section a molded plastic box fitted in and over frame sections.
The front section houses the master ABS control box and some of the electronics along with the battery that lounges on its back at a 45 degree angle. The rear section houses the On-Board Diagnostic (OBD) connector and other wiring along with the seat release housing.
This area is perfect for the Neutrino – providing easy access to the battery and other connections and space for related wiring.
Wiring Notes
The main positive and negative leads run across to the left side then forward alongside the battery.
They are subsequently connected to the top-facing secondary terminal connections, while the Yellow 12V DC trigger lead connects to a left rear OE auxiliary connector using a Posi-Tap.
Although I installed the Black Box temporarily on the right side during some early testing, a more permanent fitting is now in place.
That's thanks to an unused lightweight accessory license plate bracket that fits perfectly across and secures to frame mounting points for the rear compartment or box.
Bending a small extension section on the bracket down to a 90-degree angle forms a divider between the bracket and the rear seat latch molding and provides another attachment surface for the Neutrino module.
Mounted facing forward, the module is secured to the underside of the bracket with two 3M Dual Lock strips and positioned so the front top of the module with the circuit markings is visible.
In this position, the module sits 12 mm above the OE alarm module with lots of clearance at the front and sides for accessory leads that route in from the left and right sides.
Best of all, access to the OBD connector is not impeded and there is still real estate available as a more permanent home for the Innov K1 action camera (review) module currently residing on the handlebars.
A winter project will see terminal strips and a ground block installed on the side walls to better organize the wiring.
For now, a series of adhesive cable holders keep everything clear and semi-organized.
The connection strip on the Black Box module is readily accessed for inserting or removing the leads.
Most of the leads run in from the front of the motorcycle along the left side and then over the top of the frame section at a convenient point where the seat frame sits higher.
The multiple (and ever-changing) rear-facing auxiliary lighting harnesses come in through a 3/8″ hole carefully drilled through the back box and upper fender liner.
Some of the six circuits on the Black Box host multiple low draw accessories grouped for common function and the three ground connectors serve as common points for multiple black ground leads.
Posi-Twist connectors bring the various positive and negative leads together into bundles with short 16AWG Red and Black extensions or jumpers making the final connection to the Neutrino module. All circuits are colour-coded and labeled.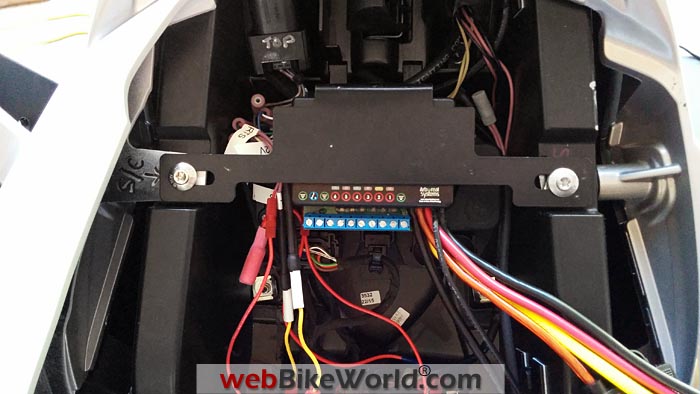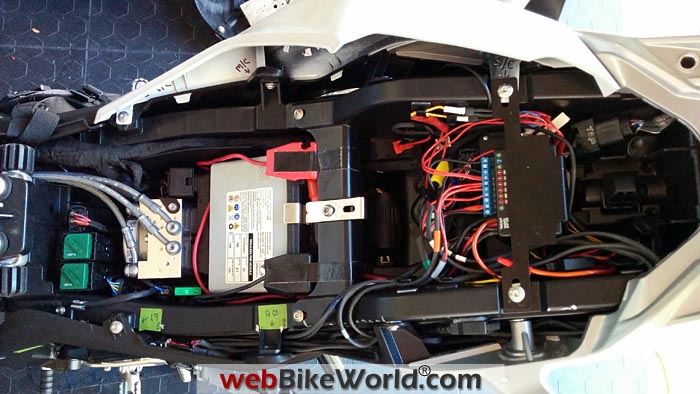 Function & Performance
There is no real mystery or magic to operating the Neutrino Black Box and this newest variant is even better than the original, which isn't a slouch by any performance standard.
The smartphone and the Black Box connect using the wired USB flying lead from the module or the White lead on the optional Y-Adapter harness or by using the supplied wireless Bluetooth dongle.
The wireless connection makes for a more flexible and mobile pairing, even if only used for initial configuration.
And this is where a device like the Neutrino Black Box shines.
One can configure any or all of the settings to be used and once set, close the app, put the smartphone (or tablet) away and go riding, secure in the knowledge that the device will respond to programmed settings without fail.
On the other hand, if you frequently adjust accessory settings, especially when testing various newly connected items, it's handy to keep the connected smartphone mounted nearby for easy access to the settings.
Between the firmware on the Neutrino Black Box V2 and the latest app, a number of features have been refined and new capabilities added since the original Neutrino review.
Black Box Circuits and Configurations
Overall there is now even more circuit configuration options to provide a pre-set automated environment or to provide lots of dynamic and interactive customization options.
As way of summary the circuits can be configured and managed by:
Circuit memory Off: no retention of previous settings when the ignition is turned off.
Circuit memory On: sets circuit to last condition before ignition was turned off.
Ignition On/Off: control by ignition switch or timer or voltage level/voltage dependent.
Switched/Variable: switched On/Off by condition or variable output control using PWM (Pulsed Width Modulation).
Automatic: based on variable output control setting, with defined parameters regarding ambient temperature, sunset (+ or -) or relay switching (+12V, -12V or float) with circuit power settings (percentile-based).
Output: using individual circuit power settings (percentage based adjustments).
Most of the individual circuit settings and conditions are set through the respective circuit screens.
The Master Electrical Page also identified as the global or grid view screen provides a composite view or snapshot of the system and it also provides the means to make some system-based settings.
Current Configuration
My current S1000XR Neutrino configuration has ten accessories powered and managed via the six circuits:
Denali DM1 LED lights (review) as daytime running lights.
Admore Handguard LED kit mounted on OE hand-guards.
Coaxial output for my (soon to be needed) heated gear.
An ADVmonster M30/M44 LED light combination.
A new ADVmonster SS25 light bar.
An Ohmics 2.4A USB outlet.
A 3BR USB power port (review) outlet.
The Ohmics MotoBrake (review) (new version Rev-C).
Some prototype rear-facing LEDs.
And last but not least, a recently acquired Garmin zumo 590.
Some circuits are switched and some are variable (PWM) output.
For example, the Daytime Running Lights (DRLs), the USB outlets and the rear-facing LED systems power up with the ignition switch (with a slight delay due to the POST and sequential circuit start-up that makes sure all is well).
The heated gear on the 20A rated Circuit 2 is set for variable output and configured to switch on for either a temperature threshold or sometimes at sunset (a bit before actually) as an automated setting.
And when the temperature rises along with the sun, the circuits shut down automatically.
No other switches or controllers are needed either.
Output is set as a variable or adjusted directly on the circuit screen using the PWM slider control — sweet.
Programming available variables into other circuits, especially auxiliary lighting, works great as well.
The new relay input circuit will soon be put to use with a Stebel horn kit that I will be installing on the inner side of the right engine guard (review pending).
Conclusion
There is a lot of flexibility built into the Neutrino Black Box Intelligent Device Controller system. Hardware, firmware and software (app) all come together into a superb user-friendly product.
Whether you have a few or a lot of accessories, or if your electrical accessory environments change a lot (as they do within the wBW environment), the Neutrino Black Box is more than up to the task of handling accessory loads while providing static or dynamic management.
As such, if you prefer to automate the system, go for it. There isn't much it won't accommodate, at least regarding most of the factors that we as motorcyclists need to deal with.
If you think of something, let the Arboreal Systems team know.
On the other hand, if monitoring and system interaction is your thing (like mine) then the Neutrino satisfies as well.
From an aging iPhone 4S (with what now seems to be a very small screen) to 7-8″ inch tablets, the Cockpit Controller app screens are viewable and useable, with touch sensitivity considered, of course.
As a new motorcycle on the market and in the wBW test fleet per se, we are just getting started on an ever-growing accessory list, many of which involve electrics and electronics.
I have no doubt that this newest Neutrino Black Box is currently the best choice to power and manage all of these accessories.
See Also: Motobrain PDU Review  |  Dispatch 1 Review
w

BW

 Review: Neutrino Black Box Version 2
List Price (2015): $299.00 (V2)
Review Date: November 2015
Note:
 For informational use only. All material and photographs are Copyright © webWorld International, LLC since 2000. All rights reserved. See the webBikeWorld® 
Site Info page
. Product specifications, features and details may change or differ from our descriptions. Always check before purchasing. Read the
Terms and Conditions
!
Owner Comments and Feedback
---
From "Y.T." (November 2015): "Quick question. You say "Versatility abounds. For example, circuit activation can be based on ignition, memory control, ambient temperature, sunset or even an external switch using the new relay circuit.". Does this device have temperature sensor and a photo cell?"
H.B.C.'s Reply: Your question is well made and timely and made me realize that some clarification was indeed needed. Circuit activation is or can be based on many variables, including temperature, and sunset/sunrise data.
But to answer your question directly, as identified in the article, the Neutrino Black Box V2, like all other Arboreal Systems products, has a thin wire temperature sensor lead (that is typically mounted to the rear somewhere in a safe spot and away from engine heat, etc.).
But regarding sunrise/sunset, there isn't a photo cell on the module, so this information is actually provided by the paired smart device as part of its integrated sensor suite output (typically from the GPS data).
So yes, to exploit some of the features for more versatility the smart device would need to be connected; even though it can still be tucked away. Direct viewing isn't needed, only the link.
The Neutrino BB by itself provides a lot and does a lot, but it is designed to work with and to exploit the features of its smart device interface so the user gets the optimal experience. Hope this clarifies things.