Afraid that travelling this rainy season will have to take a backseat because your luggage is not waterproof? Just because it is raining doesn't mean that you will have to stay indoors and cancel all your plans. You can have as much travelling fun in the rain as you did during dry seasons by using tour pack covers to protect your luggage from getting spoilt.
If you are looking for a tour pack cover that will protect your luggage against the fiercest rain and winds, consider buying Nelson-Riggs CTB Luggage Rain Covers. These are one of the highest rated rain covers on the market, and if you already own a Nelson-Riggs CTB luggage, it is even better for you. If you don't own one, don't worry. These rain covers are perfect for covering every sort of tour pack luggage.
Here's Why You Should Trust Nelson-Riggs and Buy This Tour Pack Cover
Nelson-Riggs Inc. is located in the USA, and always employs innovative methods and the latest technological advancements to all their products, thus making sure that they are of the highest quality and meet all the expectations. They have been operational since 1972, so they know what they are doing in their field. From covers to rainwear to luggage, Nelson-Riggs products have been nothing but perfection.
Features of the CTB Luggage Rain Covers
These rain covers come in a variety of sizes—small, medium, large, extra-large (XL), extra-extra-large (XXL). So whatever size your bag is, you don't need to worry. This rain cover bag is sure to keep your luggage covered. You can get it in a variety of colors, black being the most common. The XL size weighs 3 pounds and has dimensions of 12x18x28 inches, while the medium size weighs almost the same and has dimensions around 10x8x3 inches.
It is especially suitable for the CTB series of tour pack luggage created by Nelson-Riggs. However, as mentioned before, it can fit over any luggage bags you have. To have a better idea, you can know the type of luggage bags in the CTB-series. They are created to be mounted on a motorcycle luggage rack or on the passenger seat. The bags sit well on luggage racks up to 12 inches wide. These bags are fastened in place with the help of Velcro straps. There are also side mounting straps for extra-secure fastening. If your bag isn't a Nelson-Riggs bag, you can simply fasten them with Velcro straps that can be found in the market. Then for protection against rain, mount these rain covers and you are done.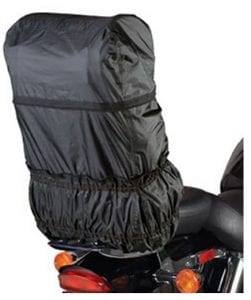 The Nelson-Riggs CTB Luggage Rain Covers are very durable, sturdy, and long-lasting. They are convenient for usage, not only during usage but during storage as well. Store them in tight compression bags so that they occupy minimal space and can fit in almost everywhere.
This luggage rain cover is made from a water-resistant, UV-treated polyester material, which helps keeping your tour pack luggage 100% waterproof. There is an additional PVC coating on the inside for added protection. Together the polyester and PVC combine to provide a strong barrier against rain and prevent it from soaking the contents of your bag. There are no leaks or dangers of the water soaking through either. The rain cover snugly fits around your bag. The primer around the edges of the rain cover is elastic, which makes it adjustable and tight-fitting. Even if your bag contains a lot of things and is rugged and unevenly shaped as a result, the Nelson-Riggs CTB rain cover does a great job of covering each and every portion of your bag.
There are also hooks and straps to help you tighten things up. You can attach the hooks to the luggage rack frame and fasten the straps tightly around your bag to help protect against windy and rainy weather periods.
If you think that the rain covers will not cover the mounting straps and belts, you are mistaken. The rain covers are specifically designed to cover both the bag and all the straps needed for mounting. Thus, everything is guaranteed to remain dry in the worst of rains.
How To Use the Nelson-Riggs Rain Cover
Along with high quality, this rain cover is very easy to install as well. Just unravel the cover, take its smaller side and wrap it around the bottom of your backpack. Now pull it up over the top and around your bag, making sure that you get each inch covered. Use the straps to double-proof the position of the covers. After the rain, your bags will look as dry as they were before the rain!
Final Verdict
Highly recommended. This backpack is designed specially to withstand erosion from continuous rain and makes for handy equipment if you are planning a bike tour. The Nelson-Riggs CTB Luggage Rain Cover is undoubtedly one of the best covers a customer can hope to get. It has already received numerous reviews from customers who have used it and they are all positive.
So if you are looking for a rain cover for your tour pack luggage, don't wait any longer. Head over to Amazon and buy the Nelson-Riggs CTB Luggage Rain Cover today! You won't regret buying it–that much is guaranteed.