MV Agusta have revealed its 2018 Turismo Veloce 800 Lusso SCS where those three letters stand for Smart Clutch System allowing the rider to use a conventional clutch to change gears or ride in automatic mode.
Apart from a beautiful transparent transmission cover talking point, MV say SCS adds no weight and acceleration times are similar to their F4 superbike at about three seconds to 100km/h.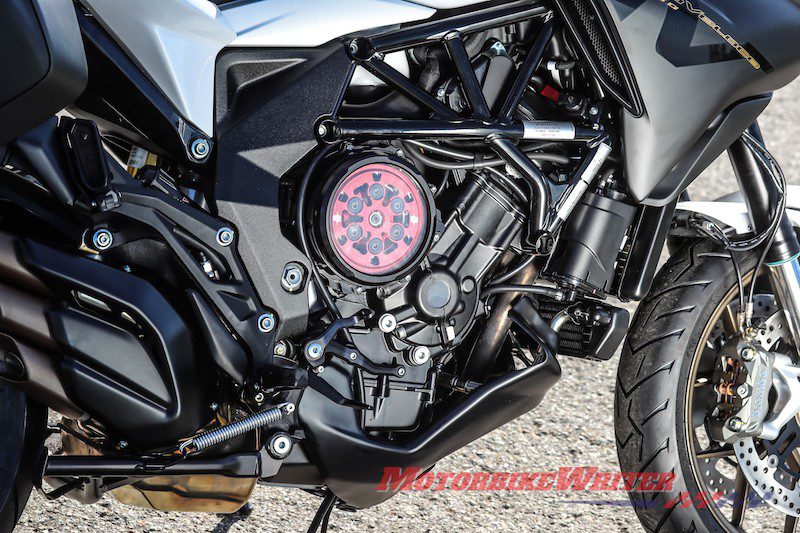 There is no word yet on when it will arrive or how much it will cost.
We expect it to cost somewhere between the current Turismo Veloce 800 Lusso at $A25,990 and the RC model at $A29,880.
It will be a $US1000 addition in the USA.
Automatic work
MV Agusta say work on the SCS transmission began two years ago with an industry-leading technical partner but they don't specify who that is.
We believe it is American company Rekluse which make high-performance clutches for dirt bikes, adventure bikes, Harley-Davidson motorcycles and ATVs.
MV emphasise that it is not a Continuously Variable Transmission (CVT) such as on twist-and-go scooters, nor a Dual Clutch Transmission (DCT) such as Honda's seven-speed system in their new Goldwing and Africa Twin.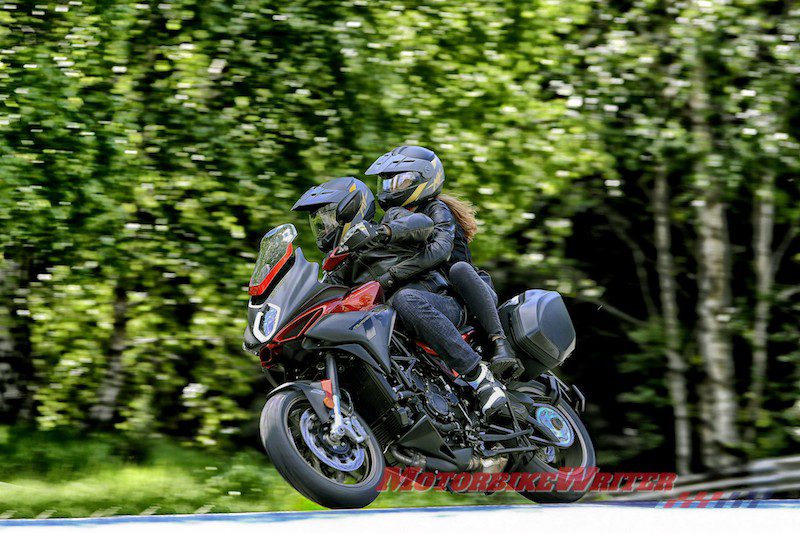 MV say the CVT system is "in no way good enough for a sports model like the Turismo Veloce" while DCT systems are "complex, very heavy and excessively bulky".
"These characteristics are completely at odds with the design choices underpinning our 800cc three-cylinder engine, engineered to be compact and light-weight, and part of a vehicle designed to be as light as possible," their media release says.
How SCS automatic clutch works
Unlike other similar semi-automatic systems with no clutch lever, this retains a clutch on the handlebars.
Riders can also choose to "hand over complete control of the clutch to the system so that the rider can concentrate on the road and fully enjoy the ride".
In other words, they can ride it like an automatic.
"This automatic system takes nothing away and ensures maximum freedom of choice," they say.
The SCS operates in parallel so there is no need for the ride to hit any switches to go from manual to automatic operation.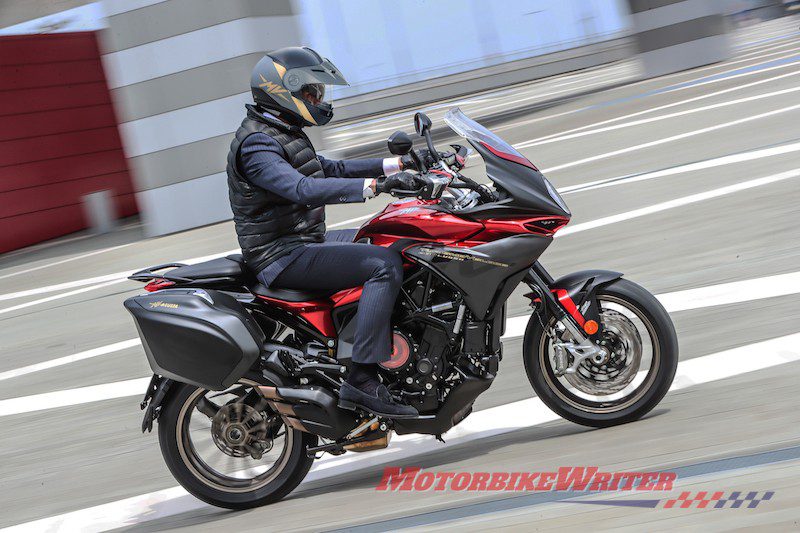 The technology required MV and its unnamed partner (Rekluse?) to develop a specific set of clutch plates, with a greater friction surface area and special springs.
Another highlight of the system is a transparent clutch cover so you can watch the beauty of the technology at work.
It reminds me of the glass bevel covers some Ducatisti add to their old bikes.
Benefits of SCS are claimed to be greater "riding fluidity", especially in traffic or on twisty mountain roads.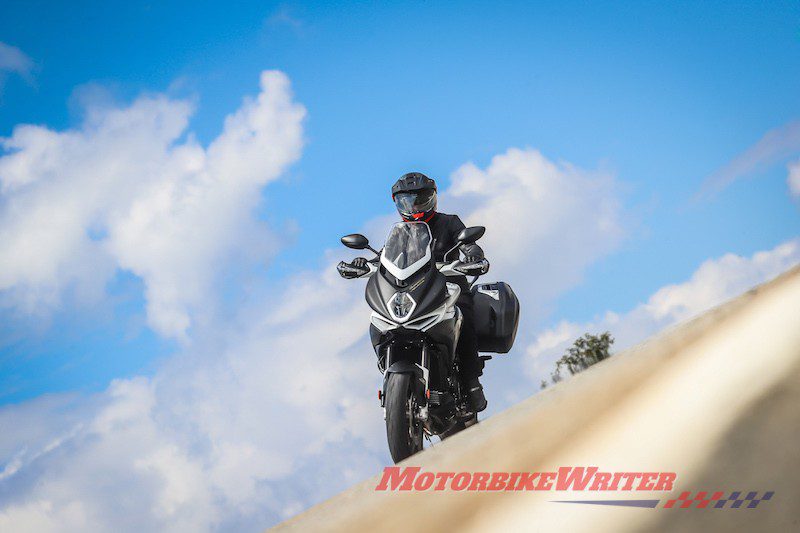 Parking brake
Another feature is the addition of a parking brake which is necessary to prevent it rolling away on its side stand as the SCS clutch does not remain engaged when the engine is switched off.
Parking brakes are featured on many CVT scooters for the same reason.
The parking brake lever is above the rear brake pedal.
Triple heart
It is still powered by the same 798cc triple as in the Brutale 800 RR, now meeting Euro 4 emissions without a drop in peak power of 81kW at 10,150rpm or torque of 80Nm at 7100rpm.
It features a counter-rotating crankshaft derived from MotoGP to make it smoother and reduce vehicle inertia to improve cornering and change of direction.
The profile of the intake and exhaust cams have also been optimised and the valves and guides redesigned.
MV's engineers focused on reducing high-frequency mechanical noise with new acoustic swing-arm covers and a harmonic damper on the side of the cylinder head. The damper also reduces vibration.
Techno spark
MV's vehicle control system now also manages the automatic clutch and the Ride-by-Wire throttle has been made more sensitive.
There are four engine maps, three set by the manufacturer and a rider-customisable map for throttle sensitivity, engine torque, engine brake, engine response and rpm limiter.
It also has an astounding eight-level traction control system.
MV Agusta Turismo Veloce 800 Lusso SCS
PERFORMANCE
Maximum speed 230km/h (143mph) on a closed course
FRAME
Type ALS Steel tubular trellis (MAG welded)
Rear swing arm pivot plates material Aluminium alloy
FRONT SUSPENSION
Type Sachs "UPSIDE DOWN" semi-active
telescopic hydraulic fork MVCSC
(MV Agusta Chassis Stability Control)
Fork dia. 43mm (1.69 in.)
Fork travel 160mm (6.30 in.)
REAR SUSPENSION
Type Progressive Sachs, semi-active single shock absorber with hydraulic spring preload adjustment MVCSC (MV Agusta Chassis Stability Control)
Single sided swing arm material Aluminium alloy
Wheel travel 165 mm (6.50 in.)
BRAKES
Front brake Double floating disc with Ø 320 mm (Ø 12.6 in.) diameter, with steel braking disc and flange
Front brake caliper Brembo radial-type, with 4 pistons Ø 32 mm (Ø 1.26 in.)
Rear brake Single steel disc with Ø 220 mm (Ø 8.66 in.) dia.
Rear brake caliper Brembo with 2 pistons – Ø 34 mm (Ø 1.34 in.)
ABS System Bosch 9 Plus with RLM (Rear wheel Lift-up Mitigation)
Parking brake Integrated in the rear hydraulic brake system
WHEELS
Front: Material/size Aluminium alloy 3.50" x 17"
Rear: Material/size Aluminium alloy 6.00" x 17"
TYRES
Front 120/70 – ZR 17 M/C (58 W)
Rear 190/55 – ZR 17 M/C (75 W)
FAIRING
ORIGINAL EQUIPMENT
Included accessories Immobiliser – Heated Grips – Bluetooth
Cruise control – Integrated GPS sensor
Central stand – Adjustable windshield.
Bags (30 litres each)
EMISSIONS
Environmental Standard Euro 4
Combined fuel consumption 5.8l/100km
CO

2

Emissions 129g/km
ENGINE
Type Three cylinder, 4 stroke, 12 valve
Timing system "D.O.H.C" with mechanical chain tensioner
Total displacement 798cc
Compression ratio 12.2:1
Starting Electric
Bore x stroke 79mm x 54.3 mm (3.1 in. x 2.1 in.)
Max. power- rpm(at the crankshaft) 81 kW (110 hp) at 10.150 r.p.m.
Max. torque – rpm 80Nm at 7.100 r.p.m
Cooling system Cooling with separated liquid and oil radiators
Engine management system Integrated ignition – injection system
MVICS 2.0 (Motor & Vehicle Integrated
Control System) with three injectors.
Engine control unit Eldor EM2.0, throttle body full ride by wire Mikuni, pencil-coil with ion-sensing technology, control of detonation and misfire Torque control with four maps, Traction Control with eight levels of intervention with lean angle sensor
TRANSMSSION
Electronic quick shift MV EAS 2.0 (Electronically Assisted Shift Up & Down)
Clutch S.C.S. (Smart Clutch System) Radius CX automatic clutch with hydraulic clutch actuation, wet multi-disc
Transmission Cassette style; six speed, constant mesh
Primary drive 22/41
Gear ratio
First gear: 13/37
Second gear: 16/35
Third gear: 18/32
Fourth gear: 20/30
Fifth gear: 22/29
Sixth gear: 21/25
Final drive ratio 16/41
ELECTRICAL EQUIPMENT
Voltage 12V
Alternator 450W at 5000rpm
Battery 12V – 11Ah
DIMENSIONS AND WEIGHT
Wheelbase 1445mm (56.89 in.)
Overall length 2125mm (83.66 in.)
Overall width 910mm (35.83 in.)
Saddle height 850mm (33.46 in.)
Clearance 140mm (5.51 in.)
Trail 108mm (4.25 in.)
Dry weight 192kg (423,2 lbs.)
Fuel tank capacity 21.5L (5.68 U.S. gal.)