Ducati Multistrada 620 Blog
Welcome to my Multistrada 620 blog! The most recent entries are entered in order from latest to oldest on this page (below).
As the page fills up, I'll move the older articles to page 2 and hopefully there will be many more!
There's a lot of information about the Multistrada out there from owners who are way more knowledgeable about the bike than I, but the 620 is such a unique — and now rare — bike, I wanted to share our experiences with this newest member of the webBikeWorld garage.
More: The wBW Multistrada 620 Review and Information Page  |  Multistrada.net should be the first stop for every Multistrada owner!
If you have any tips on parts or accessories for the Multistrada, please feel free to drop me a line at editor@webbikeworld.com
▪ Ducati Replacement Fuel Tanks
▪ Flo Reusable Stainless Steel Oil Filter
▪ Michelin Pilot Road 3 Tires for the Multistrada
▪ Multistrada Shift Lever Problem?
▪ Shift-Tech Carbon Fiber Belt Covers
▪ G2 Throttle Tamer and Installation
▪ Carbon Fiber (Not Really) Hugger
▪ Tips on Changing the Oil and Filter on the Multistrada 620
▪ Michelin Pilot Sport 2 Tires
▪ Multistrada 620 Headlight Bulb Change
▪ Multistrada 620 600 Mile Service With Oil and Filter Change
▪ Multistrada 620 Suspension Upgrade
▪ Evaporative Emissions Canister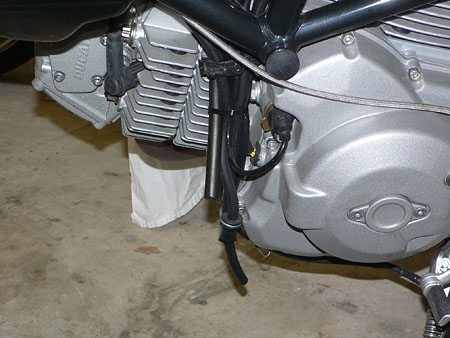 ▪ Multistrada Rear Reflector Cleanup
▪ Multistrada LED Brake Lights
This animated .gif photo doesn't do it justice; it's always difficult to capture bright LED tail lights with a camera.
▪ Multistrada Battery Tender Connector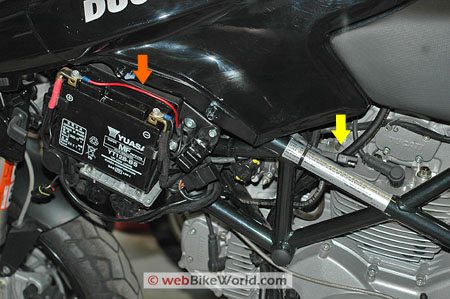 ▪ Multistrada Rear Swingarm Paddock Stand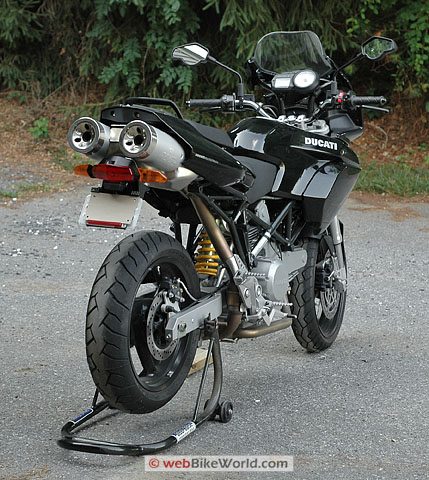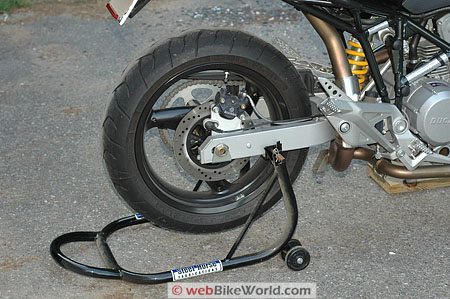 From "D.R." (February 2012): "It has been a delight to find your site and info and comments about this bike. I purchased mine new at BCM (now deceased) in Laconia, New Hampshire in 2006 and have loved every mile on it.
It is good to hear of little tendencies about the 620 that I have noticed and accepted for these years; some of these are identical to what you have experienced and others not so much.
On the suspension stiffness….amen. I am very light and with all the adjustments taken out it still takes bumps like a tank yet I do not intend to spend money on any alternatives.
On the slipper clutch the very narrow engagement range only bothers me, I assume like everyone, in starting up and at low speeds……very challenging. Otherwise I have no complaints, at speed the shifting is very quick and simple, bingo.
One thing I have heard said is that what it does do is soften the clutch pull, which is very easy and unlike your GT 1000 which I road tested once and can agree it is very stiff. So perhaps it has sun and moon aspects, but it is very challenging in low speed maneuvering.
I enjoyed your comments on tires and my own serendipitous path was to replace the Pirelli's w Michelin Pilot Roads dual compound…what an amazing difference! It feels like the grip is like Velcro without any downside.
I have never felt such confidence in twisting roads of which we have many on Martha's Vineyard…and after some 7-9,000 miles I can see almost no wear.
But the bottom line is that every time I go out I love this bike: light, maneuverable, smooth, and it wants to GO! Who really needs more than 60hp……….my thanks for your fine website. P.S. The guys at BCM took off the canister before I even picked up the bike(:-)."