The new Mel Gibson movie, Blood Father, is the latest to feature a motorcycle chase and while Hollywood movies usually get motorcycles all wrong, this is pretty real.
Mel plays a recovering alcoholic, ex-con and father fighting to keep his wayward daughter alive and, of course, there is a motorcycle chase scene.
So many times actors are seen in movies riding against a blue screen backdrop and you never get to see them actually riding.
In Blood Father, Mel can and does ride the Harley, although he doesn't do all the stunts.
While the riding appears real and the stunts doable, the only fault we can pick up in this trailer is the tyre-screeching sound effects when the villain on the cafe racer weaves.
However, read on and you may find we've picked another fault.
The movies usually do get it all wrong, so we've compiled a list of our favourite peeves with Hollywood's treatment of motorcycles and riders.
THE WRONG BIKE
The most famous wrong bike in a motorcycle scene is in The Great Escape.
Steve McQueen steals a motorcycle from a German soldier, however, instead of a BMW, it's a British-made Triumph.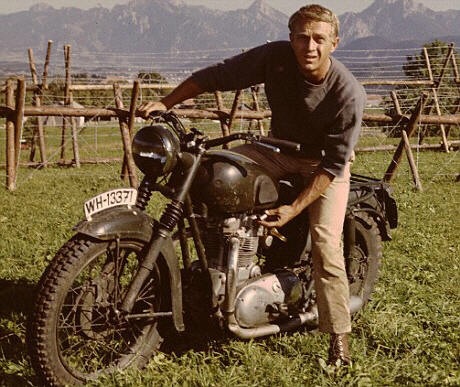 There are many other examples of the wrong bike for the occasion and our favourite is the BMW R 1200 C cruiser in the Vietnam chase scene in the James Bond film, Tomorrow Never Dies.
While BMW paid a lot for the product placement it's not only the wrong bike for all the jumps and stunt work it supposedly does, but it would also be a pretty rare find in Vietnam.
SOUND EFFECTS
How many times do Hollywood movies get engine noises wrong?
We've heard Harleys with MotoGP screaming engines and two-stroke trail bikes emitting four-stroke noises.
But the one that really makes us giggle is when bike tyres let out a screech as they spin their wheels on dirt!
QUICK TYRE CHANGE
Which brings us to tyres.
In The Bourne Legacy, Matt Damon rides a BMW R 1150 R over tar and dirt while being chased by villains.
Somehow along the way, he has a quick pit stop to change from road tyres to knobbies.
Tom Cruise must have the same lightning-fast pit crew as he also swaps tyres in Mission: Impossible II. (We won't even mention how Tom shoots the villain's bike under the rear seat and fuel spills out! Oh, we just did …)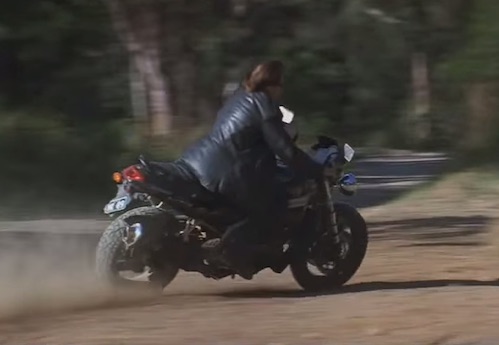 While we haven't seen the Blood Father movie yet, just the trailer, we suspect that there may be some dirt action involved judging from this photo where the bike miraculously is now shod with semi-knobby tyres.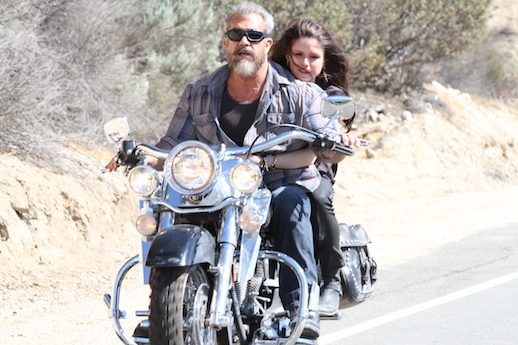 CRASHES HURT
A motorcycle chase wouldn't be worthy of Hollywood without a crash.
In the real world, riders get busted up and bikes destroyed. However, in countless movies we've seen the hero crash, pick the bike up and keep going with just a slight graze.
Of course, comedies are forgiven and we love the way William H. Macy keeps crashing and getting back on in Wild Hogs.
IMPOSSIBLE JUMPS
It's not that road bikes don't jump. After all, we've seen the Isle of Man TT racers get some serious air.
However, big road bikes don't jump big distances and heights.
The classic is Arnie Schwarzenegger's 3m leap into a storm drain on a 300+kg Harley-Davidson Fat Boy in Terminator 2: Judgement Day.
A real Fat Boy would have been destroyed, but this was supported by 3cm cables so that when it hit the ground the bike and rider only weighed about 80kg. The cables were later digitally erased.
If that's not implausible enough, how about the two-up jump on a Ducati Hypermotard performed by bike nut Tom Cruise and Cameron Diaz in Knight and Day?
Not only did the suspension not fail or the bike crash, but the actors didn't break their necks!
NOT A HAIR OUT OF PLACE
If you've ever ridden at high speed on a motorcycle without a helmet you know your cheeks will be flapping, your lips will be pulled apart, your eyes will water and your hair will be blown to pieces.
However, most Hollywood high-speed motorcycle chases feature our hero without a helmet, yet their hair and face don't seem disheveled.
Not so in Blood Father where their hair is going everywhere and Mel wears goggles so his eyes don't water as he's trying to shoot straight.
And we notice actors almost never do up the chin strap on their helmet! They stop and simply pull their helmet off. Or they get on and don't do up the strap before riding off.
17-SPEED TRANSMISSIONS
Maybe Americans don't understand gearboxes because they all drive automatic cars, but motorcycles only have up to six gears.
How many times have we seen chase scenes where the rider keeps ripping up through endless cogs?
Biker Boyz, starring Laurence Fishburne, has some amazing real stunts, however there is a race scene where they just keep changing infinite gears.
REAL RIDING
Is it any wonder we still love Easy Rider with its real riding?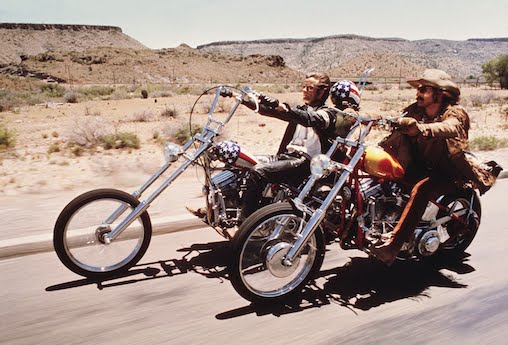 Those choppers were mules to ride, consequently they are rolling along at pretty slow speeds most of the time, with hair blowing in the wind, Dennis Hopper's hat almost blowing off and Peter Fonda bouncing in the saddle of the hardtail Harley.
There are no jumps, real engine noises and when they crash, they die!
What other mistakes have Hollywood movies made with motorcycles? Leave your comments in the box below.