A politician contesting the NSW state elections tomorrow (23 March 2019) says motorcycle riders are often the forgotten commuters.
The politician is controversial former Senator David Leyonhjelm who will be the lead candidate for the Liberal Democrats in the NSW Legislative Council, or "Upper House".
His chances are slim against a wealth of conservative minor party and independent candidates.
While we do not support any political party or candidate, David's comments about motorcycle commuters appear to be the only ones in this state election, so we have chosen to report them.
Forgotten commuters
"Riding motorcycles eases traffic congestion, produces less emissions and is often a more economical choice," David says.
"The problem is that the NSW government does nothing to incentivise riding over driving a car or catching overcrowded public transport.
"It's different In Melbourne, where motorbikes can be parked on the footpath in the CBD and do not have to pay tolls on all but one motorway, where they pay half the amount of cars.
"No such logic is found in NSW, where motorcyclists are treated as second-class commuters and often subjected to outrageous fines.
"With nearly 250,000 motorcycles registered in NSW in 2018, up 22% in five years, it is clear that there is an increasing appetite for other modes of transportation.
"In a congested city like Sydney, the laws need to encourage other safe means of getting around.
"As a motorbike rider myself, I personally thank those who also opt for a motorbike and leave the car at home."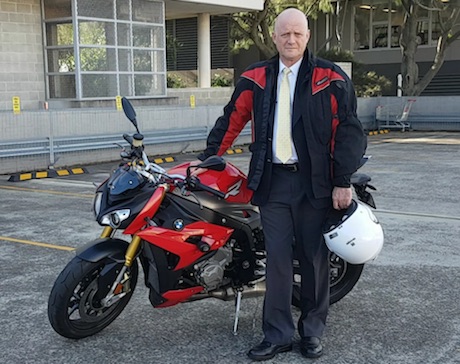 Controversy
You may know the former Senator for his "slut-shaming" Greens Senator Sarah Hanson-Young, allegedly accusing her of making "the absurd claim that all men are rapists".
His comments have resulted in a defamation action.
He has also criticised Australia's gun laws saying most people have no gun experience and do not know they are "a lot of fun" when used safely.
He was elected in 2013 when the Liberal Democrats polled 9.5%. Critics say it was a result of being in the first column of the large Senate ballot paper and it confused voters who thought they were voting for the Liberals.
The Senator was re-elected in 2016 with 3.1% of the vote, winning enough after preferences to secure the final vacancy at a double dissolution.
The NSW upper house requires a 4.55% quota.
If elected, he also plans to campaign to legalise recreational cannabis which he failed to do in the Senate.
Otherwise, he may become a forgotten Senator and commuter.