Video Camera Mounts Image Gallery
Four more suction cup mounts that just don't work very well for motorcycle video cameras.
Someday, hopefully, someone will develop a better solution for mounting a camera on a helmet or bike.
Motorcycle video camera manufacturers just don't get it.
Making a great little camera isn't enough — if it can't be easily mounted on a helmet or motorcycle, the camera is basically worthless.
Apparently, not many of the designers employed by the video camera manufacturers are motorcyclists, or we'd probably have better mounting options.
We've covered this topic before and it's mentioned in every single motorcycle video camera review we've published, yet it's a continuing problem that so far has not been solved.
The ideal motorcycle video camera mount should be sized proportionally to the camera.
It should hold the camera tightly. And it should be easy to mount on a motorcycle helmet or the motorcycle itself.
Sounds simple, right? Apparently not. There are some unique motorcycle video camera designs, but for the most part, the mounts provided in the kits are terrible.
Unfortunately, there are too many examples of poorly designed camera mounts, like the mount included in the JVC GC-XA1 video camera (review) we reviewed recently.
That got us searching for a better mount and a survey of many camera accessory websites looking for a smaller and/or better mount. We didn't find one.

More Suction Cup Mounts
Most of the accessory video camera mounts are the suction cup type.
This type of mount has a rubber or plastic flat disc on the bottom and as a lever is engaged, the cup contracts and pulls a vacuum, holding the mount on to a clean, flat, non-porous surface.
For the most part, they work pretty nicely and we had a couple of good examples in what is now Part 1 of this survey of motorcycle video camera mounts: the ubiquitous Delkin Fat Gecko and the similar Panavise mount.
Those are still both good, solid, well made mounts, but they're not really designed for motorcycle helmets.
They're big and bulky, overwhelming the relatively tiny video cameras. Also, the large suction cup base is difficult to fit on many helmets.
That lead us to search for smaller "Mini" mounts recently, and we found four potential candidates:
In this review (all were purchased at Amazon.com):
ARKON CMP214 Windshield and Dash Mount ($11.37);
Satechi SCH-22 Camera Holder & Suction Cup Mount ($19.99);
RAM Mounting Systems RAM-B-166-202AU Ram Mount Twist Lock Universal Suction Cup Mount ($31.83);
Mini Camera Suction Mount ($3.97)
The bottom line is that although two of these mounts are smaller than the Delkin Fat Gecko and the Panavise, none of them are any better and, in fact, each has a fatal flaw that makes them unsuited for mounting on a helmet or the bike.
We used several helmets during this comparison, including the Scorpion EXO-700 (review), which has a very smooth and unencumbered surface, ideal for mounting mounting a video camera.
Note that some or all of these mounts will work on the side of a flat fuel tank; it's the helmet mounting that is usually a difficult proposition.
Format of This Review
I'll briefly describe each mount, illustrated with photos. Be sure to read Part 1 Motorcycle Camera Mounts Reviewed for an overview and background on motorcycle video camera mounts, tips and techniques.
I'll include the 2-minute video below from that review because it has some good background information on these types of mounts.
Satechi SCH-22 Camera Holder & Suction Cup Mount
The Satechi SCH-22 suction cup mount base, at 67.5 mm, is smaller than the 83 mm wide suction cup base of the Delkin Fat Gecko mount reviewed in Part 1, which we're using as a benchmark to compare all other mounts of this type.
The Satechi mount has a unique rotating collar at the bottom that is used to pull the vacuum on the suction cup.
The rubberized base also has a sticky surface which works fairly well on some motorcycle helmets and on the bike itself, although it takes several turns to fully engage the vacuum, unlike the Fat Gecko mount, which takes only a single pull of a lever.
You have to firmly hold and press the Satechi mount as you're turning the collar, which can be difficult.
Fully extended, the Satechi mount is about 150 mm tall. It has two serrated joints that lock in place, but the serrations can make it difficult to precisely align the camera; one click too far in one direction may be too much or too little.
The ability to have unrestricted mounting positions is better when it comes to camera mounts.
The other problem is that the joints introduce movement into the mount.
They're spring-loaded and they don't hold the camera as tight as it should be. You're depending on the springs to keep things tight and there is a rocking motion felt in the system.
One of the primary functions of a camera mount is to remain as stiff as possible and the Satechi mount isn't.
But the most serious flaw is in the standard 1/4-20 tripod screw mount on top. It's a screw only, with no secondary tightening nut underneath.
A camera mount must have a secondary nut to push up against the bottom of the camera when it is threaded on to the 1/4-20 stud, or the camera will not stay tight.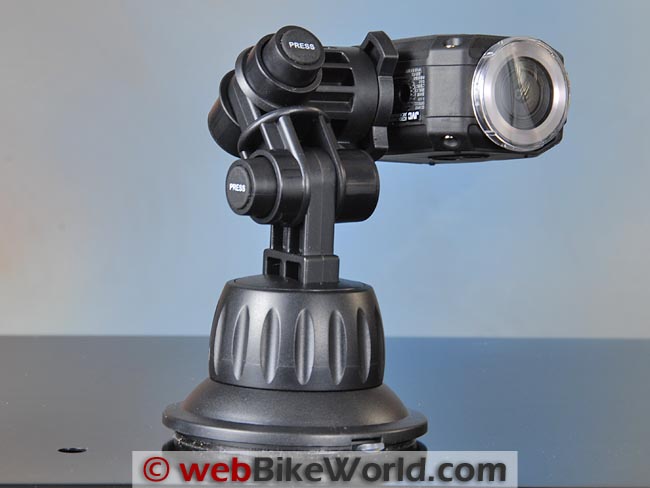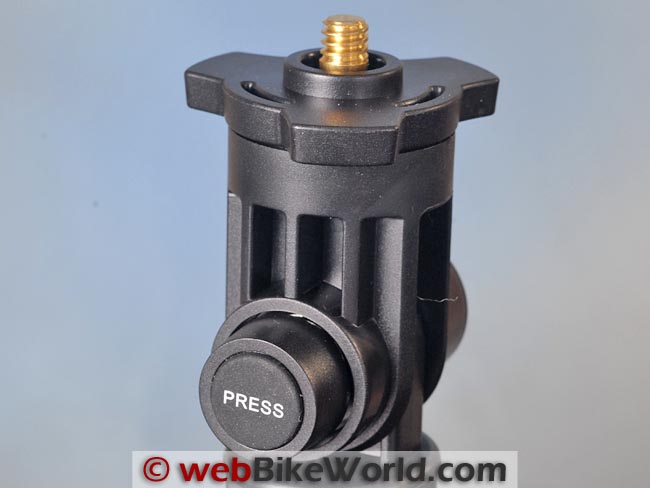 A camera should never be threaded on to any type of tripod mount to a point where the stud bottoms out in the threaded camera tripod mount hole in the camera itself.
Most of these "cheap" motorcycle video cameras have plastic tripod mount threads and/or the threads are in an insert in the camera body, so screwing the tripod mount in all the way and tightening it can easily strip the threads or pull the insert from the body.
Between the looseness felt in the "knuckles" of the Satechi mount, the non-continuous ratcheting of the joints and the lack of a locknut to tighten up against the bottom of the camera, I can't recommend the Satechi mount for motorcycle use.
Score: An interesting design that fails on several counts for motorcycle use.
RAM Mounting Systems RAM-B-166-202AU Ram Mount Twist Lock
RAM mounts are very familiar to motorcyclists; the company makes many different types of mounts for GPS, radio and other accessories.
The RAM mounts are typically robust and mostly made from metal. They usually have one or more ball-and-socket joints, tightened by a plastic-handled knob.
The RAM-B-166-202AU has a RAM patented suction cup base with a flip lever to engage the suction.
It has a huge 60 mm wide upper plate for mounting the camera; much too big for a tiny motorcycle video camera and larger even than you'd need even for big DSLR (not recommended).
It extends to about 170 mm but it's also about four times bigger than you'd actually need for a tiny motorcycle video camera like the JVC GC-XA1 (review) and others. If RAM downsized the design by a factor of two or three, they'd be on to something…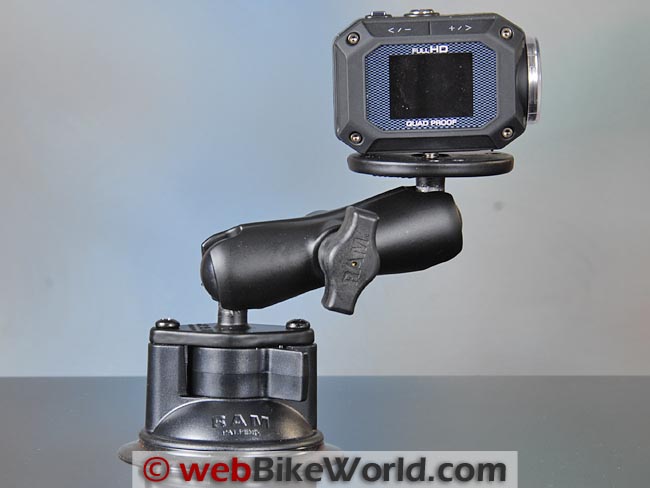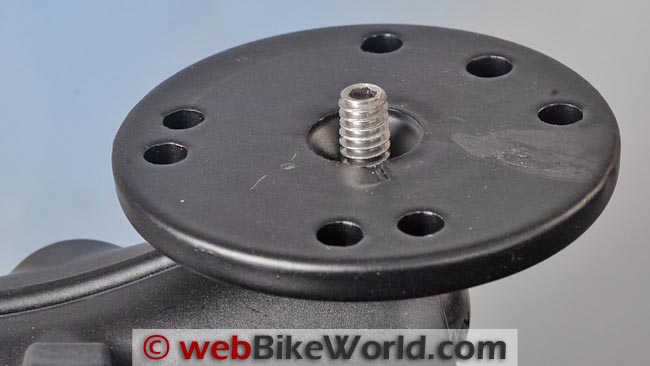 Unfortunately, the RAM mount also does not have a locking collar on the tripod mount screw, a fatal flaw in my opinion.
The tripod screw is a hex set screw that can be unscrewed from the plate, but not tightened past 6 mm.
So the video camera would have to be screwed down to tighten against the plate, if there was enough room in the tripod mount hole on the camera to do this before the screw bottomed out.
Again, it is not recommended to thread a camera all the way down on a tripod mount and to count on that for holding the camera tight (especially on a motorcycle, which can have a lot of movement and vibration).
Otherwise, the RAM mount locks solidly and offers a large degree of freedom in adjustments to align the camera. But it's even larger (slightly) than the Delkin Fat Gecko or Panavise and it weighs a bit more, so we're not sure if there's an advantage.
If the RAM-B-166-202AU had a smaller top plate with a separate locking collar on the tripod screw, it could be a winner.
Score: Not bad, but heavy, bulky and no locking screw on the tripod mount is a fail.
Mini Camera Suction Cup Mount
This one is a brand-nameless "Mini Camera Suction Cup Mount" with a price that seems to vary every time you load the Amazon.com product page. I've seen it listed anywhere from $2.76 to over $12.00, so be careful.
It's probably made by one of those anonymous Chinese factories. We had high hopes for this one, as it seemed to be the smallest and certainly the least expensive suction cup camera mount we found.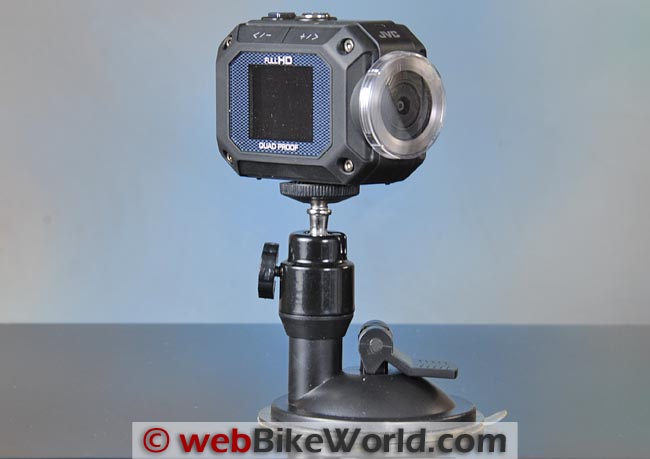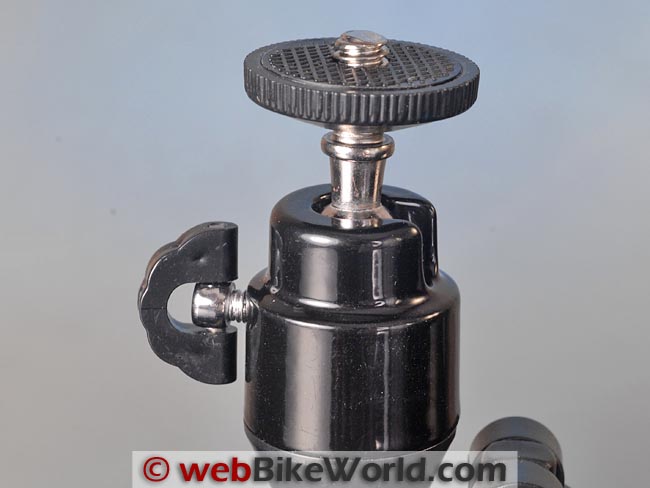 It does have a locking collar on the tripod mount, so kudos for that. Otherwise, it definitely has a cheaper feel than the rest, with an all-plastic body and a stiffer-feeling suction cup plastic base that, unfortunately, doesn't draw enough vacuum to hold on some helmets. The base just doesn't pull in as far (relatively) as the other mounts, so the amount of vacuum isn't the same.
It has a ball head on top with a cheap-feeling set screw that's supposed to lock it in place.
It works — sort of — but doesn't give one the feeling that it will last. It also appears that the metal set screw threads into the side of the plastic base, so over-tightening might easily strip the threads.
The system just doesn't seem to hold the camera as steady as the others.
Score: Another fail; this one doesn't draw enough vacuum for use on some helmets and has questionable quality.
ARKON CMP214 Mini Camera Suction Mount
The Arkon CMP214 is listed as a windshield mount but we thought it might work as a motorcycle video camera mount.
As we discovered, it has an arm that rotates in one plane and it's really designed to hang vertically on the inside of a car windshield, rather than on top of a motorcycle helmet.
The arm swings back and forth in one plane and the head is on a ball mount that only rotates about 45 degrees in any direction, so the options for aligning the camera — at least on a helmet or motorcycle — are limited.
The limited movement of the ball head means that the arm of the Arkon mount must be nearly vertical to mount the camera on a helmet, and the system just doesn't seem strong enough for this type of use.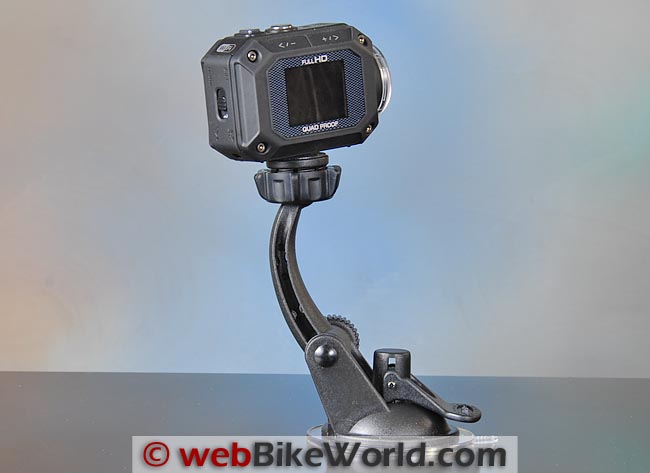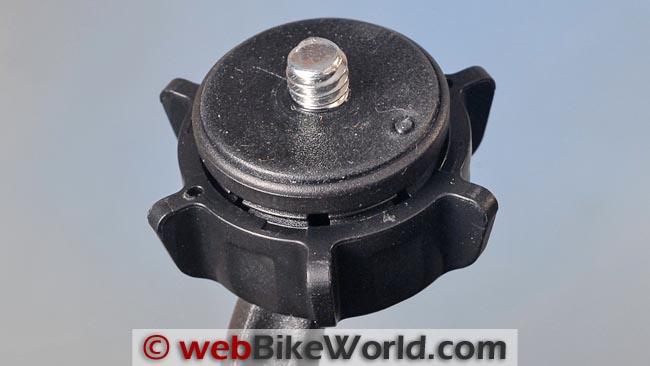 The plastic used in the suction cup base also seems stiffer than the more pliable material used on the RAM, Delkin Fat Gecko or Panavise.
Also, the flip lever on the Arkon mount doesn't pull the base in far enough, so the amount of vacuum is limited.
The swinging arm seems a bit flimsy for motorcycle use; this mount is probably better suited for its intended purpose of hanging on the inside of a vehicle windshield.
But, the Arkon mount does not have a locking collar, so again the camera can not be correctly mounted on the tripod screw, no matter where the product is used.
Score: Another fail for our purposes.
w

BW

 2-Minute Video: All About Motorcycle Camera Mounts!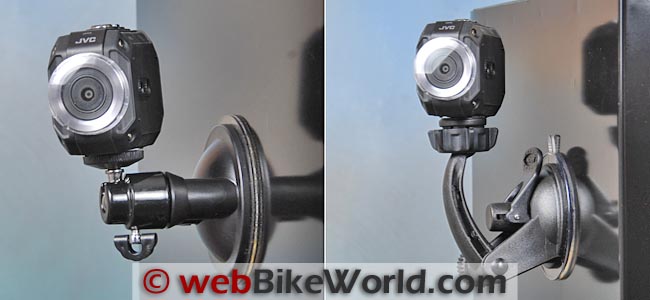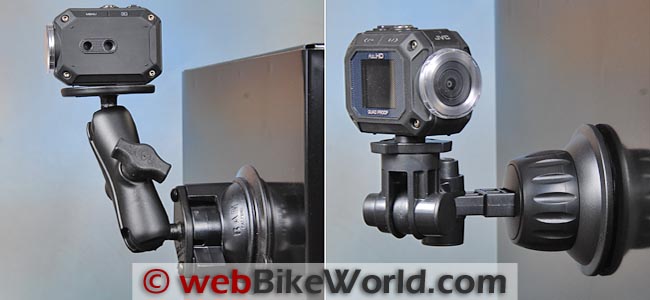 Conclusion
Hopefully, someday, someone will design a better type of mount for use on a motorcycle helmet and the motorcycle.
The suction cup mount design has possibilities, but may not be necessary — who knows what designs a clever engineer might develop?
Part of the problem is that today's motorcycle helmets have many different shapes, compound curves and add-on features, like vents, spoilers, levers and more. So there isn't a lot of room to mount a video camera.
Most or all of the camera mounts we've tried are much too big for a helmet mount and they overwhelm the small size of the video cameras.
A good, solid suction cup mount about 1/3 the size of the RAM or Delkin Fat Gecko mount, designed specifically for motorcycle video cameras, would be a possible solution. It would require strong vacuum and a solid mount from a small diameter base.
And don't forget the locking collar for the tripod mount!
If any of our readers can suggest a better base for mounting a video camera on a helmet or bike, please let us know.
More webBikeWorld: 
▪ Video Action Camera Reviews
▪ Intercom and Radio Reviews
w

BW

 Review: Motorcycle Video Camera Mounts
Manufacturers: Arkon, RAM Mounting Systems, Satechi
List Price: Various.
Colors: Black.
Made In: China and unknown.
Review Date: August 2012
Note:
 For informational use only. All material and photographs are Copyright © webWorld International, LLC since 2000. All rights reserved. See the webBikeWorld® 
Site Info page
. Product specifications, features and details may change or differ from our descriptions. Always check before purchasing. Read the
Terms and Conditions
!
Owner Comments and Feedback
---
From "E.L." (August 2012): "It seems like a simple clamp mount like the Sena SMH10 or other intercom systems use could work nicely for a camera mount too.
The clamp would be more secure than a suction cup on the curved helmet surface, and a short arm or ball mechanism could provide the adjustability."
Editor's Reply: Great idea! Add a locking ball head on the end of the mounting arm and then the camera could be rotated to the correct alignment.
---
From "L.J." (August 2012): "You asked about how to mount a GoPro to the bike. Well, due to a mod on my first gen FZ1 (2004), one turns the mirror arm upside-down, (just below your elbows) so you can see behind you. This mod involves removing a rivet.
So the bolt I use on one side is a bit longer and pointed outward. This is were I thread on the GoPro threaded mount, and it puts the cam out were no part of the bike is shown, and little to no vibes.
Use one long and one short arm to level the cam's view. If i can I will send a couple (photos)."