Just when you thought you couldn't get motorcycles into every part of your life, along comes the motorcycle urinal.
It seems people with a good sense of humour or a passion of motorcycles that borders on the ridiculous have been converting toilets, or at least urinals, into motorcycle facilities for some time.
They would make a great inclusion in a biker bar or a great Christmas gift for the rider who has everything.
Usually, it just takes the addition of a set of handlebars, but some actually include the flush operation via a brake lever.
If you know of any, please send us photographs.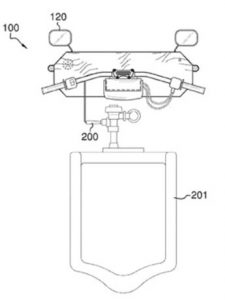 Meanwhile, inventor Anthony J. Moley has taken the motorcycle urinal to new hi-tech levels with his patented design (No. 13/785,144).
Incidentally, Anthony comes from Hollister, California, scene of the first motorcycle gang "riots" and the subject of the 1953 Marlin Brando movie, The Wild One. We can't recall a motorcycle urinal in that movie. It certainly wasn't as hi-tech as this.
His patent was filed in March last year with the US Patent and Trademark Office. It includes motion sensors on the wall-mounted fixture that detect a "rider" and activate engine noises to put you in the mood.
And when the ride is finished, you twist the throttle and the urinal flushes with more revving noises.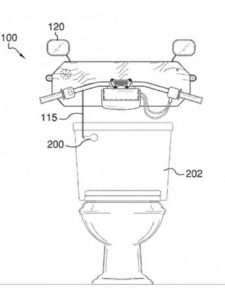 It also has two mirrors so you can keep an eye on the queue forming up behind you, a horn for the exuberant and indicators as a warning to others that you can't pee straight.
His patent also includes a diagram for a motorcycle toilet, but it looks to us like the handlebars may be a little too far to reach.
And when you're finished, how about washing your hands under the motorcycle tap?