Two-Way Radio Image Gallery
A case study in connecting a two-way radio to a motorcycle intercom system.
Many motorcycle intercom owners would like to use their system to communicate with their friends, who may be using a different brand.
Unfortunately, motorcycle Bluetooth intercom systems are not compatible. For example, there's no way a Sena SMH10 (review) owner can talk directly to a Cardo G9 (review) owner.
But, there is an "indirect" way to do it!
Several owners have mentioned this in the webBikeWorld motorcycle intercom reviews.
It is possible to "splice" a two-way radio into the system; e.g., the so-called FRS/GMRS two-way radios
 ("Family Radio Service/General Mobile Radio Service") radios, made by Midland, Motorola, Uniden and others.
The Problem
Here's a typical question from a webBikeWorld reader:
"I'm hoping you can help with my situation; when I ride with my neighbor who has a Scala Rider G4 (review): we can't talk.
The other people I ride with use GMRS radios and I've got a headset that works pretty well with the radio I've got. My problem is that my neighbor won't change and I don't really want two headsets in my helmet, it's pretty crowded in there with just one.
I tried a Shark Bluetooth helmet intercom system and what I learned from that is that this equipment is all proprietarily (so you can't pair unmatched brands) and that there's no easy way to connect one to a two-way radio.
First of all, is that correct? Or are there other brands (hopefully less expensive) that will pair up with the Cardo? Here's my other issue: is there a way to connect a Bluetooth intercom headset to my GMRS radio? I've seen Bluetooth adapters but haven't "taken the plunge" by buying one and getting the soldering iron out."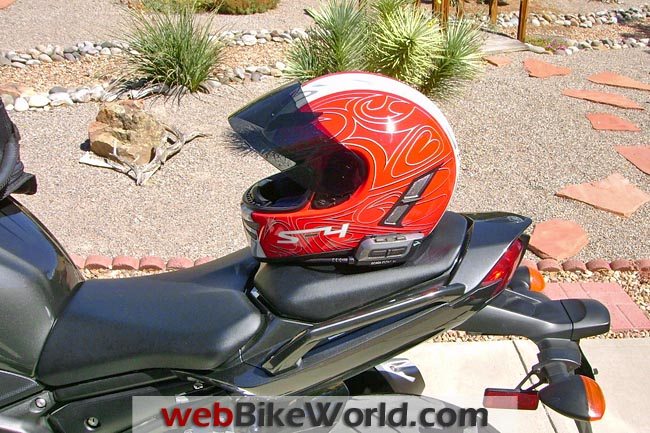 Background
This all began when I decided that it would be really great to have two-way radio communication while riding.
My first attempt was with a Nady intercom. The problem was that they didn't offer the cabling to work with the particular radios that I wanted to use.
Attempt #2 was a Shark Bluetooth system. This was when I found that the Bluetooth intercoms are proprietary systems, and the cabling for the radio was a show-stopper.
The third try was a helmet headset that included everything I needed for the radios that I use. The only issue was that everything was cabled, meaning that at least the PTT button was on the bike and cabled to me. I stepped off the bike a couple of times without unplugging first. That situation needed some fixing as well.
My neighbor had been talking up his Scala Rider G4 intercom, and I wanted to be able to talk while we rode, so I bought a G4 system and this is definitely the best for me of the various setups I've tried.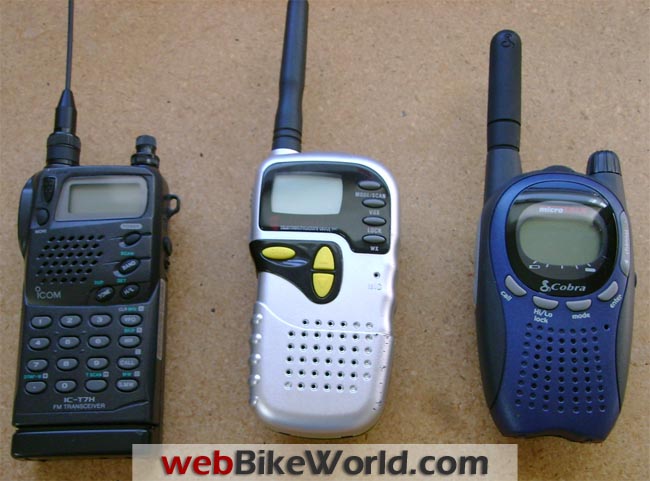 Connecting a Two-Way Radio
Now back to the two-way radio. I didn't see how I could connect my radio, but Rick at webBikeWorld suggested that I try aSena SR10 (review) or a UClear WT300 (review) Bluetooth hub.
These systems are designed to allow an FRS/GMRS type of two-way radio to be "spliced" into the intercom system, allowing long-distance (e.g., longer than Bluetooth range) two-way radio communications with any other brand of Bluetooth intercom system that also has a Bluetooth hub and FRS/GMRS radio connected.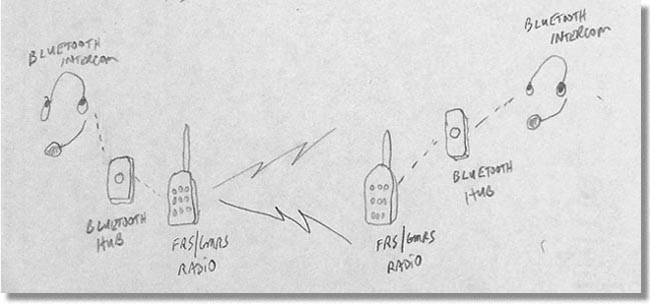 To simplify: you talk on the Bluetooth intercom system, it's picked up by the Bluetooth hub, transmitted to the connected two-way radio, the signal is sent to your riding partners' FRS/GMRS radio and into their Bluetooth hub, then into their intercom system (brand independent) and they hear the communication.
I went with the SR10 and haven't regretted that choice yet (other than a minor issue with their 90-degree connectors). I ride with different groups of people, each of whom use different communications gear (or none at all).
Most riders in these groups use FRS/GMRS, but one in particular prefers MURS, or "Multi-Use Radio Service (Wikipedia)", an "unlicensed two-way radio service similar to Citizens Band (CB)".
I do too because there are a lot fewer people using these channels. I also sometimes use Amateur Radio to talk on a local repeater while commuting. The photos include my Amateur, MURS and FRS/GMRS radios for riding.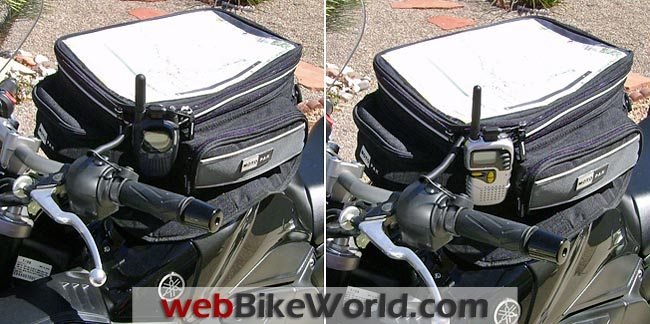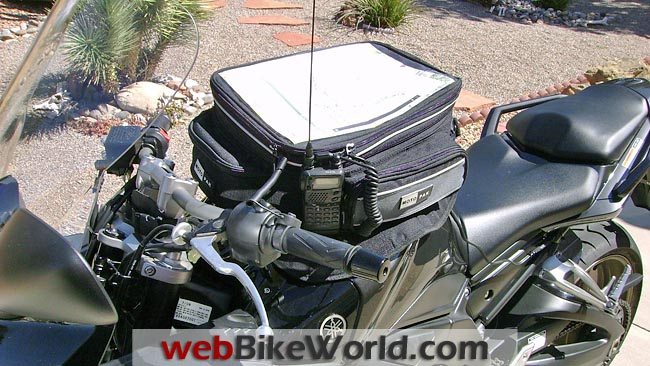 Mounting the Two-Way Radio
The photos above illustrate the Cobra FRS/GMRS radio attached to my tank bag. The Sena SR10 Bluetooth hub is inside the tank bag, with the PTT button on the left grip.
This arrangement works pretty well, the radio isn't in the way unless I'm doing lots of turning around. I could clip it to the inside of the bag but the outside is more convenient. Remember to "lock" the buttons on the radio or you'll wind up on the wrong channel when you need to call.
My wife sometimes follows in the car and on one particular ride the battery on the Amateur radio died just before we came into a town with heavy traffic. She decided to stop for gas and called so that I'd stop with her; a real problem since I was ahead in heavy traffic and had lost radio communication!
My solution to the problem (for the Amateur radio) was to buy a "battery eliminator" which replaces the radio's battery and plugs into a cigarette lighter. The real beauty of the battery eliminator is that it is regulated so the radio doesn't have to endure spikes from the bike's electrical system.
Here it is on the radio: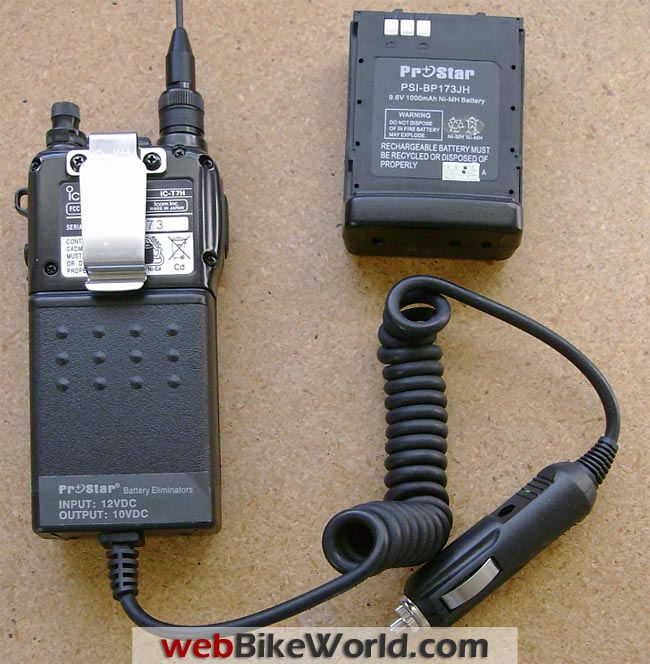 Powering the Radio
The next project was to get motorcycle battery power to the radio. I use a Battery Tender to keep the bike's battery topped off when it sits so there is a cord connected to the battery. The trick was the cable. I made one up from a spare battery tender cable and a "clips to lighter plug" cable that I've had for a while.
Since this is all DC equipment, polarity is really important. The SAE plug on the bike side for the battery charger has the positive contact covered, so on the cable side the uncovered contact became positive.
In the lighter socket the center contact is the positive. I triple-checked this with the continuity light before any soldering was done. Now I've got a power supply that won't let the radio fail just when I need it. The Amateur radio hangs on the tank bag just like the others do.
You can see lighter plug and the power cable to the battery eliminator as well as the Sena SR10 that connects to the Cardo G4 on my helmet. Now the number of batteries that I have to remember to keep charged has dropped to two for this setup, a very good thing. I've seen a lighter plug power cord for the SR10 and that would drop the number of batteries I have to remember to charge to just one (the headset)!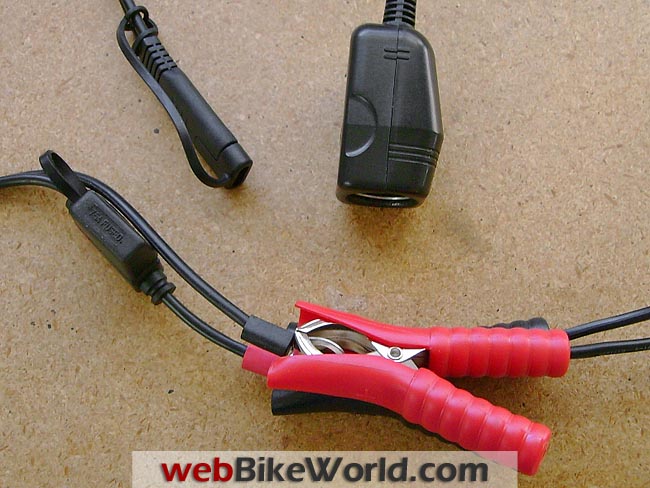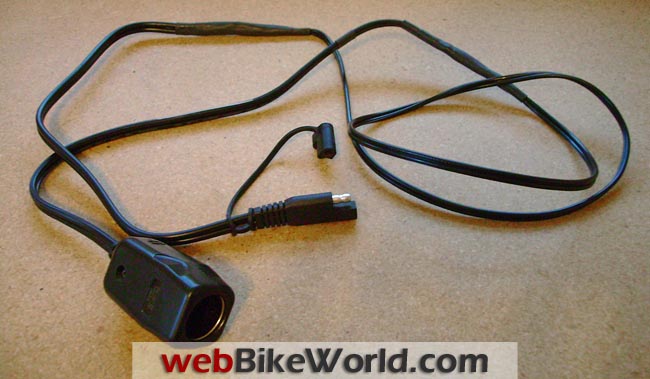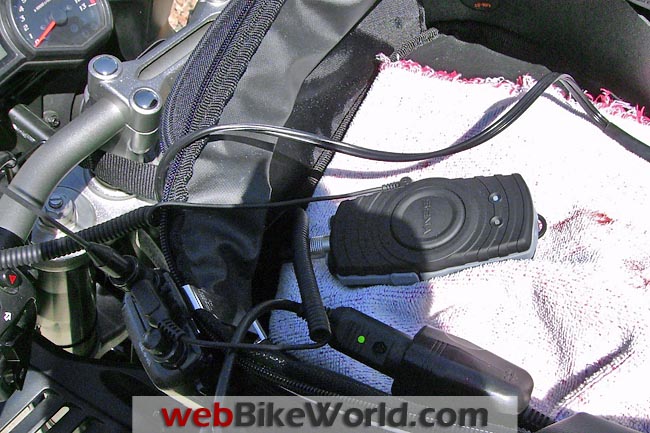 While this power cable works great with this radio, it doesn't do anything for the FRS/GMRS or MURS radios. The Cobra FRS radio has a separate jack on its side for charging. Before I start building a cable I need to make sure that putting a set of rechargeable batteries in the radio and applying twelve volts to that jack isn't going to fry anything.
The Columbia MURS radio uses the same jack for charging and the mic input. This one is beyond me for the time being, I just carry a couple spare sets of batteries and react when the radio complains of low power.
An irritation for me was that I paired my cell phone with the G4 and then paired the SR10 with the G4. The next time I rode alone and wanted to use the cell I had to pair it up again. Then the SR10 had to be paired again. After a few iterations of this I looked at the G4s owner's manual and found that I could pair the cell and a GPS and have it remember both of them!
I paired my cell as a cell phone and the SR10 as a GPS. Now when I don't have any radio gear along I can just toss the cell in my pocket and talk to it from the G4. If I do have radio gear along I pair the cell to the SR10 and I can talk to the cell via the SR10 (connected to the G4 as a GPS).
It seems to work pretty well and hasn't given me any problems so far. I very rarely make outbound calls from the cell, but I do want to be able to answer if I get a call.
More: Motorola MU350R Bluetooth Two-Way Radio Review
Note:
 For informational use only. All material and photographs are Copyright © webWorld International, LLC since 2000. All rights reserved. See the webBikeWorld® 
Site Info page
. Product specifications, features and details may change or differ from our descriptions. Always check before purchasing. Read the
Terms and Conditions
!
Owner Comments and Feedback