One of the benefits of soft vs. hard luggage for motorcycles is the ability to use the soft stuff for multiple purposes.  Let's face it, you'd look pretty dorky carrying a Jesse aluminum pannier into a Vegas hotel.
But most of the recent crop of motorcycle soft luggage not only looks cool, but comes with shoulder straps and handles that make them useful for a variety of purposes.
This Roadgear Euro Sport Jumbo Hauler is in the dual-use category.  It looks and acts just like a big weekend gear bag, but it has four hidden bungees with hooks underneath to secure it to the back of most seats.  If you didn't know that Roadgear made motorcycle accessories, you'd never know it was designed for motorcycle use.
Roadgear has a huge selection of tank bags, tail bags, panniers (saddlebags), sacks, helmet bags and a lot more, in addition to their line of clothing.  They offer four tail bags, consisting of a small and a large version of two different designs, so there's one for everybody.
We previously reviewed the Roadgear Sport Tail Bag, which has the smallest capacity of the four and has a square-ish shape.  Even though it's the smallest tail bag they offer, it has a 22 liter capacity, which is usually plenty of space.
Next up is the Jumbo Sport Tail Bag, which is a 40 liter version of the square shape and has even more carrying capacity.  The Euro-Sport Hauler is a more rectangular design, with a capactiy of 28 liters.  And the big guy is the Euro-Sport Jumbo Hauler seen here, with a whopping 50 liter capacity.
50 liters – think about it.  Mentally picture 50 one-liter bottles of Coke and you'll get an idea of how much this bag holds.  I had to search all over the house, looking for old clothes, dirty clothes, sheets and towels just to find enough gear to make it look stuffed for the photos.  If this sucker isn't big enough for your motorcycle trip, you better take the car.
The official dimensions of the Euro-Sport Jumbo Hauler put it at 23″ long (58.5 cm), 10″ wide (25.5 cm) and 12″ high (30.5 cm).  But it can be overstuffed by quite a bit, so I'd say those dimensions are flexible by about 10% or so.
The material is the ubiquitous DuPont Cordura; tough stuff that serves the motorcycle industry very well.  The bag isn't waterproof, but comes with a nylon rain cover that has a handy elastic cinch strap running inside the hem on the bottom.
The cover also has the Roadgear reflective logo attached to one side, which should help provide some extra reflectivity at night.
All of Roadgear's luggage is made in the U.S.A., which is surprising.  Even the rain cover carries a "Made in the U.S.A." label.  Other distributors have moved their manufacturing offshore, and the prices may be slightly lower, but it's nice to see that Roadgear has kept their manufacturing at home.  Who knows, maybe some of our fellow motorcyclists are employed in the Roadgear factory!
The bag has three external pockets, one at each end and a pocket on one side.  The external pockets cover the full length and width of the bag, and they're about 2″ (50 mm) deep.  Placing only one external pocket on the long side makes it easier to carry the bag by the handles when walking, a nice touch that illustrates that someone thought through the design.
There's plenty of room for expansion in the pockets, so they can be easily overstuffed if desired.  I've often wondered why Roadgear uses the "lap-strake" method of overlapped fabric panels on the outside of their bags.  Now I understand why.  These give the bags the ability to expand more than other methods of construction, yet they keep their shape when the bag is slightly under-filled.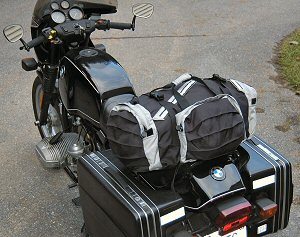 The internal chamber is an undivided 18.5″ long (47 cm), and has the same dimensions of 10″ wide (25.5 cm) and 12″ (30.5 cm) high.  The top zipper is a sort of "L" shape.  It runs diagonally across the top of the bag, underneath a Cordura flap carrying the reflective Roadgear logo, and then across one side.
This may seem like a strange configuration at first, but the design helps the bag to keep its shape and not open up like a clam when it's only half full.
All of the zippers have heavy nylon teeth and dual runners with big pull tabs.  It's easy to locate the zipper end with
bare hands, somewhat more difficult with gloves, but the pull tabs do help.
The bottom of the bag is covered with an extra piece of Cordura that runs about the full length and width.  Hidden behind this panel are 4 double bungee cords, each with a nylon hook.  These are used to secure the bag to the motorcycle's frame.
The top of the bag includes a handle and two built-in nylon webbed cinch straps which open up to a semi-circle of about 7″ (18 cm).  The handle is formed by folding the two loops of nylon under a piece of padding that closes with Velcro, making it easier to carry.
The cinch straps would be perfect for holding a tent or sleeping bag.  The downside is that the cinch straps just sort of flap around if they aren't holding anything.   They can be tied in a knot around the strap itself, but it would have been nice if there was some Velcro to secure the loose ends.  Mansoor Shafi, the Owner of Roadgear and an inveterate long-distance rider, sent us a note with this tip:  "cross the cinch straps (i.e., make an X to attach them), the male from one side goes to the female on the other side and vice versa, this takes up the extra slack".   Mansoor said that he optimized the strap length to hold a small lightweight tent folded inside his sleeping bag.
Each bag comes with the aforementioned rain cover and a shoulder strap with the Roadgear reflective logo.  Roadgear luggage comes in all black, black and silver, black and red, black and blue and black and yellow combinations.
Conclusion
This is a big bag that can be overstuffed to carry loads of gear.  Honestly, if you can't fit everything you need in this bag and a tank bag, then you're probably carrying too much!  But for some reason, even though the bag holds lots of gear, it still seems to be easy to work with and not overwhelming.  It also works (and looks) perfectly acceptable as a general use item of luggage for non-motorcycle use.  Its simplicity is actually its strength.  It can be quickly attached to most motorcycles and works nicely with other types of soft and hard luggage.
Note:  For informational use only.  All material and photographs are Copyright © webWorld International, LLC – 2000-2011.  All rights reserved.  See the webBikeWorld® Site Info page.  NOTE:  Product specifications, features and details may change or differ from our descriptions.  Always check before purchasing.  Read the Terms and Conditions!
Product Review:

 

Euro-Sport Jumbo Hauler
Available From:  Roadgear
Suggested Retail Price:  $115.90
Colors:  Black with Red, Yellow, Silver, Blue, Black trim.
Made in:  U.S.A.
Product Comments:  50 liter capacity.  Dimensions: 10″W x 23″L x 12″H.  Two end pockets, one middle pocket, one big chamber.  Has built-in bungee cords with hooks on bottom.  Includes adjustable shoulder strap, handles and two adjustable external cinch straps.  Mansoor Shafi's (owner of Roadgear) favorite bag!
More:  Roadgear Tank Bag & Tail Bag Review