Motorcycle Tire Bead Breaker Review
The "Poor Man's" motorcycle tire bead breaker works like a charm!
Here it is: the world's cheapest (and most effective) motorcycle tire bead breaker!
This method has not failed me yet; it works on bias or radial ply tires, old or new style rims, spoke or cast wheels.
The only materials that are needed for this device are a couple of pieces of 2×4 lumber: One 2×4 (or 2×3), about 7 or 8 feet long, and a smaller piece, maybe a foot long or so.
Place the wheel on the ground about 1 meter from a parked car. Make sure you lay a couple of pieces of 2×4 (or 2×3, as shown in photo left) under the rim to protect the brake disk rotor and rim from damage.
Slip the long 2×4 under the door sill of the car, and place the shorter piece on the edge of the tire, right up next to the rim.
You can get fancy if you'd like and put a hinge on the longer piece so that the shorter piece hangs down, but I find it more challenging (and easier) to simply hold the shorter piece and put a bit of pressure on it to keep it in place.
Place one foot over the opposite side of the rim, and lever away! Most tires will pop right off the rim with a bit o' pressure, but you may find that some tires need a sharp push to get the bead to break.
In any case, this is the fastest, simplest and most effective method of bead breaking I've ever tried. It doesn't make levering the tire on and off the rim any easier, but it sure makes breaking the bead a piece of cake. Forget about all those expensive dedicated bead breaking tools — you don't need 'em!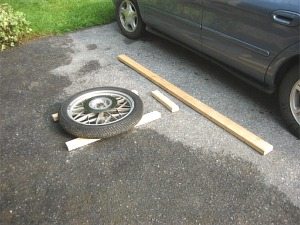 Owner Comments and Feedback
---
From "D.W.B." (August 2011):  "Been doing this method of breaking motorcycle loose for years. Last week, it met its match and the 2×4 method failed to break the bead of a Bridgestone tire on a BMW K1200LT wheel. Had to break down and run it to a dealer with a hydraulic unit — he still had trouble. Ah well. Most of the time, this works just fine."
---
From "D.S." (4/10):  "Hey, it works great. The only thing to add… I put a piece of duct tape on each side of the wheel bearings to keep dirt etc. out of them."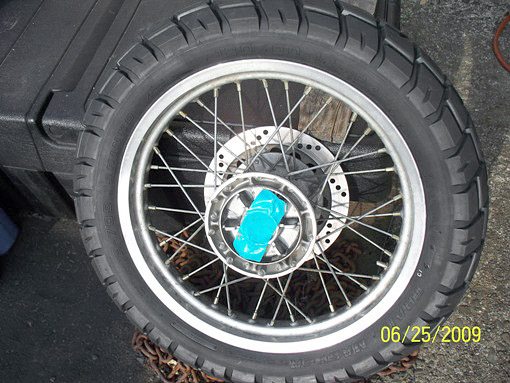 ---
From "M.W." (11/09): "Just tried the method of breaking my motorcycle tire beads this weekend with the fulcrum boards and it worked just like explained.
No problem except I used a 4 X 4 instead of a 2 X 4 after reading about the 2 X 4 breaking and I used my truck trailer hitch as a pry point.
I had someone else put a foot on the rim so I could get control of the 4 X 4, a lighter 2 X 4 may be easier to handle by yourself.
The rear tire was a little more stubborn than the front but I just had to let the pressure stay on the bead for a while and it slowly broke then I just worked it around and it came right off.
Thanks for the tip."
---
From "M.Y." (9/09):  "I had to check the date on your article to make sure it wasn't published (April 1). After considerable effort I have 1 dented fender, 1 broken 2x4x8′ and one firmly mounted bead…
Seemed like a good idea though…"
---
From "E.C." (4/09): "This is genius. I've built-a-thing-in-my-garage, C-clamped, almost-bought-the-harbor-freight-thing. Just moved to San Francisco [away from my garage] and used your piece-of-cake bead breaker idea to swap my own tires with a 2×4, two tire irons, and a gas station compressor. Very obvious in retrospect. Thanks! "
---
From "MNF" (2/09): "Wow it really worked. I was shocked!!!!  THANKS"
---
From "M.D.":  "I just wanted to let you know how jazzed I am this morning. I have always changed my own tires on my street bikes, but breaking the bead has always been a hit-or-miss deal for me. I stumbled across, however, your article on the 2 x 4 bead breaker, and got to try it out last night. WOW!!! It worked exactly as advertised, and changing the tire on my PC800 took less than 20 minutes, from the time I put it on the center stand to putting it away.
And they say that pron is the only good thing on the internet…"
Other WebBikeWorld Articles Posts