The humble motorcycle shop has transformed into a modern megastore. So it's always good to visit an original country-style motorcycle shop like Silverdale Motorcycles.
The big tin shed sits on the Cunningham Highway in rural Fassifern Valley just outside Ipswich, Queensland, but it could be your humble old country motorcycle shop anywhere in the world.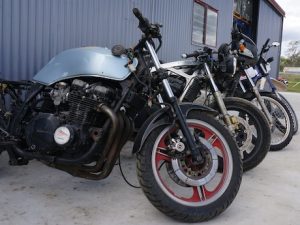 Owner Gavin Host and business partner and chief mechanic Carl Richardson have spent the past couple of years building it up into a hub for local riders and the many weary travellers who use this highway between the southern states and the Sunshine State.
It's basically a motorcycle wreckers and garage, but they have grand plans for building ground-up customs and further developing the Iron Horse Cafe in the adjacent Wiss Brothers store they brought from Kalbar to the property.
Gavin is a coach and furniture builder by trade. He says they have a jig, pipe bender, ultrasonic cleaner and are poised to start making their own frames.
"We'll make everything and anything, but there's a lot of demand right now for old featherbed frames," he says.
The workshop now has registered automotive workshop (RAWS) certification which means they can make and register frames with official VIN numbers. They will make all the Harley-esque frames for V-twins, as well as featherbed frames.
Silverdale Motorcycles also sells a lot of spares online and they are agents for Daytona Twin Tech and Rollies Speed Shop.
While Gavin is busy building up the mechanical side of the business, he also wants to turn the heritage store into a fully functioning cafe with live entertainment. He hopes to make it a destination for local bikers of all persuasions on Friday nights and weekends, while also attracting the "hundreds" of bikers who pass by each week.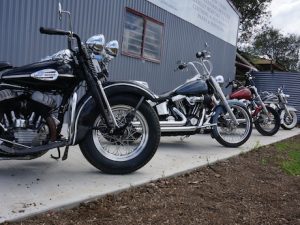 Harley-loving Gavin, aged 43, says he likes all types of bikes – "basically anything with two wheels" – and has been riding since he was 18. "I treat everyone the same whether they're social riders or one-percenters. You can't allay yourself with one group only," he says.
There's a bit of friendly rivalry and banter between him and Carl who is a British bike fan with a special love for BSA and Triumph. As a garbage truck pulls up outside he quips to Gavin that it's there to pick up the Harleys.
Carl's bike background goes back to the age of 14 when he started as a mechanic. He has been working with bikes, cars, trucks and anything mechanical ever since, including Bathurst race cars.
He started riding on a Ducati 450 single and has owned so many bikes he's lost count.
Carl is keen to get started on the custom side of the motorcycle shop business with plans to take engines from wrecked bikes and put them in his custom frames to make cafe racers and trackers.
"I've got a wrecked GS500 that's not worth anything but with be a good frame and suspension, it could be a good weekend fun bike," he says.
Silverdale Motorcycles is sponsoring the free Fassifern Fifties Festival on May 2, 2015, which will feature a host of retro bikes at the Aratula School.