Male and female riders can now stay fresh in summer for longer and warm in winter all day with this MotoChic Special Edition Cooling Base Layer Top.
The American company founded by rider Debra Chin sent a sample shirt to Mrs MBW and our resident psychologist, Sharon Ledger, to trial in the still-stifling heat of a Queensland autumn. (They now say they are also available in men's sizes.)
Our testers say the long-sleeve short feels cool when the air is blowing through it and the sweat dissipated so it kept them fresh and it didn't smell nasty at the end of a long day in the saddle.
However, they also say that when you stop, or close the vents on your jacket, it's actually quite warm, so it should act as an effective warm base layer for the winter months.
The made-to-order seamless shirt has a "slimming design" which means it's tight and fits every contour. On an attractive figure, it would be flattering, but otherwise may accentuate any bulges.
Mrs MBW and Sharon like the cogs and little motorcycles in the pattern and the comfort of the seamless design which didn't dig in or bunch under the jacket.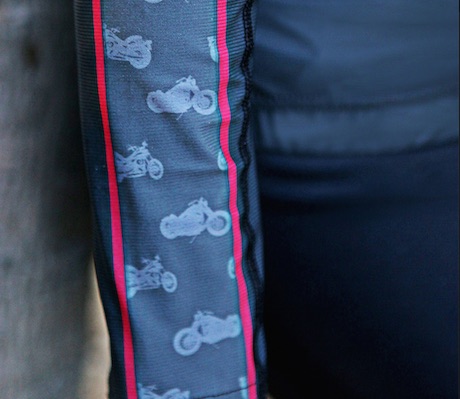 Debra claims the tight-fitting top reduces muscle fatigue while riding. Sharon said that after a day of riding her Ninja 300 in some hot and steamy conditions through some bumpy and twisty roads, she still felt quite relaxed.
The MotoChic top costs US$135 and comes in Honda red, Yamaha blue, Kawasaki green or KTM/Harley orange. As they are made to your measurements, they take about 5–6 weeks for production and delivery.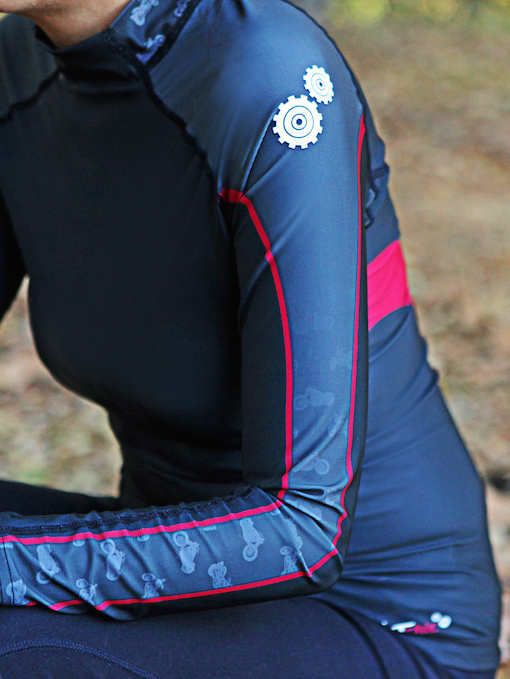 Here are the highlights from the MotoChic blurb:
Proprietary "honey comb" woven Italian fabric feels like air conditioning on the skin as it cools your body by drying 8x faster than cotton and 4–6x faster than other base layers;
Designed in consultation with a physiotherapist, using true compression fabrics for a scientific fit that reduces arm pump and muscle soreness to extend peak-level exercise performance;
Innovative seamless fit with Stay Put silicone gripper eliminates chaffing, bunching and riding up;
Soft mesh paneling under the arms and down the back improves manoeuvrability and comfort;
Proprietary collar design prevents chafing and shades neck from sun exposure;
Special dye sublimation printing process facilitates breathability and ensures against peeling, fading or cracking; and
Packs light for extended trips.
MotoChic also makes durable lightweight, multi-purpose bags for women riders and some t-shirts for men and women.
They say their clothing and accessories are "designed by women for women on the move", but the cooling base layer top is also now available for men.