Looking for the right motorcycle saddlebags that will fit your bike? Most motorcycle riders are faced with the question of finding the right saddlebags when looking to ride farther or bring along more gear. It's difficult to get one that fits the bill and looks good on your baby. Sometimes, what you need is just way out of your budget or isn't available in the right color choice.
If you're looking for quality hard saddlebags that can fit your bill, you will love these five options:
1. TMS Black Hard Saddlebags Trunk W/Lid & Latch Cover Kit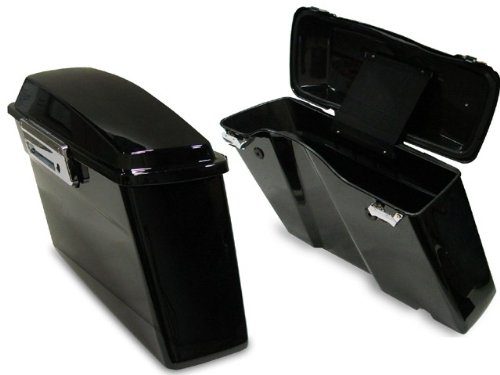 Are you a Harley Davidson fan and own one of the Harley Davidson models? You will need one of these saddlebags then. This is a pair of black saddlebags with latch hardware and its cover. These motorcycle hard saddlebags are full-sized and come with a glass finish giving it an appealing look. Made of first quality ABS, it fits all Harley Davidson's of 1994 – 2012 touring models. This includes road glides, road kings, street glide, ultra and electra glide to name a few.
Purchasing the conversion brackets separately and using them makes it fit on DYNA, Sportster and Softail models too. Being rectangle shaped, it has a puffed lid which allows the user to accommodate more stuff. The pair of saddlebags are so designed that one fits on the right side and the other on the left. The saddlebag is water tight and while they are not drilled for locks, they can suit your needs comfortably. You can buy in the locks separately. However, do note that since these saddlebags are made for FL models, it may be sometime before they can fit your properly. Read all the reviews on these bags here.
The saddlebags do pack in the punch. Here is a look at some of the benefits:
Durable – Made of sturdy and hardy materials, such bags are quite durable and can withstand different types of weather conditions easily.
Storage – There is ample storage space within such saddlebags make it ideal for bikers who are constantly on the move with extra luggage and gear.
Easy maintenance – These saddlebags ask for easy maintenance and just need a good cleaning once in a while to be used smoothly for long.
Detachable and easy to install – The saddlebags can be easily attached and detached from your bike and are portable and lightweight to carry.
2. Extended Hard Saddlebags for Harley Davidson Touring – Black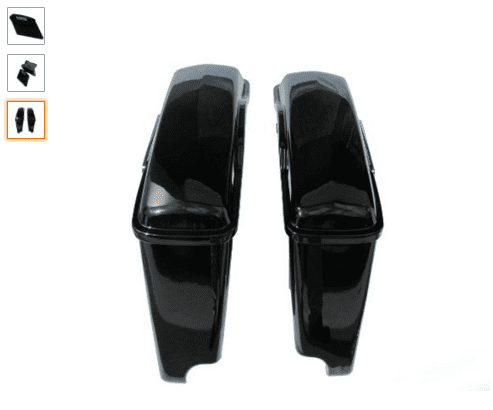 Yet another saddlebag designed for Harley Davidson fans, this one too does wonders. It is one of the bit pricey ones out there but comes with good fiberglass construction. It is one of the best hard saddlebags available in the market for the 1993 – 2013 Harley Davidson Touring Models and boasts of a high gloss black exterior. The Saddlebag was first launched in August 2012 and has become a best seller since then.
The interiors are made of tan velvet and it comes with a 4 inches extension. The polished and perfect sides of this saddlebag make it look stylish yet elegant. The construction is done with 3 solid layers of fibreglass mixed with resin and this is why it will not shatter or crack. The product is fully assembled and painted on delivery. In fact, the fiberglass construction takes around 30 hours to produce a single pair of these saddles bags and offers the durability you need. The saddlebags can withstand extreme pressure and will not crack or shatter, so you can use them for a really long time. This should be on the list of your buys if you love to ride your Harley Davidson bike all the time. Read all the reviews here.
So, what do these saddlebags have to offer? Here is a look:
Extremely durable – If you're looking for a saddlebag for your Harley Davidson that can be with you for years, this is the one that you need to buy. Made of fibreglass and resin, these saddlebags are so durable that they can withstand extreme conditions are great for people who travel to locations which experience excessive heat or cold temperatures.
Added strength – Another benefit of this saddlebag is that it is very strong and this ensures that the items kept inside it remain safe when the biker is on the move with them. The saddlebag will not shatter or crack easily thereby safeguarding the stuff inside.
Ample storage space – Being quite spacious, users can store a lot of stuff inside the saddlebag. This is why it is ideal for travelling to distant places and long holidays or excursions.
3. Extended Saddlebags with Lids: Hard ABS Unpainted Plastic 4" Stretched Saddlebags for Harley Davidson 1994-2013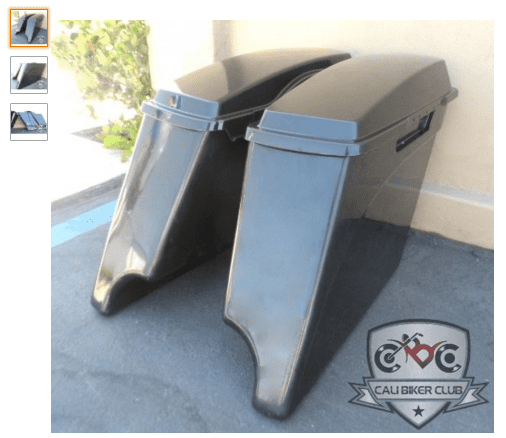 If you are looking for a saddlebag that offers you extreme space and comfort, this is the one for you. These saddlebags are great for all the Harley Davidson Touring Bikes models of 1994 -2013 and come with 4 pieces of left and right extended bags with lids. The bottom of the product is designed for muffler body placement or dual exhausts thereby making place for the same.
It has been made of superior-quality durable ABS/PPO material which meets OEM standards. The saddlebags are unpainted and are ready to be primed, painted and sanded. The simple yet elegant designing of these saddlebags make it an excellent choice when going to any far off location for long durations. This is a direct replacement product and application is really easy. You do not need to call a mechanic and you can be done replacing it within a few minutes. The saddlebags come with lids but not hardware and was launched way back in 2010. Read all the reviews on these bags here.
You will love this saddlebag for these reasons.
Stylish – These saddlebags have a very stylish look to them and prove to be a great alternative to those typical and bulky bags which are found in the market. Being both functional and beautiful, they are just what you need to adorn your bike with.
Detachable and portable – Another benefit of this product is that it can be attached and detached easily and is quite lightweight. It is also portable enough to be carried from one place to another.
Easy maintenance – The saddlebags can fit in perfectly with the stock hardware and the ABS is pretty strong. Being easy to maintain, all you need to do is clean these saddlebags once in a while and they remain as good as new for years to come.
4. Harley-Davidson Aftermarket Hard ABS Unpainted Saddlebags Touring Models FLH FLHT Road King Ultra Classic Street Glide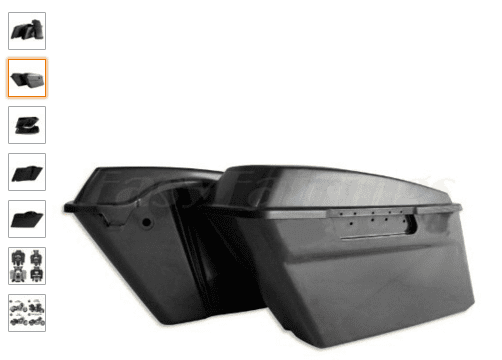 These are one of the best Harley Davidson aftermarket hardbags available in the market at a reasonable price. Being quite heavy duty and made from durable ABS plastic, these saddlebags perform as good as new for several years to come. This pair of saddlebags come with tits respective left and right lids and has an unpainted and unfinished surface which is absolutely ready for custom and primer paint.
They can be used on almost all the touring models of Harley-Davidson from 1994-2013 easily. This product can also be used with the original mounting brackets which are not included with this product. The OEM hardware is compatible with the saddlebags, so you have nothing to worry about. The saddlebags can fit almost all bikes of the Harley Davidson series, including the 2001 HD Road King Classic. The saddlebags again come with lids and not without, so you need to be careful about what you're buying. Read all the reviews here.
Benefits on Offer:
Storage – These saddlebags may look small but they offer ample storage space to the user so he can fit in loads of stuff inside. This is why this product is an ideal choice when going on long journeys where you will carry a lot of stuff with you.
Durable – Being made of high-quality materials, it is extremely durable and does not get crack or shatter in extreme weather conditions. It is damage resistant and pollution proof so you needn't worry about them during the wear and tear of your journey.
Cheap – This is one of the cheapest saddlebags that you can buy. It is totally worth the money and can be used for a number of years. Plus, they are sturdy and can fit your motorbike easily.
5. Complete Hard Saddlebags W Locks Latch Seal Fits Harley Touring Softail Dyna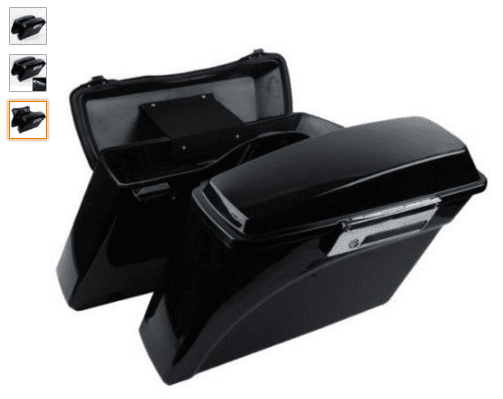 This is one of the mid sized pair of saddlebags out there and can be bought in a vivid black finish color. It comes with a lock so you do not have to buy it separately. Made from premium ABS materia, these saddlebags are perfect for your bike not matter where you go. They have an extremely stylish and polished design and are mid-sized so they look neither too small nor too big when put on your bikes. The locks are made of high quality steel and ensure that the items placed inside remain safe at all times. The rectangle design with lids has been designed with great precision to add style to the saddlebags. Putting them on is really easy, and all you need to do is 'pop them on' in minutes using your stock brackets. The saddlebags fits almost all of Harley Davidson models easily and fit models like the 2013 Road King easily. Read all the reviews here. 
This is one of the best hard saddlebags that you would find around for the price.
Durable – Being completely hard and made of superior-quality materials, these saddlebags are so durable that you needn't worry about them for years to come. They will never shatter or crack under extreme weather conditions if you happen to travel to such places on your bike.
Deep storage – The saddlebags may look small but they are quite roomy and deep inside offering compartmentalized storage as per your unique needs. You can also store smaller items separately.
Lightweight and portable – The saddlebags look heavy due to the hardness but are quite light to hold and extremely portable if one has to carry them from one place to another.
Bonus: Tactical Saddlebags