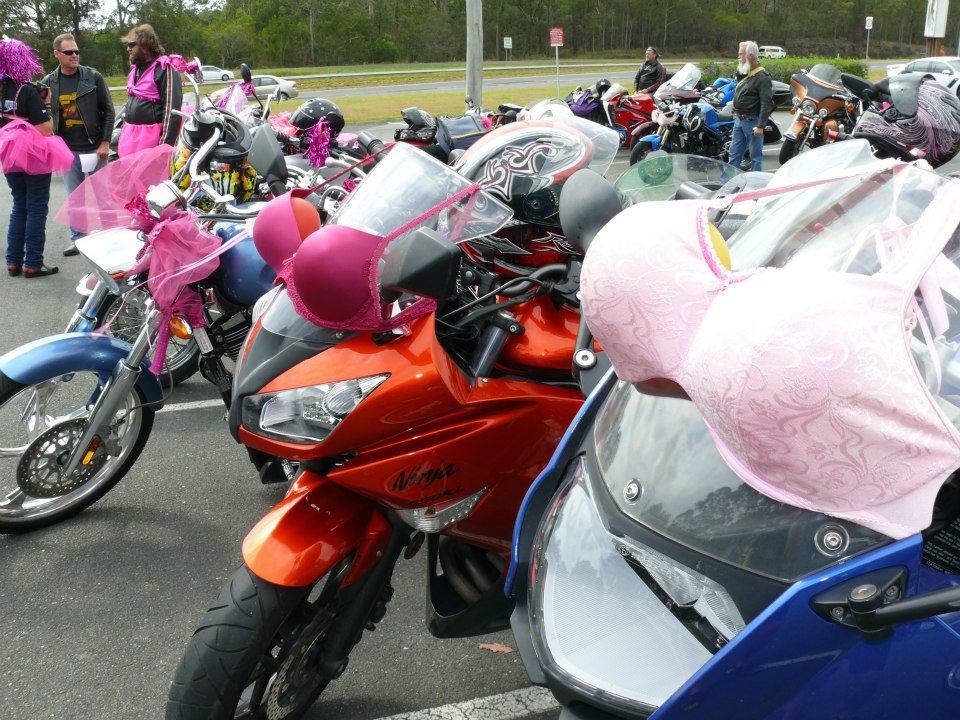 Brisbane women riders will set out on their own to raise funds and awareness for breast cancer this month.
While most other cities around Australia and the world organise Pink Ribbon Rides in October, the Brisbane Pink Riders will again join Girl Torque on the Sunshine Coast for their annual Bras & Bikes ride. They are also donating prizes for their raffles.
The Bras & Bikes Ride will be held on October 27 with registrations from 7.30am at the Ettamogah Pub. The 200km ride starts at 9am, with smoko at Kilcoy and ending at the Karana Bowls Club for lunch.
Cost is a $10 donation per bike with pink bras available for a $2 donation.
Female and male riders are asked to wear a pink bra on themselves and/or their bike.
All proceeds go to Bloomhill Cancer Help Centre at Buderim.
Contact Helen on 0412 722303 or Cheryl on 0409 875571.
Meanwhile in Melbourne, the Pink Ribbon Ride is scheduled for October 27 starting from Docklands Subaru at 10am and riding to Werribee. Cost is $20 per rider. Stunt rider Lukey Luke and local bands will provide entertainment.
The Melbourne ride last year had a record attendance of 702 riders and they are hoping to break that this year.
The Sydney Pink Ribbon Ride is on October 13 from 10am at the Mean Fiddler at Rouse Hill. This year funds raised will go to Westmead Breast Cancer Institute. There will be stalls and a full day's fair activities.
Adelaide isn't doing anything this year, but will have a casual ride on October 20 at 9.30am with a venue to be decided.