Reflective Vests Image Gallery
The Rev'it Athos Air and the Oxford Bright Top Active reflective vests are excellent examples of lightweight comfortable hi-viz garments that won't impede while greatly enhancing comfort.
Both vests are excellent examples of hi-visibility Personal Protective Equipment (PPE).
The Rev'it Athos Air has higher quality overall and flows air better, but the Oxford is marginally lighter, simpler and more fully compliant with retro-reflective standards.
The Oxford vest would be significantly more effective for both day and night use.
No matter whether you live by the "All the Gear, All the Time" (ATGATT) philosophy, the "minimalist" philosophy or something in-between, there is one critical requirement that should never be ignored.
That is making you, your passenger and your motorcycle highly visible to everyone else on the road at all times.
No matter what you wear underneath, the Rev'it Athos Air and the Oxford Bright Top high-visibility reflective vest are light and comfortable.
These are two of many products available that make coping with heat and humidity easier while maintaining that essential high-visibility profile while riding — day or night.
Designed for day-in, day-out use, both garments fill the bill, albeit in slightly different ways, while meeting different safety standards — but both are very effective.
Between availability, pricing and functionality, there is little excuse for not wearing one. For many riders around the world, this is a fact of life, due to compliance with regulations and safety standards.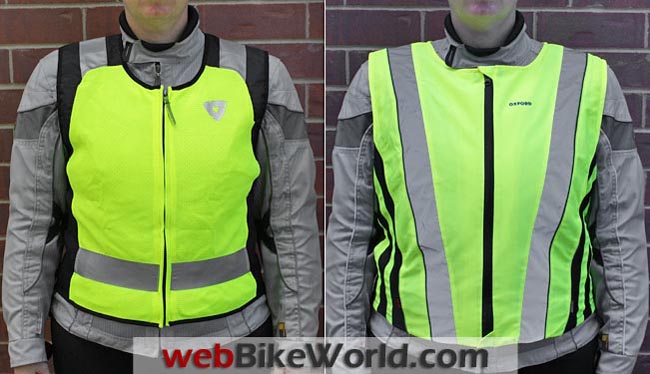 Introduction
Personal Protective Equipment (PPE) is an essential part of the motorcycling experience, with ATGATT being a philosophy that many of us live by, no matter how warm or humid it becomes.
An important aspect of PPE and the ATGATT approach is visibility, 24 hours a day, 7 days a week. And it is an issue that all of us as road users need to deal with.
Many drivers don't or won't see anything beyond the boundaries of their own vehicle and therein lies a big part of the problem.
But there are ways that we as motorcycle riders can help chip away at some of the issues involved, including our visibility.
And what is extremely gratifying to see is the number of riders who have adopted high visibility (hi-viz) clothing in whole or in part as a component of their riding gear.
A recent trip to Lake George, New York for Americade this year demonstrated visually just how much of a difference even one year can make.
No matter the brand of motorcycle, compared to even a year ago we noticed that hi-viz is definitely here in a big and very positive way.
For those of us who have been wearing the stuff for years — when we could find it or make it ourselves — the change is welcome and most of us just wonder why it took so long. It's not a fashion thing; it's a safety thing — and for that, there should be no compromise.
OK, enough of the philosophy.
High-visibility garments are becoming a standard offering from virtually all modern garment manufacturers or distributors, with products ranging from simple pull-on or pull-over vests to light and heavy-weight outer garments.
And let us not forget the ever-increasing availability of hi-viz helmets!
There are and always will be discussion over which colour is the best to use.
But typically, many manufacturers have adopted the now internationally recognized "Neon" yellow or variants, along with "Blaze" orange that is based on other well-established safety standards and usages in industry and road safety.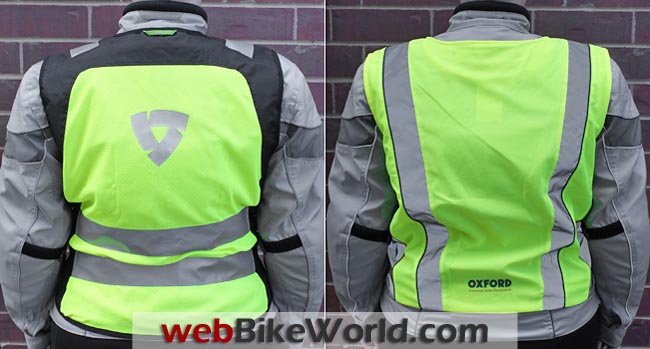 Standards and Specifications for Reflective Vests
With a long-term involvement in the motorcycle education, safety and training disciplines and my personal ATGATT philosophy, it is hard to argue against any form of hi-viz garment or helmet that makes motorcyclists stand out against the background clutter.
But admittedly many solutions are extremely effective and some, well, not so much, even though the intent is there.
There are now many laws, safety organizations, standards and specifications involved in the consideration, design, production and marketing of high-visibility PPE.
And the two garments discussed in this review produced by two different manufacturers utilizing different standards, but resulting in very effective products.
The first two safety standards identified below apply to the two garments discussed, while the third and fourth identify the defined U.S. and Canadian standards for high visibility safety apparel and head wear.
Another major entity in the safety environment within the US is the Department of Defense.
It has a good PPE requirement that has been in place for many years, applying to personnel who ride on and off military installations, with a separate Military Standard (Mil Std) designation for each arm of the military.
Many motorcycle safety garments carry a separate Mil Std label for just this reason.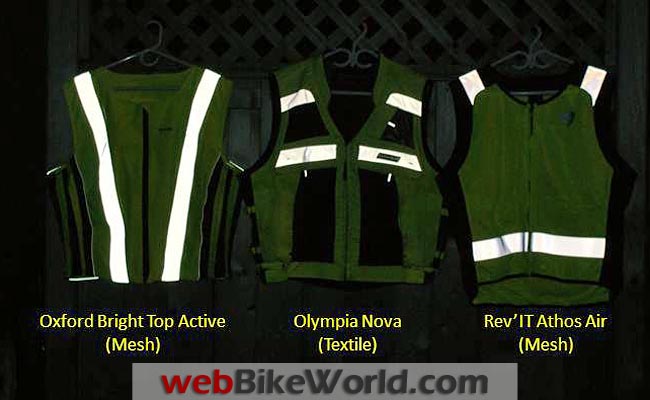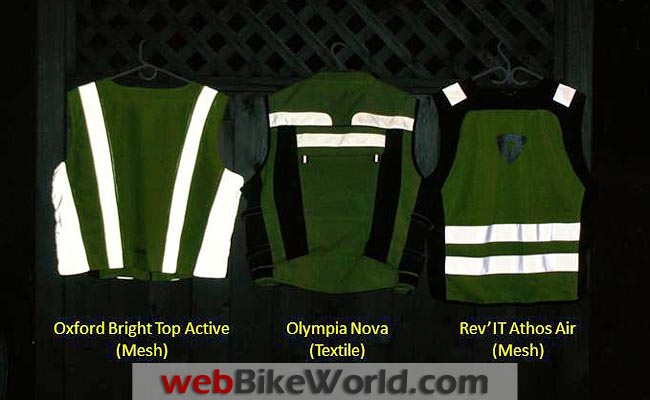 Rev'it! Athos Air Vest: Form and Fit
Rev'it! had the popular Athos high-visibility reflective vest available and with the introduction of the Athos Air, the company now has a mesh variant available for those warm (hot) days and nights of riding.
The Rev'it Athos Air vest is listed as conforming to EN471 (EC), applicable for professional use (Class 2 — intermediary).
What wasn't attached to the garment when it was purchased was anything identifying any standard or any of the other information that is supposed to be provided, although the tote-bag is marked "fabric requirements of EN471".
Made of 100 percent polyester, the 394 gram (13.9 oz.) Athos Air vest is a comfortable featherweight.
It has front and back panels made of fullly perforated water-resistant mesh, with two layers of mesh fabric (outer and inner liner), stretch side panels and 3M Scotchlite laminated reflective panels. It even comes with its own stuff-bag.
The retro-reflective material on the Athos Air vest consists of dual horizontal stripes on the lower back, a single stripe on the front at waist level and a short 15 cm band over each shoulder.
The large Rev'it logo located high on the back panel is not retro-reflective – a perfect opportunity lost!
The double-stitched piping used on the collar and sleeve openings is soft to the touch and it stretches with the elastic side panels so shape and comfort is maintained. The underarm cut is excellent — a close fit without being tight.
A loop on the back of collar provides a convenient means to hang the garment.
A longer cut back fits with your seating position on many motorcycles and doesn't ride up when you are loading/unloading gear from saddlebags etc., but does shift and move with your body so it doesn't constrict or restrict movement.
The garment label is stitched at the bottom of the collar and can be felt if worn over a lightweight or collar-less garment.  A small thing, but…
The Large and 2XL sized vests we have fit easily over any jacket for continual use, including anything we wear this time of year (summer).
The Athos Air vest has enough stretch to go over a heavier weight jacket as well.
Care includes hand-wash or machine wash on the gentlest cycle separately in warm water only, no softeners and dry by hanging — do not iron.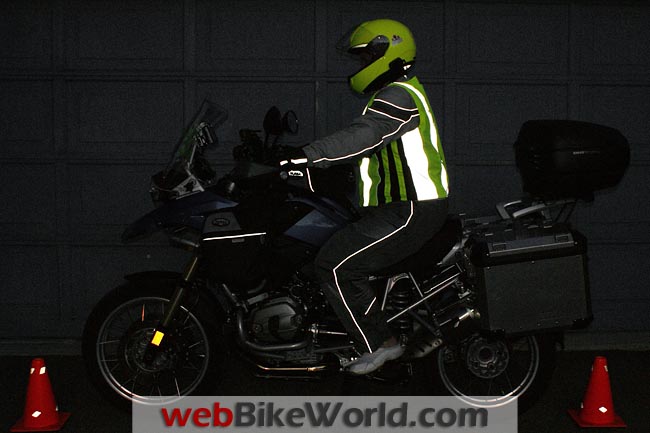 Oxford Bright Top Mesh Vest: Form and Fit
The Oxford Bright Top Active vest in size 2XL is listed as conforming to the EN1150 standard, applicable for "non-professional" use.
Unlike the Rev'it Athos Air vest, however, the Oxford Bright Top vest is clearly marked as to the EC standard to which it complies.
In addition, the chest and height range, and the maximum number of washes for the garment (loss of colouration and reflectivity issues) is also listed.
The Oxford Bright Top is also made of 100 percent polyester and the 244 gram (8.7 oz.) garment is even lighter than the Rev'it Athos Air, mainly due to less material being used for trim.
The front and back panels are made of mesh and the outer layer is a tighter weave than the Athos Air.
Both use a fish-net style mesh for the inner layer. Three narrow stretch bands on each side provide a close but comfortable body fit through very light compression.
The retro-reflective material used for the Oxford Bright Top vest has a 3D-look logo embedded within it and is very soft and pliable.
A vertical band of this material runs from the back hem to front hem over each shoulder with a wide panel underarm insert towards the back on each side.
The panels are hemmed and single stitched but there is no piping around the neck or arm holes as used on the Athos Air vest, although comfort isn't reduced in any way, given a wider cut around the neck.
Underarm shaping and fit, like the Rev'it Athos Air, is excellent, conforming closely to the body and a mesh jacket worn underneath.
The label on the Oxford Bright Top vest is located lower down, off the collar so it won't rub when worn over a low collar garment or lightweight jacket.
The Bright Top vest is straight-cut around the bottom, so on some riders it may appear short. It is, in general, more suited for a straight-up riding position.
Like the Athos Air vest, the Oxford Bright Top also has enough stretch to go over a colder weather jacket as well.
Care includes a maximum of 25 washes is identified in accordance with the EN1150, EN471 and ANSI 107.2010 standards.
I suspect the garment will endure far more washings if done properly; hand or machine wash in warm water, hang dry, no ironing and no dry cleaning.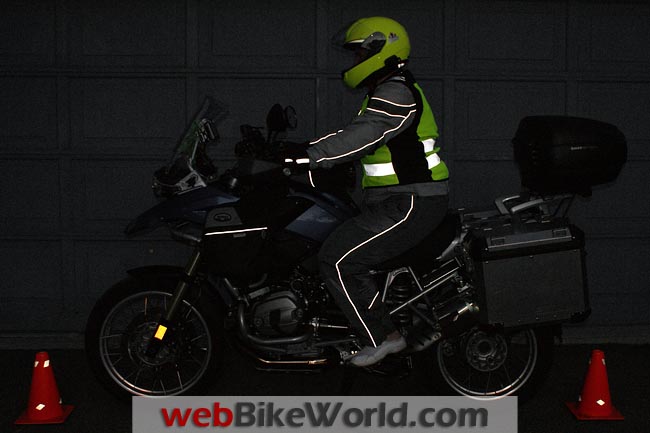 Vest Functionality
The difference in air flow and overall comfort between a heavier textile, non-mesh (solid fabric) high-visibility reflective vest with mesh inserts and either the Rev'it Athos Air or the Oxford Bright Top is amazing.
When air temperatures are headed up to and beyond 100F, this difference can be critical.
Both of these mesh vests are extreme lightweights compared to the four multiple Olympia Nova High Visibility Vest textile vests we own.
The Olympia reflective vests were among the first of their type and remain one of the best, especially when the ability to carry small items is needed, with its four pockets and a stash pouch on the back.
So while coping without pockets takes a bit of adjustment, the virtually unimpeded air flow provided by either the Athos Air or the Oxford Bright Top vest does not — just enjoy it.
Unlike some of the other brands and types of high-visibility reflective vests, the Rev'it Athos Air and the Oxford Bright Top actually remain in place over your riding jacket, rather than slipping off when the jacket is unzipped.
And, they are also easy to put on or remove with a minimal amount of effort or pulling of material — this I like!
From a low-light, night time perspective, the dual horizontal retro-reflective stripes on the lower portion of the Athos Air work, but only if there is nothing between you and the rear of the motorcycle, like a top-case.
The lower front waist stripe is not likely to be very useful except when dismounted. This leaves the shoulder bands and the logo high on the back as the primary retro-reflective spots.
On the other hand, the Oxford Bright Top with its vertical stripes front to back over the shoulders cannot be missed.
And another set of wide underarm stripes provides great side visibility when the hands are on the bars, so the Oxford Bright Top is the clear winner when the sun goes down.
Both garments use lightweight plastic zippers.
The Rev'it Athos Air zipper has rather coarse teeth and some resistance can be felt, whereas the Oxford zipper is of the fine-toothed variety and it runs smoother.
It also has small corner pouches sewn top and bottom so the zipper can be put out of site and out of the way, preventing accidental scratches of anything expensive.
So here they are, two excellent examples of lightweight comfortable hi-visibility and reflective garments that won't impede your riding and don't affect comfort.
Minor nits: The Rev'it Athos Air vest could and should have a better retro-reflective panel layout.
And the Oxford Bright Top vest could use a slightly smaller neck cut-out — the outer mesh on it is a bit denser, so air flow in and around the collar causes some rippling.
It could also use a neck tab in the collar for hanging when it's not being worn (the Rev'it Athos Air has this feature).
Both vests are excellent examples of high-visibility, reflective Personal Protective Equipment.
We feel that the Rev'it Athos Air vest has higher quality overall and flows more air than the Oxford Bright Top.
But the Oxford vest is marginally lighter, simpler and more fully compliant with retro-reflective standards and would be significantly more effective for both day and night use.
In the same price range, the choice is yours — just make it!
w

BW

 Product Review: Rev'it Athos Air vs. Oxford Bright Top Reflective Vests

Manufacturer: Rev'it and Oxford
List Prices: Athos Air Vest $49.99 USD and Oxford Bright Top Active Vest £33.24.
Colours: Neon-Yellow with retro-reflective panels.

Sizes: Rev'it Athos Air: S to 3XL. Oxford Bright Top Active: XS to 4XL.
Review Date: August 2012
Made In: China (Both vests).
Note:
 For informational use only. All material and photographs are Copyright © webWorld International, LLC since 2000. All rights reserved. See the webBikeWorld® 
Site Info page
. Product specifications, features and details may change or differ from our descriptions. Always check before purchasing. Read the
Terms and Conditions
!
Owner Comments and Feedback
---
From "J.J.K." (August 2012): "Thanks for the good review on reflective vests and the comparison to the Olympia vest, which I own.
I really like the Olympia, but it has to come off in the summer as it does block a significant amount of ventilation. I find the Olympia is no good once the temperature is above 80."