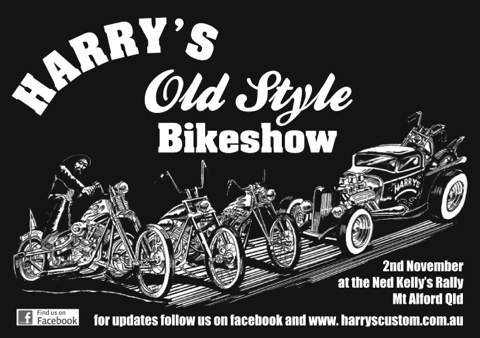 There will be no motorcycle club patches in sight and no problems with the police when the third annual Rain in November Rally is held at the Mt Alford Hotel this weekend. (November 1-3)
Organiser Ned Kelley says he has spoken to local police who he says are happy with the previous two rallies and see no need to intervene.
The rally at Mt Alford which is just outside Boonah and about an hour southwest of Brisbane, kicks off on Friday night with music from 7-11pm.
Registrations for Harry's Old School Bike Show begin at 9am on Saturday with kids games from 10am, adult games at 11am and music by Southern Booze Camp from 6-9pm. Breakfast is on Sunday.
Classes for the bike show are modern chopper, oldschool chopper, modern bobber, oldschool bobber, classic, paint, ratbike, daily rider, people's choice and encouragement award.
Ned says a goldfish racing event had to be cancelled but would be replaced by a "monster show with coffins and smoke".
Motorcycle rallies are always looking for that something different to attract riders and a monster show is certainly different.
Cost is $20 for campers and a day pass is $10 with children under 18s free.