Neck Tube Warmers or "Gaiters" for Motorcycle Riding
Each of these products will block the wind and add comfort and warmth in cold weather, and they're recommended for motorcycle riding in winter.
The Biker's Comfort in Action "Bike Pit" neck gaiter has a comfortable fleece lining.
The Knox "Cold Killers Maxi Tube" and "Hot Hood" balaclava use the same lining found in the Knox Cold Killers windproof underwear (review).
My Merriam-Webster dictionary defines the word "gaiter" as "a cloth or leather leg covering reaching from the instep to ankle, mid-calf, or knee.
It's usually fastened by buttons or buckles, and held by a strap under the shank of the shoe."
Sounds like a "spat" to me — remember the things that Fred Astaire wore in "Top Hat"?
Webster's offers another definition, which is even more obscure: "a protective covering (as for a leaf spring or over a weak spot in a fire hose)."
I'm completely flummoxed by the reference to the covering for a leaf spring, and how the name for a piece of cloth that covers the leg somehow became a term for a cloth tube that protects the neck is also puzzling.
But gaiter it is; I suppose this is an example of how languages evolve and words that have musty definitions are recycled by bumping the old and plugging in the new for re-use in modern times.
Biker's Comfort in Action Bike Pit Neck Gaiter
My quest for a neck gaiter was serendipitous. You may recall that we picked a couple of random items to order from the Adventure Motorcycle Gear inventory about a month ago, just to see if the company was still in business.
The Orina 118 gloves (review) that were part of that order, and the Biker's Comfort in Action "Bike Pit" neck gaiter shown above was also delivered on time.
It proved to be as comfortable and as useful (and also as well made as) the original we had received from Adventure Moto Gear in the Biker's Comfort in Action windproof clothing review from way back in 2001.
Note that as of this writing, the Bike Pit neck gaiter shown on the Adventure Motorcycle Gear website appears to be different from version shown here.
But that's not a problem at all, because the neck gaiter that arrived is very nicely made.
Much nicer, in fact, than the photo on their website. It has a very comfortable soft fleece lining that feels good, and it has a quality construction with flat-stitched seams.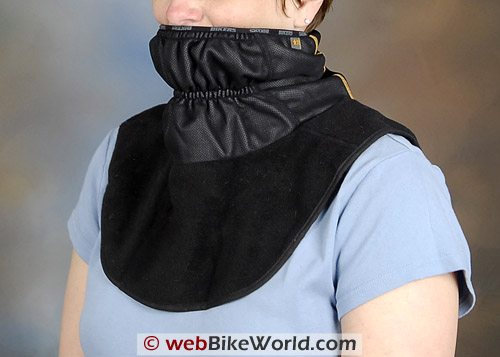 ---
Where to Buy Motorcycle Neck Tube Warmers
Check Reviews & Prices on Amazon
Also Shop for: Motorcycle Jackets, Motorcycle Gloves, Motorcycle Boots, Motorcycle Pants
---
Bike Pit Neck Gaiter Details
The entire inside of the Bike Pit neck gaiter is lined with the soft fleece, as is most of the bottom section on the outside that covers the shoulders and back.
The front section that protects the upper chest is covered with "Windstopper" fabric.
The tube that surrounds the neck is also entirely covered with the "Windstopper" material on the outside.
Windstopper fabric is typically used by Biker's Comfort in Action, because it's been on every one of their products that we've tried.
I turned over the "Windstopper" label on the Bike Pit and discovered a URL for the Windstopper website. I hadn't realized that Windstopper was a separate brand name.
But lo and behold, and unbeknownst to me, Windstopper is actually a brand owned by Gore-Tex.
Windstopper fabric technology is apparently used in chichi products like Marmot, The North Face, Outdoor Research, Mammut, Arc'teryx and more.
I won't go into the details of Windstopper technology, because there's a multiple-page dissertation about it on the Windstopper website.
But I can say that I hold all of the Biker's Comfort in Action products in high regard, and the Bike Pit Neck Gaiter is, I think, the most comfortable of the three.
It does a great job at unobtrusively keeping the wind off my neck (and I HATE a cold breeze on my neck!) and the fabric seems softer and more stretchy and, as I said, nice and comfy.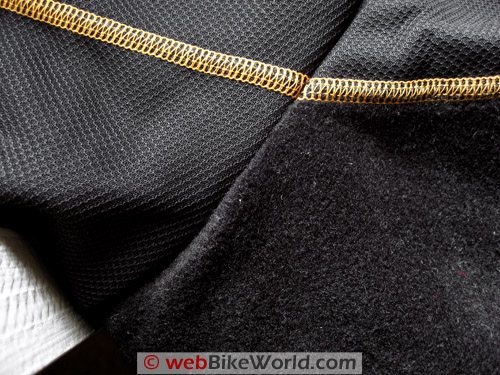 With These Links and Support 
w

BW

!

That's not to say that the other wind-blocking products in this bunch won't work — they all do a good job in keeping out that nasty cold winter wind, so it's pretty much a matter of personal choice, price, delivery and availability.

And by the way, for a company that makes some very nice stuff, Biker's Comfort in Action (BCiA) sure is shy. It was difficult finding the company website and only a few retailers sell the BCiA products.

We have always held a sneaking suspicion that the Biker's Comfort in Action brand is made by Rukka (or vice-versa), because the Rukka wind-blocking garments we've seen look awful similar in their design, construction and fabric.

So if you know the URL for the Biker's Comfort in Action website, please drop us a line via the link below.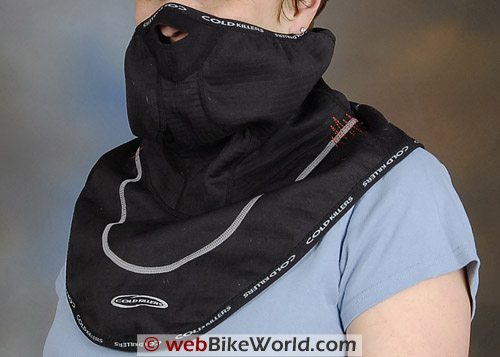 ---
Where to Buy Motorcycle Neck Tube Warmers
Check Reviews & Prices on Amazon
Also Shop for: Motorcycle Jackets, Motorcycle Gloves, Motorcycle Boots, Motorcycle Pants
---
Knox Cold Killers Maxi Tube
We ordered the Maxi Tube along with the Knox Cold Killers windproof underwear (review).
The Maxi Tube is made from the same outer windproof material as the Knox Cold Killers underwear, and the lining is also made from the waffle-like fabric used in the Cold Killers branded garments.
The fabric is slightly stiffer and not quite as soft-cozy-comfy as the BCiA Bike Pit, but it does work to keep the wind out and the warmth in — or some of it, anyway.
All three of these products do a better job at keeping the wind off than keeping the rider warm, because the lining is minimal in all three, so don't expect total warmth.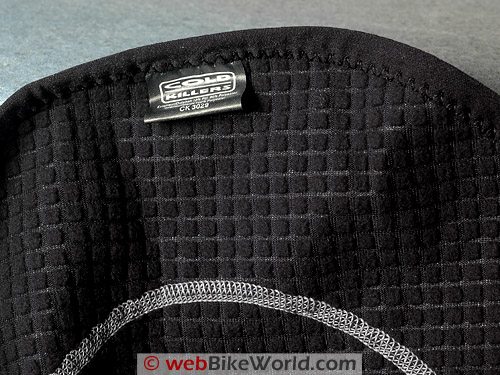 Maxi-Tube Details
But I have no problem with that — they're primary purpose is wind blocking. If the material were any thicker, it would probably make the jacket collar too tight.
I almost always wear a thin turtleneck over a T-shirt as a base layer, so the thickness of the turtleneck, maybe a windproof or heated vest and then the neck gaiter makes it hard enough to button up as it is.
It's too easy to have too much fabric around the neck in winter, which can become dangerous when it interferes with the rider's ability to turn their head back and fort for a traffic check.
The strategy with wearing a neck gaiter is to keep the wind off with a minimal amount of material; kind of like using our 21st Century modern textile technology to do the job that some old thick wool scarf or something would have done in the past.
The ideal product is light, thin, flexible and comfortable while keeping the rider warm.
Anyway, the Maxi Tube does all of that, but it has one drawback: the thing is huge. Is that why they call it Maxi?
Maybe so — but it only comes in one size, and I saw nothing that indicated that this neck gaiter is for big, big boys. Or girls.
You can see by the photos how big the thing is. It works actually, but just note that it's big. Really big.
The Maxi Tube features a neoprene section of fabric along the top with an opening for the nose.
The opening allows the rider to breathe without fogging up the visor. But the tube is too big at the top, so the nose hole sort of floats around anyway, out there in front of my face.
By the way, some of the retailers' photos show these neck gaiters worn over the nose and some show them worn over the mouth only.
I suppose it's up to the wearer, but I usually pull them up just under my nose.
If it gets too warm, I'll pull them down around the bottom of my helmet, where they still work well to keep out the wind while allowing my face and head to stay cool.
The point here is that they do offer some flexibility with regards to how they're worn, and the ability to adjust them up and down provides some measure of temperature control.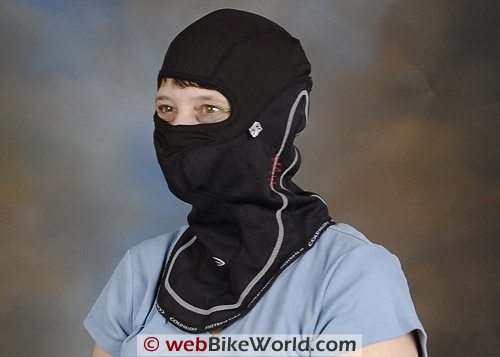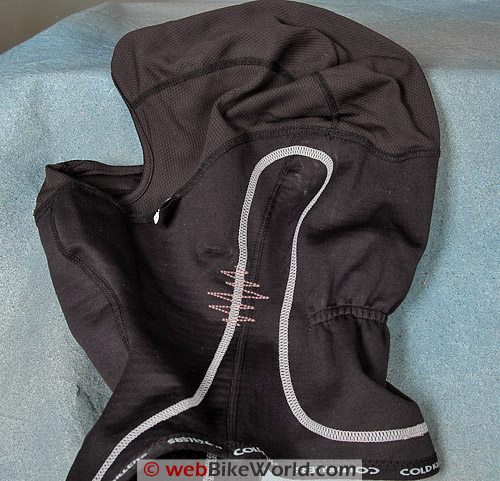 After wearing the Bike Pit and Maxi Tube neck gaiters for a while, I went back and bought a Knox Hot Hood windproof balaclava. I definitely did not want one with thick fabric, which I thought might interfere with helmet fit.
But when it gets really cold (which I define as less than 40 degrees F or 4 C), a balaclava may be needed.
Wind Blocking Options
I own a silk balaclava that I often wear even in milder temperatures, because the fabric feels good against my face and it's so thin that it's unnoticeable.
But the silk doesn't seem to offer much in the way of insulation and it isn't designed as a total wind block, so I wanted to try something different.
I bought a River Road balaclava last year, identical to the one that Chris reviewed on webBikeWorld, and I completely agree with Chris' findings.
The River Road balaclava is too short for me, but that's a moot point because it's also too small to fit over my size XL head.
The fabric ripped the first time I pulled the balaclava over my head. So that was basically a waste of money.
The Knox Hot Hood uses the same waffle-like inside lining and windproof outer lining as the other Knox Cold Killers garments.
It's not as soft as the Biker's Comfort in Action Bike Pit neck gaiter, and the Hot Hood isn't as comfortable, but it does a good job at keeping out the wind.
The slightly stretchy fabric fits me much better than the River Road balaclava and the top section of the Hot Hood is made from "Cooltex", a breathable fabric that keeps my head from sweating.
I wish the Hot Hood had a bit more fabric around the bottom to cover my upper chest and back. It has to be exactly situated before I put on my jacket, or it will pull up over the collar, which sort of defeats the purpose of keeping me warm.
It's like there's not enough material along the bottom to hold, which was also the problem with the River Road balaclava (but even more so).
I'm not sure why the balaclava designers don't add about another 50 mm or so of fabric along the bottom.
Let me guess: the designers aren't motorcycle riders? That's the only explanation I can think of.
Conclusion
Preventing drafts and keeping the cold air on the outside where it belongs goes a long way towards keeping a rider warm in the winter.
While none of these products offer all-out warmth by way of their insulation, they all serve the basic purpose of keeping the cold air out, which is crucial, especially once you get moving.
I don't often see motorcycle riders wearing one of these in the winter and I'm not sure why, because I think a wind-blocking neck gaiter is a very inexpensive way to add a lot of comfort and warmth in cold weather.
Think about all that hot blood in your neck in those big carotid arteries that are acting as radiators — keeping those babies covered and out of the cold wind is crucial.
(Correction:  Doc S. told us that "the carotid arteries are big, relatively thick arteries, and you don't lose heat from those. Where you lose the heat from is the head and ears, both very vascular, with lots of thin-walled capillaries).
Flexibility is key here, because you certainly don't want to be wearing anything that will interfere with your ability to do a head check or left/right, left/right ("look twice and live") glance up the road before you pull out.
So although they all do the job, my choice is the Biker's Comfort in Action Bike Pit neck gaiter for its combination of stretchy material, wind blocking ability, comfortable fleece lining and quality build.
More wBW Heated Clothing Reviews  |  Motorcycle Glove Reviews
w

BW

 Review: Neck Warmers and Wind Blockers
Manufacturer: Knox and Biker's Comfort in Action
List Price (2008): Cold Killers Maxi Tube $29.50. Cold Killers Hot Hood $29.50. Biker's Comfort in Action Bike Pit $36.95.
Colors: Black
Made In: Knox: China. Biker's Comfort in Action: Unknown.
Review Date: January 2008
Note:
 For informational use only. All material and photographs are Copyright © webWorld International, LLC since 2000. All rights reserved. See the webBikeWorld® 
Site Info page
. Product specifications, features and details may change or differ from our descriptions. Always check before purchasing. Read the
Terms and Conditions
!
---
Where to Buy Motorcycle Neck Tube Warmers
Check Reviews & Prices on Amazon
Also Shop for: Motorcycle Jackets, Motorcycle Gloves, Motorcycle Boots, Motorcycle Pants
---
Owner Comments and Feedback
---
From "T.R." (3/09):  "Just before a trip in mid October here in Alberta in 2008 (temperatures just above 0 Celsius) I was able to get one of the Bikers Comfort in Action Neck Tubes, basically similar to the gaiter you reviewed without the fleece base.
The neck tube is designed to fit over the collar of your jacket. I was very impressed just as your reviewer was with the wind stopping ability and my neck never felt cold.
Other parts of my body did which is why I am planning on getting more Bikers Comfort in Action gear this season, most notably the pullover and pants you reviewed.
I will go out of my way to get BCA gear due to my experience with their neck tube."
---
From "S.T.":  "I've been using Knox Hot Hood Balaclava for 2 months now, riding with open helmet in some quite low temperatures (-9 Celsius being the record) and I can very much recommend it to winter riders.
I think it stops the wind very well, I've never had my face (other than the eyes) freeze at city speeds.
Your review claims that it could be slightly larger to fit better under the jacket.
I've never had that problem, there's enough fabric to cover the chest and neck at the back and not come out even with vigorous city riding with lots of head swiveling."
Other WebBikeWorld Clothing Posts