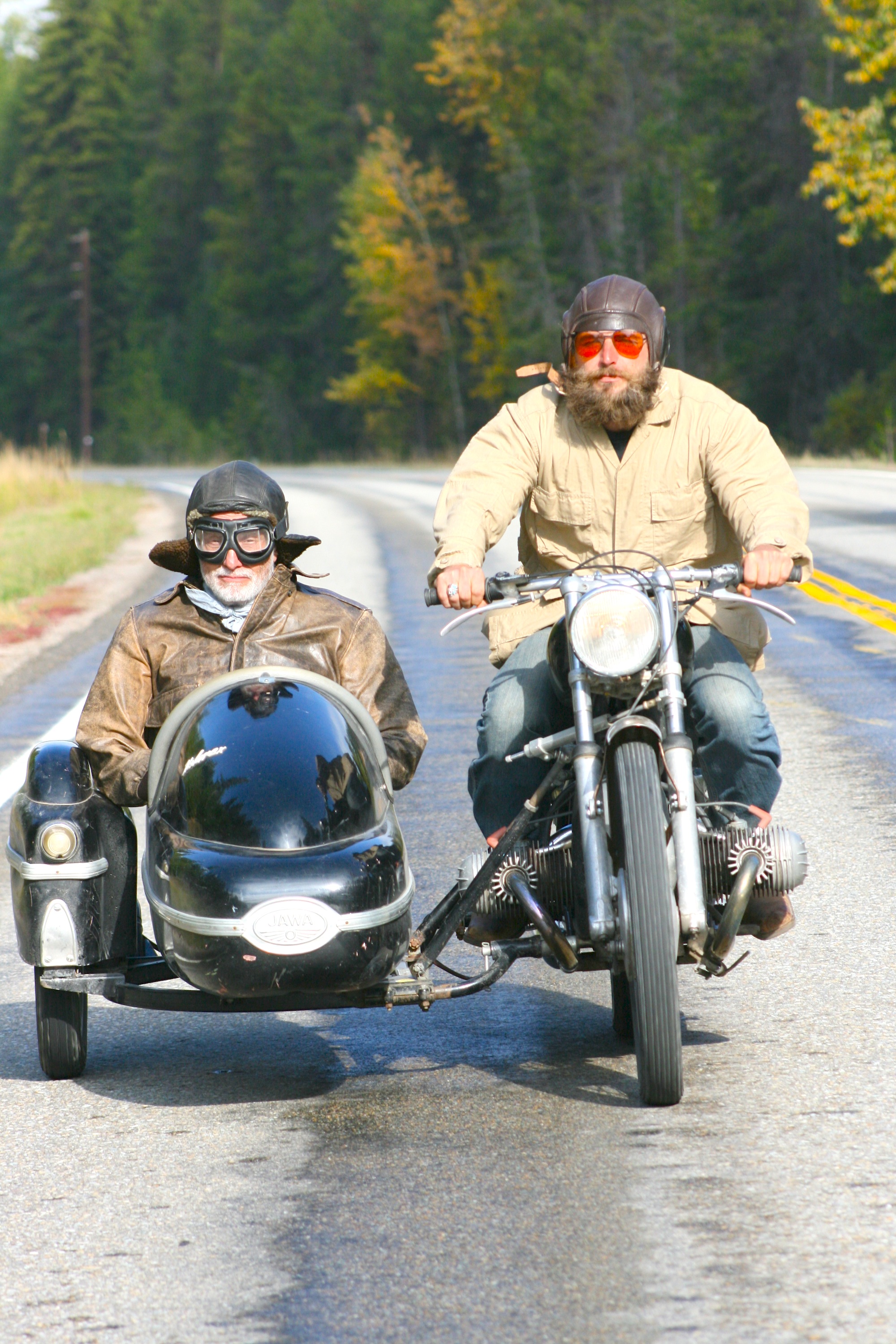 Motorcycle movies: Motorbike riders deserve to have their story told on the big screen.
There have been a few successes over the years, but the last major motorcycle movie of note was "Wild Hogs", a Hollywood comedy that nonetheless ceverly defined the midlife crisis trend.
Now comes a bike movie made by biker riders with bike-riding actors and reaching out to bike riders, telling their story in an emotive and spectacularly scenic fashion.
"The Best Bar in America" features Andrew Rizzo our out-of-luck hero riding a1960 BMW R60/2 on a drunken assignment to write a guidebook to the best bars of the American West.
So far so good: Picturesque scenery, a bike and bars. What more do we really need?
The film was made a couple of years ago on a shoestring budget with the actors and crew doing it for nothing.
It was shot and directed by brothers Damon and Eric Ristau, whose previous experience was on documentaries and commercials.
"The film was made for very, very little money.  Most of the budget went into booze and petrol," says Eric.
But it's been made with the right spirit and with a lot of knowledge about the subject matter.
"My brother and I grew up riding a variety of older Japanese bikes– basically whatever we had around the garage or given to us by relatives," he says.
"Our lead actor, Andrew Rizzo, has ridden for years. Our other lead, David Ackroyd rode motorcycle in the 1960s and '70s but not much in recent years until the film.
"Our friends, a vintage bike non-organisation called the Montana Legends (Legends in Our Own Minds) really helped us out.
"Jim Beyer, also known as Mr. Moto Montana, loaned us the 1960 R60/2 with Velorex sidecar for the film. He and his Montana Legends friends, also appear briefly in the film.  They have been key supporters of the movie."
There have been some select screenings in cinemas and it will not be rolled out on a wide-spread basis but will be play a few film festivals, including the New York Motorcycle Film Festival in late September.
However, you can buy the DVD for $US20 or download it for $US10 through their website.
Eric says a number of DVDs have been ordered from and shipped to Australia.
"Riders there seem quite pleased with the film," he says.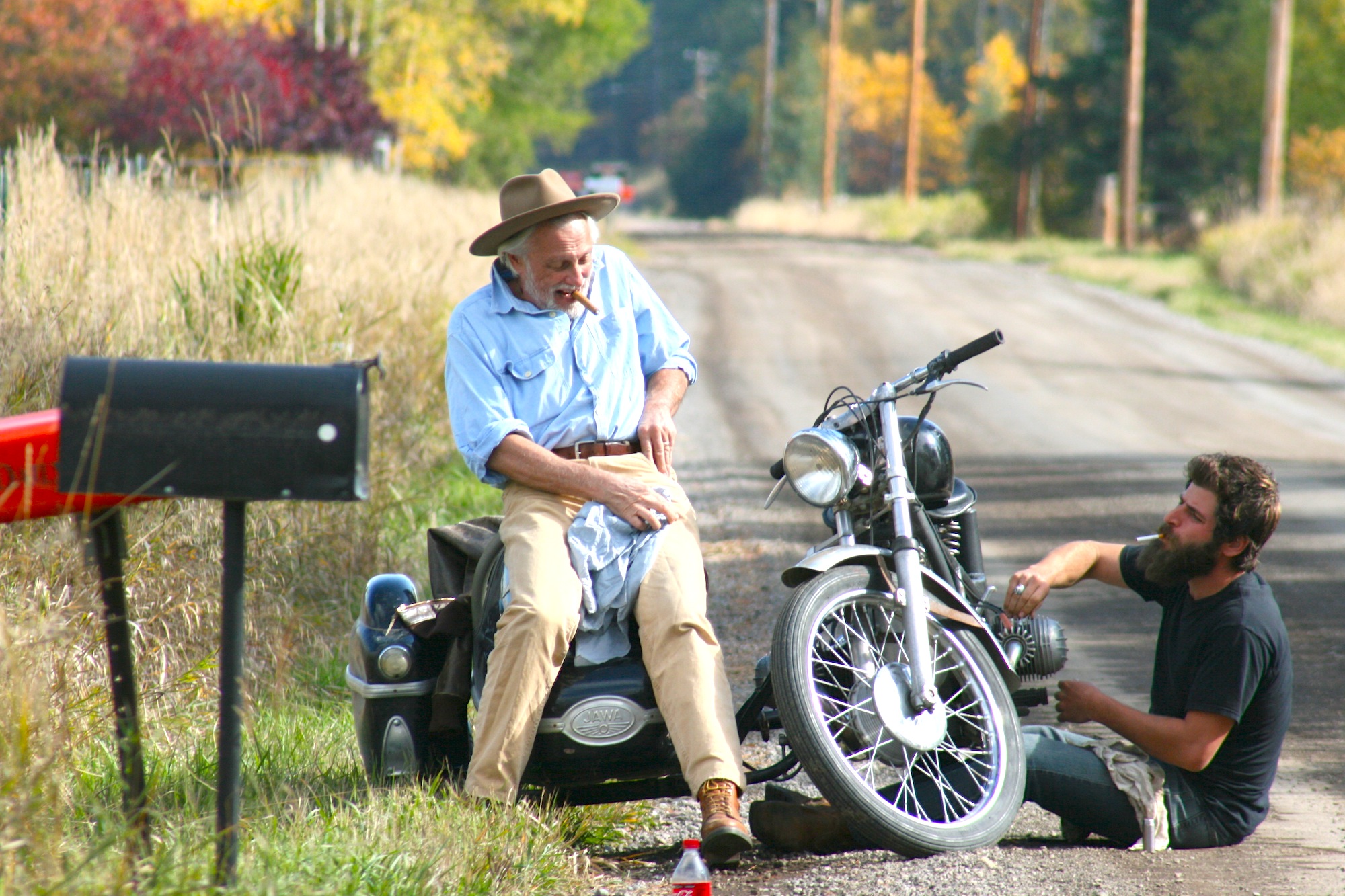 While the DVDs are not in PAL format, all computer and some home DVD players will play the American standard of NTSC video.
The motorcycle movie is also available on video on demand via Vimeo.com, which will play on all systems capable of viewing streaming video.
Eric says no one has had any problems playing the DVD.
"We tried to make an authentic film that reflected our personal experiences and passions (bikes, bars, the American West, and new friendships made on our travels) and people seem to understand that we're not serving up Hollywood bullshit with an intention to profit from it," he says.
That's a good thing because Hollywood hasn't always treated motorcycle riders well.
They don't seem to understand bikes, riding, motorcycle culture or the emotions attached to two-wheeled travel.
Closest was probably Easy Rider, but it comes from a different era which is simply not relevant today.
This movie features a few Easy Rider moments, not the least being the scenery, campfires and being run out of town by hicks, but the ultimate Easy Rider rip-off is the watch scene.
Although instead of just throwing his watch away as Peter Fonda does in Easy Rider or throwing away their mobile phones as they did in Wild Hogs, the lead actor throws away his watch, then shoots it.
Oh yeah, there's also guns in this biker film.
The film was shot in 93 days with a budget "less than a nice, new Harley'' but don't expect low production values.
The cinematography is epic, the acting is believable and the plot is riveting. Some of the edits may be jarring.
The best lines are delivered in the narration: Travel by motorcycle forces you to confront the present moment with each turn. It's the sound of the motor in the wind, the rhythm of the road, the vibration the smack of the air; these things constantly remind you to pay close attention. Catholics go to church. Motorcyclist hit the road.
"The connection between motorcycles and bars can not be denied; the smell of tobacco, salty leather and gasoline creates a sweet addictive scent that draws in the road warrior, sharing drinks and telling stories of the highway and fallen brothers forms a powerful camaraderie."
Click here to buy a copy.