It seems such a shame, but in some climates, riders have to hibernate their motorcycles for the long, cold winter.
Here in the Sunshine State we ride all year long and I feel sorry for those who live in climates where they can only ride for part of the year. Still, it doesn't deter some people from motorcycles. The northern states of the US have the highest motorcycle ownership despite only being able to ride for about half of the year!
If you want to consider how to correctly hibernate your bike for winter to ensure it starts again in spring we have put together some motorcycle maintenance tips for hibernating your bike, thanks to UK biking experts, Bennetts. Also, click here to find out how to get your bike ready for spring.
SERVICE
Even if you are a few thousand kilometres short of the next service, it is advisable to have your bike serviced before laying it up. Some bikes require an annual service, even if you haven't done the required kilometres, and that service may fall due over winter. As a minimum, you should think about changing the oil and filters.
FUEL
Don't drain the fuel out. If moisture gets into a metal tank, it can cause corrosion. Instead, leave some fuel in the tank, but add fuel additives (often called preservatives or conditioner) such as Motorex's Fuel Stabiliser. It can save you the heartache of the fuel degrading and blocking up the injectors or carburettor jets.
BATTERY
If you don't have one of the new-age lithium or anti-gravity batteries, you should put your motorcycle battery on a trickle charger. Optimate make a very good product. Others prefer to take the battery out and jump-start it in spring. If you do, you will then need to ride the bike for at least half an hour on constant throttle to re-charge the battery.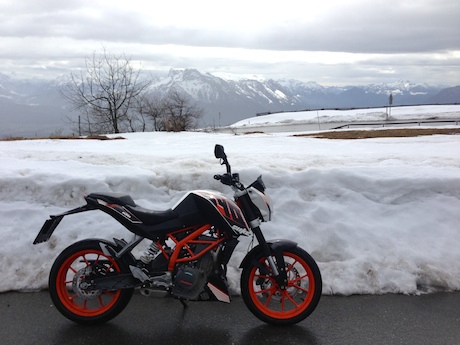 TYRES
Leaving your bike sitting in the one spot for several months can ruin your tyres. As they gradually lose pressure, the sidewalls distort where they touch the garage floor. If you leave them that way, it can cause permanent damage. First thing to do is pump your tyres up high and check them every few weeks. However, it is better of you put the bike on a centre stand or a paddock stand which will take most or all of the pressure off the tyres. If not, move it around every few weeks.
RUST NEVER SLEEPS
Had to use that heading, courtesy of Neil Young! Corrosion can get into your bike over the damp winter months unless you keep it dry. Rather than using a bike rain cover. try an old sheet or blanket which is more likely to soak up moisture. Before covering your bike, give the metal parts a liberal spray with a corrosion inhibitor such as Scottoiler's FS365 or WD40 which repels water. Try to store your bike in a warm and dry spot such as next to a hot water system.
RIDING GEAR
Don't forget about your riding gear as well. Never put your riding gear away dirty. Give it a good clean and store it in a dry cupboard to prevent mould. Put your helmet in its helmet bag, perhaps with some naphthalene to repel moisture. Store your boots with some newspaper inside to soak up any moisture and prevent them collapsing and going out of shape.
More Information: If you want to extend your ride into winter, Bennetts also offer cold-weather tips