A good set of auxiliary motorcycle LED lights not only makes night riding safer, but also day riding.
Frank Tidswell, Australian distributor of Clearwater LED lights says they are distinctive as daylight running lights and, if mounted low on the front forks, provide a warning triangle of light with the headlights.
"A triangle of is considered an international warning sign so it attracts the attention of drivers," he says.
His views are endorsed by well-know charity rider Tex O'Grady and his dog, Bundy, who have ridden more than 100,000km since taking over their new Moto Guzzi Stelvio in June 2013.
"Where we live at Woolgoolga near Coffs Harbour its kangaroo-infested country and with these lights I can see 50 to 60 meters either side of the road and if there is a roo around, I'll spot it," he says.
"They are the best lights we've ever used. We've just done 6000m in six days and plenty of night riding in that.
"When drivers flash their lights at me thinking mine are on high beam, I turn them up to full power and they soon back off."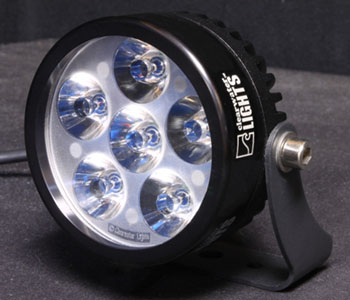 The ability to dim the illumination is one of the advantages of the Clearwater LED lights. Frank says 10% power is about equal to normal motorcycle halogen headlights.
At full power, the 36-watt LEDs provide 6000 lumens of light which is the equivalent of a 500-watt halogen bulb.
They have a low draw on the battery so there is no need to beef up your bike's alternator.
The LED lights also provide a whiter and better spread of light and there are 560 different mounting brackets to suit every kind of bike and application.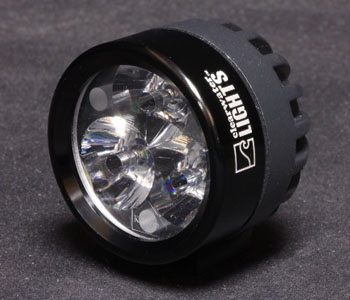 There are four lights in the range, all named after female friends and relatives of the developers: Erica, Krista, Glenda and Darla with more models coming soon. Prices start at $500.
All lights have solid drop-forged or stainless steel casings and, according to Tex, they are "indestructible".
Frank says the lights are not only used as auxiliary, but also as main headlights, particularly by custom builders.
He's not only the importer for the lights, but also advises and consults on the development of the lights.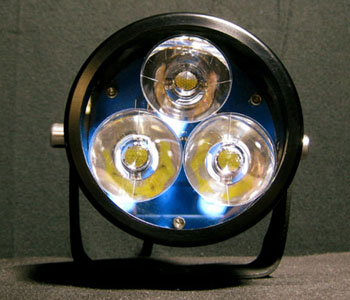 Frank is a BMW factory trained mechanic who attained a mechanical engineers and science degree after leaving BMW. In the mid to late 1970s he raced and worked on Castrol 6-Hour and Yamaha factory road race teams.
In 1988, he started his company xenonOz to design optics and electronics. He now imports Clearwater products from America as well as, xenon HID lights and Alpine earplugs made in Holland.
Frank says the Clearwater lights are designed and tested in Australia, made in USA with final quality control and assembly in NSW, backed by xenonOz.
"They are the Porsche of lighting," he says. "They are used in everything from scooters to trucks and even endurance race events such as the Le Mans 24-Hour Race. They also provide emergency lighting for hospitals."