Looking for reflective stickers for your helmet? Streetglo claims to have over 150,000 different designs, including reflective stickers, decals and striping for motorcycles, helmets, cars, trucks and more, in every color, shape and size imaginable.
Many of the stickers don't appear to be reflective until they're energized with a light source.  This allows for some interesting applications; for example, a helmet can be decorated with similarly colored reflective stickers that are barely noticable during daytime but which magically glow at night when illuminated by headlights.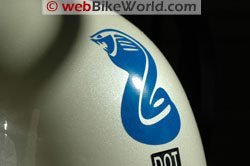 Our animated photo at the top of this page doesn't do them justice – check out the Streetglo website for more photos that really show the full reflective effect.
While the naked women, German WWII helmets and "69" stickers aren't really my cup of tea, I do like the skulls, the flames and especially the "atomic radiation" and "biohazard warning" stickers.  But hey, you can't account for taste (mine or anyone else's)!
The stickers are made from a heavy-duty industrial reflective material that has a metallic backing.  This is the type of reflective sticker material that is used for industrial and road signage.  They're heftier than some of the cheaper vinyl stickers found at motorcycle rallies.
The adhesive that Streetglo uses is very sticky, and once the sticker is applied to the helmet, it's very hard or nearly impossible to reposition, so make sure the work is laid out precisely on the surface before peeling off the backing.
Streetglo says that they've tried different types of glues, but their formula will help ensure that the product stays on the helmet or motorcycle surface and can take the abuse of oil, weather and road grit and grime.
While the small stickers can be applied quickly and easily to a motorcycle helmet, the larger designs take a bit more effort.  The curved surface of a motorcycle helmet makes it hard to bend large shapes to fit, but it can be done.  Streetglo has an instruction page that steps you through the process.  The larger stickers can even be cut and then reassembled on the helmet, as long as you take your time and patience.
Streetglo recommends that a small amount of a soapy water mixture (dishwasing liquid and water) is used to apply the larger reflective stickers.  The mixture lubricates the surface and allows the decal to be moved around until it's in the correct position.  The mixture eventually dries and the sticker adheres with no problems.  This is the same procedure used to apply other types of stickers and decals and products like the Scotchcal paint protector, and it works fine in those applications also.
Reflective stickers help to make the rider more visible, because the helmet is nearly always at the highest point on the bike, where it's most likely to be noticed.  Even a few square inches of reflective sticker material can make a big difference in your ability to be seen in traffic, especially at dusk and at night.
Streetglo also has reflective tape in assorted widths and colors, along with reflective sticker kits for motorcycle helmets with a variety of different shapes that can be applied as desired.  Streetglo also makes custom stickers.  Their large variety of different reflective sticker shapes and colors offers something for everyone, from cruiser owner to sportbike rider.
Note:  For informational use only.  All material and photographs are Copyright © webWorld International, LLC – 2000-2011.  All rights reserved.  See the webBikeWorld® Site Info page.  NOTE:  Product specifications, features and details may change or differ from our descriptions.  Always check before purchasing.  Read theTerms and Conditions!
Product 

Review:  Motorcycle Helmet Reflective Stickers

Available From:  Streetglo
Suggested Retail Price:  $1.99 and up.
Colors:  Yes!
Made in:  U.S.A.
Product Comments:  Thousands of designs to choose from.  Strong metallic backed reflective material is higher quality than the more common vinyl stickers.   Many different colors available and custom designs are also possible.
More:  

w

BW

 Motorcycle Helmet Page