1. Revco GB100 BSX Extreme Gear Pack with HelmetCatch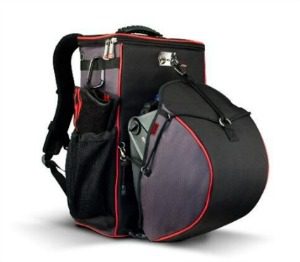 Having to work and carry things along can be especially tiring. The Revco GB100 BSX Extreme Gear Pack with HelmetCatch is the answer to all your work/personal carrying needs. This product can be used as a welding or motorcycle helmet carrier. It also has a vast amount of backpack space. Featuring 2 outside side pockets, a padded back, and ample space for tools such as gloves, jacket, grinder, tools, a lunch pack, and more, the Revco GB100 BSX Extreme Gear Pack with HelmetCatch is under $100 with free shipping  and has a 4.5 out of 5 star rating. Check Price Here
With an approximate dimension of13″W x 17″D x 19″H and a weight of 3.5 pounds, this product's well-designed internal storage, heavy-duty straps, reinforced pockets, the gear pack is more secure and versatile than any duffle bag or bucket and is made of a heavy duty nylon polyester blend. This product comes with a lunch box that is approximately5x10x10 and a padded, adjustable, non-slip shoulder strap. The bag itself differs from others since the zippers inside the bag can be changed to reinforce the bag itself and includes 6 inside pockets
Reviewers seem to enjoy the product since it is motorcycle friendly, meaning you can wear it on your back as you ride or walk. Its a great alternative to carrying a helmet around when not using it. If it is in the bag, there is no way you can forget it or accidentally leave it somewhere. Another plus is that the bag seems to hold up for the long run. Some reviews insist the bag does not show any wear and tear after three years of owning it. Most reviewers have said this product is well worth the money. It is available in the color black with red lining and can be suitable for both men and women.
2. SEDICI Sicilia Backpack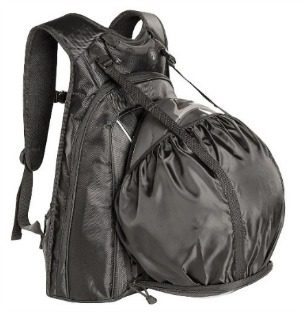 Designed to hold the important things, including your helmet, this backpack features a HYPER CORE PLUS durable outer material, which helps avoid wears and tears. With a unique fit from person to person, the SEDICI Sicilia Backpack includes a chest strap that can be adjusted in height and width, fully adjustable and padded shoulder straps, and a fully adjustable waist strap with zippered coin pockets (useful for tolls while riding). Available on Amazon.com for under $70 (not including shipping), the SEDICI Sicilia motorcycle helmet backpack has a 5 star rating from one reviewer.
Aside from the helmet compartment, this bag can fit small but useful items such as cell phone, spare gloves, eye glasses, lip moisturizer, and various other types of items. Additionally, the SEDICI Sicilia Backpack includes a padded laptop cradle that will fit most 15-inch laptops. The motorcycle helmet backpack is equipped with an organizer section, key clip, padded audio ready pocket,elasticized motorcycle helmet carrier with an adjustable strap for security, quick-release clips included, and a subtle reflective detail for improved visibility.
This motorcycle helmet backpack is not ideal for carrying clothing or anything that will create a "bulky" feeling. The backpack is ideal for simple errands and is an alternative for having to strap the helmet around your waist. Whichever way you decide to use the SEDICI Sicilia Backpack, reviewers from several sites, including1000RR.net (motorcycle enthusiasts forum), have found the motorcycle helmet backpack to be worth every penny. Dimensions are20″ H x 13″ L x 6″ W and the backpack capacity is27L liters. The SEDICI Sicilia Backpack is available in black and is suitable for men and women.
3. BILT Backpack – Black/Gray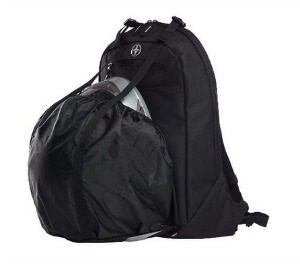 Taking a simple day trip has never been easier with the BILK Backpack, which is ideal for toting both a helmet and immediate small item needs. This Backpack was designed with motorcycle riders on a budget in mind.
Made of 600 denier durable and water-resistant two tone Maxura fabric, this motorcycle helmet backpack has a built-in concealed helmet hood, a webbed grab handle and a zipper front entry pouch, which makes it an easy carry-along for gloved hands. With padded shoulder straps that can easily be adjusted, the backpack does its job of protecting small possessions and providing maximum comfort while riding.
Although there is ample room for a helmet, many have found this motorcycle helmet backpack to be too small, since it cannot carry much else aside from sunglasses, keys, wallet, spare gloves, etc. It cannot hold a laptop, which can be a drawback for potential buyers. Cyclegear.com also sells the BILK Backpack (for the same price as Amazon), has had customers name the pros and cons for the product, which is a good source for more reviews than Amazon has to offer. The pros include lightweight, comfortable, durable, attractive, and a great feature backpack. The cons included the small size of the backpack with not enough pockets.
The BILK backpack is typical used for commuting, as a school backpack, traveling, cycling, and office use. Some reviewers even admitted they use the helmet sling as a lunch box. If you are looking for the basic motorcycle helmet backpack, the BILT Black/Gray Backpack is offered at a great price. It is guaranteed for 5 years worth of usage. Dimensions include12.5″ L x 7″ W x 19.25″ H. Both men and women would look great toting the BILK Backpack, which reviewers have said remains true to its description.
4. AXO 29101-05-000 Black Commuter Backpack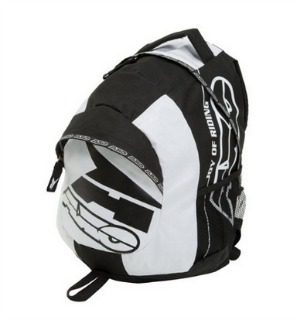 Looking for a motorcycle helmet backpack that won't burn a hole through your wallet? This stylish yet heavy duty nylon construction motorcycle helmet backpack is offered at a great price on Amazon.com with a 4 out of 5 star rating. The bag is soft and spacious on the inside where valuables including a helmet or laptop can be kept safe and the backpack can even be used for light grocery shopping.
One feature that has mixed reviews is the fact that there are no internal compartments or spacers. This can be a pro, since compartments do take up space, but a con for those who want additional inner compartments or more of a user-friendly divider to separate one item from another. Side mesh pockets are on each side along with a large zippered main pouch and a smaller zippered back pocket. The padded shoulder straps and chest strap can easily be adjusted from petite to extra large. Stress points of this backpack have added stitching for extra reinforcement. There is a bottom loop strap that can latch keys securely.
When in use on a motorcycle, small items can be effortlessly toted, however, once placing a motorcycle helmet inside, it's hard to fit anything else. The backpack can be purchased as white/black, red/black/ or blue/black. There are mixed reviews about an extra large helmet or helmet with a face mask fitting comfortable in the backpack, and the backpack itself isn't designed for years of use–it will eventually wear and tear. Most reviewers agree the product is exceptional for the money spent. The dimensions of the AXO backpack are18.8 x 13.5 x 1.7 inches and the product is lightweight at 1lb. Its sporty and stylish look and range of color choices can suit both men and women.
5. MOTO-D Motorcycle Helmet Case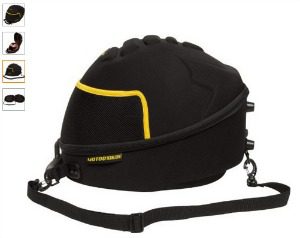 For those who prefer hard cases to soft cases, the MOTO-D Motorcycle Helmet Case gets the job done hassle free. If you're tired of your helmet collecting dust and worried about damaging or dropping your lid, this helmet case, released in 2013, can definitely solve those problems. Perhaps one of the most simple yet rugged and durable motorcycle helmet backpack case, the MOTO-D's main aim is to protect your lid and keep it dry and protected.
With dimensions of16.3 x 12.4 x 12.3 inches and a total weight of 2.6 pounds, the MOTO-D is a zippered case with an exterior mesh well-padded pocket that can be used to store an extra visor and its vented interior helps keep the helmet fresh.As a universal motorcycle helmet case, this product fits most street and sport helmets including the Arai, Shoei, NEXX, HJC, AGV, Nolan, Schuberth,and Bell. With free shipping, the MOTO-D has a 5 out of 5 star Amazon review rating.
The MOTO-D makes it easy to transport a helmet with its adjustable shoulder strap and carry handle. As a hard case, most helmets fit like a glove and the case itself totally convenient for travel, school, and daily commuting. The MOTO-D is attractive as a black hard case with yellow lining with built in foot pegs and remains upright. The MOTO-D Motorcycle Helmet Case takes the worry out of damaging a helmet or visor. If you are looking for more of a protective case and less of a backpack, this product has been made for you. As a simple black helmet case, it can be sported by both men and women.
More Motorcycle Backpacks for gear without helmet storage here.