There are probably as many different motorcycle handlebar end weights and caps as there are handlebars.
Or more.
This topic was last covered on webBikeWorld way back in September of 2007 in the Manic Salamander Handlebar End Weights review.
At that time, I was installing a new set of handlebar end weights on the Multistrada 620 (Blog) project bike.
I also installed a set of Ducati hand guards, which made the end weight installation a bit more complicated.
I haven't owned a bike that needed accessory end weights since, until this winter's acquisition of a used BMW F 800 S (Blog).
The previous owner installed an ABM handlebar for a more upright sport-touring riding position.
I know nothing about the installation or why he settled on this particular handlebar, but it did seem odd that the bare ends of the handlebar were left sticking out from the hand grips by about 20 mm (photo below).
Apparently, he didn't mind the look.
So I went searching for a set of handlebar end weights with two goals in mind.
First, I wanted to cover the bare handlebar ends and second, I was hoping to find something that might help tame the vibes from the BMW's water-cooled twin.
Also, I planned on cutting the aluminum handlebar ends back to eliminate the long pieces of tubing that were left hanging outside of the hand grips.
Like any bar end weight installation, my needs were specific: the end weights must fit the inside diameter of the ABM handlebar and also clear the aluminum plug on the inside diameter, designed to add strength to the ends.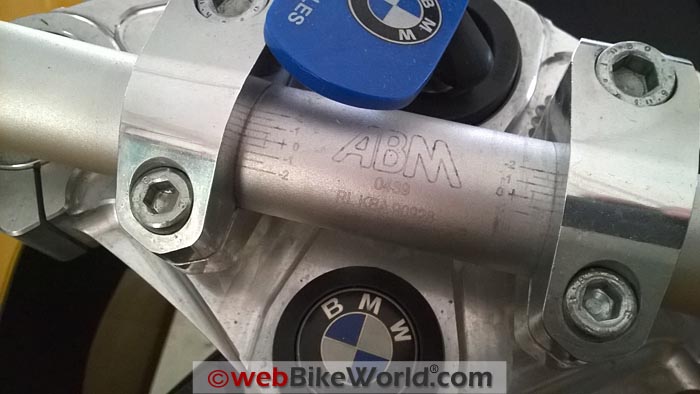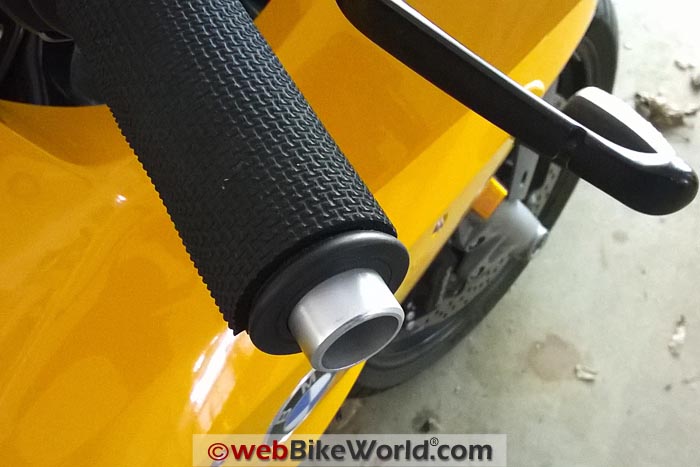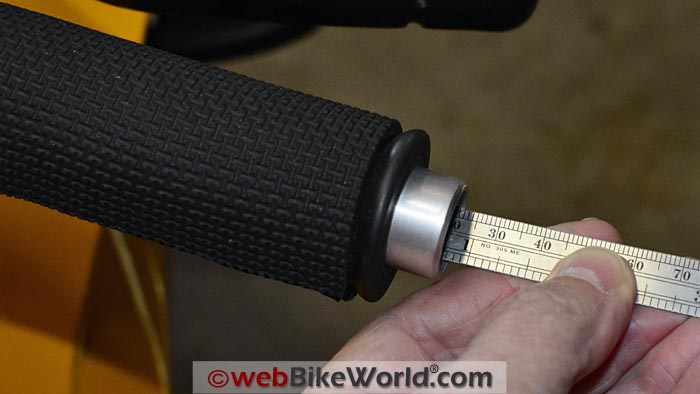 Choosing a Handlebar End Weight
There are so many different handlebar and end weight choices that it's impossible to describe how to pair one with the other for every motorcycle.
I've seen a handlebar with a welded plug in the end (Triumph Thunderbird Sport Blog) to the straight-through handlebar types (Suzuki DR650 with Pro Taper bars (review)) and everything in between.
On my F 800 S, the accessory ABM handlebar has a smaller hollow plug located in about 40 mm from each end. This distance would become even shorter after I cut and trimmed the handlebar ends to bring them closer to the hand grips.
Of course, this made it difficult to fit an end weight. Expect the unexpected when it comes to anything BMW!
Handlebar end weights usually have a type of expanding plug that fits inside the handlebar tube. The expanding plug is what holds the bar end weights in place, via friction.
The basic installation method is to first expand the plug so it's a tight fit into your particular handlebar tube diameter, then push it in and then tighten the bolt on the end.
As the bolt tightens, it expands the collar, which holds the end weight in place.
That's the very basic and general installation; don't forget, you may first have to trim the end off the hand grip. But pretty much anyone can install a set of end weights, no matter your mechanical experience level.
Measure First…
The most difficult part of all this is finding a bar end weight that will fit your motorcycle. Again, because there is no standardization of motorcycle handlebar types, it's not possible to say what — if any — end weight will fit.
It takes some figuring and web searching until you can find a good match. Also, don't forget the various bike owner forums, which are often your best source for information of this type.
That all sounds logical, of course, but me being me, I went ahead and ordered a set (or two) of handlebar end weights before I had everything measured and figured.
I guess they call that "enthusiasm"…
Since I had pretty good luck with the Manic Salamander end weights on the Multistrada back in 2007, those were my first choice again.
They quickly arrived and that's when I discovered the plug in the end of the ABM handlebar that, as it turns out, pretty much prevents installing most handlebar end weights of any size or heft.
Back at the drawing board, I then ordered a set of HVMP handlebar end weights…and of course, again without measuring. For me, it's always been "dive in head first and then look for rocks under the water".
The HVMP end weights are truly massive and they have a different type of expander. It's a rubber tube that expands as the nut on the end is tightened on the long threaded rod.
I thought they would fit through the plug in the ABM handlebar, but no luck there either.
So now, after spending more than $200.00 on bar end weights that didn't work for me (but will make beautiful paper weights!), it finally got through my thick skull that maybe I should take some measurements and find a set that would work.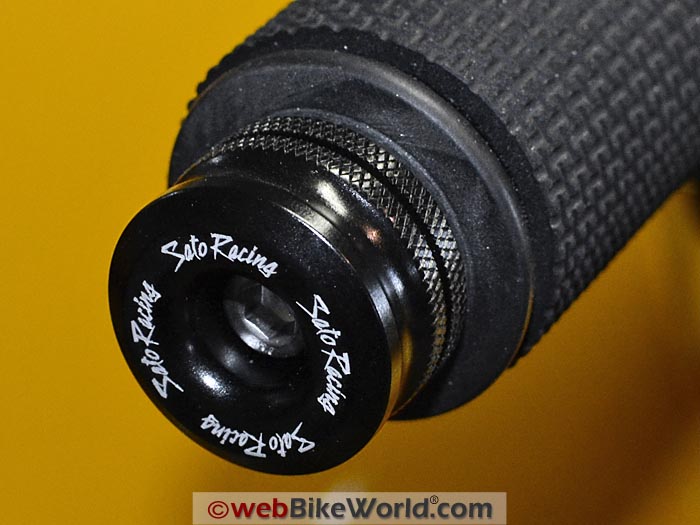 Sato Racing Handlebar Ends
After doing some searching and exploring, I found Sato Racing. I wasn't familiar with the company but they make some very nice-looking racing parts, like rear sets, end caps, sliders and more. Apparently, the parts are all made in Japan.
Notice that Sato Racing calls these "handlebar ends" and not "weights", because they're really only a cosmetic end cap for bare handlebars like mine.
But they're available in a bunch of internal lengths and two external sizes. The 20 mm long version fits inside the ABM handlebar and it's small enough in diameter (13 mm) so that it fits through the hole in the plug inside.
The Sato Racing handlebar ends are available in a bunch of different anodized colors, which is cool. They're beautifully made; CNC machined from aluminum and with nice, deep knurling.
I bought the short version, these are the Ducati/ KTM version, stock number BE-1S-B. They were "only" $35.00.
Note that these meet one of my criteria — to dress up the ABM handlebar — but they're way too light to help with the vibes. Here's a comparison of the three different handlebar end weights:
Sato Racing short: 39 grams (1.375 oz.)
Manic Salamander "Pounder": 359 grams (12.625 oz.).
HVMP F11X4 7/8 Universal Heavy Bar Ends: 438 grams (15.5 oz.)
As you can see, the Sato Racing ends are 10-11 times lighter than the others. That's a huge difference!
I'd guess that the Manic Salamander or HVMP weights would definitely help the handlebar vibrations, but I'll never know (unless I machined out the plugs in the ABM handlebar).
Here are some more photos, this one shows the Manic Salamander bar end weight and the hand guard, which doesn't really stretch far enough to fit.
The Manic Salamander weight is also too bulky towards the outside to fit under the guard:
Here's the final product; I'm not sure if the hand guards do much, but I guess they look cool and they further distinguish the bike from a Sportbike.
When is the last time you saw a set of hand guards on a GSX-R 1000? I bet those owners are jealous!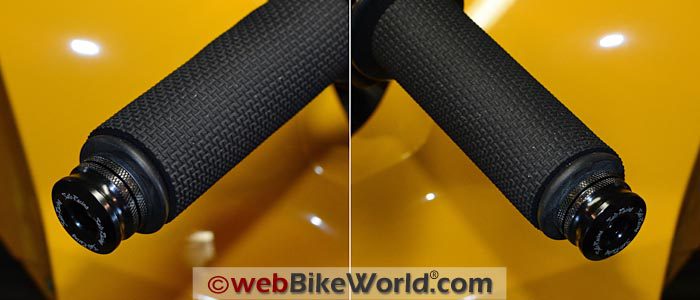 Fitting the Sato Racing Handlebar Ends
My installation was made more complicated than usual because I first had to remove the extra handlebar tubing hanging out from the end of the hand grips.
I used a Dremel with a cutoff wheel to easily slice through the aluminum, making sure I left about 4 mm length so that the end caps wouldn't interfere with the hand grips, especially on the right-hand throttle side — that's important!
I then used a file to clean up the ends and get them as straight as possible.
Fitting the Sato Racing end caps was easy, because of their size and shape. I expanded the aluminum collar as much as possible with just enough clearance to fit through the hole in the plug inside the handlebar.
I gave it a tap on the end and then tightened the hex head socket bolt on the end and they're all set. Again, figuring out what to buy and getting ready for the installation took much longer than the actual installation itself.
Conclusion
The Sato Racing handlebar end caps look perfect on the BMW. The only downside is that they do nothing to tame the vibes, but I can live with that.
Feel free to share your handlebar end weight stories!
Also: wBW Motorcycle Hand Guard Reviews
Master Listing of All wBW Motorcycle Product Reviews
w

BW Review: Sato Racing H

andlebar

 Ends
List Price (2015): $35.00.
Made In: Japan
Colors: Many different colors.
Sizes: Fits various bikes.
Review Date: September 2015
Note:
 For informational use only. All material and photographs are Copyright © webWorld International, LLC since 2000. All rights reserved. See the webBikeWorld® 
Site Info page
. Product specifications, features and details may change or differ from our descriptions. Always check before purchasing. Read the
Terms and Conditions
!
Owner Comments and Feedback
---
From "W.M." (August 2015): "I run HVMP heavyweights with my clip-ons and I filled the hollow clip-ons with lead-shot.
If you're stuck with lightweight bar-ends, adding lead-shot can get you closer to what you're after.  Just a thought."