Motorcycle Handlebar Bag Image Gallery
This small handlebar bag is designed to fit the crossbar on the handlebars of some dual-sport bikes.
It also makes a handy bag for the BMW C-Series scooters.
The bags are made in the U.S.A. (Virginia) by Kathy's Journey Designs (info in summary table below).
I make it down to Bob's BMW in Jessup, Maryland maybe about once every 3 years or so to pick up a few Airhead parts.
While I was cruising through the store not long ago, I noticed a neat-looking textile bag attached to the handlebars of a BMW C 600 S scooter on the showroom floor.
Always on the lookout for yet more storage for my BMW C 650 GT (blog), I figured I'd buy one and report back to you.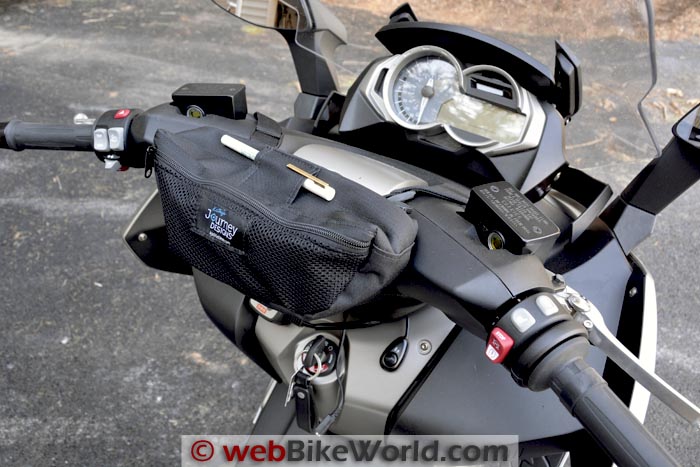 Kathy's Journey Designs "GSBB" Handlebar Bag
If you thought a motorcycle handlebar bag was one of those leather fringe-y thingies on a cruiser, think again. This one is a surprise to us and it may just be one of the most useful pieces of motorcycle luggage ever — if it fits on your two-wheeled conveyance.
The "GSBB" handlebar bag — which isn't listed on the Kathy's Journey Designs website for some reason — was originally designed to fit the crossbar or support bar on a dual-sport motorcycle.
Bob's BMW says it fits the BMW GS series, including the R 80 GS, R 100 GS, R 1100 GS, R 1150 GS and the F 650 Strada and Funduro, the F 650 GS and Dakar and the G 650 GS.
I didn't realize that all of those BMWs have a crossbar type handlebar (do they?) but I did try the handlebar bag on the Suzuki DR650SE (blog), which has a Pro Taper SE handlebar fitted with a crossbar. It doesn't fit very well on those handlebars, so I'm not really sure how it might work on the dual-sport Beemers.
But, the bag does indeed work very nicely on the BMW C-Series scooter. Maybe they should rename it to the "BMW Scooter Handlebar Bag" instead!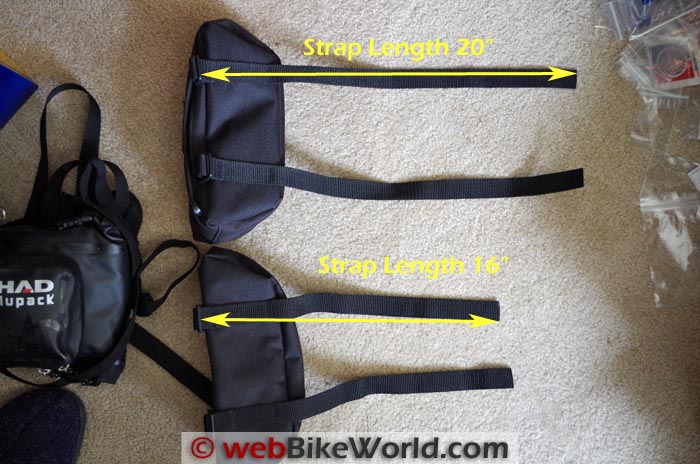 Longer Straps
I didn't look too closely at how the bag was installed on the C 600 scooter at Bob's BMW, but when I got home, I realized that the straps on the bag that I purchased from Bob's stock were slightly too short at 16″ long to correctly fit around the C 650 GT's handlebars. Maybe the handlebars on the C 600 Sport are different? I don't know…
The thick handlebars on the C 650 GT scooter are covered by plastic vanity panels and there was just barely enough strap length to fit around the bars and squeeze the end of the straps into the plastic friction buckles on the bag.
So I took a couple of quick photos and sent an email to Kathy's Journey Designs, suggesting that they make the straps longer, and Kathy replied that they would make me one right away. The new bag, which has 20″ long straps (4″ longer than my original bag), arrived a couple of days later.
I suggested to Kathy that the handlebar bags should always come with the longer straps; after all, it's easy to trim a strap that's too long but impossible to add length to a strap that's too short. They agreed and have since confirmed that all new handlebar bags will have the longer straps, along with a longer zipper for easier access to the pocket.
The bags are all hand-made in Virginia, so they can whip one out pretty quickly and modify the designs from owner feedback, which is pretty good stuff in my book.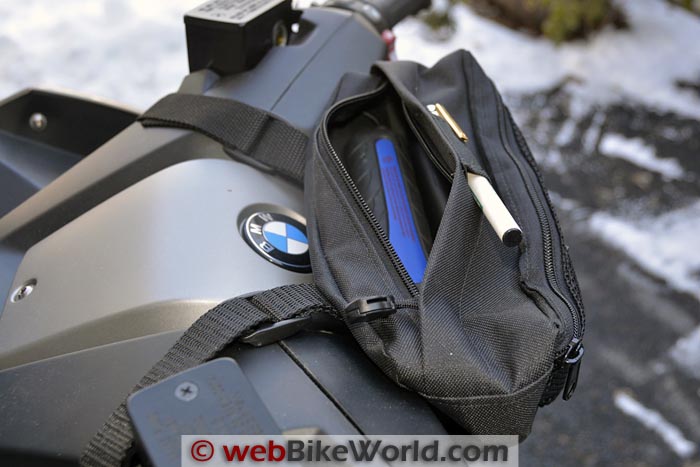 Handlebar Bag Details
The handlebar bag is made from a Cordura-like polyester (corrected from 1000 denier Cordura in original) with a urethane "water repellent" coating on the inside. Apparently, all of the Kathy's Journey Designs bags are made from Cordura except the handlebar bag, which is rated water resistant. All of the bags also have a lifetime warranty.
This is a simple bag, with one large main compartment about 10″ wide by 4″ across and about 5″ deep. It's useful for holding a cell phone, motorcycle gloves, eyeglasses or sunglasses, a flashlight or even chain lube or other trinkets that require quick and easy access. The pocket closes with a covered zipper with a big plastic pull tab.
There's a mesh pocket on the outside with a zipper; this one can be used to hold ID cards or maybe some change or bills.
On top of the bag is a sewn-on section that appears to be designed to hold a pen, but the tiny pocket next to it is sewn at the bottom. I didn't know what this was for, so I asked, and learned that it's designed to hold a folded dollar bill for tolls. Fold a bill twice and stuff it in the pocket for quick access. Brilliant! I'm sure it would do the same for a Pound, Euro and all other folding money.
The attachment straps are sewn on to the back of the bag. Each strap has a plastic friction loop adjustable holder. I laced the strap around the handlebars on the scooter so the extra strap lays underneath the strap, which keeps the loose ends underneath, looking nice and tidy.
Here are some pics: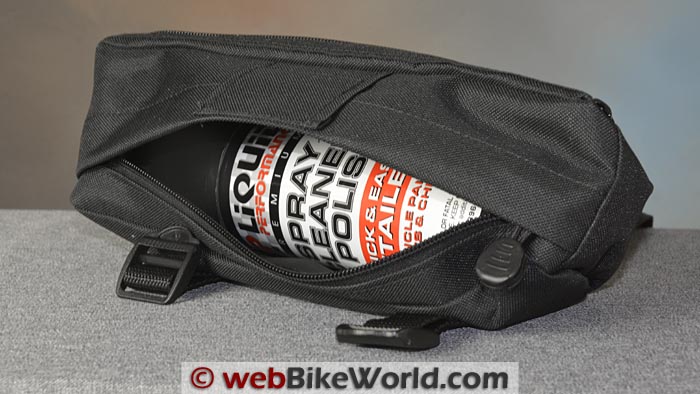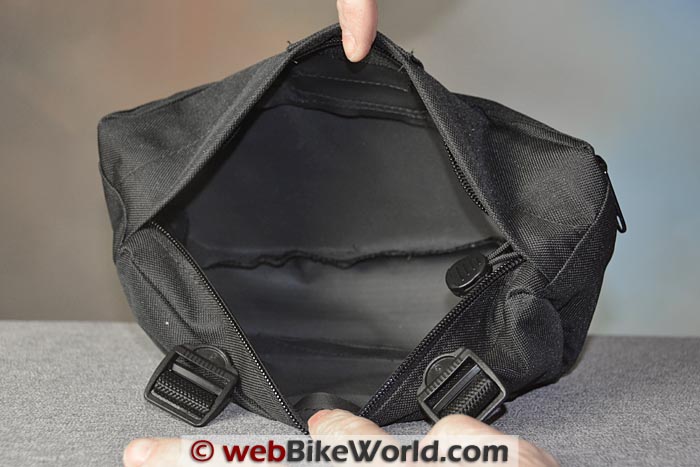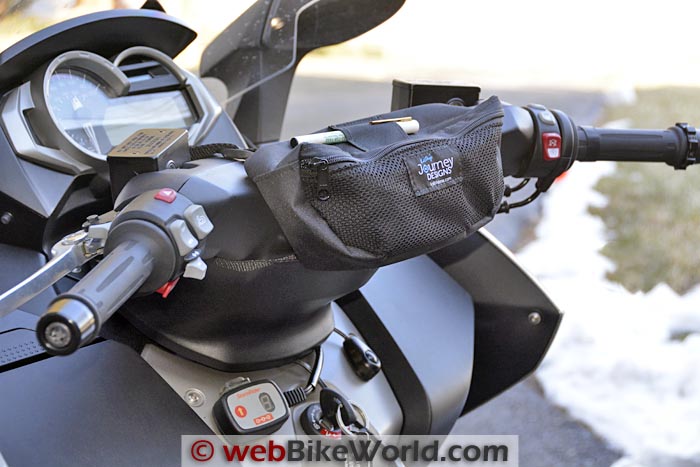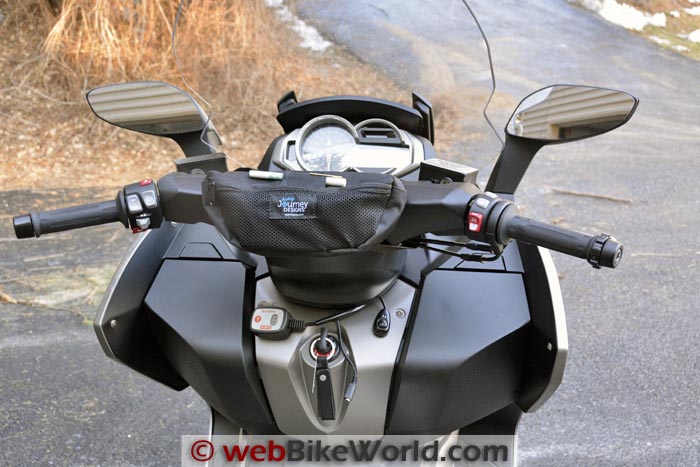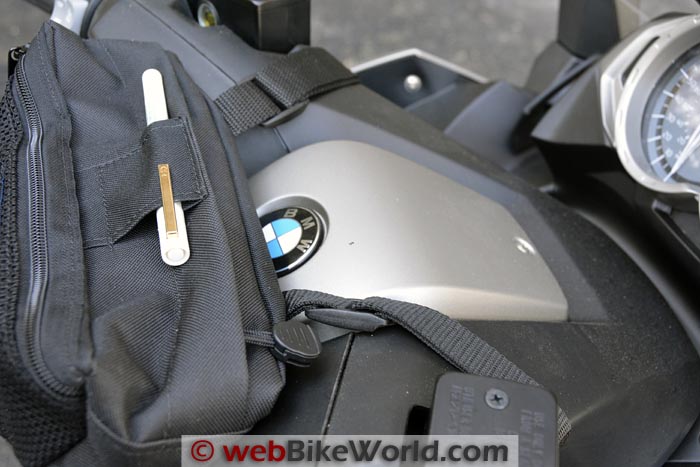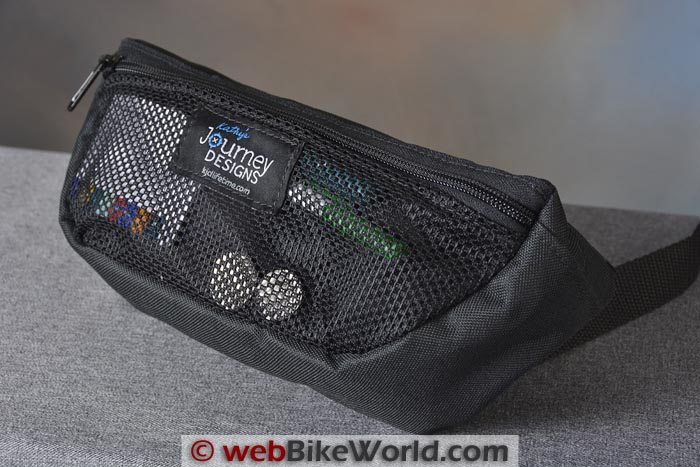 Conclusion
This small handlebar bag is an sweet little option for adding more storage to the BMW C-Series scooter. The bag may also fit other motorcycles with a crossbar, although it doesn't work very well on the DR650 with a Pro Taper bar, so I'm not sure how well it will work on other bikes with this type of handlebar.
The price is reasonable, the quality is excellent and the fact that it's hand-made in the U.S.A. is a plus.
w

BW

 Review: Kathy's Journey Designs Handlebar Bag
List Price (2014): $30.00
Colors: Black or custom color.
Review Date: February 2014
Note:
 For informational use only. All material and photographs are Copyright © webWorld International, LLC since 2000. All rights reserved. See the webBikeWorld® 
Site Info page
. Product specifications, features and details may change or differ from our descriptions. Always check before purchasing. Read the
Terms and Conditions
!
Owner Comments and Feedback