Future riders will have bikes that connect with their mobile phone, the internet and even activate the engine immobiliser and read engine faults via a smartphone app, according to German automotive electronics company Bosch.
The comment comes as the company announced the formation of a Two-Wheeler and Powersports division to consolidate all its motorcycle activities – riding safety systems, power train technology and display instruments – in the one business section, based in Yokohama, Japan.
The new business unit offers safety solutions such as ABS and Motorcycle Stability Control (MSC), a type of ESP for motorcycles. It also includes electronically controlled injection systems, powertrain components for electric two-wheelers and interfaces for connecting motorcycles with smartphones or tablets as well as connected cloud services.
"Our systems put even more safety, efficiency, and fun to ride into the motorcycle," says Geoff Liersch, head of the new Bosch business unit.
Bosch says their digital intelligence systems will allow a smartphone app to activate the immobiliser, read out engine faults and supply Bluetooth and internet connectivity.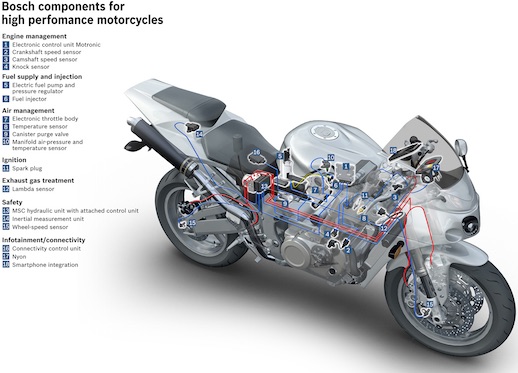 Bosch board member Dirk Hoheisel says their systems will dominate future motorcycles.
"Bosch technology for more efficiency and safety should be part of any car, and in the future, the same will go for motorcycles," he says. "We are aiming to become a leading supplier in the motorcycle market, too."
Bosch predicts that the motorcycle market will balloon to 160 million a year by 2021, which is a third more than today.
"The portion of the market relevant for Bosch, which covers driving safety systems, powertrain technology, and displays and infotainment systems, will double over the next five years," Dirk says.
Most of that growth will take place in Asia, studies suggest, predicting that in 2021, nearly 90% of all powered two-wheelers will be made in China, India and South East Asia. That group consists mainly of small motorcycles with engine displacement up to 250cc, one of the most common modes of transport throughout large parts of Asia.