We've covered about 80 Bajillion motorcycle cleaners, polishes and waxes and just about every other type of chemical for cleaning motorcycles known to science .
And believe me, there are many more on the way…
But here's an interesting product that can help get all of those cleaners into the little nooks and crannies that make motorcycle detailing such a pain.
Pimp Stixxx (yep, that's what they call 'em and that's how it's spelled) is a motorcycle detailing tool kit consisting of four vinyl-coated aluminum threaded rods that can be assembled in various combinations.  The kit also includes seven different plastic tips that are screwed on to the ends of the rods.
Cover one of the tips with a rag (some thin soft cotton rags are supplied with the kit) and the tool can be used to clean all of those hard-to-reach places that make the difference between a pro detailing job and a quick once-over.
The product seems to be aimed at the custom cruiser market and I can understand how the kit would help an owner detail all of that chrome and polished aluminum in and around a big V-Twin engine.
But we've used it to clean the dust and grime that get into the really hard to reach places like under a set of carbs or up over the top of a camshaft cover on an inline four cylinder engine.
One of the best uses I've found for the Pimp Stixxx kit is cleaning wheel hubs.  I don't know about those narrow 21-inchers on the big cruisers, but cleaning down behind a set of dual disk rotors on a 17″ sportbike tire is nearly impossible without this kit.  I cleaned up the front and rear hubs on the Ducati GT1000 using the 6″ 45-degree rod attached to the 6″ straight rod and either the 1/2″ chisel or Ball Head tip.
Any old T-shirt rag can be used to wrap around the tip and I've also used a piece of thin foam padding that I attached with a rubber band.  Spray some cleaner on the rag and have at it.  I found that spraying the cleaner on the rag works best, rather than spraying the cleaner on the part and then trying to clean it up with a dry rag.
Spraying the cleaner on the rag first allows better control.  Just remember that the relatively small surface area presented by the rag on the cleaning tip won't hold much cleaner, so it may take a lot of back and forth to keep applying the cleaner to the tip.  It's also important to keep moving the rag to a clean section to prevent it from wearing away, which can result in the tip scratching the aluminum or chrome.
The Pimp Stixxx kit comes with one 6″ and one 12″ straight rod, one rod with a 45-degree bend and one with a 90-degree bend.  The tips include the 7 different types shown in the photo below.  The thin tips can also be used to clean in between the cooling fins of an air-cooled engine.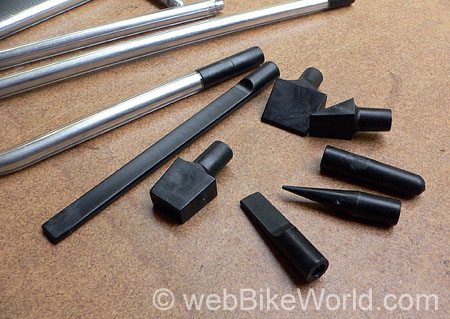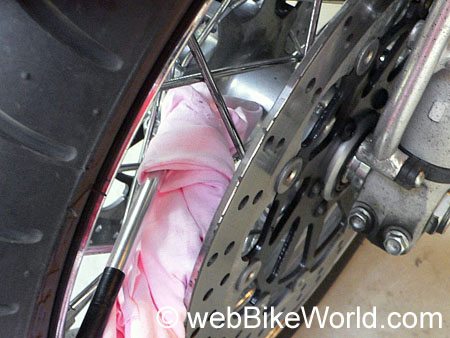 Conclusion
While I'm not sure I could say that the Pimp Stixxx motorcycle detailing kit is must-have, it's the only way I've found to clean some of those impossible to reach spots like wheel hubs.  The kit also works great for detailing a car engine.  If you're a real cleaning fanatic or if you're getting that Kustom Kruiser ready for the next show, this kit's for you.
Note:  For informational use only.  All material and photographs are Copyright © webWorld International, LLC – 2000-2011.  All rights reserved.  See the webBikeWorld® Site Info page.  NOTE:  Product specifications, features and details may change or differ from our descriptions.  Always check before purchasing.  Read the Terms and Conditions!
Product Review:

 

 Pimp Stixxx Motorcycle Detailing Kit
Available From:  Pimp Stixxx
Made in:  U.S.A.
Suggested Retail Price:  $27.99
Product Comments:  Sold in many motorcycle shops specializing in cruisers.