Dash Cam Comparison Image Gallery
I'm a long time regular webBikeWorld reader and I've been closely following the action camera reviews and the Bluetooth intercom reviews for some time.
The do-it-all Sena 10C (review) sure grabbed my attention, as did the INNOVV C3 action cam (review) and the Mobius action cam (review).
I went "all in" and I learned a few things and thought it might be worth sharing one person's opinion.
The following addresses all three devices, as well as RAM and Leader camera mounts and the CyberLink video editing software.
My focus here is on my quest for a motorcycle dash cam setup.
Based on various blog posts and product comments around the web, it appears I'm not the only motorcycle rider seeking dash cams.
First, I should point out that comparing the INNOVV and Mobius to the Sena 10C is a bit like comparing apples and oranges to prime filet mignon.
The first two are nice video cameras and appear to be built with similar technology.
The third is an impressive combination of camera, Bluetooth intercom headset and FM radio, all in a single small package.
Device prices are reflective of this difference, but if you subtract the price of good Bluetooth headset from the price of the Sena 10C, then the cost of the 10C's camera begins to approach that of the other two.
I don't want to repeat information already available in the webBikeWorld reviews of these products, but I should say that all three cameras are highly configurable action cameras. I have them configured — as best I can — as dash cams.
webBikeWorld reader Steve Follen contributed this article on a "roll your own" motorcycle dash cam configuration that can record front and rear video.
Motorcycle dash cams — for lack of a better term — have suddenly become popular and the segment is rapidly growing and developing.
Simultaneous front and rear video recording is the next big thing and we'll be doing a complete review of the new INNOVV K1 system, which is a complete kit that includes front and rear video cameras.
It also includes a GPS recorder and playback system with maps that shows your route!
More information on the INNOVV K1 is available here and I have added some photos below, courtesy of INNOVV.
In the meantime, please enjoy Steve's article describing a three-camera setup to record front and rear video on his vintage Honda CB750C.
Motorcycle Dash Cam Comparison Table

A Motorcycle Dash Cam
So, what do I mean by "motorcycle dash cam"?
My dream setup is a total of three cameras, one centered and facing forward and one on each side of the bike, to provide a simultaneous side and rear view.
In a perfect world, the cameras would be weather resistant and permanently mounted to (and powered by) the motorcycle.
They would start and stop automatically with the ignition key and support continuous loop recording for total no-touch operation — except, of course, when I wanted to extract recorded video.
A wide angle lens is a big plus.
I'm not trying to film a Hollywood movie, but at least reasonable video quality goes without saying.
It turns out that I can't have it all, but I can get pretty close.
Motorcycle Dash Cam Requirements
The table above summarizes how each camera stacks up against my dash cam requirements.
None of the shortcomings are showstoppers. Most are due to the state of the technology and I can't blame the manufacturers for that.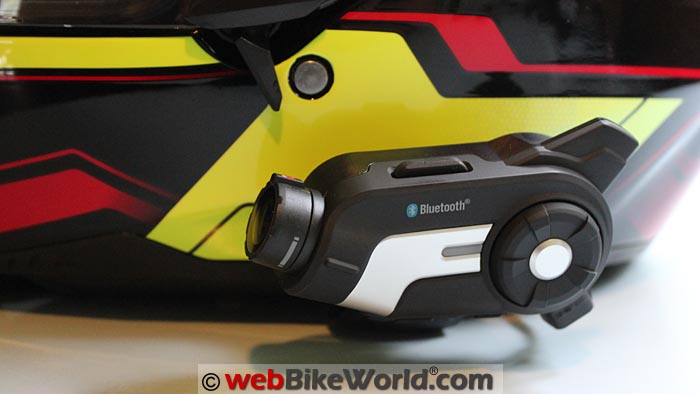 Mounting Considerations
You really can't mount something permanently to a motorcycle if it's not weather resistant. But I did not anticipate that a major source of limitation here is heat.
The electronics that record video in these devices generate heat and that heat must be dissipated to prevent the camera from cooking.
But, it's hard to keep a camera cool while it's sealed up tight in a waterproof housing, especially if you want to keep the device small and use when the sun shines bright.
Weather resistant, helmet mounted, Bluetooth devices are nothing new to Sena and with the 10C, they've managed to extend that to include a camera.
The owner's manual does point out that the headset will give a high temperature warning if it becomes too hot but I have not experienced it so far.
The INNOVV C3 addresses the challenge with a small waterproof remote lens that can be discretely and permanently mounted just about anywhere.
The lens cable connects to the main body of the camera, which is not weather resistant but is made of aluminum, so dissipates heat well.
The camera module needs to go somewhere dry that also allows some air circulation — a bit of a challenge on a motorcycle. But, permanent mounting of the main camera body is possible if you can find the right location.
Mobius includes metal heat sinks on the surface of the plastic camera case. Weather resistance comes in the form of a thin, soft, clear removable cover.
The cover must be handled carefully to avoid tearing so takes a minute to install and remove.
Mobius recommends against using the cover in hot, dry weather, however.
So I call this one not quite permanently mountable, but the camera is very easy to slide in and out of its mounting tray (see further below), which can remain on the motorcycle.
Powering the Dash Cams
All three of these action camera dash cams include internal rechargeable batteries and all three can be charged while in use, so they all get a yes here.
Note that plugging in the USB power cable does break the weather resistant seal on the Sena and covered Mobius cameras, however.
But, connected power does not affect the waterproof remote lens of the INNOVV C3; in fact, it was designed for this.
All three cameras come with a "cigarette" type USB power supply. The INNOVV also includes a direct-wired 12v to 5v USB power supply that can be permanently wired to the motorcycle.
A similar supply is an available option from Mobius and I've had good success with that approach.
Since the Sena 10C mounts to the helmet, rather than the bike (remember it's also a Bluetooth device), I use its internal battery power for short rides and run a USB cable inside my jacket to a3BR TAPP waterproof USB outlet (review) for long rides.
Remote "No Touch" Operation
True "no touch" dash cam operation on a motorcycle has two requirements:
The camera starts and stops automatically with the motorcycle.
Must have continuous loop recording, where the oldest video gets overwritten when the memory card is full.
Two out of the three cameras described here get a "yes" for those requirements.
The INNOVV C3 and the Mobius have configuration options to support both of these features, but the 10C does not support either (at least not yet).
Automatic starting and stopping of the INNOVV and Mobius requires only that the 12v-to-USB power supplies are wired to switched power (turns on when motorcycle is started).
A 32 GB micro SD card holds close to 5 hours of video at 1080p and 30 fps, so lack of continuous loop recording is not a show-stopper, but it is inconvenient.
In addition to typical continuous recording, which stops when the memory card fills, the Sena 10C does offer a mode called "video tagging".
It saves video in 3 minute bursts capturing just before and just after you tap the camera button. You won't run out of space in that mode, but you do have to tap a button when you want to save something.
Wide Angle Lens
The Sena 10C has a 125-degree wide angle lens. Mobius and INNOVV offer both normal and wide angle versions of their cameras.
Video Quality
All three of these cameras deliver video quality that's at least good for my needs. Some are better than others and you can form your own opinion based on the sample videos and the webBikeWorld Motorcycle Action Camera Reviews.
Note that the various compression algorithms applied to the video files on the hosting websites degrades video quality from the original.

Mounting the Dash Cam Action Cameras
Several webBikeWorld reviews address the issue of camera mounts. A mount needs to position the camera where you want it, hold it securely, minimize vibration and not get in the way.
My desire for permanent mounting also requires some degree of theft deterrence.
Again based on their Bluetooth experience, Sena has helmet mounting figured out. Since the camera stays with the helmet, theft deterrence is not such an issue.
The INNOVV comes with several good lens mounting options and if you can find a good location for the main unit on your bike, only the remote lens is exposed (see pictures above).
The lens is relatively inexpensive, is of little use without the main unit, and is discrete so I don't worry about it walking away.
Mobius offers a few mounting options, the base for most of them is a tray with a standard ¼ x 20 tripod screw mount. The camera easily slides in and out but is held securely.
Notes on the Mobius Mounting Tray
The small Mobius camera body could probably be permanently secured to the supplied mounting tray with adhesive and/or set screws.
But given the camera's limited weather resistance and how easy it is to slide in and out of the holding tray, I chose to take the camera with me when I leave the bike in a less than secure location.
More importantly, to get the dash cam side and rear views I was after, I had to mount the cameras under the rear-view mirrors on the motorcycle. Yes, you read that right!
I wanted to mount two small lightweight cameras on arms (camera mounts).
These would be then bolted or clamped to the mirror stems, which are themselves bolted to a hollow tube (the handlebar), which is then bolted to a few hundred pounds of vibrating metal hurling down a rough road at highways speeds.
What's the problem with that?
Turns out it's not as bad as I expected. I tried both a Leader chrome mirror mount and a Ram mirror mount.
Ram makes all sorts of mounts in multiple sizes for a variety of applications. The basics are 3 parts: a base at the bottom which attaches to the motorcycle (or whatever else you like); a holder, which holds your camera, or other device; and an arm connecting the two, with several lengths available.
There are all sorts of variations and extras available. My setup is a RAM-B-360 Twist and Tilt Mirror Mount, RAP-B-366 Camera Mount and 3" RAP-B-201U Double Socket Arm.
Leader, which appears to be a family business, offers several elegant motorcycle specific mounts and other products.
Recognizing that what those mounts are attached to is unstable in the first place, neither is vibration free, but they both work pretty well.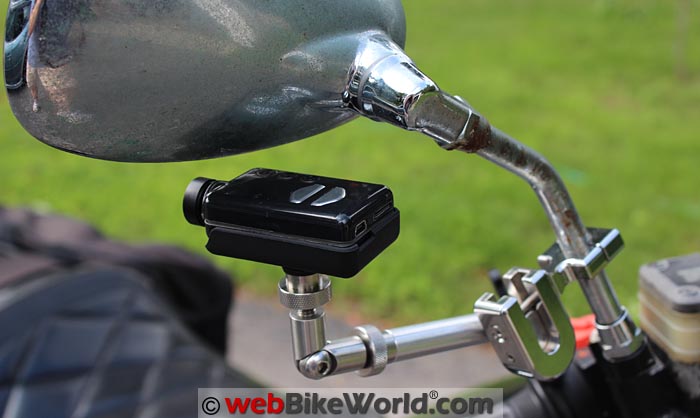 Don't Blame the Mount or the Camera
Some of the instability in motorcycle video is related to the limitations of the underlying technology. After all, we are asking for a small inexpensive camera with good battery life to take high-quality video.
To help accomplish that, current video camera makers tend to capture the video with CMOS technology which generally uses something called a rolling shutter, rather than the previously popular CCD with global shutter. Details can easily be found on the web so I won't go deep here.
The key point is that a rolling shutter captures the pixels of each image in rows as opposed to all at once.
When the subject is moving relative to the camera, or the camera is moving relative to the subject, the image seen by the camera changes slightly as it is being captured making it appear unstable.
In the sample videos, notice that a vehicle moving at the same speed as the motorcycle's camera appears to be more stable than the stationary background or a vehicle moving in another direction.
Video: Motorcycle Dash Cam Sample
Video Editing Software
With three cameras, I needed a way to put it all together after the video was captured. After quickly checking out a few online reviews for inexpensive video editing software, I went with Cyberlink Power Director 13 Ultra.
A significant feature for me is its ability to handle multiple independent camera views of the same event. It can sync the videos and present them in a variety of ways.
I did not undertake any further editing software comparisons because CyberLink just worked for me. All of the sample videos included here were produced with it.
Another Issue: Electro-Magnetic Interference (EMI)
I've done all this experimenting on a classic 1980 Honda CB750C. It is electrically very noisy — an issue that is less applicable to a modern bike but may still exist to some degree.
In case you are wondering why my primary setup is the Sena 10C and two Mobius cameras under the mirrors, it is only because all that EMI caused problems for the INNOVV C3 when mounted up front.
I could get the C3 to work well on the back of the bike, but not up on the handlebar or mirrors, due to EMI from the engine's ignition.
The C3 does seem to have quite a following and I think the remote lens is a great idea. INNOVV was very supportive in helping me try to solve the EMI issue, but in the end it did not work out for my application.
Also, I found that Mobius offered a shielded case option and I went with that. I have no experience with their standard, unshielded version.
The EMI issue probably does not apply to most other riders but it's worth noting here.
Coming Soon: The INNOVV K1
(Editor's Note) We have an INNOVV K1 camera kit coming soon for a review. This is a turnkey system that records both front and rear video and includes a GPS recorder and player. More information is available here on the INNOVV website.
In the meantime, here are some photos, courtesy of INNOVV: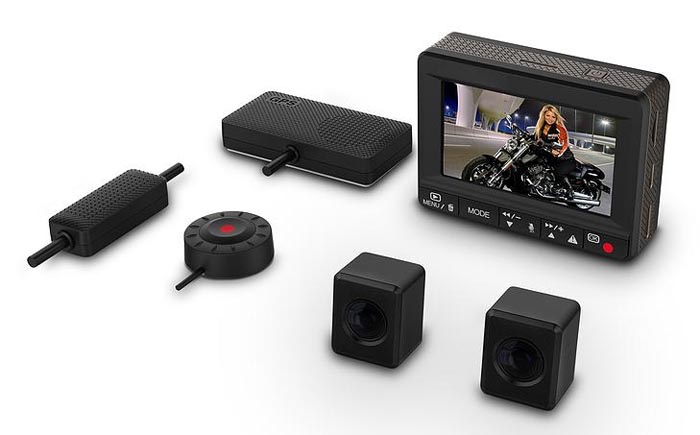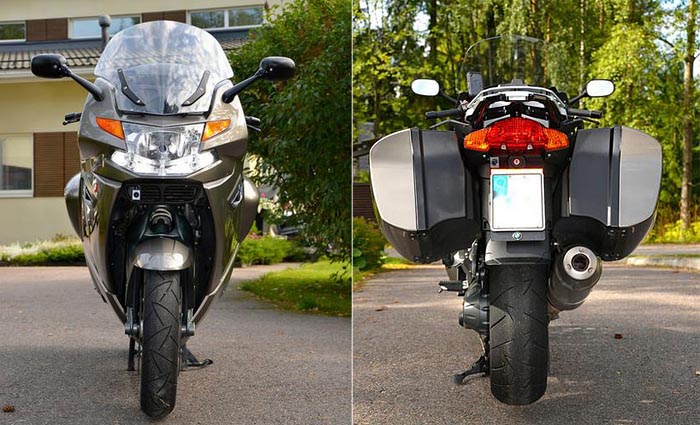 Conclusion
In the end, my perfect motorcycle dash cam dream is a bit too much to ask for currently, but I have something that works reasonably well.
When I go for a ride, this is the complicated procedure:
For the two Mobius cameras I have to:
Slide the cameras into their mounts.
Connect the USB power cables.
Install covers if it's raining.
For the Sena 10C, I have to:
Turn it on and then start recording.
Empty the SD card every few hours so I don't run out of space.
Run a USB cable down my jacket and plug it in, at least for long rides.
Oh, and don't forget to remove the lens caps! This is obviously not a perfect solution by any means, but none of it is very difficult either and the video results have been well worth the trouble.
As an added bonus, I can also communicate by intercom and phone, hear GPS directions and listen to the radio.
Publication Date: September 2015
More webBikeWorld: 
▪ Video Action Camera Reviews
▪ Intercom and Radio Reviews
Note:
 For informational use only. All material and photographs are Copyright © webWorld International, LLC since 2000. All rights reserved. See the webBikeWorld® 
Site Info page
. Product specifications, features and details may change or differ from our descriptions. Always check before purchasing. Read the
Terms and Conditions
!
Owner Comments and Feedback