Motorcycle Clothing Safety Standards Explained & Why They Matter
Recently, a webBikeWorld visitor asked about motorcycle clothing and abrasion resistance. It's a great question and we thought we should devote a page to the issue. It is very difficult to assess and compare the protective capabilities of motorcycle clothing, including jackets, pants, gloves, boots and even helmets. The CE or European standards at least begin to describe some of the criteria for evaluating and comparing motorcycle clothing safety standards. But there really is no independent "Snell-like" lab that tests and compares motorcycle clothing protection and publishes the results.
Reader Question: "First of all, your site is really helpful. I have spent a lot of time reading through the pages and I hope that I haven't missed the answer to the question I am about to ask. Are there any brands of motorcycle apparel out there that conform to specific standards (such as ASTM) of abrasion resistance? Is there anywhere that I can find abrasion resistance information for the actual materials used in the construction of the apparel? I have yet to get any data from a material company or a product manufacturer. I don't know if it's because of proprietary reasons, or if the materials just don't meet any abrasion resistance standards.
I have read reports of brands such as Fieldsheer and Tourmaster claiming that their products are made of Nylon (or nylon based materials such as Carbolex and Cordura). But the garment tags say that the inner layer and the outer layer are 100% polyester. Have you had any experience with this? I know that there are many forms/types of both nylon and polyester and I am just trying to find some information that will make me feel a little better about buying another textile jacket. Thanks for your time."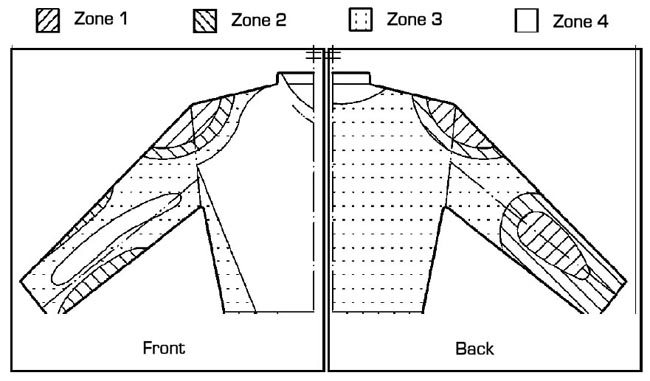 Comparing Motorcycle Clothing Safety and Protection
I remember seeing a display at a BMW motorcycle dealer who had a large selection of BMW motorcycle clothing for sale. The display featured real samples of different materials that BMW had tested against their own clothing. Each sample had been through some standardized BMW abrasion tests and it was very interesting to not only see what might happen during a fall but also to compare the different types and levels of protective clothing. Many motorcycle clothing manufacturers adhere to CE (European) standards for wear, abrasion, impact protection, etc.
As far as I know, there are no U.S. ASTM abrasion standards or other U.S. standards organizations with abrasion standards for motorcycle clothing, which is really too bad, although I have seen an ASTM standard for a machine to test abrasion resistance.
I have also witnessed this machine in action at a testing lab for hosiery (Note: ASTM was originally known as the American Society for Testing and Materials). The problem with trying to read most of these standards is that the standards organizations will charge a fee to obtain the standard.
It's an ongoing problem in the standards community; there are literally hundreds of different standards organizations and many/most of them try to make money or recover costs on the standards themselves, instead of "open sourcing" them to the general public.
For example, here is the European 13595 standard f for DIN EN 13595-2:2002, entitled "Protective clothing for professional motorcycle riders – Jackets, trousers and one-piece or divided suits – Part 2: Test method for determination of impact abrasion resistance".
The link leads to a page where the standard itself is for sale on the ANSI website. There are even advertisements for non-standards related (i.e., motorcycle gear) products on that web page! Apparently, ANSI is more interested in generating revenue than in promoting safe use of products and materials by offering the standard to anyone to use for free (Editor's opinion!). There are no official U.S. government standards setting organizations per se; the U.S. is one of the only countries in the world where the government is not in the business of setting standards. The standards organizations in the U.S. are all private sector based and the adoption and use of standards is market driven.
In the U.S.A., anyone can set a standard; for example, if I wanted to develop and publish a new standard for light bulb threads I could do so. However, whether anyone would adopt my standard or not is questionable. But there's nothing stopping me from developing and publishing the webBikeWorld Light Bulb Screw Thread standard.
This has its pros and cons; other countries use their governmental powers to develop and adopt standards as a strategy for capturing market share for their manufacturers. This is a huge discussion that is debated all the time at the various international trade meetings.
Video: Abrasion Testing
U.S. Motorcycle Clothing Safety Standards?
Although the U.S. government does occasionally create, adopt or set a standard for a specific item, there is a law that says something to the effect that market based standards should be used if at all possible. This was formally proposed in the National Standards Strategy for the United States, which was approved in August 2000.
The document "reaffirmed that the U.S. is committed to a sector-based approach to voluntary standardization activities", according to ANSI, which is a private sector standards organization and is not a U.S. government agency. The National Technology Transfer and Advancement Act became law in March 1996. It "directs Federal agencies with respect to their use of private sector standards and conformity assessment practices.
The objective is for Federal agencies to adopt private sector standards, wherever possible, in lieu of creating proprietary, non-consensus standards.
The Act also directs the National Institute of Standards and Technology (NIST) to "bring together Federal agencies, as well as State and local governments, to achieve greater reliance on voluntary standards and decreased dependence on in-house standards."
Since the U.S. government isn't going to do it any time soon, why don't various organizations like the clothing and helmet manufacturers get together and form a motorcycle clothing safety standards organization in the U.S.? This is a good question and one for which I don't have an answer, although it may just be simpler if we adopted the CE standards.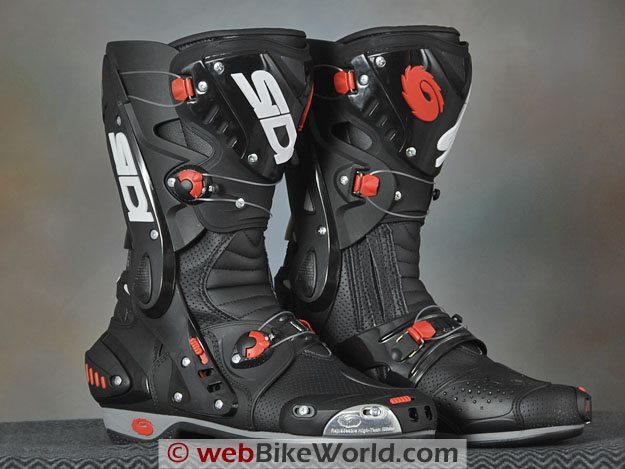 CE Personal Protective Equipment Directive and Standards for Motorcycle Clothing
Just for the record, following is a listing of CE standards as they apply to motorcycle clothing, edited from various sources including the Motorcycle Council of New South Wales (Australia). The European Personal Protective Equipment (PPE) Directive of 1989 requires that "any clothing or personal equipment sold as providing protection from injury must comply with the relevant European Standard".
Personal protective equipment is defined as "are unique products as far as the user buying it buys protection encountered at home, work and leisure". Proof of compliance requires the gear to be independently tested and certified.
The manufacturer is then issued with a CE (Conformité Européene or European Conformity) label, otherwise known as "CE Marking", which indicates that the item conforms to the relevant European or ECE standard.
Here are some example photos of authentic CE approval markings and the documentation that must come with the product: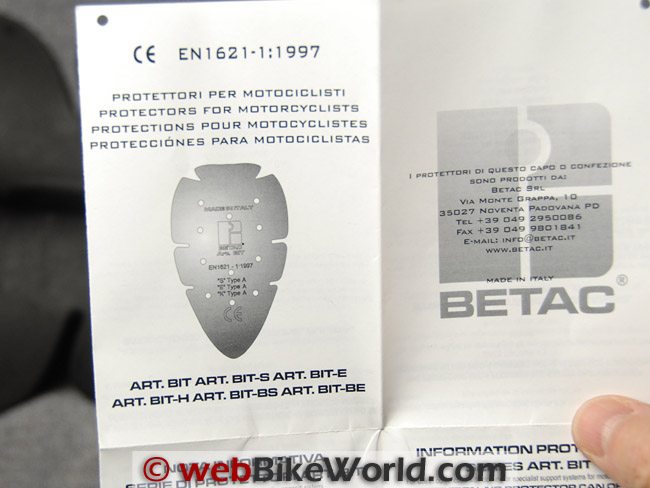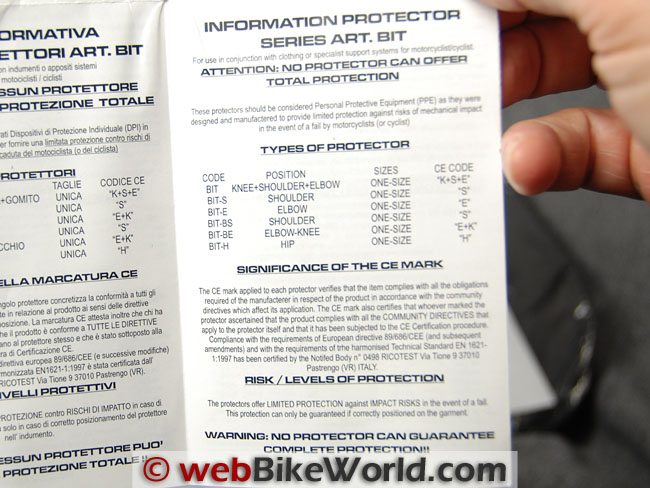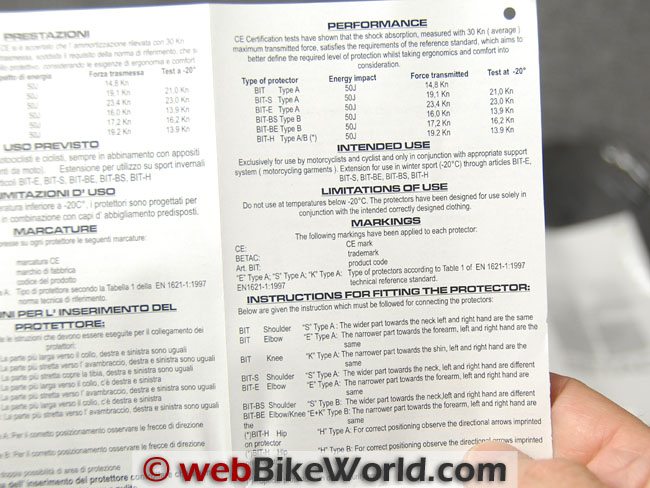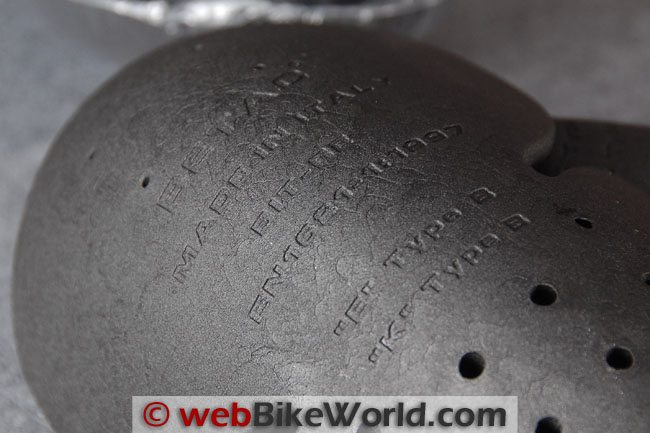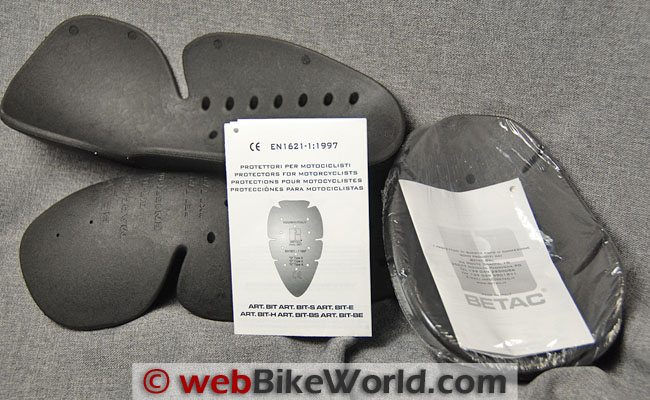 The item must carry a permanently attached CE marking label with the number of the Standard. For example, boots are labeled CE EN 13634 and jackets, pants and suits are labeled CE EN 13595. Back protectors are CE EN 1621 (Note: -1 and -2 levels are now available). The relevant standards are listed below.
If you have knowledge of where the actual standards can be downloaded or viewed free of charge or if you know of other relevant standards (not just European), please send us a description and the URLs in the Comments section below:
CE Motorcycle Clothing Standards
NOTE: Unfortunately, links to online copies of the actual standards are no longer available. If anyone has information on where the standards can be found online (full and free copies), please let us know.
EN 13634:2011 (formerly EN 13634:2002) – Protective footwear for professional motorcycle riders. Requirements and test methods.
EN 13594:2008 – Protective gloves for professional motorcycle riders. Requirements and test methods.
EN 1621-1:1998 – Motorcyclists' protective clothing against mechanical impact. Requirements and test methods for impact protectors.
EN 1621-2:2003 – Motorcyclists' protective clothing against mechanical impact. Motorcyclists back protectors. Requirements and test methods.
EN 1938:1999 – Personal eye protection. Goggles for motorcycle and moped users.
EN 13595-1:2008 – Protective clothing for professional motorcycle riders. Jackets, trousers and one piece or divided suits.
EN 13595-2:2002 (2008) – Protective clothing for professional motorcycle riders. Jackets, trousers and one piece or divided suits. Test method for determination of impact abrasion resistance.
EN 13595-3:2002 – Protective clothing for professional motorcycle riders. Jackets, trousers and one piece or divided suits. Test method for determination of burst strength.
EN 13595-4:2002 – Protective clothing for professional motorcycle riders. Jackets, trousers and one piece or divided suits. Test methods for the determination of impact cut resistance.
The EN 13595-1:2002 Standard in France
EN 13595 -1 2002 for motorbikes garments or French protocol harmonized protocol according to standard EN 13595-1 2002 requires exactly the same impact abrasion test in zone 2 and 3.
Here is a .pdf copy of "Protocole Pour L'Évalution de la Confirmité a la Directive 89/686/CEE des Vêtements de Protection Pour Motocyclistes Non-Professionnels".
(That's The Protocol for Evaluation of Conformity to the Directive 89/686 EEC of Protective Clothing for Non-Professional Motorcyclists). The EN 13595-1:2002 standard for motorbike garments or the French harmonized protocol according to standard EN 13595-1:2002 requires exactly the same tear strength test in zone 2 and 3.
Only the level of performance changes; lower for the French Protocol because the value of the original European Standard were very difficult to reach, especially for textile. The value to reach with the original European EN 13595-1:2002 standard is a force of 100 Newton(for leather and textile materials).
The value to reach with French protocol harmonized protocol according to standard EN 13595-1 2002 is 50 Newton (for leather and textile materials). This is lower and therefore more easily attained. The tear strength test for motorbikes garments is for the upper material. There is also a tear strength test for Footwear: it is EN 13634-1:2011, but it is only for lining textile material. It is the same method but value are adapted for textile footwear lining and not transposable to upper garment materials.
So, for textile garments and leather material, the recommendations are using the impact abrasion test of the French harmonized protocol according to standard EN 13595-1:2002 and the tear strength test of the French harmonized protocol according to standard EN 13595-1:2002.
Relevant Australian Standards
AS 1609 – 1981 – Eye Protection for Motorcyclists and Racing Car Drivers. Standards Australia (2000), Motorcycle Protective Clothing: Guidelines for Manufacturing, HB 173-2000.
*And what about that sample CE marking in the photo at the top of the page?  According to sources, it's the fake "China Export" mark — so be careful!
References
Reader Comments and Feedback
From "B.L." (September 2013): 
"Last year, I took my son for a ride on an older bike. We were exiting a curve, at 40 MPH, when the tube in the rear tire blew, and we did a low-side. We both slid, on our backs, for a distance of roughly 40 feet, before we stopped. The road was blacktop, in good condition, but it was anything but smooth! I was wearing a 
Mossi Tourtrak Cordura armored touring jacket
 (~$120 cost); my son was wearing my old Cordura "Level 3" armored riding jacket.
Both jackets are on the low-cost end of the spectrum for protective gear, and most people would expect them to provide virtually no protection, due to their low price. Nothing could have been further from the truth, however… My jacket suffered some minor fraying damage on one sleeve, near the wrist — I suffered a minor scrape on one hand, no bruises, no other injuries at all! I was also wearing leather chaps, leather gloves, and a full-face DOT helmet.
My son only had a full-face DOT helmet, in addition to his armored jacket. He burned through his blue-jean pants pocket, and his leather wallet was severely burned, from friction, before it separated from him. It took a lot of punishment which his flesh would have endured otherwise; he also suffered minor road rash on his upper thighs, where the blue-jean material burned through. His jacket saved his left arm from either being permanently fused in a bent position, or amputated; he landed on his left elbow, grinding 1/2 of the armor pad off, after it burned through the outer sleeve Cordura material. Without this inexpensive gear, both myself, and my son, would have been severely injured in our accident.
I hope readers will understand that any gear, is better than no gear. Even the inexpensive gear can save you costly, debilitating injuries, pain, and suffering (in low speed crashes). If you can afford the high-end gear, by all means, buy it; if you are on a limited budget, even the inexpensive gear, for under $100 per piece, can save you!"
From "S.W." (June 2013): "I found your article doing my own research on the topic, and wanted to share my findings with you so that others may be as informed as I will be by the end of this message. Please share this information with your reader base if you so desire. After reading a few of these standards, it seems to me that the truth of the matter is that the type of riding that vast majority of consumers will be doing is on public roads, city streets, highways.
A wreck, excluding low speed wreck that would be more akin to a street cyclists worst wreck, they'll most likely impact a very hard object at high speed. There isn't a piece of gear on the market that will assuredly protect anyone in that scenario, not even the helmets. It seems to me that our safety is in our own hands; mostly our right hand.
Editor's Note: Thanks very much to S.W. for the links to the CE standards referenced in our article above.
---
From "B.S.": "I just finished reading the article about the lack of safety standards for motorcycle specific apparel. You made mention of the dealers convention where you located some BMW apparel compared to other materials and the interesting findings in the comparison. Seeing that BMW charges 2 or 3 times the prices of almost every apparel manufacturer, I was wondering if you could give us some more details.
I for one, would like to know how the BMW fabrics compared to say, Motoport and Aerostich products, (two highly regarded products here in the USA). I think the writers idea to establish a dialogue about this issue is fantastic. We all know that some, if not most, cheaper textiles will "heat up" in a slide and have the potential to melt to the skin.
That's why I cringe whenever I see some rider go by wearing a silky, nylon windbreaker. I'm not picking on Harley Davidson but they sell a lot of these kinds of jackets.
While we're talking about standards. I truly wish we could set some boundaries and guidelines on the color of motorcycle products, especially helmets. I have contacted several major helmet companies recently to ask if they would stop painting helmets black or gray and instead paint them a solid, Hi-Viz yellow.
Their response is, "not even in the distant future for consideration". If helmet and apparel companies really have our safety in mind, then why do they continue to produce black or muted products? Even worse, how about the camouflage stuff on the market? I guess the answer lies within ourselves. Personally, I refuse to buy any motorcycle safety gear that is a dark color. If we as the consumer just quit buying this stuff, maybe the manufacturers will listen. Money talks you know..
Other WebBikeWorld Clothing Posts