Motorex Chain Clean 611 Image Gallery
Here are a few tips on products for cleaning motorcycle chains, with some useful comments below.
One of our interesting discoveries was the relative paucity of motorcycle chain cleaning products.
There are plenty of chain lubrication formulas available for sale.
This includes everything from PJ1 Blue Label with "synthetic sperm oil" (they get the award for the most unique additive in motorcycling) to our current favorite,Mr. Moto Cleargoo Chain Lube.
Which chain lube is best? It's interesting to note that there aren't anywhere near as many chain lube threads as there are oil threads in motorcycle discussion groups. I've never been able to figure that one out.
Chain lubes range from white, thick and sticky to clear, thin and oily formulations and everything in between. I suppose motorcyclists pick one and stay with it, but it's still surprising to me that there aren't violent opinions about which product is "best"
Cleaning a Motorcycle Chain
The other issue that never seems to hit the discussion groups is the best way to clean a motorcycle chain.
Most of the articles about this subject recommend using kerosene and a brush, but kerosene is smelly, nasty stuff, it doesn't come in a spray can and it isn't something that's routinely stocked in the home garage.
Also, wBW visitor "J.L.B." notes that kerosene is potentially carcinogenic, so you should most definitely wear gloves when using it to clean chains.
So how do motorcyclists clean their chains?  I wish I knew… I find it hard to believe that everyone removes their chain every 200 miles and soaks it in kerosene.
We always used WD-40 in the shop until an aerospace engineer (who is a chief airplane crash investigator for the National Transportation Safety Board) told us that this wasn't a very good idea because it displaces the grease in the chain's O- or X-rings.
See the photo he sent us, posted in our previous motorcycle chain lube article that illustrates ball bearings from an airplane after having been subjected to regular spraying with WD-40.
Don't get me wrong — WD-40 is great and we use it all the time, but his information scared us off the stuff for cleaning motorcycle chains.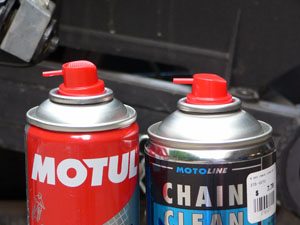 Why there aren't more chain cleaning sprays on the market is puzzling. And there are apparently no chain cleaners made in the U.S.A.
wBW visitors have told us about two products, Motul Chain Clean (shown here) and the previously reviewedMotorex Chain Clean 611.
So we decided to try both of these products together and compare them with kerosene to see if there was a difference.
It's really too bad that WD-40 isn't recommended for chain cleaning, because it does work pretty good. Maybe too good…
The Motul (made in France) and Motorex (made in Switzerland) chain cleaner sprays are both recommended for cleaning O- and X-ring chains.
As soon as we popped the top on Motul's Chain Clean, we noticed that the sprayer is identical to the Motorex product.
A quick spray of each revealed that they smell, look and feel identical.
Now we don't have a chemical engineer on staff, but I'd bet a chicken fajita burrito at Chipotle that both of these formulas are exactly the same.
The chain on our '98 Tiger was pretty nasty (see photo left, below) and ready for cleaning.
We took a couple of close up photos from before and after spraying on the Motul Chain Clean, the Motorex Chain Clean 611 and kerosene.
Since the kerosene wasn't in a spray can, we used an old paint brush to apply it, followed by aGrunge Brush to work it in to the chain.
To be honest, none of these products works as well as WD-40, in our opinion, but that's a moot point. Stoner's Tarminator or Mr. Moto Blast Off would probably do a great job too — but who wants to use them on a motorcycle chain?
Take a look at these photos to see what I mean:
| | |
| --- | --- |
| | |
| The Tiger chain before cleaning… | …and after spraying with Motul Chain Clean. |
| | |
| | |
| Another section of chain before cleaning… | …and after Motorex Chain Clean 611. |
| | |
| | |
| Third section of chain before cleaning… | …kerosene and light application of a Grunge Brush. |
I'm not sure what I expected, although I did assume that the spray would dissolve most of the grit and grime. I am disappointed, because neither of the sprays seem to do much without vigorous brushing with the Grunge Brush or an old stiff-bristled paint brush.
I used almost a half-can for one chain cleaning, which is very expensive when you think about it. They don't seem to work any better than kerosene (which also requires the use of a brush).
The kerosene is messy because it ends up getting flung all over the place, so if you use it, make sure you have plenty of newspapers to protect your bike and tire.
The bottom line here is that we'll have to keep looking for a good, quick and inexpensive solution for cleaning a motorcycle chain. If anyone has an idea, feel free to send it to me ateditor@webbikeworld.com and I'll check it out.
In the meantime, cleaning a chain is a nasty chore that is the dues we pay for enjoying a motorcycle…
w

BW

 Review: Motul Chain Clean & Motorex Chain Clean 611
Note:
 For informational use only. All material and photographs are Copyright © webWorld International, LLC since 2000. All rights reserved. See the webBikeWorld® 
Site Info page
. Product specifications, features and details may change or differ from our descriptions. Always check before purchasing. Read the
Terms and Conditions
!
Owner Comments and Feedback
---
More: Read the Motorcycle Chain Lube article for more information on the WD-40 controversy.
From "B.L." (March 2017): "Just read your blog on cleaning chains and thought I'd tell you what I use and more importantly how I use it.
My bike is quite new and hence still had the residue of that horrible waxy stuff on the chain you get with new bikes.
I put down some cardboard to catch the drips and used something called Gunk which is Kerosene based — and yes it does stink but only if you use too much.
Using a brush I worked it in, then with an old T shirt wiped off as much as possible off the chain.
Then jet washed with a low powered jet washer to avoid getting into the seals, rode off for a mile or two to throw off the water, returned home and let the chain fully dry overnight.
Next morning I lubed the chain, left it to go sticky, then went for ride in the afternoon.
Result was super clean, friction free chain and no kerosene flicked off onto bike, tyre or my drive way! And what difference to the smoothness of the bike as I have got rid of all that friction from a sticky dry chain.
Its common sense really… Good luck."
---
From "D.W." (February 2017): "You asked for suggestions for a 'quick and inexpensive solution for cleaning a motorcycle chain'.
I've been using this citrus degreaser (Gunk 6863 1L Degreaser and Cleaner – Green) for a while and it seems to work well on bicycle and motorbike chains alike."
---
From "C.X." (January 2016): "I have just read your post about motorcycle chain cleaning methods. You pointed out that you are looking for a cheap method. I believe my method is pretty cheap.
I own a 1999 Honda Hornet 600. She is my only mode of transport and so she gets used a bit. In the first year of ownership I covered 10000 miles, clean the chain every 500 miles. Takes max 10 minutes and has so far cost me nothing.
I change the engine oil every 2000 miles, it is still quite clear when it comes out. And the oil (3.7 liters) is stored in bottles as a chain cleaner.
Dip a toothbrush in and soak the chain. Once the whole chain is soaked with oil, start brushing until the oil turns into a black thick paste. At which point, use the oil again with the toothbrush to "rinse" the black paste off. The chain ends up completely dirt free afterwards.
Once the chain is clean, the oil is then wiped off with a rag. And job done, the chain is clean and lubed.
Since the 10000 miles I have been on top of my chain. The tension is spot on and haven't needed to be tightened once yet. I hope this helps. As it has cost me nothing for the whole year."
---
From "B.T." (January 2016): "I just discovered webBikeWorld.com and I LOVE IT. It is very helpful to have reviews performed by folks who are in the business of doing product reviews.
I was reading some of the articles about chain care. Here is a suggestion for a product — Maxima Clean Up Chain Cleaner.
I like that it is water soluble, so I just clean the chain with the cleaner and brush when I'm washing my bike. After the chain is dry, I apply MFR Chain Lube (review) to the cold chain as per instructions.
Thanks again for a great resource that your website provides."
---
From "R.J." (January 2016): "I made a little bath from taking an old plastic quart oil bottle and cutting diagonally so that the deepest part came from the top corner of the bottle where there is some curve.
Then pouring a few ounces of kerosene into it and holding it so that the outer part of the rear sprocket and the chain are submerged in the kerosene. Then slowly turning the rear wheel until the entire chain had gone through the little bath two or three times.
Then go over it with a grunge brush and back through the bath again for a couple more turns.
Wipe down with a piece of soft rag and let it dry. Then apply chain lube. No splashing or mess (if you don't turn the wheel too fast). Do wear gloves.
RK XSO chain has 30K miles and still looks like new after it's cleaned."
---
From "T.M." (November 2015): "I have been using a product called Lanotec (heavy-duty liquid lanolin). This is an Australian made product, made from Lanolin (wool grease), which is a natural substance derived from sheep's wool.
This product is environmentally friendly, non-toxic, non-carcinogenic, biodegradable, salt and acid resistant and contains no silicones.
This product comes in a spray can. I use it to clean the chain and then re oil the chain once clean. I simply spray on then wipe off with a rag, this removes the dirt, etc.
Once clean I then spray the chain and leave for a few hours usually overnight before riding. I have been using this product for years and believe that it extends the life of the chain."
---
From "T.J." (September 2015): "Hello, I read your article on cleaning MC chain. A tips on using kerosene is to put it on to a mechanic spray-bottle. I do that, and it works fine, cheap and effective."
---
From "H.S." (July 2015): "I read your review on the two spray cleaners. My method solves the complaints you had:
Kerosene to bread pan.
Dip grunge brush into bread pan.
Brush section of chain.
Repeat until full chain is scrubbed.
Spray clean each section of chain until clean — I spray it into a rag.
It is amazing how much more dirt comes off. (The) Can lasts much longer, chain is cleaner by combining the two methods.
Editor's Note: Sounds like you need the Chain Drain (review)!
---
From "K.S." (March 2015): "I have been riding for 50 years and what I do to clean my bike chain is buy a cheap spray bottle and fill with kerosene.
I put the rubber gloves on and soak a clean rag with the kerosene and wipe the chain down to get rid of the surface grud and then I spray the chain in sections and wipe again with a clean rag and do the chain through two rotations.
Following this process I have never over the 50 years of riding with chain drives had a broken chain and I have racked up over 250,000 miles during this time. Stick with the tried and true and you can't go wrong."
---
From "S.G." (March 2014): "I thought I would pass on my recent experience. I bought a Kettenmax chain cleaner (review) and on the advice of several people used kerosene as the solvent of choice.
As you say, kerosene is is stinky and hard on the skin. However, if you wear latex gloves and keep the garage doors open, it work just fine.
The Kettenmax chain cleaner works almost as advertised! But elbow grease for the last go-around is necessary to remove crud from the sprockets. The front sprocket on my Honda 600 is impossible to get at without removing a couple of hoses and the gearshift actuator which is poor design.
I settled for loosening off the cover and reaching in with a tooth brush and rag. A lot of grit and crud up in there so worth it.
I think I paid around $7 for about 4 litres of kerosene from Home Depot so very cost effective and I use it for the road and mountain bikes as well."
---
From "S." (December 2013): "I have just been following the instructions in the owners manual. I use off-road diesel because I have it for the tractor, wipe it on with a rag, brush with a stiff toothbrush, wipe it off and use compressed air to blow dry the chain.
You do need to hold a rag under the chain while hitting it with the air because you get as much dirt and grease off the chain as when you brushed and wiped.
My chain looked clean and I was surprised how black the rag got as I blew it off. There must have been a lot of stuff hiding between the plates you just cant touch with a rag. These were the materials and procedure recommended in the Kawasaki manual."
---
From "S.Z." (October 2013): "It seems obvious now, but a friend recently showed me his simple routine.
Ride fast and or far.
Return home with hot chain.
Use throw-a-way rag or paper towel and run chain through it. Boom. It's now clean.
Apply chain lube while still hot and clean.
Results: chain looks great, never builds up tons of black goo, and gets well lubricated."
---
From "C.P." (April 2013): "I too used to love WD-40 until reading that I was doing more harm than good. I have an old chain cleaner that came with a liquid that I cannot find anymore, so I tried using some motocross filter cleaner that I had from when I motocrossed.
Not needing it to clean the air filter since selling the MX bike, I decided to try cleaning my chain with it. Seems to do a good job. Hope it helps you guys. Love webBikeWorld."
---
From "A.L." (December 2012): "Just caught your very informative article and thought you may want to try this method.
Raise the rear wheel, put some kerosene on a thick cloth such as a cheap oven cloth, hold it around the drive-chain and carefully spin the rear wheel, this seems to remove most of the crud. Then I liberally spray 3 in 1 high performance oil on.
This has the advantage of being a genuine thin lubricant, that has good surface coverage, is kind to O-rings and seems to lift any remaining muck from tight spaces.
Then it's either left on as a protective layer if I'm laying up the bike, or I'll ride it once, wipe the chain when I get back, and then apply chain wax. I've had the same chain on my GSX-R 750 since 2007 and it hasn't needed adjusting in 7000 miles.
I agree, WD 40 is a bit risky, and is, strictly speaking, not a lubricant."
---
From "P.P." (April 2012): "I just read your articles on chain cleaning and didn't see any posts about the method I use.
I have a 93 Yamaha FJ1200, a 97 VFR750, and a 2003 Kawasaki ZX-6R. My Kawasaki original chain (I bought that bike new) lasted over 22,000 miles.
Considering that It's a 520 chain on a 113 bhp bike that is flogged, rapidly downshifted, and run on race tracks, I feel this is pretty good.
The VFR I bought only 7,000 miles ago and the chain was brand new from the PO, and I can't tell any wear on it. The FJ1200 I installed a new chain when I got it and 35,000 miles later I'm replacing it just out of superstition.
On all of my bikes all I ever do is put bar and chain (chainsaw) oil on them. I rather like the idea that the oil flings off along with the dirt and I don't have issues with oil flinging onto me or my gear.
For the most part I never really "clean" the chains, but occasionally during the winter after riding in the rain I may simply spin the rear wheel while holding a shop rag around the chain.
After doing this twice the chain will be cleaner than what I saw in the pictures on your site.
Bar and chain oil is cheap, biodegradable and available at every Home Depot. On the Yamaha I installed a Scottoiler, and with this I never, ever cleaned the chain – not once in 35,000 miles."
---
From "K.J." (March 2012): "Hi i currently use diesel, it being oil based basically like the kerosene. I personally haven't tried kerosene but i believe its a tad more expensive? Just thought I would shoot my suggestion!
Try it out, works wonders and I usually just soak a rag down put rear stand on and spin the back tire slowly. Chain cleaned and lubed in a total of 5-10 mins!"
---
From "S" (November 2011): "In reply to your How To Clean a Motorcycle Chain article, I stumbled across this product in one of the motorcycle forums where they discussed an article raving aboutDuPont Teflon Multi-Use Dry Wax Lubricant for use as a motorcycle chain lubricant.
From the research I followed up on this with, the stuff seemed amazing!
It goes on wet, then you let it dry, it doesn't attract/hold dirt (off road riders love it for this), it is said to make the chain very quiet, and on top of all this the chain life is extended and it looks shiny clean all the time!
The Problem: The chain wax I was currently using was recommended by one of the guys at Cycle Gear, but it didn't seem very good.
The chain was actually louder after cleaning and applying chain wax (it made clicking and humming noises), it did fling some of the stuff onto the chain guard (even though it said it wouldn't fling off), and it collected a lot of grime (even though it says it won't collect dirt).
So I decided to give the DuPont product a try since everybody who uses it seems to love it.
My Solution: I had to go to a couple different Lowe's stores to find it. It was about $5.00. I used chain cleaner to get the old chain wax and most of the grime off, and then applied the DuPont Teflon Multi-Use lubricant.
First Impressions: It cleans things even more as you apply it (there was still some grime/residue after using the chain cleaner). It goes on very easily, and it's not hard to keep it off of the rest of the bike (i.e. tires).
My chain is now 95% quieter – I noticed this even when turning the wheel by hand, but much more when I rode it.
Conclusion: Now I use this product exclusively to clean and lubricate the chain on my motorcycle. I also later found (the DuPont Teflon Multi-Use Dry Wax Lubricant review) on your site.
---
From "L.R." (April 2011): "My name is Lucian and I'm from Romania. I found this article and you want to hear about other solutions too.
What I use in cleaning is a brush (plastic hair brush like a tooth brush or something bigger) and the most important thing, kerosene, but I put it in a spraying can.
If you ask me how it cleans?… Then my response is: perfect. I use plenty of it and almost soak the chain in kerosene using the spaying can. That plastic can is one like what is used in window cleaning solutions."
---
From "P.W." (February 2011): "While I cannot divulge exactly which model I work on or which manufacturer of cutting edge fighter jets, I can say that work habits tend to make their way into the home garage.
There are may reasons to use chemicals sparingly. Sometimes it is the effects on things such as the x, w or old school O-rings for example. Other reasons are environmental and health reasons.
I have found a good way to clean a chain is to start by using cloths to wipe it off. The vast majority of the grime will simply wipe off the chain and on to the cloth. To get between the links on the sides I fold the cloth and run the crease between the gaps.
After I have wiped the outer sides of the links and the inside and outside run of the rollers its looking pretty good. I follow this up with using a tiny dab of engine oil and an old toothbrush on targeting any remaining grime.
I then wipe it down with an oily rag followed by dry rags until the chain has only a really thin film.
For lubricating the chain or more accurately mostly just the O-rings, I use Motorex 622 off road for both my bikes. It started on the DR650 knockaround bike that has a set of wheels and tires for commuting and another for hitting the local trails.
I liked how easy the grime wiped off since it was a nice thin coat that stayed put and did not attract as much crud as many other lubes.
A SoCal February rain even with sleet at altitude is so much nicer than the Minnesota winters I dealt with for 34 years so I even ride in the slop.
After seeing how effective what I was doing on the bike that literally gets ridden hard and put away wet I now use the exact same process on the Ducati SBK that sees local canyon roads and of course Willow Springs Raceway just 15 miles from my work.
I get a long life out of my chains just by cleaning them when they look like they need it and putting on the 622 to keep the rings from drying out. I do think there is some merit in the vacuum/pressure vessel that was mentioned by another reader.
I do think that pulling some more inches of vacuum and following it up with higher pressure than they stated would do a better job.
It is true that many chains do not have an easily removed master link but a replacement rivet master link is much less expensive than a replacement chain.
If you were to do on bike cleaning and lubricating most of the time and treat the chain to the vacuum/pressure treatment after a few thousand miles I am fairly certain you will end up getting considerably more miles out of each chain."
---
From "S.Z." (February 2011): "Responding to comments from "A" below: I have to agree with you (about getting 20,000 miles on a motorcycle chain).
My 2006 Honda VFR800 Interceptor has 34,000 miles on it and I am only now thinking about a new replacement set. Actually it is not even at the wear guide on the chain guard yet!
My mechanic said it wouldn't be a bad idea to change it though. He said he did notice a bit of side to side play of the chain. Anyone ever heard of that?
Anyhow… 34k miles and I only adjusted the OEM setup TWICE! Once at 16k and once at 32k! Maybe because the single-sided swingarm holds the chain TIGHT in a locked (ratcheted) position, rather that depending on two side bolts to keep the chain from working loose (or the bolts for tightening from slipping).
I always found double-sided swingarms pretty pathetic in the attempt not to slip and let the chain loosen. The chain is never 'locked' in, it's merely tightened down upon.
My FZ-1 chain required tightening about every couple thousand miles. I didn't ride it any differently than I do my Interceptor. IMO, just because a chain is loose does not mean it's stretching.
I do tend to agree about sticking with the OEM… Mine seems outstanding. My mechanic also stated that Honda tends to use top quality parts and hence the usually higher price tag for their bike vs. a similar bike by other Japanese brands."
---
From "D.M." (January 2011): "I prefer to go the economical route and use old engine oil. Rather than disposing of it, I filter it through a pair of the girlfriend's old stockings to get any objects out of it. Then I use it to lube my chain (warm or cold), applying it using a toothbrush and wiping off the excess.
Yes, I get a fair amount of fling off, but I don't mind cleaning the bike a little more and lubing the chain regularly if I'm paying zero for my chain lube."
---
From "T.C." (January 2011): "I've been reading with interest the chain cleaning article. I've had pretty good luck with plain old Simple Green….it's pretty cheap by the gallon and available everywhere. It seems to work better if the chain is warmed up a little.
I soak it real good for just a few minutes and then give it a real good scrubbing with a stiff brush.
I then re-apply and hit it again. Just a quick rinse with water and a short ride to dry the chain and it's ready for lube…I use Maxima chain wax. My current chain has over 25k miles on it, and it's in great shape. I do my cleaning routine every 4-500 miles."
---
From "K.K." (November 2010): "I agree with the comments that cleaning the chain often is the key to long chain life. I have over 15,000 miles on the current chain on my Aprilia Futura and it looks practically new. Here's what I do:
Every 500 miles or so (or when it looks dirty), I clean the O-ring chain with Finish Line Speed Degreaser Bicycle Cleaner and a Grunge Brush .
This is an environmentally safe cleaner that you can rinse off with water. After rinsing the chain, I lube the chain with Maxima Chain Wax.
This is a winning cleaning and lubrication combination that will keep your O-ring chain running and looking like new for a long, long time."
---
From "M.G." (June 2010): "Just popped onto the article about cleaning chains and thought I would add to it. For years I have used GoJo on my Ducati chains and it works great. I am talking about the original GoJo without pumice.
I apply it to the chain (liberally) and use a grunge brush to work it in, let it sit for 15 minutes then hose it off with water followed by compressed air to remove the water. I then immediately follow up with chain wax. After cleaning my chains look like new and still have the free movement as original.
I have nothing but time to back up saying that it does not hurt the O-rings in any way. I did a chain conversion on my 996 and this chain has about 10K on it. The chain still looks like new and has no tight links.
I have about the same mileage on the 851 chain and it also in great shape. There have been several other bikes that got the same treatment with no problems to chain life.
I think the key to extended chain life is cleaning often, lubrication, and proper chain adjustment."
---
From "G.M." (April 2010): "I just spent two days cleaning a chain. The previous owner used that useless sticky lube that folk believe is good because it won't fling off. The trouble is that it sticks and so everything else sticks to the lube too.
I tried 3-in-1 De-greaser. Useless waste of time and money. Next I used Hein Gericke Degreasing Gel. Waste of time and money. I bought a can of 'citrus' smelling de-greasing spray. Wurth…. Rubbish.
The only thing that would clean it was Turps or thinners. Brake cleaner will also shift old lube off but still needs agitation with a brush.
I have used one of those things that clamps to the chain and you fill with 'Special Cleaning Fluid'. Rubbish too. I think the chemicals melted the plastic case too.
So the only solution for a clean lubed chain is: A propshaft drive. A Scott Oiler. Or a Dry Lube. Profi Dry Lube. (But my Triumph chain side plates rusted when I used that. Though the chain was perfectly lubed)."
---
From "A.K.M." (November 2009): "I reside in India and own a Royal Enfield Electra 5s. It comes with an O-ring chain. In India, there is no availability of chain cleaner. As are result, I have to use kerosene or diesel. I believe that diesel is a better chain cleaner than kerosene.
This is because, kerosene dissolves the petroleum base of the grease more effectively than diesel. Diesel has lower penetrability than kerosene and therefore it takes more time to clean the chain.
In practice, I clean the chain with diesel and grudge brush, and after the cleaning is over, I make the chain bath in diesel by spraying it by a surgical syringe. The chain is left for overnight. By that time, the diesel dries up partially.
Next morning, the left over diesel is dried using a dry lintless cloth.
Now, to lubricate the chain I apply SP 90 grade gear oil, wipe out the excess oil with lintless cloth again. Keeping the rear wheel in a raised position, the motorcycle is put in first gear with zero throttle opening so that the chain rotates and the wheel turns.
After two minutes of this operation, white grease is applied to the chain so that the oil should not dry up quickly.
Grease being extremely viscous do not flow inside unless the chain gets heated up. So after a long ride, the grease and the oil makes a good viscous mixture inside the chain. The oil serves as a carrier to make the grease penetrate beyond the O-ring.
If one is interested to lubricate the chain with grease only, one can use engine oil of grade 30 instead of using 90 grade thick gear oil, that can ensure better penetrability of grease beyond O-ring. Here the light oil is used as a carrier for grease.
BBy doing this exercise, I am able to increase the chain life beyond its expected life while residing in the most dustiest city of India."
---
From "S.M." (September 2009): "I too got tired of using a scrub brush, etc. to clean my bike's chain. I had an unused sprayer (similar to this Chapin SureSpray 1-Gallon Sprayer
 ) that I decided to try. I put a gallon of mineral spirits in the sprayer and pumped up the sprayer.
Since mineral spirits is petroleum based, it doesn't hurt the rubber O-rings.
With the bike supported on a rear bike stand, hold a cleaning/shop towel under a section of the chain and spray the chain. You can use the towel to clean that section and proceed to the next section of chain.
Once the chain is relatively clean, I use a small air compressor (2 gallon) to blow dry the chain. Next apply Maxima Chain wax (review) per the manufacturer's instructions.
Since I started using the mineral spirits/sprayer, I have cleaned the chain twice and still have 2 or 3 cleanings left in the sprayer."
---
From "M.H." (September 2009): "I read your article on chain lube. With regard to WD40, my suggestion is this. Inflate a balloon and spray WD40 on the inflated balloon and see what result you get. This suggests to me that it would have the same effect, probably not as immediate, on O rings.
Last time I read the MSDS on WD40 it appeared to be mostly mineral oil.
On the subject of chain cleaning, one possibility could be delimonine (Editor's Note: Sold as Orange Solv), not as harsh as petroleum based products and takes longer to work but better environmentally. Not sure what it does to rubber or if it leaves residue?
Just a thought, never tried it. Getting back into bikes after 20 years so lots to catch up on. Thanks for your articles."
---
From "M.J." (September 2009): "I've been reading some of the reviews on Chain Lubes and cleaning and am surprised there's no mention of 3-In-One Oil.
It's specifically designed to be a penetrative lubricant, rust inhibitor and a cleaner. It therefore seems a better bet than WD40 for cleaning a chain.
I've used it as an emergency lubricant when touring in Europe, although it's really too thin. I've now started to use it clean off old wax, act as a base lubricant before spraying on 3 in 1s PTFE spray. Only time will tell how effective it is."
Editor's Reply:  Good tip, I'll have to try this for cleaning!
---
From "P.M." (August 2009): "I just ride the bike to a self-service car wash, put it up on the center stand, and blast the b'jabbers out of the chain, at 2″ range, with the hot soapy water. After rinsing, I immediately spray it with WD40 to get the water out of it.
The bike is then ridden a couple of miles to warm up the chain. After that, it's time for a good application of normal chain lube. This cleans and lubes the chains and sprockets really well and they seem to last a long time.
We were doing this to both street bikes and motorcrossers back in the '70's. The only difference in the technique for me now is that it now takes an heck of a lot more quarters!"
Editor's Reply: Not sure if we were using O- and X-ring chains in the '70's… Probably not a good idea for the power washer to blast soapy water through the O-rings at a 2″ distance.
---
From "E.C." (April 2009): "Just read your on-line article about cleaning chains, but not using WD40 as it displaces the grease, etc, etc.
My '04 KLR 650 at 49,700 kms is still on the original chain, cleaned only with WD40, and only adjusted 3 or 4 times.
As, on O-ring chains, you don't lube the chain, you lube the side-plates so that they don't 'gall' to the O-rings, destroying them, then the WD40 won't get past the O-rings unless they've been destroyed.
A friend in Scottsdale got over 30,000 miles on his original KLR chain using only WD40!  My '08 Versys is also on a "nothing but WD40″ diet, and at 8,150 miles the chain's not been adjusted yet.
Whenever I come back from a ride of 100 miles or more I spray the chain (I buy WD40 by the gallon, and use the plastic WD40 spray bottle, bought at Harbor Freight) and then wipe it with a rag. Both chains look new!"
---
From "A.K." (February 2009): "I read your articles about chain cleaning; very informative. I just discovered an excellent way to get really filthy chains super clean. I used automotive engine degreaser in an aerosol can. It works great and works fast.
I spray the chain, let it sit for a couple of minutes and lightly brush the whole chain on all sides. I wash it off with water blow it dry with compressed air and dry it with a towel to prevent flash rusting.
I also spray some WD-40 on a rag and wipe the chain also to prevent flash rusting. Then thoroughly lube the chain.
The O-rings are supposed to keep the original factory lubricant inside at the same time keep water and road grime out.
I think as long as you don't rotate the wheel/ move the chain a lot, the degrease won't get past the O-rings and just remove the surface grime.
I think it would take some positive pressure to get past the O-rings which are sealed pretty well.
What the degrease does is remove all the surface grime from the chain and "Outer" rollers that ride on the sprocket. It's the outer rollers that trap all the grit that leads to premature chain and sprocket wear.
The inner rollers are sealed by the O-rings."
Editor's Note:  Thanks for the tip. One other thing to remember — it's important to consider environmental factors when the degreaser is removed. Also consider health and safety issues while using any chemicals.
---
From "G" (February 2009):" Recently I had just about had it with all the 'expert opinions' on this stuff as it regards the cleaning and lubing of chains, particularly O-ring types. So I thought I'd go to the horse's mouth.
Further below is the entire response (from WD-40), but here is the meat of it:
"It is possible that if there is a special lubricant in the o-rings, WD-40 could act as a cleaner and remove that oil. The special lubricant would be replaced with WD-40. We are sure there are superior heavy-duty chain lubes on the market."
'nuff said. Thanks for all you do!"
"Thank you for contacting the WD-40 Company with regards to using WD-40 on o-rings. WD-40 is a multi-purpose light lubricating oil, which will displace water and moisture from the chain.
The "WD" stands for water displacement and acts as a rust preventative on any metal surface. WD-40 will not dry out the rubber O-rings.
We have found no visible effects on the surface of rubber and o-rings. Certain types of rubber will swell under prolonged immersion in WD-40 (this refers to long soaking and not just a spray).
WD-40 is also a cleaner, which will remove grime, dirt, tape, bumper stickers and oil. It is possible that if there is a special lubricant in the O-rings, WD-40 could act as a cleaner and remove that oil. The special lubricant would be replaced with WD-40.
We are sure there are superior heavy-duty chain lubes on the market. There are several people who recommend using WD-40 on their chains. Perhaps some experimenting with WD-40, as a water remover and rust preventative followed by a heavier chain lube would fit your needs.
The bottom line is WD-40 will not harm your O-rings, but it could remove a lubricant that was previously applied to the chain.
Thank you again for contacting the WD-40 Company. Please let us know if we may be of further assistance."
---
From "B.L." (December 2008):" Excellent survey of neglected topic.
Perhaps I missed it but I do not think mentioned is the fact that O rings are far, far more likely to fail (stop sealing) because of abrasion (rubbing in gritty stuff) than because of exposure to some chemical material.
So, any one who regularly & often cleans a chain of gritty stuff, regardless of cleaning agent, will have good O rings for longer than someone who cleans off the abrasive grit less often.
In truth the primary lube is behind the O rings, so, if they are kept good then the primary lube stays in place. That is why those who use something like WD40 very often to wash out the grit will have good results in chain life.
Those who use WD40 after the O rings are damaged already will dissolve & displace the factory applied lube with something much "thinner" not able to maintain lube film under a chain's specific loading.
Get rid of the grit often. Old tech materials work, new tech work. May be the frequency is really the first question.
Qualifications to comment?  Childhood spent in a machine shop. Started maintaining my own bicycle in late '40s. Four bicycles and 2 Ducs in the garage now at least one of which will be ridden today when temps go above freezing."
---
From "R.S." (November 2008):" I drive an old 1978 750 Honda Super Sport. It came with an "O" ring type chain.
This model also came with a heavier chain than previous year models. I broke the chain and bought Master links (one for a spare) for it for two reasons.
I do lots of highway miles and I feel the engine is running too fast while I'm doing 70 MPH down the freeway. I installed a smaller rear sprocket. I had to remove a few links from the chain.
The biggest reason for using a master link is that I can more easily remove the chain once a year in the winter to re-lubricate it.
As I pull the chain out, I also attach another "scrap" chain to the one I'm going to clean. This makes threading the chain back through the engine sprocket possible.
I started out just using a long length of wire, and pulling it through the engine sprocket. That works if you don't have any spare "scrap" lengths of chain, but gets tricky at times.
The main thing is don't pull the original chain out of the bike without dragging a chain, wire, rope or something to get the chain back in after its been lubed.
An "O" ring chain is good since it holds lube in longer. They do lose their lube though and the "O" rings make it harder to get lube back past the "O" rings and into the chain parts where it does some good.
I lubricate my chain by putting it into a pressure vessel full of my own ( you can make up your own mix) mix of hypoid lube, chain saw oil, STP, and a little grease.
(You can warm it up in your wife's old skillet she wanted to toss out because the Teflon surface disappeared).
After the chain is TOTALLY immersed in the oil, I put the lid on my pressure vessel and first draw a good vacuum on it. I get about 26" of vacuum with a hand pump.
I leave the vacuum on it for an hour or so. I figure that this draws out all the air from behind the "O"rings.
I then release the vacuum and apply 90 PSI of air pressure to the vessel.
This forces the "oil" past the "O"rings and into the areas behind the "O" rings. I leave the pressure on fir an hour or so. I'm not in a hurry, there is usually snow outside and I won't be riding for a while.
The chain MUST BE TOTALLY IMMERSED IN THE OIL MIX for this to work. Also, I shoot my chain every other day with a lithium based grease while I'm riding. I only have 28,000 miles on my bike, but the stretch over the entire length of the chain is slightly over 1/8".
I got the bike when it had 13,000 miles on it and have no idea how the chain was serviced."
Editor's Note: Thanks for the detailed feedback. Note however, that unfortunately, most modern street bike chains do not have an easily removable master link. Here's an article on changing a typical chain and sprocket set.
---
From "Lee" (November 2008):" Just found your web site. I like it.
I have 39,000 miles on my 04 Yamaha FZ1 and still have the original chain & sprockets. I have always used Maxima Chain Lube (review). A couple times, only a couple, I cleaned with WD 40, and once cleaned with kerosene, following up with the chain lube.
I lube liberally with the chain lube about every 600 to 1,000 miles. Wipe well with a rag and wipe clean the cogs on the rear sprocket. All I can say is 39,000 miles and I'm pleased.
I think a lot of guys replace their chains and sprockets because they think they should in the name of preventive maintenance. All I can say is 39,000 miles, regular saturation with my chain lube, and the chain still looks new and the cogs on the sprockets still look new.
Love your site."
---
From "H" (November 2008):" I'm surprised to hear that WD40 was being used for aircraft lubrication.
It's been over 20 years since I was an aircraft mechanic but we never used WD40 as a spray-on lubricant. I wish I could recall the mil-spec, but that was too many years ago now.
I can tell you that when lubricating the flap screw jacks (which was the only surface we used a spray lubricant on) it was a light oil more like 1 oil.
I would suggest that using WD40 as a cleaner is fine, followed by a lubricant suitable to the weather and riding conditions your chain is subjected to.
If one is concerned about the WD40 residue then try following up the cleaning with using pressured air to dry it off. Happy motor-biking."
---
From "LW":" Interesting article, I checked my Ducati service manual and this is what they have to say:
Washing the chain: Chains with O-rings must be washed in petroleum, diesel fuel or paraffin oil.
Do not use fuel, trichloroethylene or other solvents which will damage the rubber O-rings. Use only sprays which specify that they are for use with O-ring chains.
Lubricating the chain: O-ring chains have sealed, life-lubed link studs and bushes.
However, these chains need lubricating at regular intervals to protect the metal parts and to keep the O-rings soft and pliable for guaranteed sealing.
Using a brush, apply a thin protective film of high-density engine oil along the entire length of the chain both inside and outside."
---
From "H.J.":" Appreciate your coverage of this subject. The pic of WD-40 damaging the bearing (in this article) is misleading. It is a sealed bearing. WD-40 is a solvent.
Any solvent continuously used to remove the grease from a sealed bearing without re-lubrication would cause similar damage.
As to WD 40 getting past the O-rings. I don't know, but WD-40 is mostly Stoddard solvent with propellant (LP-i.e. petroleum based) and a light mineral oil and some antioxidants.
Stoddard solvent is a more highly refined, de-sulfurized version of kerosene with a lower flash point.
Stoddard solvent is what is used in parts degreasers. So if you take your bike to the shop and they clean the chain in their machine, they are essentially using WD-40.
One problem with WD-40 is that the lubrication system is a very light mineral oil. Much too light for service on motorcycle chains (but fine for many other applications).
This is where most people run into trouble with WD-40. They remove a heavy lube (90 WT or grease) and replace it with a light mineral oil.
Using WD-40 for "cleaning" a chain is fine as long as it is lubricated with the correct lube after cleaning.
BTW: If WD-40 gets past the O-rings, then so would kerosene, diesel and the parts wash stuff at the dealership. The problem with o rings is that some cleaners and lubes may contain ingredients that dissolve/damage the O-rings (111 trichloroethelene, MEK, for example).
Some people think camp stove fuel is a safe cleaner because they think it is a form of kerosene, but it's really a form of gasoline (used to be called "white gas" and was safe for cooking because it didn't contain lead and other motor additives).
Probably the most flammable liquid anyone is going to have around the house.
Kerosene has a lower flash point and is a safer cleaner. Diesel has ingredients to lube/protect fuel systems and injectors and no one knows what that stuff does to O-rings; maybe nothing, but it's designed to burn in diesel engines, not as a parts cleaner.
Stoddard solvent is a refined, deodorized version of kerosene (same ingredient in Safety Kleen's parts cleaner) and WD-40 is Stoddard solvent in a spray can.
So, I'll stick with WD-40 for cleaning because it's cheap and I know what's in it. Followed by a good lube, of course…"
---
From "S.B.": " I read several of your articles on chain lube and found the spot where you invited your readers to share the method they use to clean chains. Well, I have found that Simple Green is a very effective cleaner.
It also has the advantage of being water soluble, so it can be simply rinsed off.
Once the chain dries, chain lube can be applied without worrying that solvent residue will shorten the life of the lube. Also, it's biodegradable."
---
From "K.K.":" Was just reading your article as I found myself in a position with no chain cleaner, and no Kero. I noticed that you mentioned using the kerosene with a paint brush and then a grime brush.
I just thought I'd pass on some advice that my local motorcycle mechanics gave me when I was last there asking about the best way to clean a chain, both for cost and efficiency.
The one thing they greatly recommended AGAINST, other than the use of WD40, is the use of a brush to clean with kerosene, apparently this can also damage the O rings in your chain.
WD-40 is not recommended because of the issues you stated but also because if it gets onto your brake assembly, or tyres it can damage your grip to the road and stop your brake pads gripping.
They recommended dousing a cloth in kerosene and then using it to wipe down the chain. Hope this is helpful : ) Great article btw!"
---
From "J.N.":" I read your review and in my experience I have found no easier and economical way of cleaning a bike chain is with kerosene.
I usually fill an old plastic Chinese (food) takeaway carton with kerosene then grab an old toothbrush or two. Dip the brush in the oil then begin scrubbing the whole chain and repeat until clean!
Get your hands on a cloth and also dip it in to the oil, spin back wheel and then run it along the length of the chain to get more of the crud off the chain.
I ride my bike all year through all sorts of weather and depending on the lube that I use it attracts some serious dirt and grit. I think the lube is important to avoid hard cleaning jobs.
I find the dry sticky wax lubes are the worst for attracting dirt during the winter months and I now use a more oily lube.
I would recommend a Scottoiler for long term use and everyone I know who uses one have excellent chains in good condition and the oil flings off most of the dirt and requires less cleaning. I just need £70 to buy one though!"
---
From "C.W.H.":" The best cleaner for all motorcycle chains is using good quality mineral spirits. I learned this trick from my grandfather many years ago.
He was a machinist for many years and they would always use mineral spirits to degrease and clean many of their machines and tools. Mineral spirits are a petroleum based product that should not harm O-rings.
Mineral spirits are also used in conjunction with a oil as a lubricant/coolant when tapping and dying metals. I have personally used this method for years; on both on-road and off-road bikes. I love your web site, keep up the great work."
---
From "T.H.":" From my experience as a machinist, nothing cut oil and grime better than oil. I always just oil up the chain very well and use a rag to wipe it clean then re-apply more oil."
---
From "M.D.": " Hi there, thanks for the great site – pretty useful. About your article on cleaning the motorcycle chain, you may want to have a look at a product called the Scottoiler (review).
I had this fitted on my new Kawasaki ER-6F last year, and the chain is still good as new. This is the must have accessory to anybody that uses the bike on a regular basis.
Essentially it cleans and lubes the chain as you ride, and chain cleaning never features on my list of bike related chores.
I commute about 150 miles every day, rain or shine, except ice, and thanks to this device, the whole WD-40 debate, which is the best way to do XYZ to your chain is moot. Simply top up when the reservoir is empty and you are good to go.
I top up every two weeks or so. Check it out, here in the UK most commuters and long distance tourers have one on the bike."
---
From "F.S.":" Once again thanks for a great web site. I bought a new 2006 Suzuki GZ250 in May and was not happy with the chain lubricant I got at the dealers.
But after reading a few things on webBikeWorld, I felt confident on how to clean the chain (kerosene put on with a brush) and what lubricant to use ( DuPont Teflon Multi Use Lubricant).
My chain is now spotless and it'll be easy to relube every 200 miles or so."
---
From "J.H.":" I read all of your information on chain care before I cleaned mine for the first time.
I tend to use what I have on hand, so I grabbed my Simple Green concentrate, cut off the bottom of a soda bottle, and dipped my stiff nylon mini brush in it (full strength) and scrubbed away.
I rinsed it by spraying clean tap water from a spray bottle and it came out great!  I found theDuPont Teflon Multi-Use Lubricant (review) for $4.29 a can and it works great, can't beat the price. Keep up the good work informing us noobs on proper MC care."
---
From "G.C.":" Something I learned recently, to my surprise: I bought a DL-650 a couple months ago, and I just looked at the manual, which predicts dire consequences and says the warrantee is void if you use anything other than kerosene to clean the chain.
It SPECIFICALLY says not to use commercial chain cleaners or sprays, WD-40, or gasoline.
So I said what the heck and bought some kerosene. Well, it's a riveted chain and since I'm (lazy), I was looking around for some way to easily clean the chain on the bike w/o having kerosene go everywhere.
I had a 1-gal pressure bottle with a wand for spraying pesticide. So I poured the kerosene in that.
I put a large rectangular pan under the bike, then I found a piece of Plexiglas and I cut a quarter-circle in one corner so it would fit behind the sprocket. I used a small c-clamp to clip the other end to one of the suspension dog-bones.
I made sure the bottom of the plexi overlapped the top of the pan.
I pumped up the bottle, adjusted it to a fine spray, pointed it at the lower chain run and started spinning the wheel by hand. Bingo! in about 5 minutes I had a "brand new chain".
I didn't do ANY scrubbing at all! It took maybe about 30 turns of the wheel, I didn't actually count.
So I figured "well, that's a 3-month-old chain anyway, let's try that on the SV-650 with 18,000 miles on the chain" and it worked on that too. Tons of nasty black crap, grit, and red rust went into the pan.
The chain ended up much cleaner than the bottom pic of the Kettenmax (review). There was no grunge in the side plates or around the pins, and even the etched DID logos are clean. I ended up using about a 16oz cup of kerosene per bike.
The bug sprayer puts out an extremely fine and effective mist. And it was NOT messy. The plexi backstop directed all the nasty into the pan, and there was no over-spray.
Best of all, there was no effort involved. I drizzled some 90wt oil on afterwards as a lube.
So with a $15 sprayer, a $5 gallon of kerosene, and some other odds and ends, I do think I have the hot setup for cleaning my chains. I also have an excellent flamethrower if anyone tries stealing my bikes!"
---
From "A.":" Hi, just a note… I've been using WD-40 on my motorcycles for the last 20 years without a problem. WD-40 does NOT repeat does not eat away O-rings, plastics, etc, etc.
I have O-ring chains on my motorcycles and they last me 20,000 miles…repeat 20,000 miles.
All i do is every 200 miles or so, spray WD-40 on the inside of (the) chains.
So much that it drips off onto the floor. Ready for the next ride. I also spray it on all my bikes tanks then wipe off (the) excess and leave it… I also use WD-40 on my rifles all over, even the stocks.
Here's one, work this one out: someone years ago told me to store O-rings from garden hoses in WD-40.
As I noted they last about 1 year in normal storage. I bought a pack of these garden O-rings (20) got a jar, placed O-rings inside and sprayed WD-40 to coat them very well.
There's probably a quarter inch of WD-40 in this jar. I did this 10 years ago, and I can guarantee the O-rings are as good as the day I bought them. Work that one out.
So if garden hose O-rings can handle this I would say motorcycle riders have no worries when it comes to spraying WD-40 on ANY PART of a motorcycle.
One more thing: my mates bike white is same as my bike, sprays chain oil (proper stuff) he worked out the chain lasts approximately 12,000 miles. He's using WD-40 now."
---
From "J.G.":" Most of my riding buddies and I use el cheapo foamy engine degreaser to clean our bike's chains.
My 2003 ZRX 1200R is still on the original chain and sprockets, and the last time I had the wheel off for a rear tire change (at 10k miles), I could not see a visible difference when holding a new sprocket against the one with the miles.
I'm running Maxima chain wax, and apply a shot to the plates and ends of the rollers about every 500 miles. I clean the chain every 1000 to 1500 miles or so. So far, so good. P.S. I do use a brush… A toothbrush! :)"
---
From "S.C.":" Rick…you may want to give some more thought to the chain lube vs. WD40 debate. Just because an aerospace engineer states that it will penetrate O-rings doesn't mean this happens in the real world.
In fact I'm pretty sure it doesn't. His comparison/illustration is apples/oranges to our application.
Myself and many others have been using nothing but WD-40 on street bike chains for years, with no problems and no shortened service life of any kind.
Here's the bottom line in my opinion:
WD-40 doesn't eat O-rings, people keep saying it does but I haven't seen even one actual bit of proof On an O-ring chain, the lube for the most critical friction points is sealed inside (pin to bushing areas).
Based on practical experience, the WD-40 does not penetrate into this area, the ring seal has to be better than that to keep the grease in (it's pretty thin when it's hot) and keep water out.
No, WD-40 is not a very good lubricant, but a ring chain doesn't need one. Heavier, stickier chain lubes attract dirt, which can turn into a "grinding paste" and actually wear out your components faster With WD40, there isn't near as much of a need for cleaning the chain.
And you don't end up with a pound of junk trapped up in the area around the front sprocket, plus goo all over your rear wheel, etc.
Just to back up a minute…there is an impression that chains need to be lubricated. Do they? Well, yes and no. The whole idea of a ring chain is for it to be low- or no-maintenance.
Nearly all of the wear and friction on a chain is in the pin to bushing area, each pin to bushing interface must support the tensile load on the chain, and then pivot while under this load. On a modern sport bike, the pounds per square inch is amazing!
Luckily, the grease is sealed in and we don't need to worry about lubricating this area. So, we're not looking for a lubricant, so much as a cleaner/protectant (to prevent rust).
No, I don't work for WD-40 or get any kickbacks. If you are bored some time, check out yamahafz1oa.com and do a search on WD-40…there's input from hundreds of riders, not all agree of course but the majority of opinions and experience support my statements above.
Typically the chain lasts at least 15,000 miles if the owner leaves it long enough to find out.
As a side note: I have multiple bikes and do not use WD-40 on my bikes that have non ring chains. Standard chains need a real lubricant. Thanks!"
Editor's Note: Thanks for your comments, S.C., they will surely add fuel to the WD-40 controversy!
Note that R.S. in the Motorcycle Chain Lube article (who, by the way, is who is a chief airplane crash investigator for the National Transportation Safety Board), did not claim that WD-40 dissolved the O-rings.
He said that WD-40 "is largely a penetrant" and may dissolve the grease behind the O-rings, just as it has dissolved the grease behind the seal on the sealed bearing shown in the photo.
My own feeling is that this is more of a valid comparison than not…
By the way, I agree that most motorcycle chains are over-lubed and that most riders probably obsess way too much about this topic!
---
From "N.F.":" Read your article on lubing and cleaning bike chains.
The best solution I've come up with so far is to use Hondalube chain lube in the red can. It does a better job cleaning than WD-40 and, as it is a lube, will not do anything untoward to my O-rings.
Also, one of the best (albeit messiest) lubes for any chain is chainsaw bar and sprocket oil.
It's very very tacky to resist fling, and as it is a liquid oil (not a wax or a thin film product) it is sure to maintain a good bearing surface on your rollers. It will fling like a mother for the first few miles, though, even if you wipe off the excess."
---
From "J.R.":" Try PB Blaster
 penetrating oil spray from Wal-Mart, then Dri Film Lubricant spray from K-Mart, then wiping off the chain with an old rag, then Dupont Lithium Grease spray from Lowes. It works well for me."
When I questioned the use of PB Blaster on O-rings, J.R. responded:
"The directions for PB Blaster penetrating oil says it improves damaged O-rings, with fixing a leaky toilet valve as an example on the can.
I did try it for a leaking toilet valve first, which worked fine again for a few more months, but the smell of the oil in this small bathroom was bad the first few days.
I am thinking the next 2 sprays I add get drawn into the chain by the penetrating oil, wherever the O rings have a small leak that allows the original grease to start coming out.
My stock DID O-ring chain and sprockets have 8,000 miles on them, and the chain has only been adjusted once so far, with about 5/6 of the wear length left at the axle.
I am doubting the chain will last 48,000 miles for the mostly curvy country roads that I ride on, but will find out.
A good chain to try is the Parts Unlimited X-ring chain … according to my mechanic near Frankfort, Kentucky. He only sells Belray Superclean and Chain Wax for lubing chains, though."
---
From "G.S.":" I have to disagree with your response to "JK". The grease is sealed behind the O-rings. Unless you use a pressure washer to force the EcoTech past the O-rings, the cleaner is not going to hurt the chain.
Since this 'degreaser' came packaged with my Grunge Brush, I'd expect it to be compatible with O/X-ring chains.
I simply pour some on a rag and rub the chain down the same as if I was using kerosene.
The key to keeping your chain well maintained is to keep it clean and lubed. Letting 'grunge' build up to the point of it becoming a chore to remove, means your lagging on your chain maintenance.
As far as lube, every owner's manual I've ever had has said to use plain old motor oil. I use 90Wt gear oil. Other than a little fly-off, never an issue.
I think people who use spray-on chain lubes get a false sense of protections and have a tendency to neglect proper maintenance. Kerosene to clean and moto oil to lube. Works great and it's cheap!! The perfect combination.
---
From "J.K.": "Love the info on the web-site. I'm a bicyclist who recently purchased a motorcycle. For my bicycle, I have found Finish Line Citrus Degreaser (bio-solvent degreaser) works amazingly well on the chain.
I am considering trying it on my motorcycle. The only thing I don't know is if it would be too much of a penetrant like WD-40.
Although I haven't tried it, their EcoTech2 degreaser is claimed to be safe for O-rings. Bicyclists seem to have many more options when it comes to chain cleaning than motorcyclists.
Maybe because legs get direct feedback when you have to pedal harder, it's a more natural consideration for cyclists. Keep up the great work!"
---
From "P.B.":" Rick, I came across your article regards a chain cleaner, which looks a bit late in the day for this response, but I would like to add my two penny's worth I suppose.
I have used WD-40 on my chains for years, mainly on my daily use (14,000 per year) XJR1300.
And although in one way I support you friend's comment (the aero-engineer), in another you have to remember bike (motorcycle) chains are not generally machined or produced to this level of spec (the bearing).
So a certain amount of latitude can be allowed; after all, if it was too fine a clearance, the oil could not penetrate.
If you use WD-40 to remove oil, it is important to get rid of the WD-40. I have always cleaned my chains in WD-40, wiped the chain clean with a lint free absorbent cloth, and then lubed my chain, NOT with a wax lube but a penetrating lube.
Run the bike around the block for a couple of miles at low speed to warm it up and get the lube to penetrate, come home and coated it again. As I said its always worked for me, and I know a little about Tribology in my job."
---
From "N.M.":" What I've always used and seems to do no harm to the chain is regular degreaser (usually Orange Clean or Simple Green), the grunge brush, and water.
When the chain looks rather nasty, I spray the chain with degreaser at the rear sprocket while I rotate the wheel on a rear stand.
Spray both the outside and inside of the sprocket to get both sides of the chain. Let it set for a few minutes.
Then scrub away with the grunge brush. Been doing that for 36,000 miles and two chains, this cleaning method has never done me any harm."
---
From "T.D.": "I've been cleaning my chains with WD-40 for 20 years. Spray it on and wipe it off with paper towels.
I also clean suspension and wheels with WD-40. I have had no problems with WD-40 regarding the chains, however, I do use a chain oiler. I never get less than 20,000 miles from a chain. Who knows?"
---
From "S.S.": "I saw the latest article on chain cleaning and it got me to thinking. (Dangerous!)  I use a product called Ballistol All-purpose Lubricant on my firearms.
It's used as a cleaner and lubrication. It's a do it all type of product as well.
I was just wondering if it might be used as a chain cleaner without the supposed bad side effects of WD-40. I'm not sure if it would be a good chain lube as it's a bit thin. But I figured I would mention it in case you wanted to take a look at it."
---
From "L.I.": "I recently read your article about cleaning motorcycle chains. I ride bicycles a lot and also a Suzuki SV 650. For about a year I used White Lightning Clean Streak Bicycle Degreaser on the motorcycle chain along with a Grunge brush.
This combination works well on my bicycles and it seemed ok on the motorcycle.
Starting about 6 months ago I switched to using Motul Chain cleaner and it seems to work pretty well.
I use it sparingly in a well ventilated area since the fumes seem really noxious. After 3 or 4 applications I am still on my first can of the stuff.
I after cleaning the chain I let it dry for 10 or 15 minutes then spray Bel Ray Chain Lube (review) on it. I also spray some of the chain cleaner on a rag and wipe down the rear sprocket.
I like that lube because it leaves a white film so I can see what part of the chain I have already covered. This lubricant does not fling off and seems to hold up pretty well here in Seattle, where it rains quite a bit."