Motocross Chest Protector Review and Comparison
ATV and MotoCross Chest Protector Reviews – If you ride ATVs or Dirt Bikes long enough two things may eventually happen. The first is falling off an ATV, the second is ALMOST falling off and the second is just as dangerous. Why? Because when you come to a quick stop or go over a bump unexpectedly you can hit your chest against the handlebars. A chest protector from Thor, O'Neil, Shift, EVS, No Fear, MSR, Answer, Alpinetars, Sidi, Gaerne, Acerbis, Troy Lee Designs and others help prevent serious injury.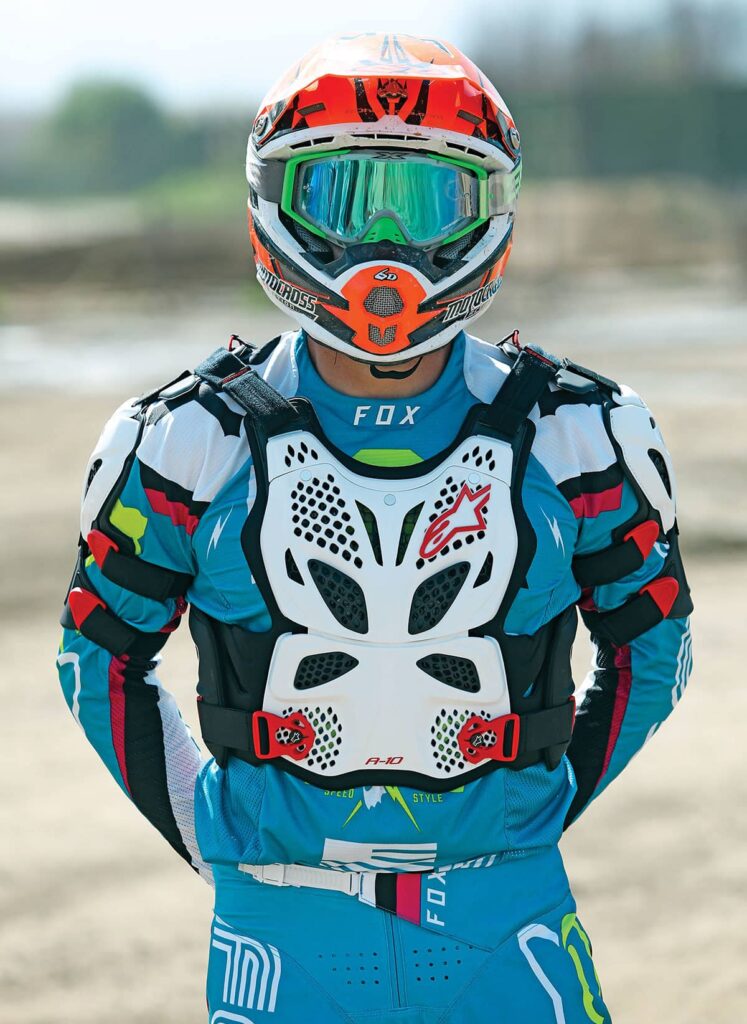 ATV and Motocross chest protector reviews are intended to supplement other resources on site. What size chest protector do I need? What is the best brand of chest protector? Has a chest protector ever saved you? Do I have to use the clamps on my chest protector for it to work or can I just leave it undone when it's hot? Get answers to Chest Protector questions from the ATVStyle community.
MSR Chest Protector
An MSR Impact chest protector is technically advanced body armor for the serious MX and ATV rider. You know MSR has a winner on their hands when ATV riders start saying they forget they were wearing it. Having no fear of impact while wearing a comfortable chest protector are two very good features to have when you're pulling up to the starting line.
MSR has added a few more features to the Impact chest protector, you know, in case you need them such as lightweight polycarbonate materials for strength and an anatomically arched back design. Did I mention that it weighs just 2.3 lbs? Good stuff in a good looking deflector, MSRP $119.95 MSR MX. MSR takes ATV safety gear seriously, so should you!
Fox Chest Protector
The Fox Racing Airframe roost deflector offers excellent back protection, is extremely comfortable and it works well with a Leatt Brace in place. Fox Chest Protectors are generally lightweight, easy to put on designed to provide great airflow. If you're like me and stand over 6′ tall weighing over 200lbs you'll find a Fox chest protector perfect for your size, none of that too snug pinching feeling from Fox products, assuming you take the time to adjust them properly. The gray area around the stomach portion of the chest protector is actually clear but looks gray due to the padding behind it. Overall the Fox chest protector is an excellent piece of safety gear for riders of all sizes.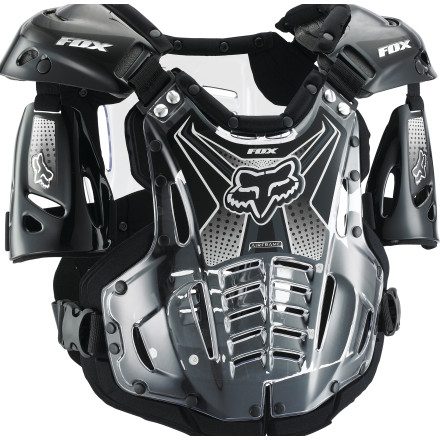 You can pick up a new Fox Chest Protector from several Fox Racing dealers, a full list of them is available on the Fox website. The Fox Chest Protectors above are straight from current listings in the marketplace where you might also be able to find a bargain. Share your thoughts about Fox Chest Protectors.
Oneal Chest Protector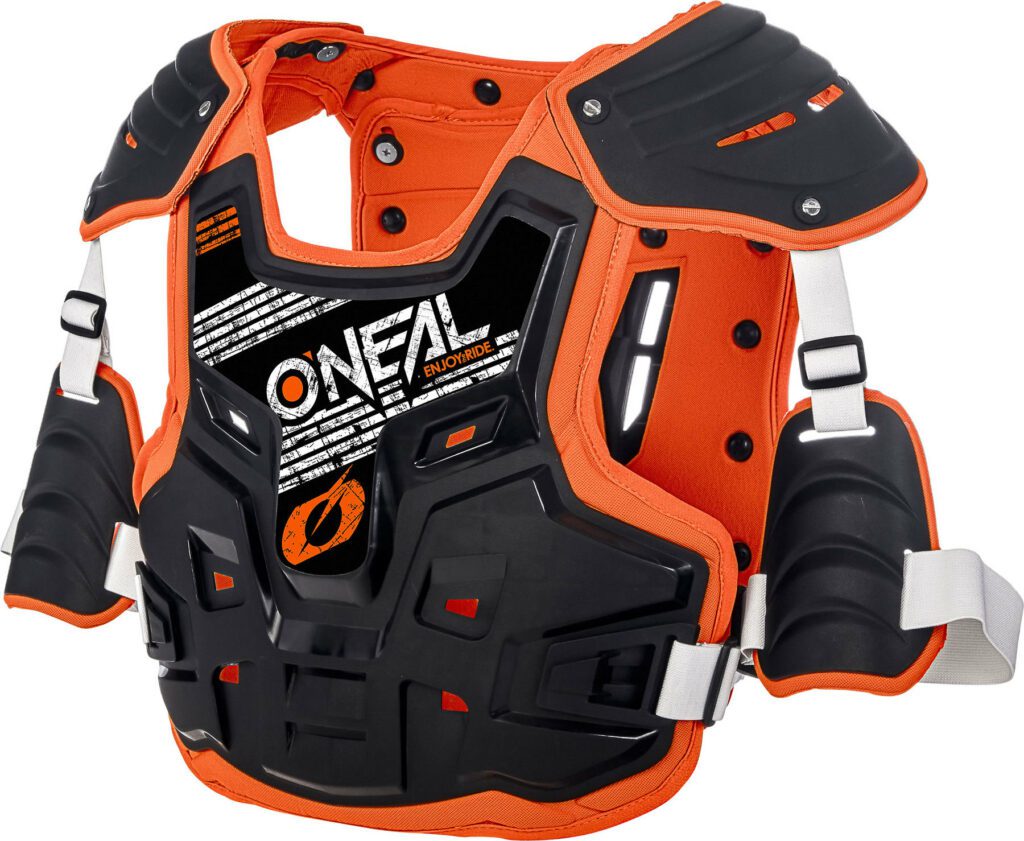 The O'Neal Chest Protector is made of high impact plastic using an injection manufacturing process. That might not sound particularly impressive but it forms the basis of a solid ATV or Motocross safety product that will last a long time. O'Neal chest protectors also feature durable graphics, spandex side straps and adjustable netted shoulder body armor to achieve a perfect fit which is CRITICAL for safety. O'neal offers several different chest protector models including the Hammer, Matrix and Striker chest protector.
If you take a close look at an O'Neal Striker chest protector you'll notice that the graphics are actually embedded into the product instead of just on the surface, this means you could throw the chest protector on the ground, jump on it repeatedly and it would still work and look great. I don't recommend you abuse safety gear like this but if you wanted to.
You can pick up an O'Neal Chest Protector new or perhaps find a bargain on a used chest protector at auction. Reducing the number of ATV accidents requires safety awareness, reducing ATV injuries requires safety gear, O'Neal can help with the later.
TLD Chest Protector
When it comes to winning ATV and Motocross races a small amount of intimidation is a good thing. It helps to have a finished appearance when you pull up to the starting line, Troy Lee Designs chest protectors look great and are available in Blue, Clear, Gold, Red, Smoke and White.
The Troy Lee Designs chest protector is affectionately called body armor by the TLD crew and if your competition is checking out the body armor instead of concentrating on the race ahead they very well may be seeing your body armor from behind while eating your roost. Troy Lee Designs chest protectors are made of shatter-proof plastics, color matched bio-foam w/ available matching jerseys and pants.
New Troy Lee Designs Chest Protector body armor is available from the Troy Lee Designs online catalog and new/previously owned Troy Lee Designs Chest Protectors are also often available at auction.
Acerbis Chest Protector
When you ride ATVs and dirt bikes hard you want peace of mind in knowing you've done everything you can to remain safe. Acerbis steps up in 2009 with a high quality pair of chest protectors, also known as roost deflectors, to get the job done.
The Acerbis chest protector line features different styles for men including the Impact and Zoom II models, the Zoom 2 chest protector is also available in plus sizes. A review of key Acerbis chest protector features finds that they offer exceptional directional venting, floating and removable kidney pads and a new buckle system that provides a secure fit. The Impact series of Acerbis chest protectors is designed to be race ready. Armor up and ride safe!
About Acerbis: Acerbis is based in Albino, Italy and you can pick up a new Acerbis chest protector by visiting one of their dealer network sites, a complete list is available on the official website at Acerbis USA. Alternatively you might find a good bargain at auction too.
Thor Chest Protector
Thor likes to call their chest protectors roost protectors and in 2009 they produced several versions including the Quadrant, Force, Sentinel and Impact chest protectors. Thor took the big man into consideration by offering an XL version of the Thor Force chest protector capable of fitting someone 200 to 320 lbs. Some features that Thor put into it's chest protectors are actually pretty neat like the ratchet closing system and triple layer back protection. Many Thor units have a futuristic feel which is fun in an ATV safety product.
If you're in the market for a new Thor chest protector you'll find a full list of dealers on their website, Thor doesn't sell chest protectors directly to customers as I write this. You can also find a deal at auction where some licensed Thor dealers do sell their chest protectors.
Alpinestar Chest Protector
Alpinestars manufactures excellent chest protectors in a product line called the Storm Chest Protector. Features I appreciate most in the Alpinestars chest protectors are the pivoting and removable upper arm protectors, sufficient padding anywhere skin contact is made and that they can be worn both over or under other clothing easily. 2009 Alpinestars Chest Protectors are available in red, black and blue and come in all sizes including youth.
You can pick up an Alpinestars Chest Protector new from alpinestars.com or perhaps find a bargain on used chest protectors in the marketplace.