The Evolution of the Power Distribution Unit
The Motobrain Power Distribution Unit (PDU) is the most advanced power distribution system available for motorcyclists.
A PDU is an accessory "hub" or component that provides a centralized electrical distribution centre for connecting all sorts of electrical accessories without having to power each accessory individually from the battery.
This "hub" can have fused circuits or be completely solid state, but no matter its architecture, these devices provide a logical, safe, easy and cost effective way to connect, configure, manage and control various accessories on a motorcycle.
The Motobrain uses advanced hardware, firmware and software technology to provide 100 amps of total capacity useable across eight discrete outputs.
But what makes the Motobrain such a class-leading system is its ability to also connect with and manage input from other electrical devices through the eight input connections.
This feature means that output control can also be provided by external devices or switches using the input circuits, with the Motobrain app providing the configuration routines.
The Motobrain is indeed "smart", given its sophisticated on-board firmware and an equally sophisticated configuration and management app for iOS or Android devices.
Multiple Motobrain PDUs can be installed if more than 8 connections are needed.
Once the app is installed on a compatible Bluetooth Low Energy (BLE) device, it is capable of managing multiple Motobrain PDUs (each one has its own unique identifier).
The app communicates with the desired Motobrain PDU, enabling direct and simple control of that PDU.
So once the desired input and output connections are made between the accessory and the Motobrain, configuration and management is done via the wireless Bluetooth link via the app.
Thus, "hands-on" becomes a screen exercise.
Updates and enhancements to the Motobrain have already been implemented and more are planned.
The features are a breeze to exploit, as the Motobrain system can receive and seamlessly install over-the-air (OTA) firmware updates.
This is another unique capability for a very unique product.
Industry leading features and multi-faceted programming functionality sets the Motobrain system apart from competing products; it has no peers at this point in time.
A good example of how the Motobrain can be used to connect and manage motorcycle accessories can be seen in the following sample wiring diagram: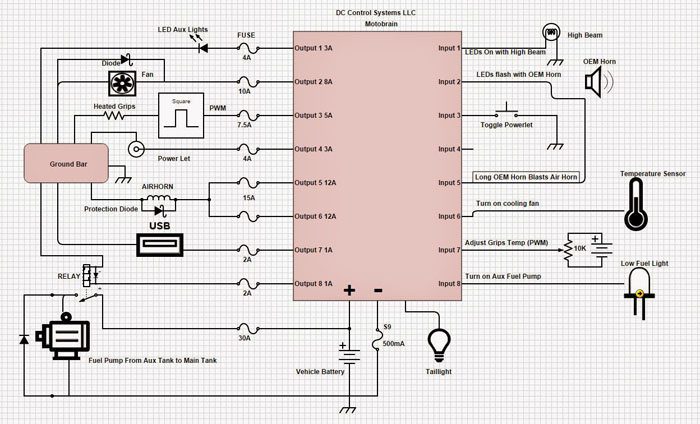 Introduction
A large number of power distribution systems are available for motorcycle use but only two — now three — provide a programmable management capability.
To our knowledge this short list consists of the Rowe Electronics PDM60 that is programmed using a data cable and "Dashboard" software.
Also the newer Arboreal Systems Black Box Neutrino (review), which uses a wired (USB) or wireless Bluetooth LE (BTLE) interface and Cockpit Controller app to provide a dynamic interactive management interface.
And the third? It's called the Motobrain PDU.
It's an encapsulated eight-circuit 100A power distribution and management system functioning like other solid state systems on the market in providing multiple output circuits.
Like the Aboreal Systems Neutrino, the Motobrain uses a Bluetooth LE link and an iOS or Android app as its user interface for configuration and dynamic circuit management.
But the Motobrain — designed by a motorcyclist who is also a software developer — has one very distinguishing feature: the ability to accept inputs as well.
This capability provides the means to configure and manage complex power and switching environments for a wide variety of powered or power-sports platforms, including motorcycles.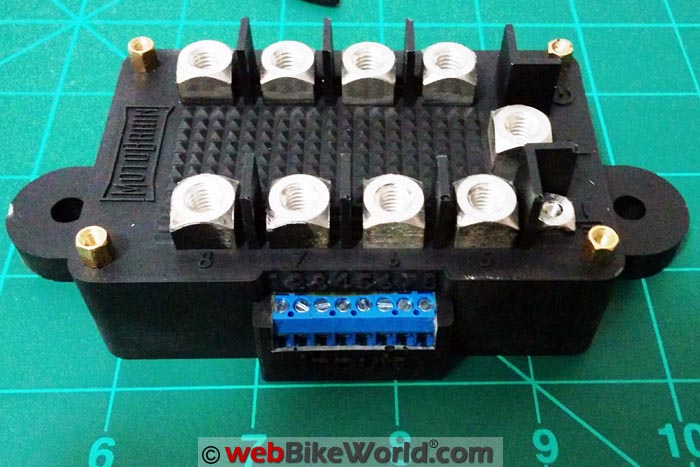 What Is It?
In following development of the Motobrain product, once it became widely available late last year, the Editor arranged to obtain one.
This provided me with an opportunity to install something new, with the side effect of helping to shed some of the cabin fever present over a (very) long winter.
Once connected to a 12V DC source on the motorcycle, the Motobrain supplies power to all sorts of things: auxiliary lights, power ports, heated gear or heated grips and relays.
Everything input and output related is configured and managed dynamically by a Bluetooth 4.0 Low Energy wireless link to phone, phablet or tablet, using the Motobrain app.
To use a Motobrain quote: "It is like networking for your vehicle's electrical components." Here's a brief (1:50) YouTube video describing the Motobrain.
The Motobrain isn't small, measuring 3.8 x 6.35 x 8.89 cm (1.5 x 2.5 x 3.5 inches), so it does require more of a footprint and it also sits higher once its acrylic top cover is installed; more on that later.
The Motobrain PDU makes a good first impression exuding quality and strength with its rugged heat-sink focused housing, large connection lugs and thick strong mounting base.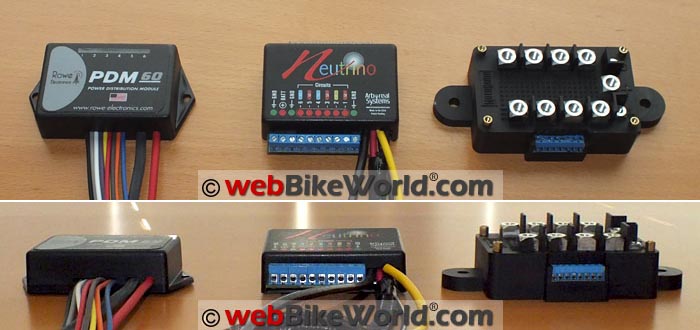 Motobrain Details
A browse through the development blog on the Motobrain website reveals that the electronic components inside are of equally high quality, all evolved from extensive testing during development.
The PDU requires three connections: a main 12VDC input of the appropriate AWG to handle the nominal/maximum 100A load; the PDU chassis ground (not for outputs) connected to the negative side of the battery; and a relay wire from a switched 12VDC supply as the trigger.
Like other motorcyle Power Distribution Units that are available today, the Motobrain provides multiple circuit linking for heavier load requirements (like a high-draw horn).
But, a maximum of two circuits is recommended and they need to be turned on with a (single) Input so that the outputs status stays in sync.
The Motobrain system has the ability to detect and manage multiple PDUs.
Each Motobrain PDU has a unique machine or Hex code assigned for identification and a unique name can be assigned to each PDU as well. The app will detect all PDUs within range.
Security
Another very unique feature is its security layer, accessed via the System Configuration screen on the app. If configured, access to and control of individual PDUs and channels can be tailored as desired.
For multi-PDU and multiple platforms with high value devices being managed, this is or can be a critical requirement and it is a very good thing.
Electrical Drain
Like similar systems, the PDU has some parasitic electrical drain, drawing about 25mA for 24 hours after it is switched off. The device actually goes into a "standby mode" so the user can operate it from an in-range mobile device if desired.
But after 24 hours, the PDU shuts down completely and draws basically zero current.
Video-Based Setup Instructions
There isn't much in the way of instructions or a formal user guide packaged with or available for the Motobrain.
In an approach used by other products, virtually every feature and function of the Motobrain is covered in a growing series of short videos posted on the website.
The videos don't (completely) replace a standardized print or on-line/downloadable reference guide but they are informative. But you'll need to pay attention or you might miss something or just replay the video as needed.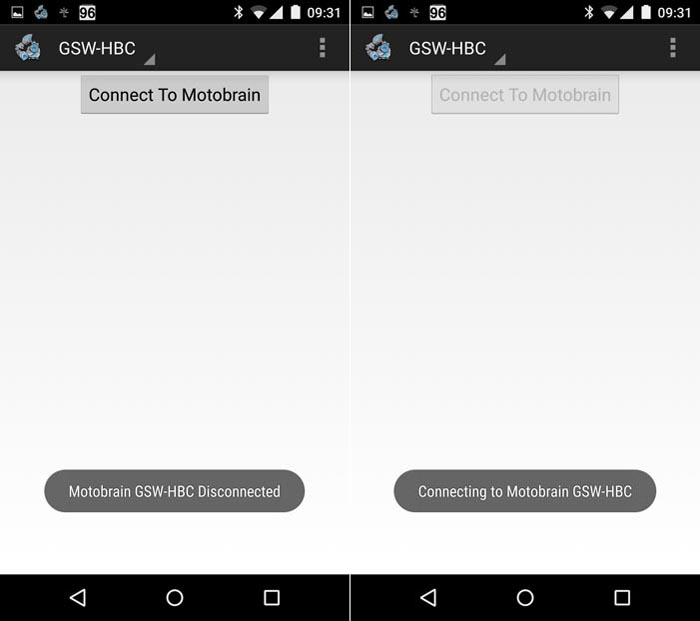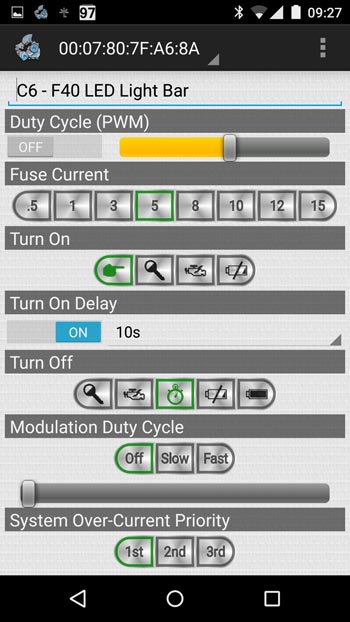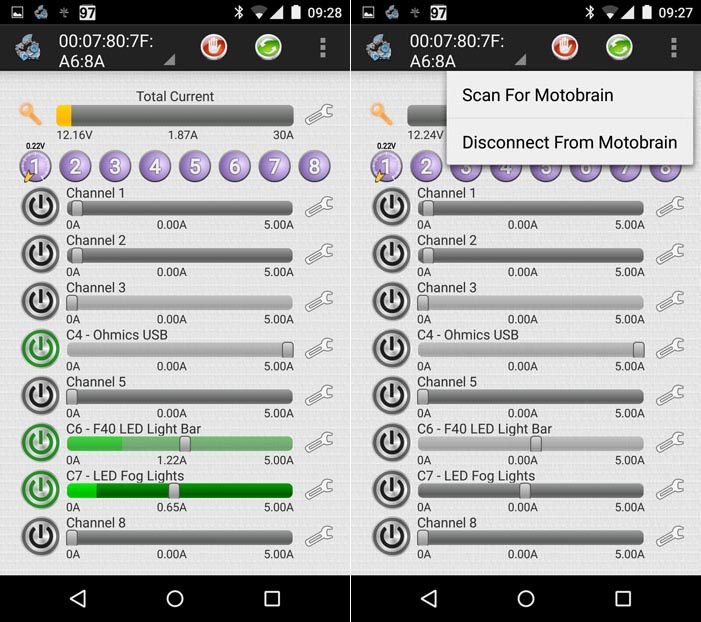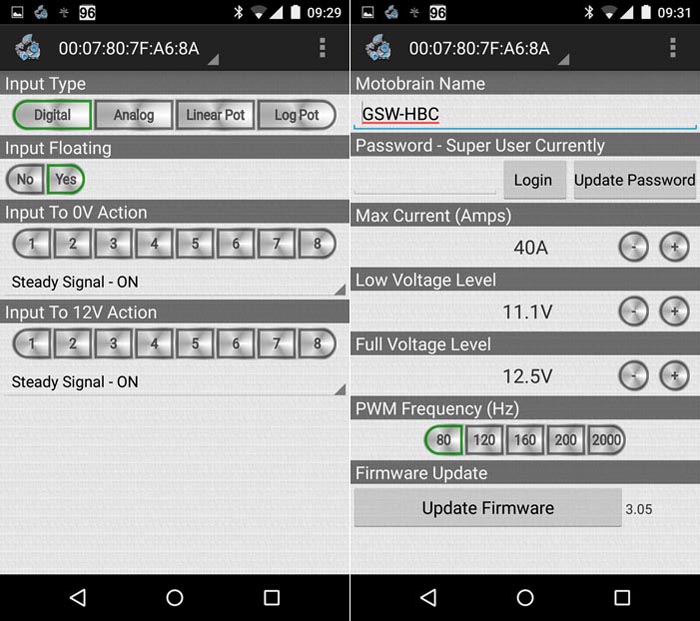 Motobrain Outputs and Inputs
Outputs
Where most related products provide up to six output circuits, the Motobrain provides eight 12V DC output circuits for your accessories.
Each output can handle 15A maximum, while the total PDU capacity is 100 Amps across all 8 circuits.
Note that the Motobrain PDU does not provide a common ground bus, so a ground path is needed for each circuit.
Also, the size or gauge of wire used for positive and negative connections must be based on the expected sustained or maximum current draw of that output.
Output circuits are programmable and configurable to activate or turn off by key, ignition, timer or voltage conditions (low or high threshold). Pulse wave modulation or PWM settings are configurable as well.
Inputs
One unique feature of the Motobrain PDU is that its 8 inputs are located on a small front-mounted screw-type connection strip.
These inputs provide a means to access and control PDU output using other wired electrical connections, relays and switches, although input and output configuration is still needed using the app.
Each of the eight programmable inputs can behave as a digital or analog input.
Digital input can sense Ground, 12V or a disconnect condition; analog input senses any voltage between 0 and 20V. These features provides lots of options in allowing outputs to be turned On/Off or activation delayed until a good signal is received (defined parameters).
Outputs can also be toggled and PWM can be adjusted in steps or output linked to input voltages.
Installing the Motobrain
The Motobrain PDU is somewhat larger than other power distribution products, although one has to appreciate design, components, capacity and heat dissipation as factors in the resultant form.
While the need for some extra footprint space was (somewhat) easily accommodated in my motorcycle, the height of the Motobrain PDU was a different matter, becoming an issue once the thin acrylic cover is installed.
Slim, trim and modular, the new BMW R 1200 GSW has less available space overall compared to earlier GS versions, including the often used tool tray section under the seat that doesn't exist on the newer GSW and GSW Adventure models.
But a few minutes of visualization and some test fittings in various spots narrowed the candidate spot down the top surface of the rear fender area accessible by the large cut-out on the new easily removed rear deck component, where the OE alarm and TPMS modules have residency.
Two strips of 3M double-sided adhesive applied to the centre bottom of the Motobrain module provides a grip with minimal addition to the height.
I positioned the Motobrain module slightly to the right, with the lower front edge of the input connection strip pressing up against the back mounting point of the TPMS module.
With the Motobrain PDU secured and the clear cover installed on top, setting the front section of my Alt Rider luggage system into place results in about 3 mm of clearance between the plate and the PDU cover — close, but enough.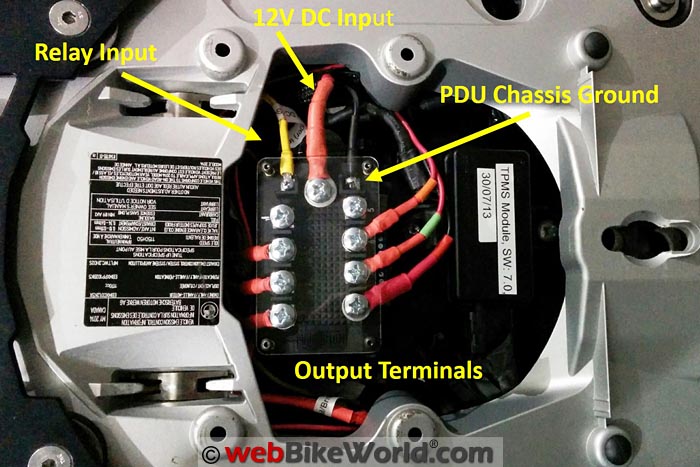 Managing the Motobrain
Motobrain Android and iOS apps are available from their respective web stores. The Android app (current is v1.9 released 31 March 2015) works with Kit Kat (4.4+) but Bluetooth 4 Low Energy (BTLE or BLE) compatible hardware/firmware is needed.
The Apple app (current is v1.3 released 28 January 2015) works with iOS 7+ devices that are BTLE compliant (including the older 4S smartphone).
A Note on BT Low Energy: Typically identified as "Bluetooth Smart", "Bluetooth Smart Ready" or "BT Low Energy" (BTLE), Bluetooth Low Energy was merged into the main Bluetooth standard in 2010 with adoption of the BT Core Specification Version 4.0.
Not all BT 4.0 equipped devices are actually BLE compliant and as such may not work with the Motobrain or other devices (like the Neutrino) that also use the BTLE interface.
The iPhone 4s and Nexus 5 devices work just fine with the Motobrain, but the aging 1st gen Nexus 7 won't and can't support BTLE, although other tablets even older work just fine — a situation not uncommon within the Android device universe; some wise shopping is needed.
A good reference site for compatibility listings is the Bluetooth website which maintains a detailedBluetooth Smart and Smart Ready compatible product listing.
Earlier versions of the Android app tended to not release from the Motobrain or prevented Bluetooth from being turned off even after the 24 hour period. This was somewhat disconcerting (and annoying), as it usually required a reboot of my Nexus 5 phone to restore the desired configuration.
But this was quickly fixed and both iOS and Android apps now work almost seamlessly, disconnecting as instructed and boasting new features that help exploit the enhancements added to the Motobrain.
Function and Performance
Starting Bluetooth and turning on the ignition, then launching the Motobrain app results in the Motobrain PDU being found in a few seconds.
Once the connection is made and any password entered, the system is accessible from your fingertips.
Pre-configured input and output channel settings will be loaded in and based on the parameters set this information is displayed on the screens so they can be reviewed or modified if desired.
Main Control and Status Screen: Basic data read in from the accessed PDU includes system voltage, total current, channel current, channel PWM, channel current limit and channel status. Other system information is displayed along the top section.
Primary control of the individual channels is done from this main screen and pressing the "wrench" icon to the right of each channel bar brings up a separate Channel Screen for the selected channel.
Channel Screen: Provides the means to view, configure or modify channel settings, including the naming of each channel (recommended).
Basic information and change options include:
Duty Cycle PWM status (slider control);
Fuse Current selection from 0.5 to 15A;
Turn On, Turn-On Delay and Turn Off settings;
Modulation Duty Cycle (Off, Slow, Fast); and
System Over-Current Priority.
In going back to the main screen, pressing the "wrench" icon to the right of the Total Current scale brings up the System Configuration Screen, while pressing any of the Purple Input buttons (1-8) above the channel listing brings up the Input Configuration Screen.
System Configuration Screen: Allows naming of the PDU (GSW-HBC), setup of desired access passwords (Super User or User inputs) and setting or changing other basic system parameters.
Input Configuration Screen: From here, the user can configure individual input conditions or parameters to activate an output channel or channels.
For my configuration, I have one set of LED lights running off an output circuit that is controlled by an external switch on the matching input circuit, keeping things better organized in some ways (something that needs to be kept in mind for more complex environments).
Other circuits I use are configured for the desired output; the multiple 5V USB and single 12V coaxial ports turn on after a 10 second delay and the daytime running light LEDs come on after a 30 second delay.
Stopping and Disconnecting the Motobrain
Stopping, disconnecting from or reconnecting to the PDU via the app can be done any time using icons along the top row, although disconnecting from the PDU and exiting the app should not be done while on the move.
And stopping the PDU and exiting the app is the best routine to keep the PDU and interface devices operating seamlessly together.
The Motobrain PDU has a lot of capability and this is reflected in the app with its multiple screens and interactive icons/buttons/slider controls, especially as found on the main interaction screen.
As such, input needs to be precise — using a larger screen phone, phablet or tablet helps.
If wearing gloves, something like the Nanotip glove coating (review) can make a big difference. And as always, interaction with the system using the app should only be done when stopped.
More on the Motobrain App
Only portrait mode is supported in the Motobrain app, which does facilitate the listing of all eight circuits in a single view.
But on smaller screens, the display becomes crowded and user input can be very difficult. It would be better if this page could be laid out as two screens and/or displayed in landscape mode for a cleaner layout with larger interaction controls.
My current "thumbs-up" standard is the layout used for the Neutrino Black Box app.
Something that doesn't need any tweaking, at least from my perspective, is the Motobrain's ability to receive and install over-the-air (OTA) firmware updates. This is both very cool and again, unique.
With the Clearwater CANopener system on my BMW GS, managing the two high-output LED lights, the Motobrain isn't heavily tasked overall, although lots of playing with installed accessories and test kit has been done during this evaluation. Playtime is good and always educational!
But my near-term plan will see the Motobrain PDU moved over to an older Beemer that has disparate electrical accessories, relays and switches that will provide a more diverse environment for the Motobrain's extensive capabilities.
The Motobrain PDU really does provide a lot of versatility in being able to configure and manage both inputs and outputs for simple to complex environments
A good overview of what the Motobrain can be configured for is provided in a configuration options diagram from the website that is presented in the Summary section above.
Motobrain vs. Neutrino
The basic input and output control steps and resultant actions in using the Motobrain are described in this review at a high level, rather than step-by-step. It is somewhat difficult to describe these new types of Power Distribution Units.
Perhaps one day the manufacturers will come to the realization that owners will be installing accessories and the manufactures will include an on-board PDU already wired and relayed and ready to simply connect your power and ground leads and go.
In the meantime, using the PDU apps is pretty simple, although the amount of user input varies between the app used for the individual systems.
Typically, the main screen provides direct management (on/off/variable) of the output, a second screen allows configuration of the circuit.
Different layouts and approaches are taken between the Motobrain and the Neutrino, but the configuration options and output controls end up providing the same thing.
The Neutrino uses more screens, which are easily flicked through or brought up and far less cluttered for more accurate input and easier viewing.
The Motobrain has more circuits and the app screen is relatively busy, with all the main controls on one screen. Even on a large display, it is tricky to select the various items.
So while the Motobrain and Neutrino (and the PDM60 to a lesser degree) can be classed as smart responsive devices or systems, motorcycle accessories for the most part are still pretty dumb.
The result is that the smart PDU systems pretty much just switch the accessory on, off or modulate its output in some way.
The app doesn't actually do the switching. Instead, it sends a message to the firmware embedded in the PDU, which then does the switching, based on configured input and output connections and configurations (single or ganged) set up using the app.
So typically, once the system is active with power and the app and PDU start talking, the pre-determined configurations (input, output or input/output combinations) that are based on defined parameters are established for some accessories.
For example, that can mean that lights turn on automatically or after some delay, or as activated by an external swtich wired to a PDU input.
Another good and desirable feature allows circuits used for heated riding gear to be activated based on temperature.
The Neutrino does that now by using sensor or interactive app data available on the smart device (convergence), but the Motobrain does not yet have this capability.
In conjunction with any pre-defined scenarios, the user can use the app to exercise complete control over all aspects of the wired accessory environment.
Conclusion
With early app version connection issues cleared up and the latest firmware (v3.05) installed, running life with the Motobrain PDU is very good.
Eight output and eight input circuits and 100A of capacity allow it to tackle almost any motorcycle accessories and the Motobrain is likely to have more than enough capacity for many power management configurations.
While it might not be heavily tasked for a typical motorcycle installation, other power-sports applications could easily utilize everything available from one or more Motobrain PDUs; all managed by a single device and app, which is another of its strengths.
The Motobrain is an evolvable system and that is just what is being done.
Several new features were added since this review began and more are on the way, including a new Action-Trigger Interface and an on-screen graphing capability for voltage and current data over a timeline.
Another feature being developed is a cloud platform that will provide related capabilities including interacting and programming of PDUs via a web interface, although this will require the Motobrain to be online — something planned for the next hardware revision.
Many of the planned enhancements and new features are oriented towards multiple PDU configurations and/or commercial users, although with these capabilities, it has application closer to home for many of us — like larger marine platforms or even home use.
The only real downer is the lack of a common ground bus, something that could be integrated into the chassis or provided as a separate but easily installed bus component, grounded to the negative battery terminal, as done for the PDM60 kit.
Very much a feature-rich product, its capabilities, versatility and obvious potential for evolution puts the Motobrain PDU in a class of its own.
w

BW

 Review: Motobrain Power Distribution Unit
List Price (2015): $340.00
Made In: U.S.A. (some imported parts).
Colors: Black
Sizes: N/A
Review Date: June 2015
Note:
 For informational use only. All material and photographs are Copyright © webWorld International, LLC since 2000. All rights reserved. See the webBikeWorld® 
Site Info page
. Product specifications, features and details may change or differ from our descriptions. Always check before purchasing. Read the
Terms and Conditions
!
Owner Comments and Feedback
Other WebBikeWorld Articles Posts