Moto Guzzi Motorcycle Information wBW Moto Guzzi News
More Moto Guzzi News:Moto Guzzi announces limited production of a new 3000ie 6-cylinder bike!  |  Information on the new Agostini Mandello exhaust systems for many modern Moto Guzzis  |  Water cooled Guzzi engine makes 135hp and 114 ft. lbs. of torque and will be produced in limited quantities by Mille Percento  |  Photos from the 2007 Mid-Atlantic Italian Motorcycle Festival   |  Moto Guzzi Bellagio announced
wBWMoto Guzzi Book Reviews:  On the wBWMotorcycle Book Reviews page
wBW Moto Guzzi Archive:  2007 Moto Guzzi model information and photos  |  Information and photos of the new 940 Custom  |  Information and technical specifications of the 1200 Sport  |  Information and photos of the new California Vintage and the Norge 1200 touring bike!  |  Not a Guzzi, but check out the stunning new Bimota Delirio – photos and specs!  |  Moto Guzzi to announce new California RST 1100 and beautiful new Falcone 1200GT touring bike for 2006 (now called the Norge 1200 in Europe); photos and information hopefully coming soon!  |  Installing Convertibars handlebar risers on an 1100 Sport  |  Links to road test of Breva 1100 – Reports of first rides call it super-smooth and a class leader, better than the BMW R1150R  |  Couple of photos of a real, live MGS-01 |  Make a custom Jackal dashboard by Vin Heron  |  Piaggio buys Aprilia and Moto Guzzi  |  Rent a Moto Guzzi in Mandello del Lario!  Rentals now available from Agostini's, right near the Guzzi factory!  They even have online booking!  |  Moto Guzzi helmetsavailable at MaxMoto  |  Latest news on the new water-cooled Guzzi; will Moto Guzzi revive its 75-degree liquid-cooled engine project? Confirmed: Guzzi to produce H2O cooled engine  |  Photo of the 2002 Moto Guzzi LeMans in Red/Black  |  Check out this story on the custom Guzzi "Thrasher-2"  |  wBW photos from the 2002 Mid-Atlantic Italian MotoFest; also 2001 Photos  |  Nevada 750 on sale in U.S.A. in 2004
Recalls:2000 – 2001 V11 Sport recall 
Moto Guzzi Photos: Photo of the Moto Guzzi Breva 750  |  Photo of the only Mondial Piega in the U.S.A. (not a Guzzi but a nice bike anyway!) (Thanks to Larry Hubbard)  |  Photo of the Ghezzi-Brian Race Team!  |  Larry Hubbard's outrageous Ghezzi-Brian Supertwin 1100 photos!  |  Check out Paul Minnaert's Guzzi Page and his incredible Daytona!  Also photos of the "Swallower"!  |  Updated Photos of Jeff's Custom Guzzi V11 Sport; yes folks, he's at it again!!  |  Test of the new Sport Scura at BikePoint  |  Check out these photos of the Moto Guzzi V11 GT Prototype  |  Photos of the new Guzzi LeMans  |  Steve Handley's beautiful illustration of the 1956 Guzzi V8 Racer!  Steve also has prints for sale!  |  The Italian Motorcycle Database has a large collection of information and photos of Italian bikes of all types
Moto Guzzi Adventures:  Paul van Hoof is a Dutch journalist traveling from Alaska to Tierra del Fuego, Argentina on, get this: a Guzzi V7!  He has been traveling for more than 2 years. Check out his website, with a blog, photographs, videos and travel articles.
Repair and Maintenance: Moto Guzzi repair articles  |  wBW Technical Articles Page  
Moto Guzzi Motorcycle Books: Check out the wBW Motorcycle Books and Reviews page for a listing of many motorcycle books, videos and reviews!
Mid-Atlantic Italian Moto Festival:  Photos of the annual Italian MotoFest held in Shepherdstown, West Virginia; here are photos from the 2001 event; here are photos from the 2002 event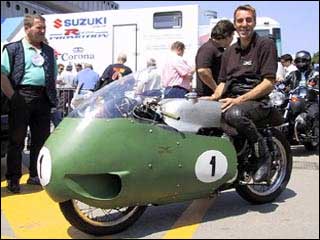 Vintage Moto Guzzi Motorcycles:  Guzzi's at Monza!  "Four classic machines from Moto Guzzi's golden era made a return to the track at Monza, in an evocative display of pre-and post war technology. Possibly the most exotic GP machine of any era was saved to last, the monstrous V-8, complete with Guzzi green paint and a huge dustbin fairing – which proved to be so effective that it was eventually banned. In production from 1955-56-57 it was a class-leading piece of technology, almost experimental in design, which was intended to be used on only the fastest tracks, while Guzzi intended to race their other 500cc machines on the tighter circuits. It proved, however, with a top speed of over 280kmph, to be not only fast but handle well enough to be used everywhere. Producing 80bhp @ 12,000 rpm, the machine was retired prematurely and soon afterwards Guzzi's interest in GP racing ended."  Read more in this very interesting history of the Guzzi V8 by Murray Barnard  |  See Steve Handley's beautiful Guzzi V8 illustration!  |  Download a .wav file with the narrated sound of a Guzzi V-8  |  Here's a photo and brief history of theMoto Guzzi Bilicindrica racer  |  More Moto Guzzi V-8 sounds, photos and information   |  See the wBW review of Bill Lomas' autobiography – Bill Lomas was the rider who raced the Moto Guzzi V8
More Vintage Guzzis:  More photos of the V8 Ottocilindri  |  A Guzzi three cylinder mockup  |  A Guzzi V4 study
Model Information:Wim Meijer's cool database of all of the Guzzi models throughout the years  |  The Moto Guzzi section of Bikez Motorcycle Encyclopedia that lists all Guzzi models by model name or year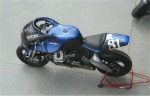 Fairings and Windscreens: See the wBW Motorcycle Fairings and Windscreens page for more information
Bar-end Mirrors:  Information on bar end mirrors and installation tips on the wBWMotorcycle Products and Accessories Page  |  wBW Technical Article on installing Napoleon bar end mirrors
Rearsets: Motobits in the UK makes "very adjustable rearsets" and other parts  | Bob Flavell in the U.K. used to make Moto Guzzi rearsets (rear sets); here's a page with photos and info by Bob and also other sources for Moto Guzzi rearsets
Italian Flag Stickers and Accessories: Bevel Heaven has "Made In Italy" stickers and decals  |  Try Everything Italianfor – you guessed it, everything Italiano!  |  Italian flag decals and Italian food at DeRosa Imports
Brakes:  Check out Harrison billet brake caliper review; Harrison calipers are also available for Moto Guzzis
Batteries:Here's a link to some good info on the Odyssey dry cell battery for Guzzis at Harper's Moto Guzzi
Cruise Control:  See the Motorcycle Cruise Control section of the wBWMotorcycle Products and Accessories pagefor information on the Vista Cruise Control
Exhaust Systems – Silencers:  See the wBWMotorcycle Exhaust Systems page
Falcone Parts:Moto Guzzino specializes in Falcone parts; also hard to find Italian motor cycle parts for 1950 to 1980  |  Moto Guzzi Falcone parts list and diagrams  |  Moto Spezial also has Falcone parts  |  Here's a Moto Guzzi Singles email list
Moto Guzzi T-shirts, Clothing, Patches, Decals and Accessories: Silver Brook Custom Embroidery has some really nice MGNOC embroidered clothing and caps; check out their MGNOC jackets — they'll embroider your name and bike model!

Restoration – Vintage, Antique Moto Guzzis: Cyclegarden specializes in the restoration of pre-1975 Moto Guzzi Ambassadors and Eldorados; check out the photos of their restoration work!
Centauro Owners:The Centauro Owners Group – for admirers of the Centauro
Classifieds:  A link to ads for MG bikes, parts, stuff for sale, etc.
V11 Sport:  Check out the V11LeMans.com site; nice site by Jaap Veldhorst devoted to modern sport Guzzis  |  V11 Sport Dyno tests with various mapping and exhaust changes at Manley Cycle  |  A nice review of the V11 Sport  |  Motor World review of the V11 Sport with Magni fairing; here's the Magni home page  |  Factory shop stand for V11S available from MG Cycle  |  Jason Telford's V11S with information on a BMW R90S fairing adaptation
Motorcycle Photographs:  On the wBWMotorcycle Photographs and Art page
Other WebBikeWorld Motorcycle Brands Posts
wBW Motorcycle Brands Info